Thank you to Barn Light Electric for sponsoring today's post!
With spring around the corner, we have a few house updates that we'll be setting into motion. One of the big projects we're working on is painting the outside of our home, as well as staining our porch and deck. This project will basically be the main one for the year, given the cost, but we have some additional minor updates we'll be working on as well. One of those projects is updating some of the lighting in our home with lighting from Barn Light Electric.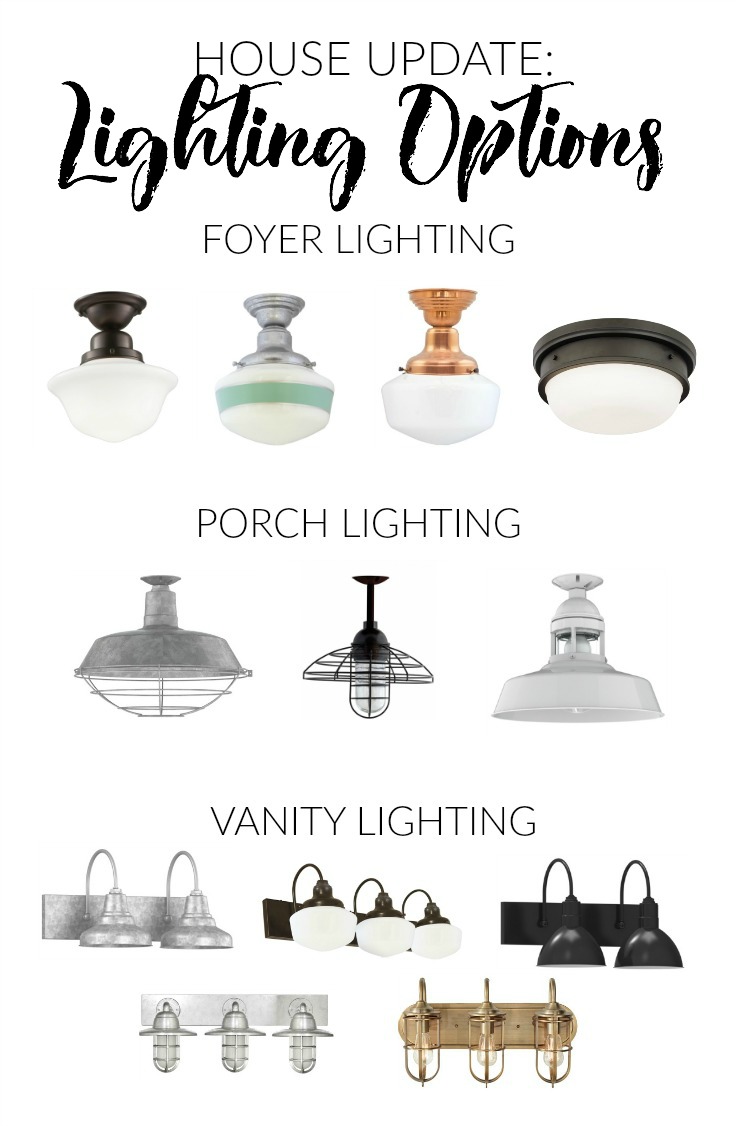 We have three main areas we'll be updating lighting: the porch, our foyer, and our bathrooms.
Our foyer currently has no light in place. The foyer isn't exactly a true foyer, since the door opens up to the space below the stairs with the living room and dining room directly to either side. There are no walls framing the space out, which is why I thought adding a light would define the space a bit more. I love the look of schoolhouse lights, and there are a variety of options from Barn Light Electric that I'm deciding between! There's one I'm leaning more towards The Intermediate Schoolhouse Semi-Flush Mount Pendant from Barn Light Electric, but all four of the options above are incredibly gorgeous!
We currently have recessed lighting on our front porch, but I wanted to add something a little more rustic once it gets it's new paint job. I also wanted the lights to be visible, so I'm leaning towards three semi-flush mount rustic pendants in place of the current lights. I love the look of The Original Warehouse Flush Mount Pendant cage light from Barn Light Electric, which we currently have in our kitchen! I'm leaning toward this option in the galvanized finish because I think it would look beautiful against the white house (we are leaning towards white for the color!)
As much as I want to redo our bathrooms, they aren't priority on the list. Instead, I'll be updating fixtures and lighting until we decide to do the tile and tubs. We have a light for the main bathroom, but the old light is still in place in our master bedroom bathroom. I'm again drawn to the schoolhouse lights, and I love the Graduate 3-Light Schoolhouse Vanity Light by Barn Light Electric for the vanity! However, I love all five of the options above, and choosing one will be a tough decision.
Stay tuned to see which options we choose! We'll be posting one update a month over the course of the next few months! 🙂 You can find all the options shown above below!
Foyer Lighting
Mayfield Semi-Flush Ceiling Light
The Intermediate Schoolhouse Semi-Flush Mount Pendant
The Schoolhouse Copper Semi-Flush Mount Light
Cottonwood Flush Mount Ceiling Light
Porch Lighting
The Original Warehouse Flush Mount Pendant
Blue Collar Stem Mount Pendant
Sydney Industrial Flush Mount Pendant
Vanity Lighting
Universal 2-Light Vanity Sconce
Graduate 3-Light Schoolhouse Vanity Light
Atomic Industrial Guard Triple Vanity Light