Thank you to T.J.Maxx for sponsoring today's post!
The weather is finally cooperating here in Connecticut, and it better stay that way or fire will shoot from my eyeballs! Seriously, I'm over the dreary, cold rain and ready for some heat! I've had my eyes on the current summer trends and recently had the chance to partner with T.J.Maxx and add a few to my closet. Today I'm sharing my favorite Summer Fashion Trends and how to incorporate them into your wardrobe!
Summer Fashion Trends
Summer whites. You know I'm a fan of white, but especially in the summer time! There's nothing like a crisp white dress or pair of jeans to brighten up an outfit.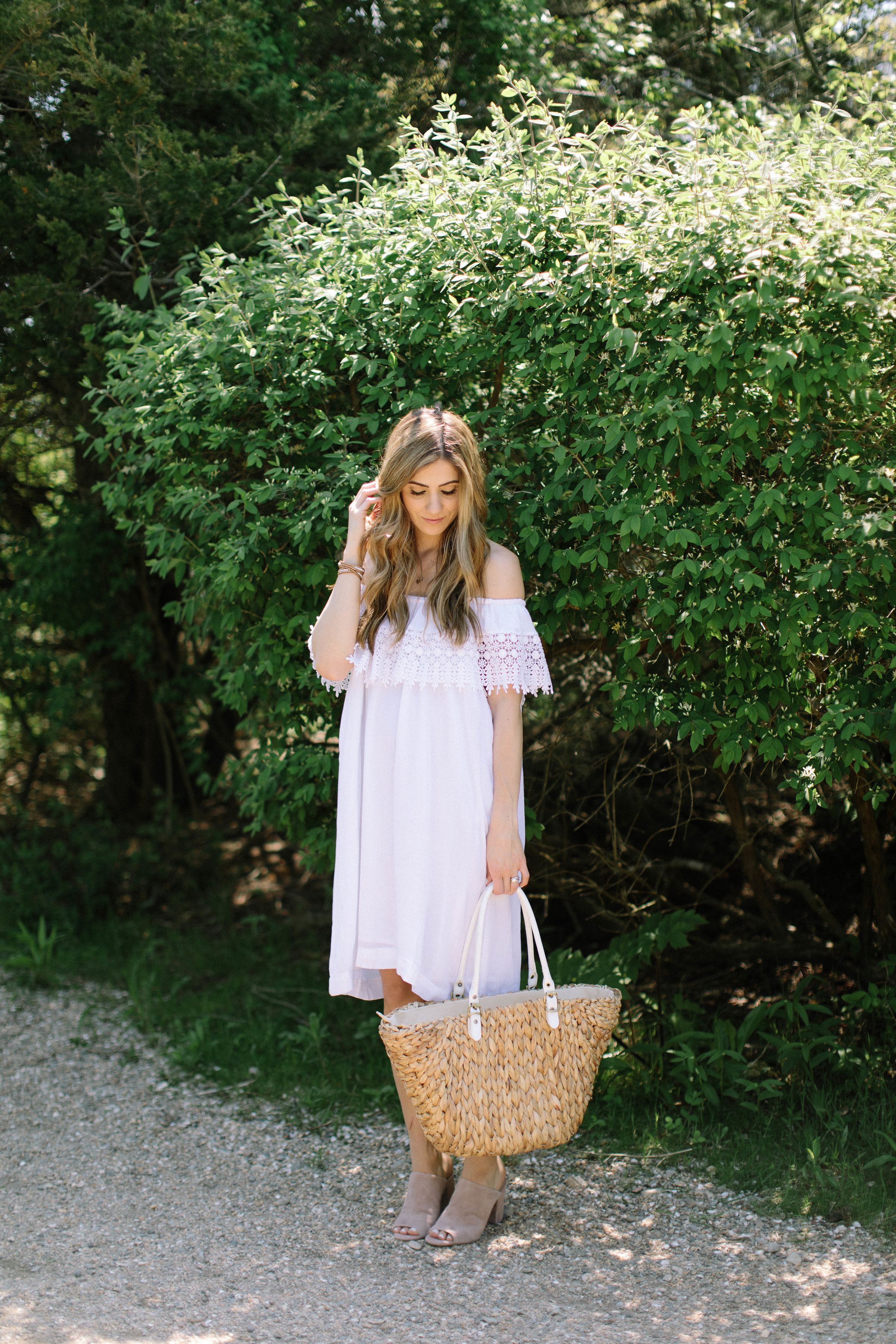 If white clothing is too scary for you (totally get it, especially as a mom!), try a white handbag like this adorable backpack. It's much easier to clean!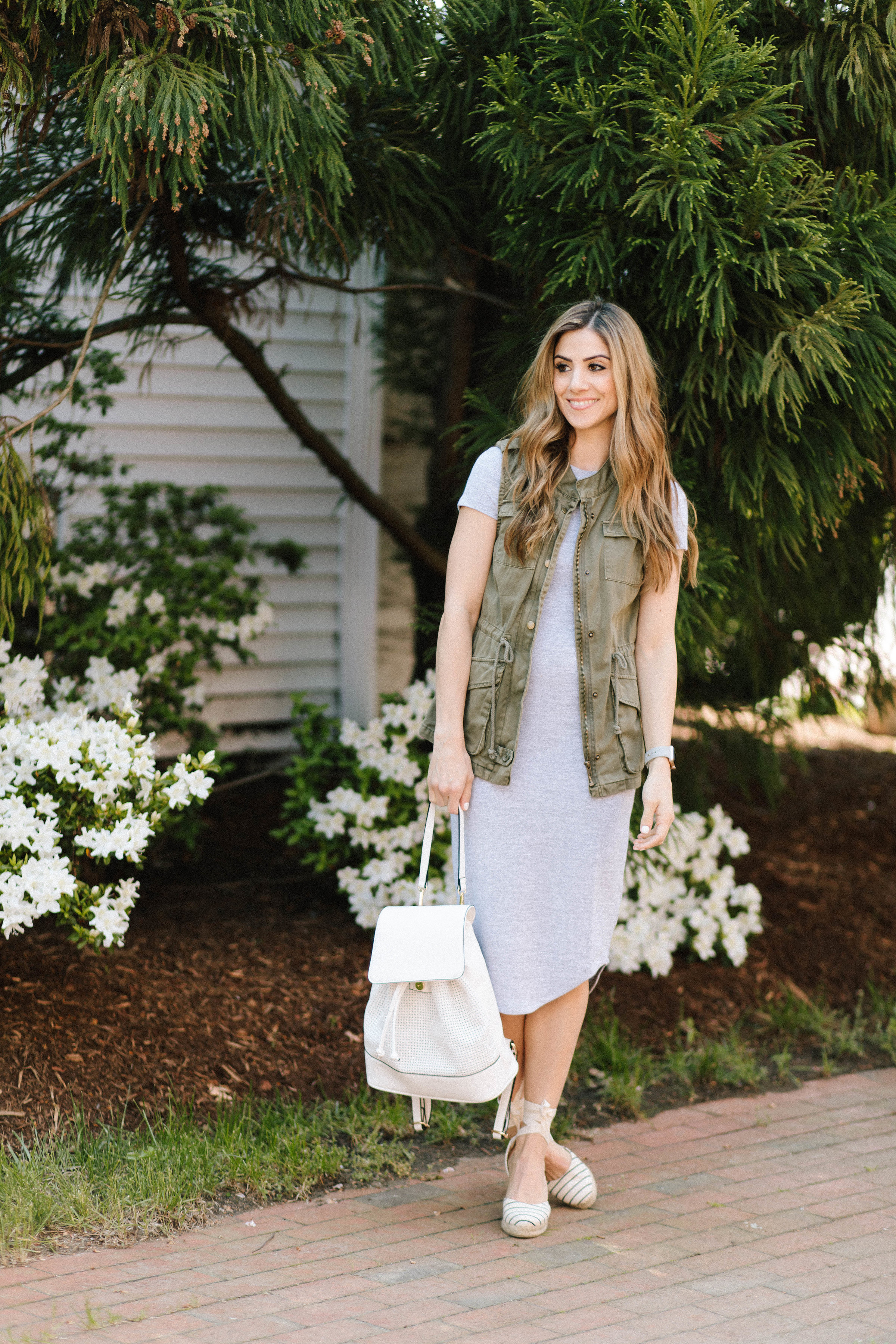 Off-shoulder. I love this trend because it's sexy without being too revealing. I'll admit, I can't wear off-shoulder tops or dresses around my kids (they aren't entirely practical for lifting babies), but I love wearing them on a date night or night out with friends! Dresses are easy, but off-shoulder tops look great with everything from jeans, to short, to skirts! Shop more off-shoulder looks here!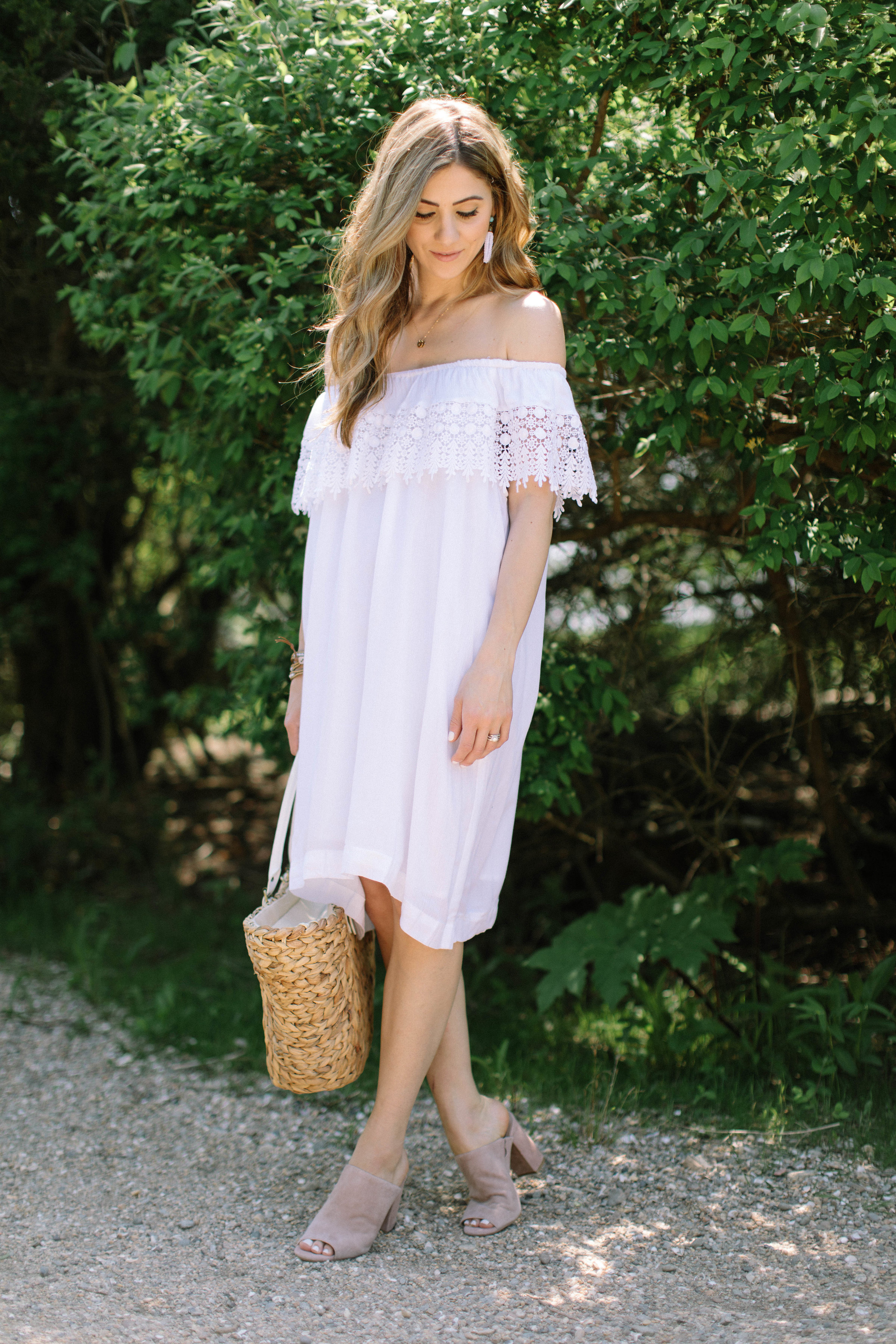 Espadrilles. Espadrilles are my all time favorite shoes, ever. I love ALL espadrilles. Lace-ups, flats, wedges…there's just something so summery about that plaited fiber sole that gets me! They're also usually SUPER comfortable. I love that the striped pair I'm wearing here is a little nautical, and the lace-up ties are the icing on the cake. Shop more espadrilles here!
Straw bags. I've always loved a good straw bag in the summer, and I'm so thrilled to see them back with a vengeance. They add that beach, summer time flare to any outfit, and their neutral tone pretty much looks good with everything! Shop straw bags here!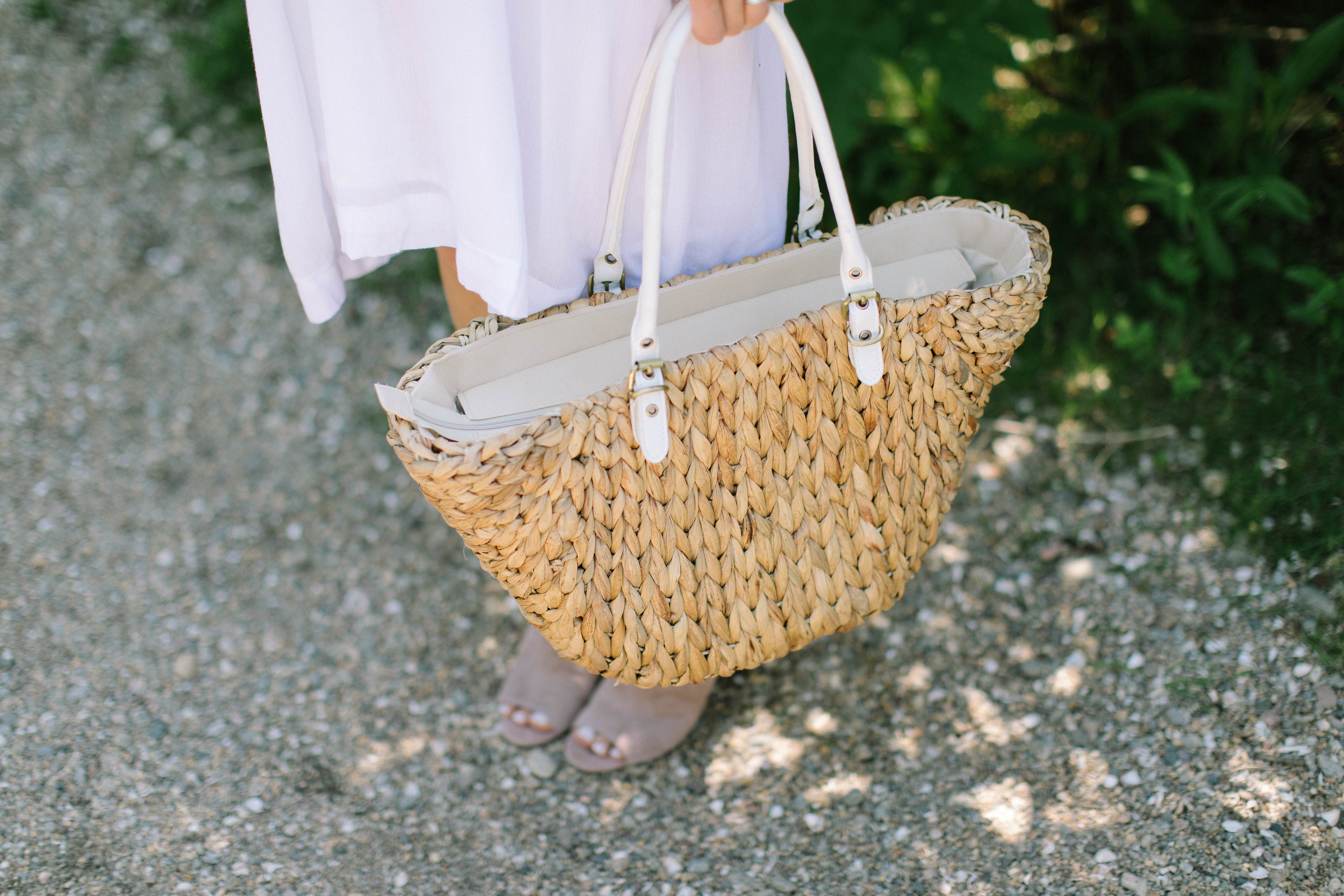 Mules. A new favorite, I love the comfort a good pair of mules offers. These in particular have an amazing block heel which just adds to the comfort aspect of things. I am ALL for comfort. I also appreciate the ease of slipping them on and off. This open back and open toe combo makes them summery and fun! Shop more mules here!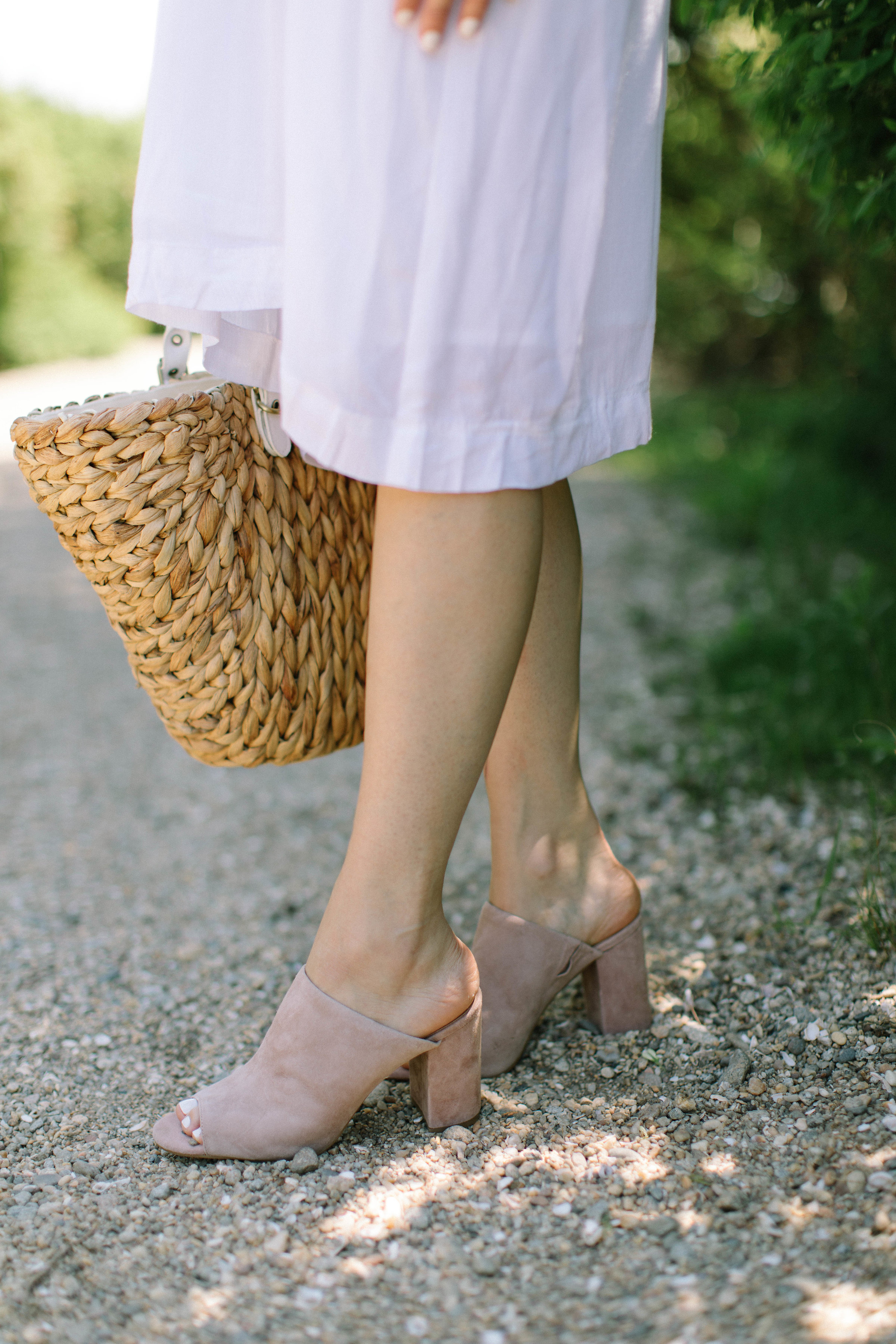 Perforated details. I've been loving this detail lately! I own a few pairs of perforated shoes, and loved adding this perforated white backpack to my closet. There's something so visually intriguing about these little laser cuts, and the airy-ness (totally made that up) makes it the perfect summer trend. Shop perforated details here!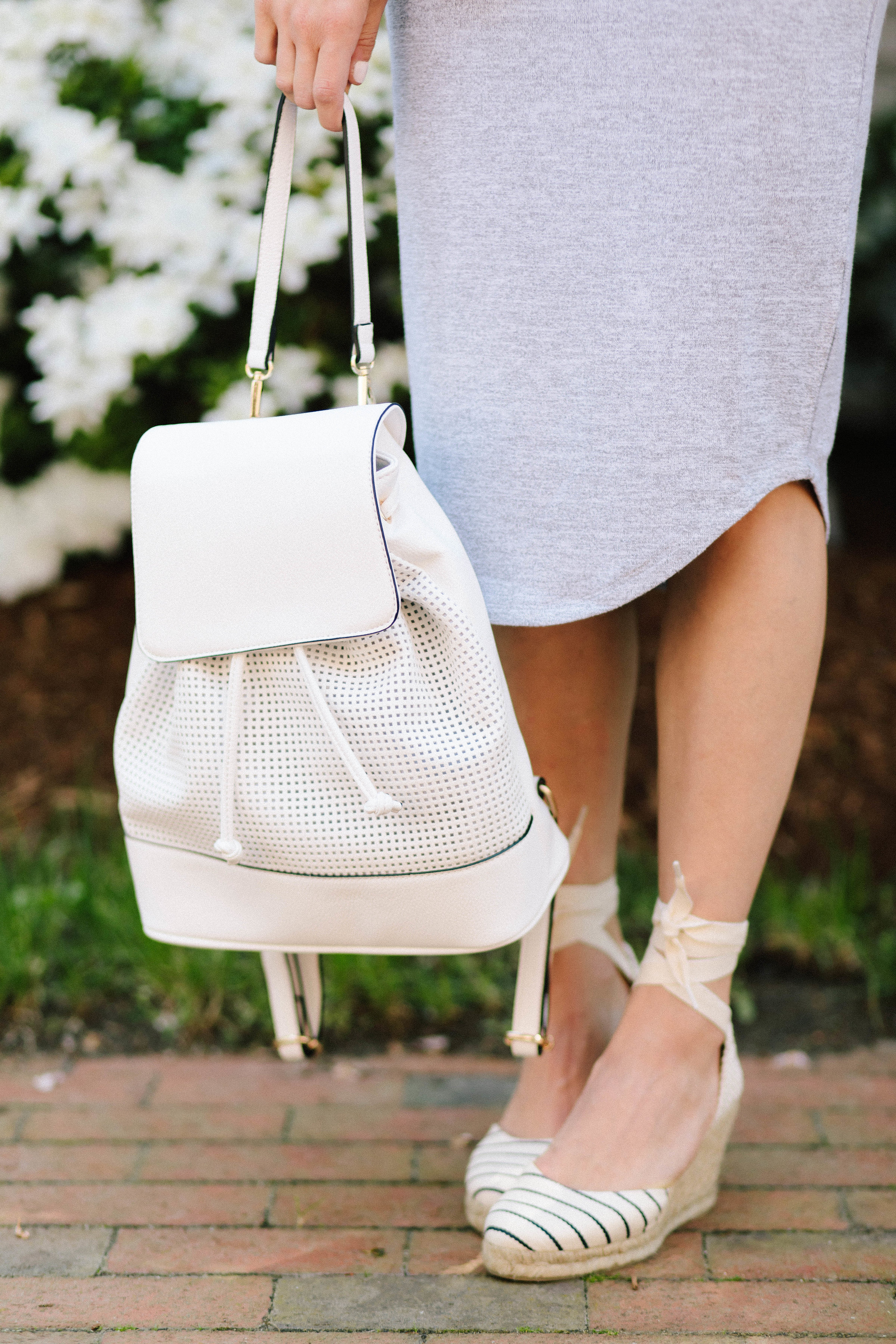 SHOP THE LOOKS
Gray Dress // Espadrilles // Backpack
White Dress // Straw Tote // Mules // Bracelet
You can find all of these trends currently at T.J.Maxx! Before I had my kids, I used to stop in my local T.J.Maxx during my work break and see what's new in store (Tuesdays were the best days…restock!). But sadly my T.JMaxx days are minimal because it's no longer a relaxing experience for me with TWO kids. I recently learned you can now shop T.J.Maxx online, and my little Maxxinista heart swelled! Guys, ALL of these pieces were founds at tjmaxx.com! There are 100s of new arrivals every week, free shipping on orders of $89 or more, and free returns in-store! I found some of my favorite name-brands that I'm wearing in the outfits above. I love that T.J.Maxx allows me to embrace my individuality in fashion by offering an ever-changing selection of treasures for every style and budget!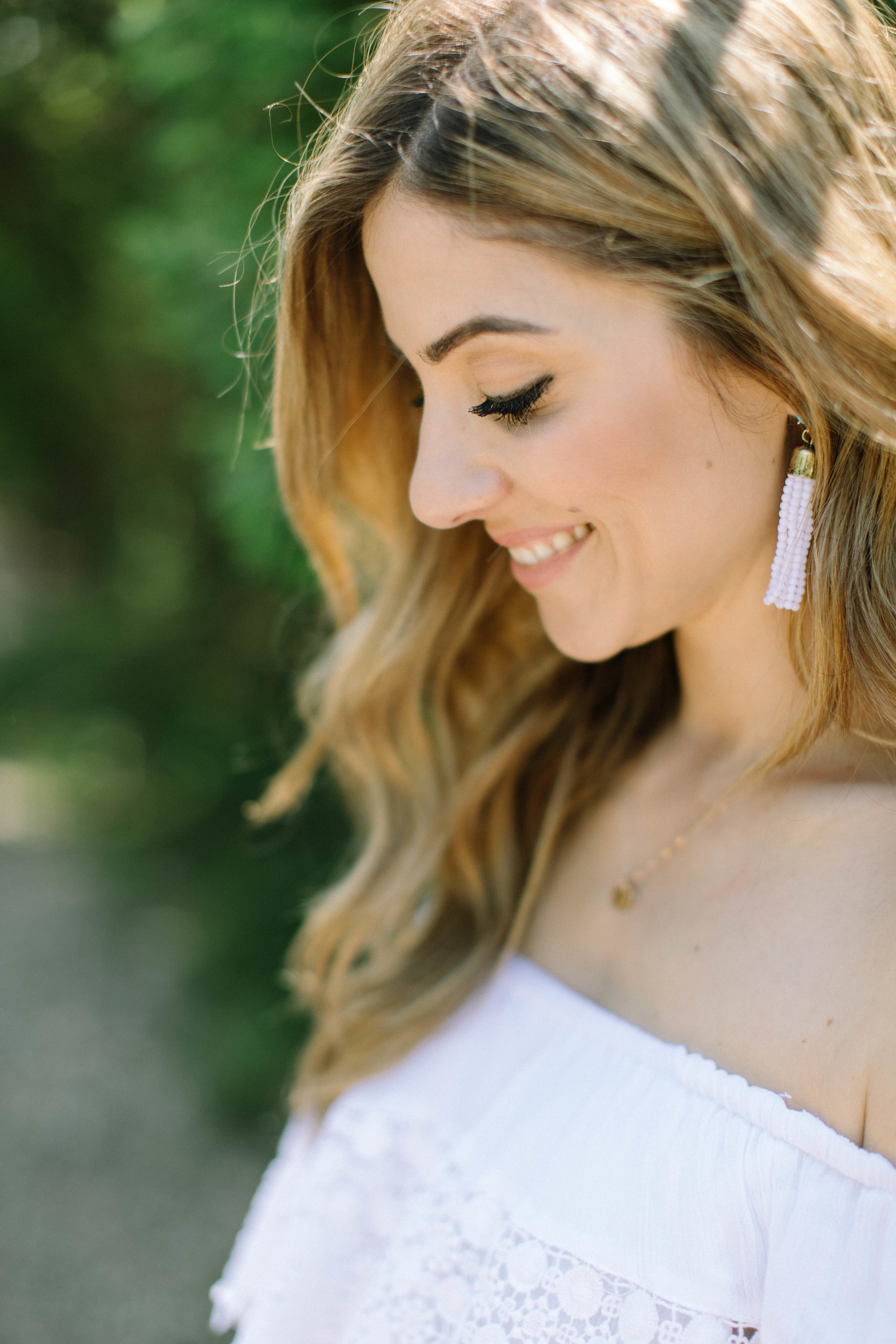 What's your favorite summer fashion trend this season?
Be sure to shop tjmaxx.com for the ones you see above!
(Photos by Victoria Gloria)