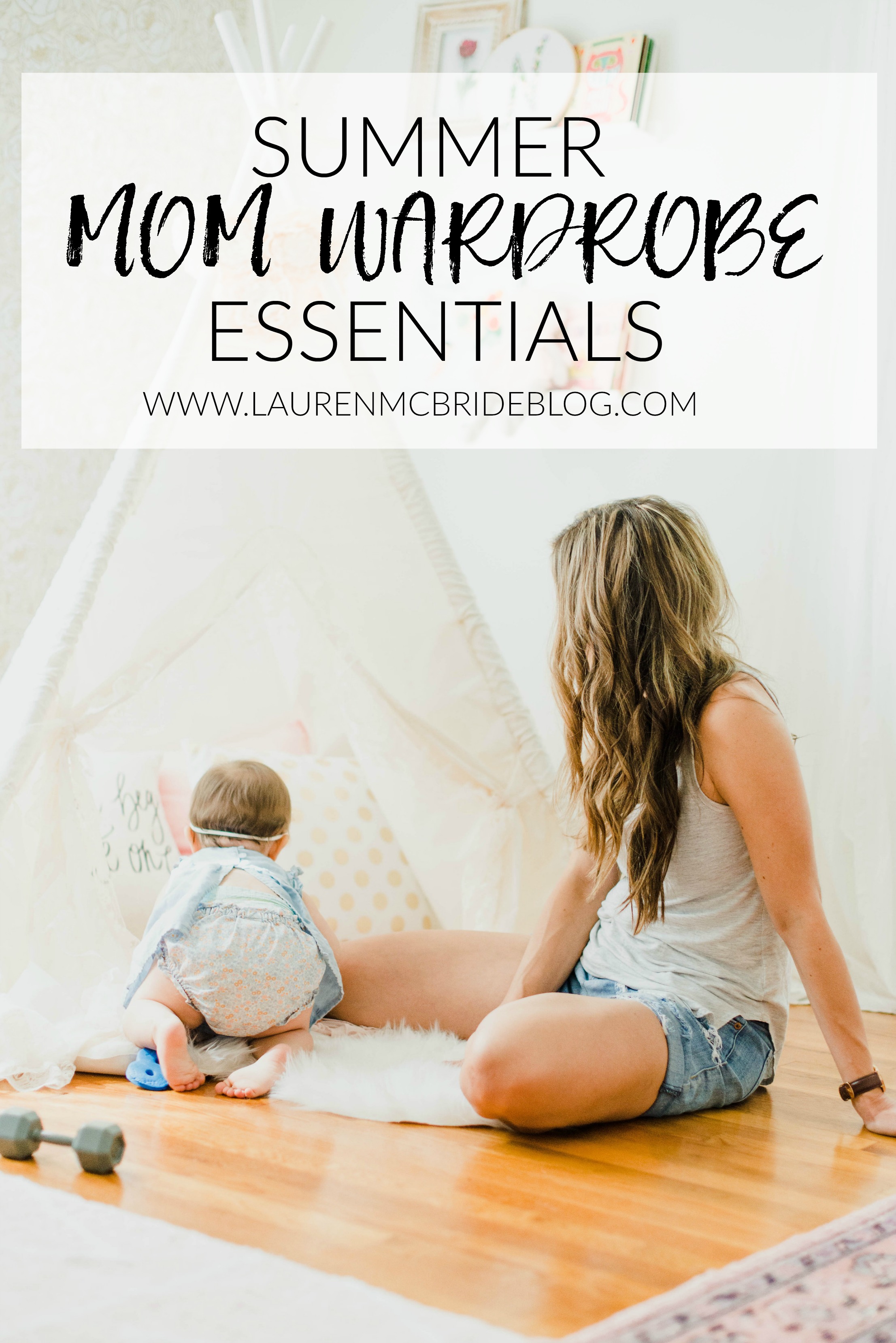 Alright ladies, we've chatted many times about momiforms, but today I want to share my Summer Mom Wardrobe Essentials with you! Many of you have asked what I live in while spending summers with the kiddos! I have a few tips and tricks that I look for while shopping around, and I'm usually in very basic items that will last summer to summer! Here are some items I can't live without.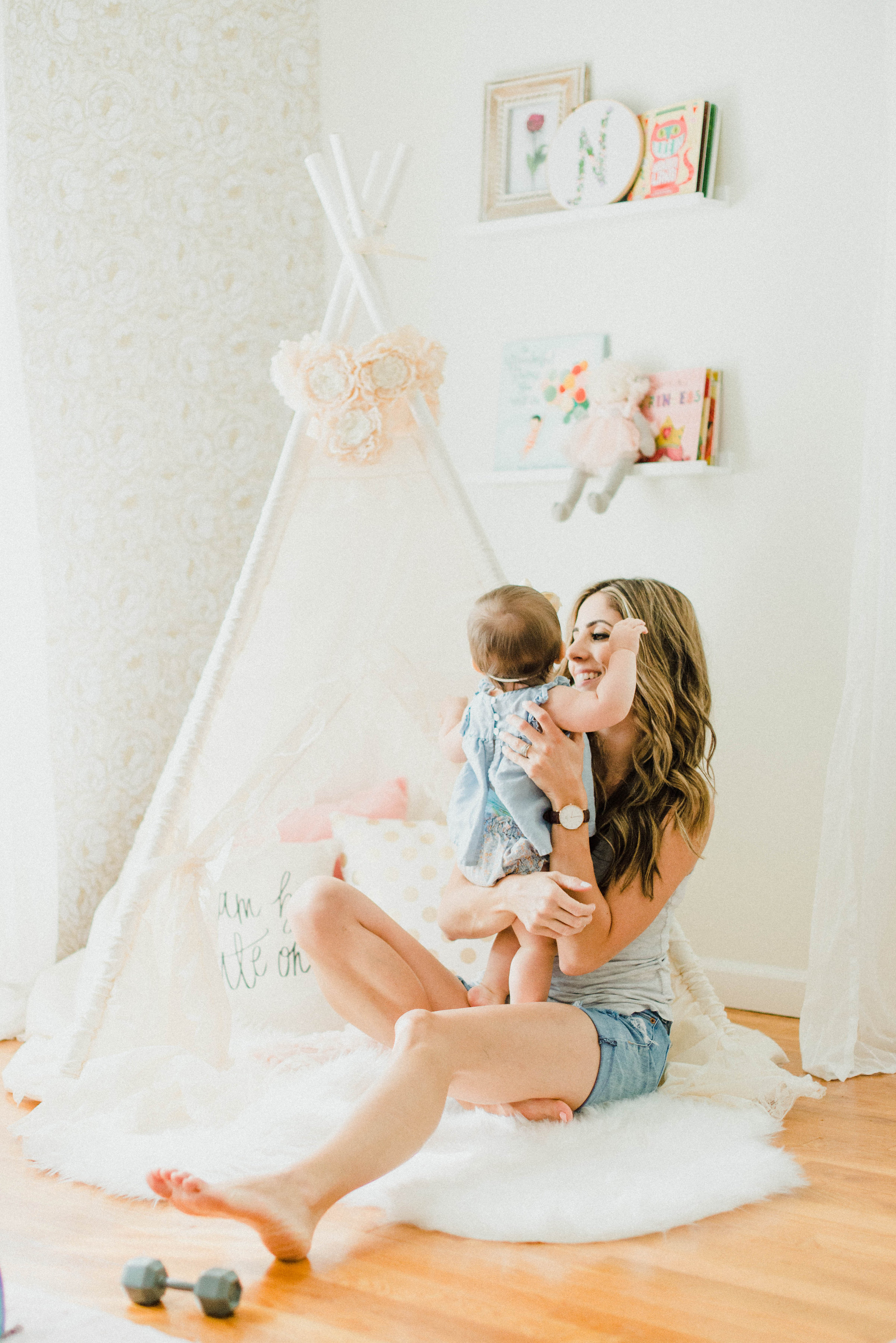 Summer Mom Wardrobe Essentials
DENIM SHORTS
With my denim shorts, I'm always looking for pairs that aren't TOO short but also aren't TOO long. I like the inseam to be at least 2-3″ because I feel it gives adequate coverage and my ass isn't hanging out. 🙂 I'm currently loving THIS pair and THIS pair. I also found a few great pairs on Amazon including this distressed pair by Lucky Brand with a boyfriend fit, this pair by Lucky Brand that has no distressing, and this pair by Blank NYC that's actually high rise (gotta love that!)

BASIC TEES
You all know my obsession with the Madewell Whisper tee, and I have one in every color. But I also recently fell in love with these basic tees from Abercrombie, and this striped tee from American Eagle! I always prefer to have basic tees in white, black, gray, and a stripe because I feel they're the most versatile of colors. I love to wear them with denim shorts, or even over a simple tank dress knotted at the waist. I can't live without them in the summer!

BASIC TANKS
Basic tanks are great for really hot days, or even to wear at the beach. My favorites lately are this Abercrombie muscle tee (you guys have seen me wear these multiple times!). I'm not sure what it is about the muscle tee I'm loving so much lately, but it's been on repeat! I also really like the Madewell Whisper Tanks. I like them to hit a little longer, and also fit a little oversized. I'm not a fan for anything tight fitting, especially in the summer. I need a breeze! 😉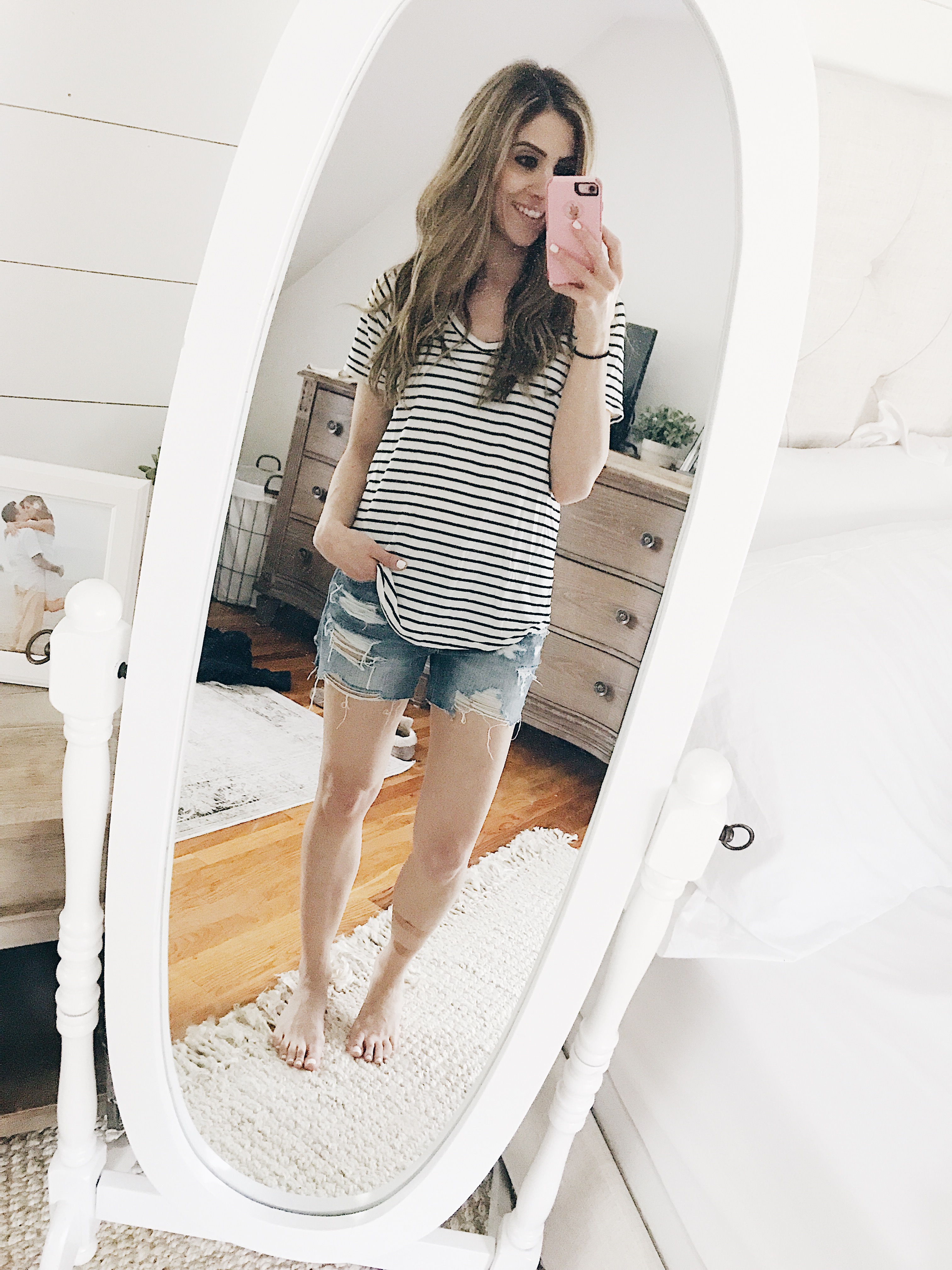 SNEAKERS
I'm starting to own more pairs of sneakers than I do heels at this point. They're much more practical when chasing kiddos, but I also love how versatile they are. I like to wear them with jeans, shorts, joggers, and even sundresses for a more casual look. I've loved my Converse sneakers for years, and own this pair and this pair as well. I recently added a pair of Adidas Superstars (throwback to 7th grade, hollaaaa) to my shoe closet as a slight change up. (Order one size down!) They're a necessity in any mom's closet!

ESPADRILLE FLATS
I love these as a switch up from sneakers, plus their slip on factor makes them easier to get on and off when you're wrangling kids! I fell in love with Soludos a few summers back, and now I own multiple pairs and usually buy a new one every season! I also recently picked up a pair of these Marc Fisher platform espadrille sneakers for something a little different. They're super cute with sundresses, or just shorts and a tee. I wear espadrilles to the playground with the kids *all* the time because they keep my feet cool (I don't want be running around in sandals, and these are a nice middle ground between sweaty sneakers and sandals!)

T-SHIRT DRESS or TANK DRESS
When I'm not wearing shorts, you can usually find me in a comfortable, loose-fitting t-shirt or tank dress. They're super basic and keep me cool during hot summer days or even nights. I like to make sure they fit a little longer, at least past my fingertips, because then my chances of a child lifting it up are minimal 😉 Maxi dresses are preferred, but sometimes they're too long and I step on them. And that's just a big pain in the ass. Midi dresses are awesome, too!

SANDALS
What's summer without sandals?! Lately I've been LIVING in my Birkenstocks, as you've all seen. I just bought another pair, too. I prefer sandals that I know will be comfortable and not rub my feet in any weird places (no time for blisters, ladies..this is why I don't wear heels with kids!), and actually STAY on my feet. Bonus points if they're slip on! For sizing reference for the Birks, I'm a 37 narrow (my shoe size is 7). I like that they aren't bulky!

These are the essential items you need for your mom wardrobe this summer! When styled together, they create the perfect outfit for whatever the day might bring you! And when in doubt, a simple tee and shorts can do you no wrong. 😉