"Schooooooools out. For. Summer!" It's that time of year, the time where our kiddos are home for the summer! I actually do enjoy this time of year because it means I'm not doing the whole drop off/pick up thing. Today I'm sharing the Best Outdoor Toys with you that will keep the kids occupied (and help maintain your sanity a bit!) all summer long!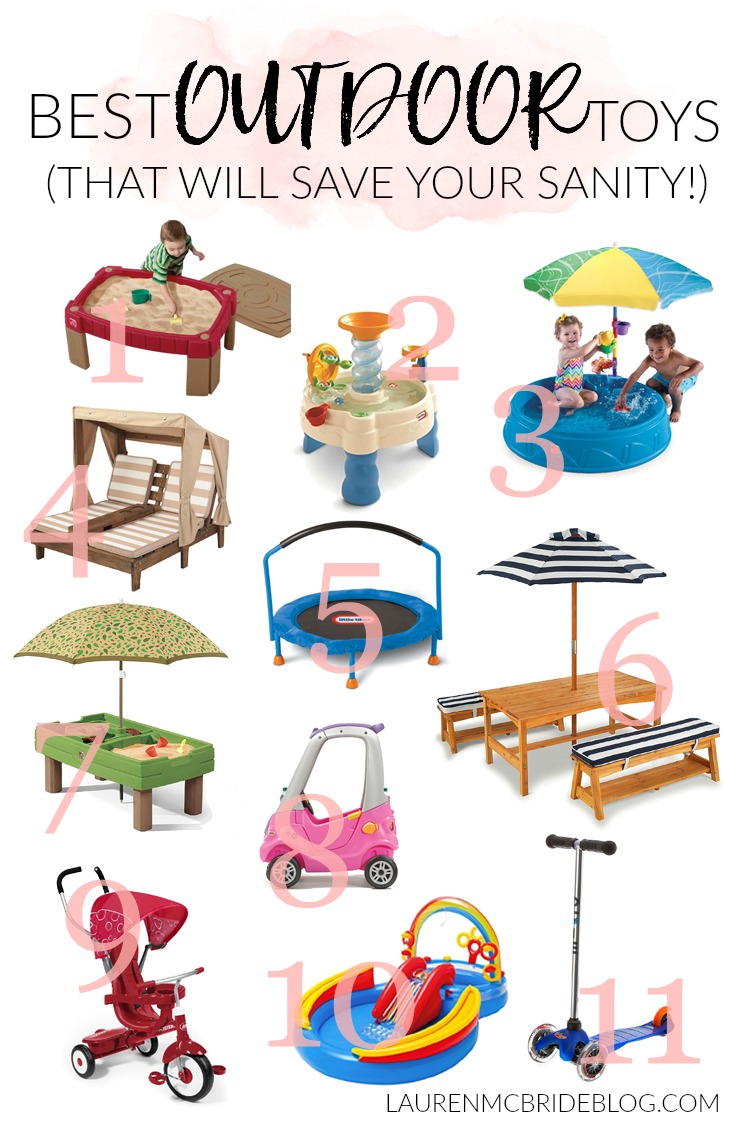 Best Outdoor Toddler Toys
1.Step2 Naturally Playful Sand Table: Our kids love the beach, but I love that I can bring the beach to them with this sand table! It's on our list for the year.
2.Little Tikes Water Table:We have a water table nearly identical to this one and the kids LOVE IT. It's their #1 favorite toy to play with outside, especially for Noelle!
3.Step2 Play Pool: I love that this little pool has an umbrella for some shade!
4.KidKraft Double Chaise Lounge: This is absolutely adorable, and I plan on getting one for our deck this year. I think the kids will love sitting and playing on it! I also love that it looks like adult furniture!
5.Little Tikes Trampoline: A fan favorite in this house! We've had this for a couple of years and the kids still really enjoy playing with it on our playground. It can be used indoors, too!
6.KidKraft Outdoor Picnic Table: Now this I'm DEFINITELY getting. I think the kids will really love eating lunch on it, or even coloring outside! It's just so freakin' cute, and I love the umbrella for some shade!
7.Step2 Sand and Water Table: If you're looking for a dual water and sand table, this is it! And again, umbrella for the win!
8.Step2 Easy Turn Coupe: We never had one of these for Landon, but just bought this one for Noelle and she loves it! I like that you can push it, too, and it has a foot tray if they're too small to grasp the concept of how to make it move!
9.Radio Flyer 4-in-1 Stroll 'N Trike: We have this as well, and both kids really enjoy it! It grows with the child, which make you get a few years out of it!
10.Inflatable Play Center: THIS LOOKS SO FUN! And it's well priced, too! This would be great for summer holiday get togethers for the kids!
11.Micro Mini Original Kick Scooter: We just bought Landon this scooter, and I'm so surprised at how quick he picked up on it! He has fun scootin' around the deck and driveway (with a helmet on, of course).
Hopefully these toys will help maintain your sanity this summer! 😉 In all seriousness, being outdoors is our favorite part of the summer season, so I love to have a good variety of things to keep the kids busy. These do a great job of that while encouraging gross and fine motor skills as well! Happy Summer!