Thank you to Barn Light Electric for sponsoring today's post!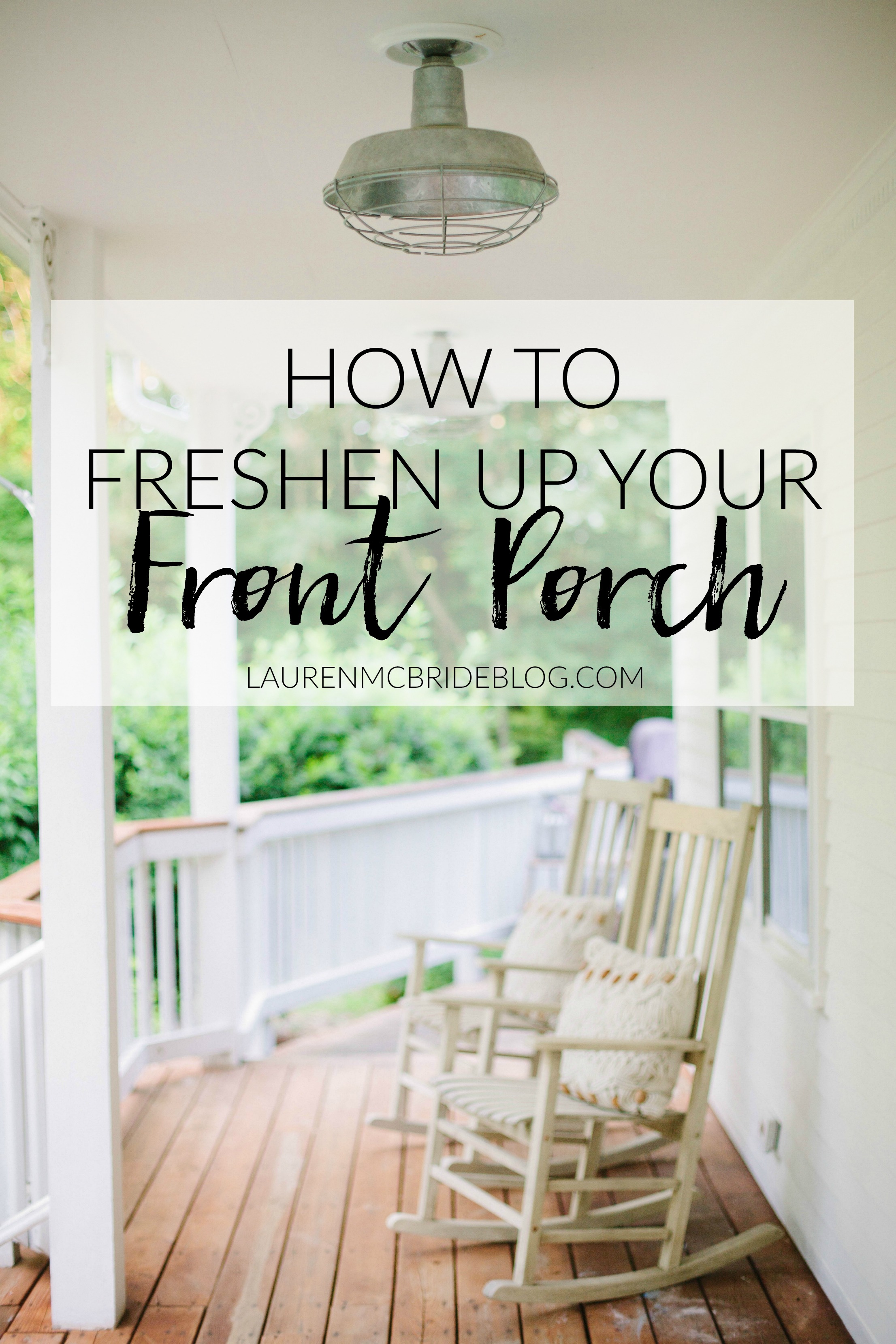 Our house is *finally* finished with it's paint job, which means I can start putting our life back together a little bit! You know how major house projects go…things ends up upside down and thrown places, something usually goes missing, and then it's a process of shifting things back to into place once all is said and done. We made a little progress on our front porch, so today I'm sharing How to Freshen Up Your Front Porch!
How to Freshen Up Your Front Porch
I've been referring to our little home as a coastal cottage because that's what it is. I don't consider it a farmhouse, although I absolutely love infusing farmhouse touches, because we don't have a farm, haha! And while there IS a farm across the street (true story, they have horses and a barn!), to me our little charmer of a cape will always be a cottage. I feel lucky that we live a mile from the shore, and our house isn't too large in size and very cozy. 🙂 At least, in our opinion. I wanted to keep our front porch very welcoming to anyone that happens to stop by.
Add a porch swing. My favorite feature about our front porch is our porch swing. While I don't love it's current state because it lacks aesthetics, I love sitting here and swinging with the kids in the early evening. My plan is to paint it white and switch out the chain links with rope. All I need is a cozy seat cushion, and it will have a whole new look. Hopefully I'm tackling this at some point this summer! A porch swing is very welcoming and makes your home look warm and inviting.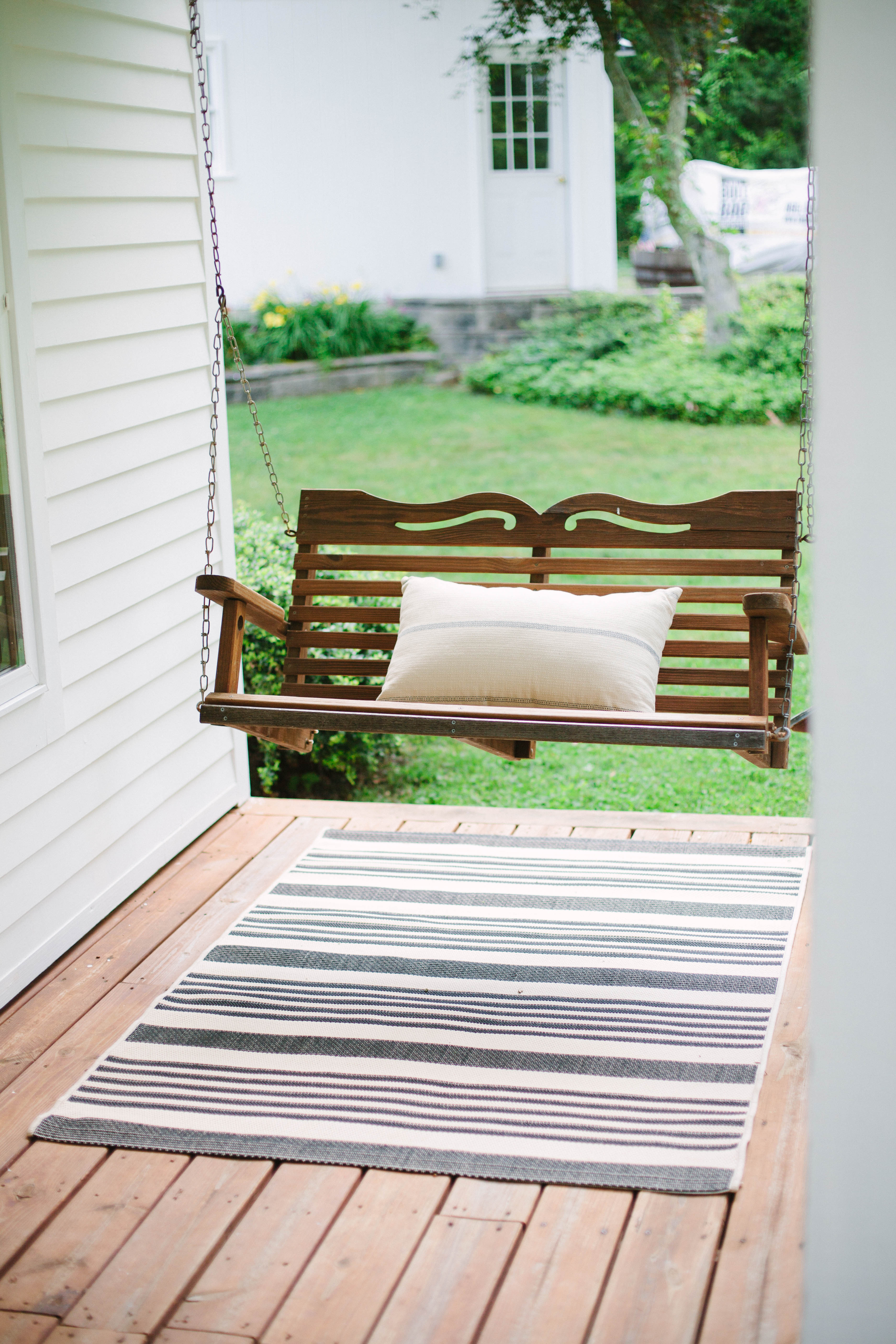 Add a rug. I added an outdoor rug to cozy up this little spot, and I think it makes a huge impact. It's also motivating me to paint that swing a little faster! But I like that its soft on our feet when we sit on the swing, and I feel it makes the space look even more inviting.
Add seating. On the other side of the porch, we have our two rocking chairs for additional seating. It's really nice to sit out here in the afternoon and early evening, especially when we have company over. Again, it makes the space warm and inviting, welcoming guests to take a seat. 🙂
Add lighting. My favorite feature of our little cottage front porch is our new industrial lighting from Barn Light Electric. We have three of the Original Flush Mount Pendant Lights along our porch ceiling, and absolutely LOVE the industrial look it gives the porch. And it looks SO GOOD from the street! We chose the 14″ shades with a 14″ cage since the porch is so large, and I feel like they're the perfect size. We also have this same light in black in the 12″ size in our kitchen. The Original Flush Mount Pendant Light comes in a variety of colors, sizes, and finishes, but we went with galvanized since it's neutral. We receive SO many compliments on these lights, which just confirms they were the best choice. I'm a huge fan of Barn Light Electric products because they're unique and well made, and my husband also approves of them from his electrical standpoint 😉
Add plants. Adding some fresh flowers in pots is the final touch to a front porch. I would love to add some hanging plants, as well, but for now I have some annuals in these adorable olive buckets gracing our front steps.
There are still a few things I'd love to add to the porch, but I do prefer a clean look as opposed to a cluttered one. We still need to add our house number plaque, and I'd love to bring in some colorful outdoor pillows as well. The benefit of a white house is it's easy to switch up the decor 😉
If you're in need for lighting, Barn Light Electric is my top recommendation! I also JUST noticed they're having a huge 4th of July sale, and you can receive 20% off site wide! Now is the time to shop!
I'll be sharing our garage lighting next week, so stay tuned!