Thank you to Annie Selke, Tuft & Needle, and Birch Lane for providing us with this product!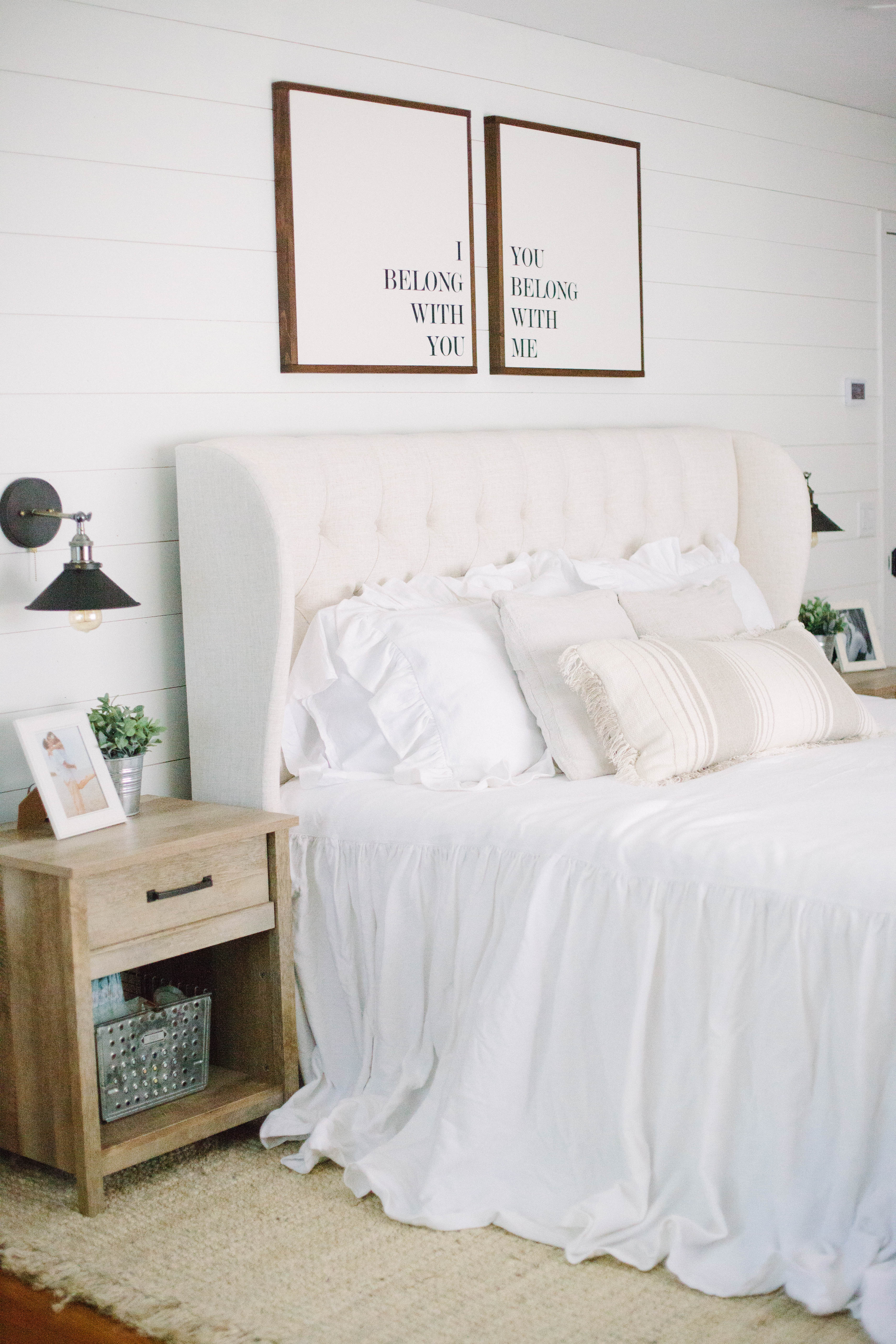 We made some updates to our bedroom recently that I thought I would share with you today! This room is still not complete (I really want to add some family photos and other decor), but I like the simple and clean look overall. I'm not one for a lot of "stuff" crowding things…it gives me anxiety and it's way too much to dust 😉 I'll be sharing a larger reveal of changes we've made soon, but for now I wanted to share a little bit about our new bed since so many of you have asked!
The biggest change in our bedroom is our new king-sized bed. Birch Lane was kind enough to send us this Upholstered Panel Bed in the color Talc, which is the perfect grainy white/beige color. It reminds me of a french grain sack, and it perfect against our shiplap wall. The bed actually went together fairly easily (according to my husband), and the quality is amazing for the price. You can shop this upholstered panel bed here.
Since a king-sized bed was new to us, we needed a new mattress. Tuft & Needle were kind enough to send us a King sized mattress for our new bed frame. Guys…I haven't slept this well in YEARS. And I'm not exaggerating. This is the most comfortable mattress I've ever slept on, and I thought for SURE our old mattress was hard to beat! My husband even agrees (I always have to ask him to be sure I'm not crazy…anyone else do that?) You just sink into the mattress in all the right places, yet it's super supportive for a restful night's sleep.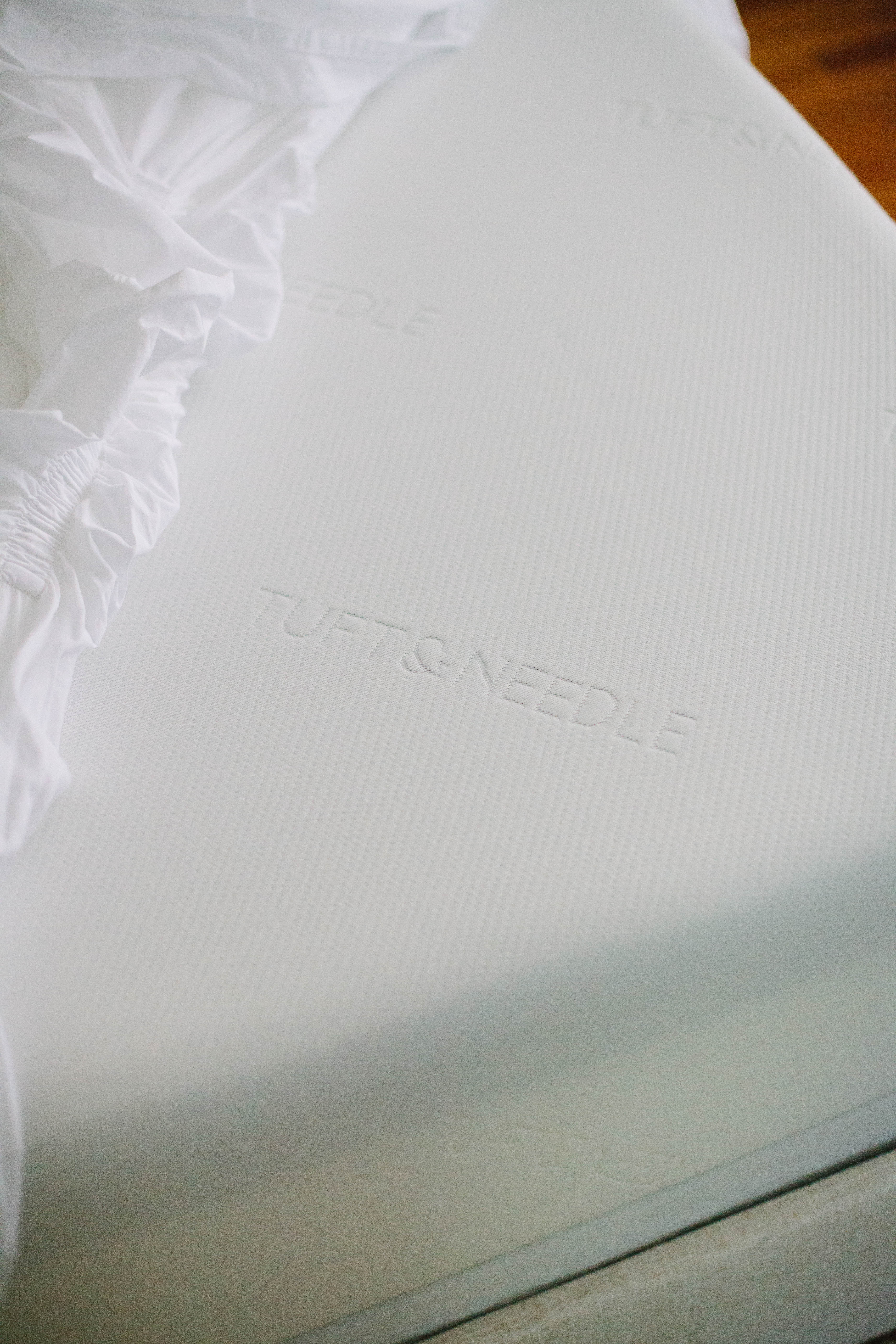 The unboxing process was pretty interesting as well. I've never seen a mattress just pop up like that before! It made it easy to lay it out compressed on the bed frame, and have it uncompress already in place. Simple things like that make everything a little easier!
For bedding, I fell in love with the waterfall style of the Wilton White Cotton Bedspread from Annie Selke's Pinecone Hill collection. I love the fresh, billowy look it gives the bed! Because it's cotton, it's been washing really well and it's easy to bleach if anything gets on it. We've washed it a few times already, and it's perfect every time – no shrinking!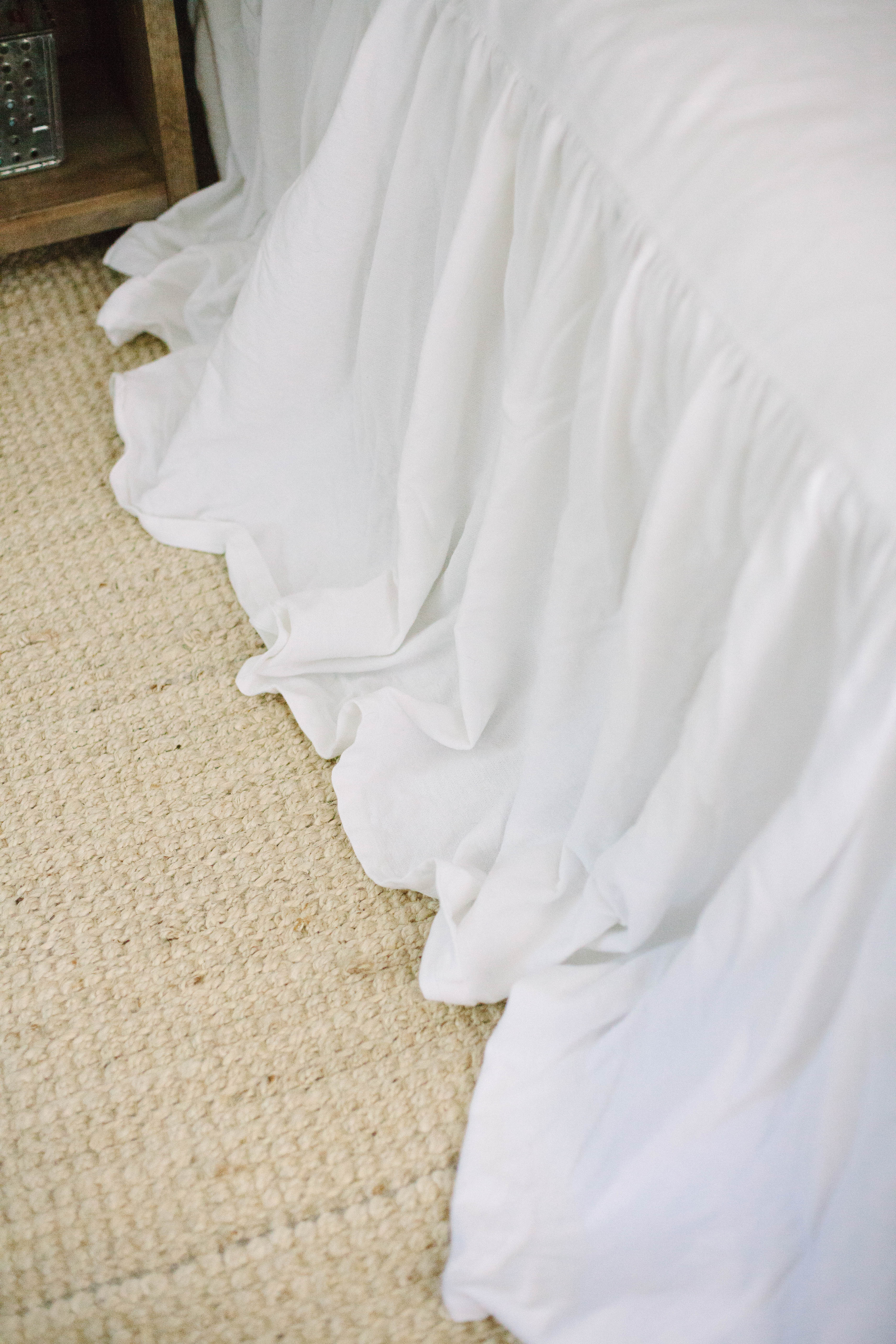 I also fell in love with this lumbar pillow, too. The simple grain sack stripe and fringe detail were the perfect touch in our cottage bedroom.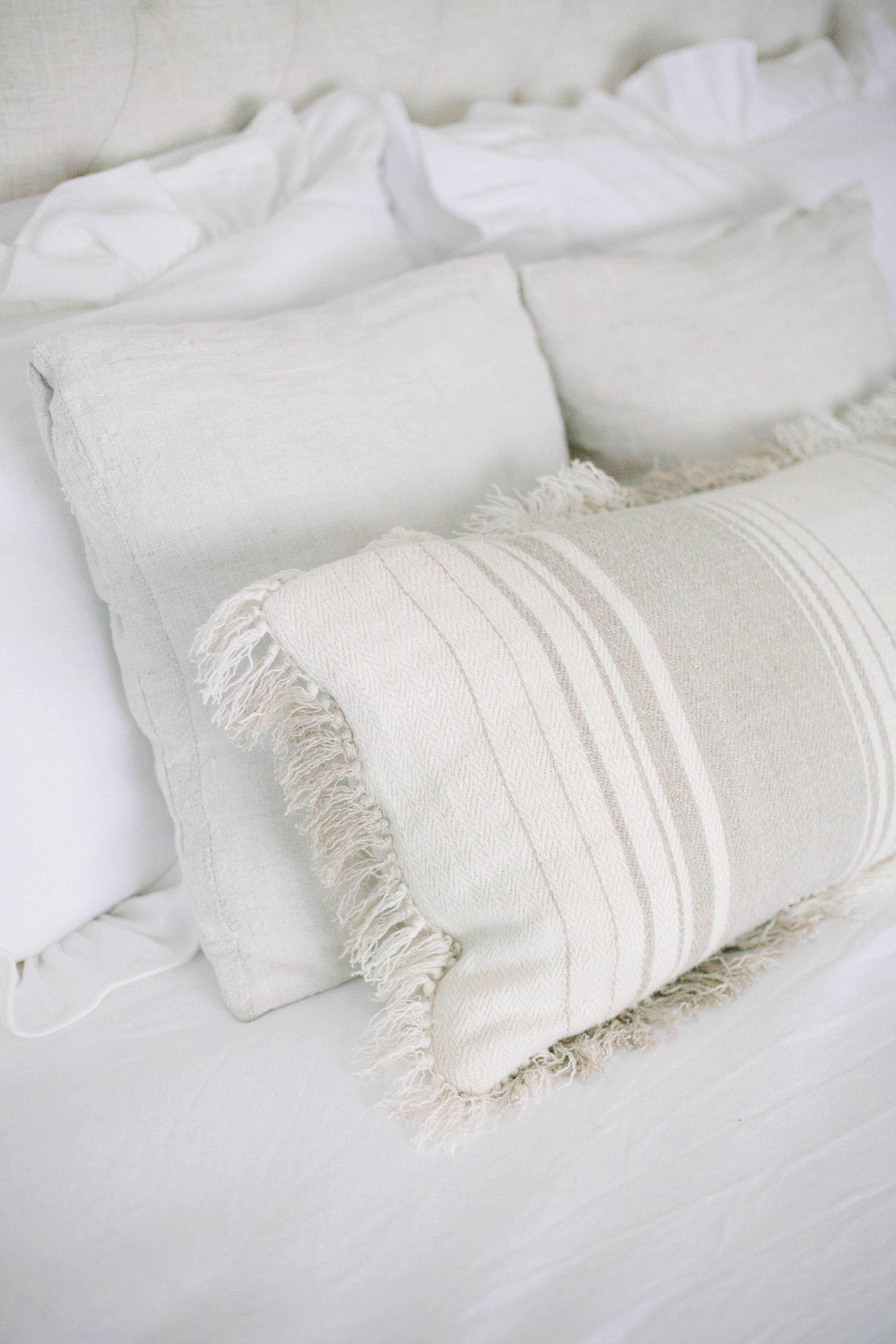 The only negative point that I can make about having a King-sized bed is I miss my husband! I feel like he's sleeping across the room, and it drives me nuts. I also feel like I have to roll over three times to reach my phone. Is it just me?! I kind of miss my Queen! But overall, I know the King is a better option. I'm in love with the look of the upholstered headboard, and I'm happy with the change!
I'll have a full reveal soon, as well as a post on where our old Queen bed is currently calling home. Stay tuned!
SOURCES
Upholstered Bed: c/o Birch Lane
Mattress: c/o Tuft & Needle
Bedding: c/o Annie Selke
Nightstands: Sauder
Lighting: Amazon
Rug: Amazon