Thank you to Mustela for sponsoring today's post!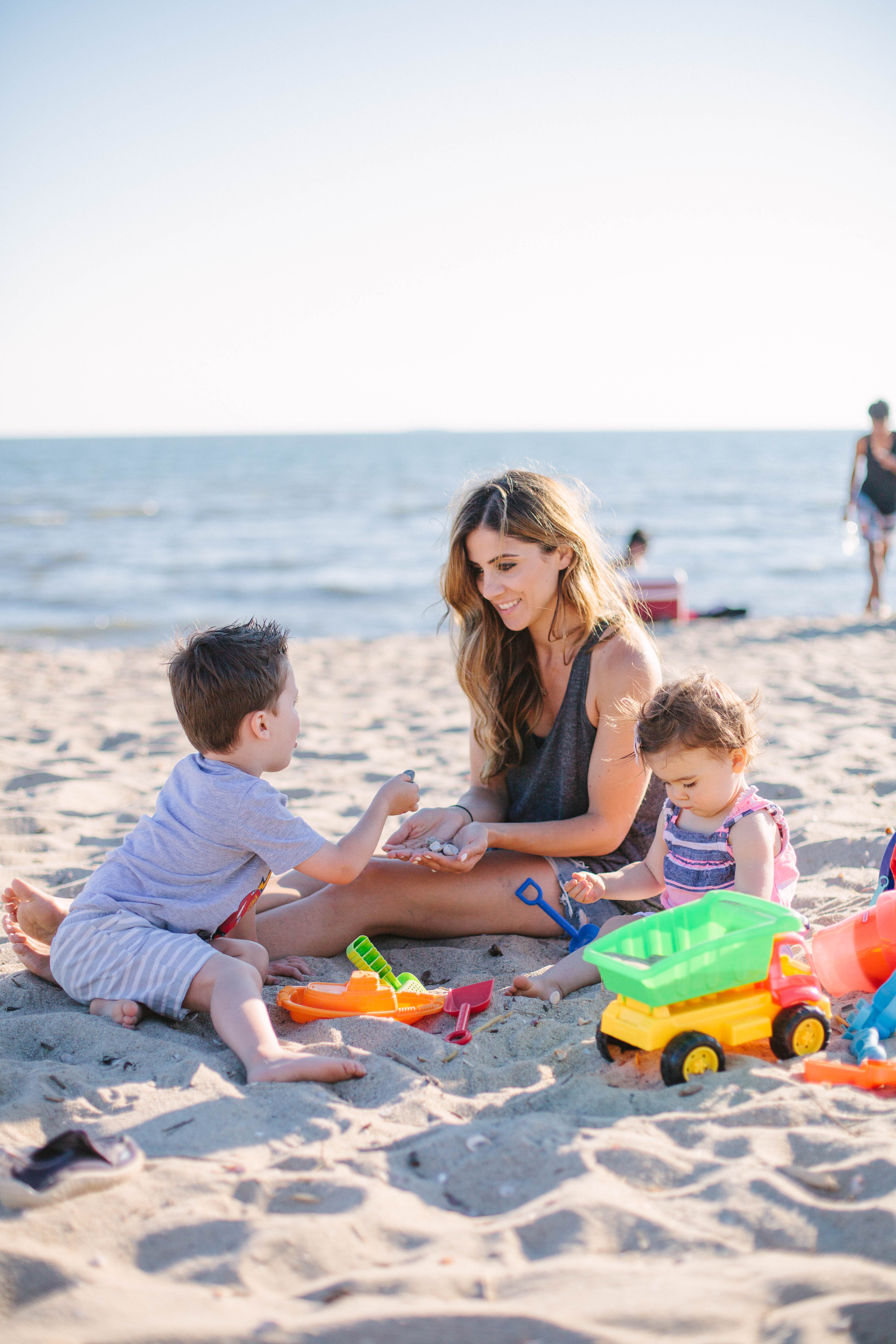 Being outdoors and in the water and sun all day during the summer can really take a toll on our skin! I recently shared some summer skincare tips for myself, but the kids are even more important! Today I'm sharing my Kids Summer Skincare Essentials with you, and the products I use on a daily basis to make sure their skin is staying hydrated and protected during the summer!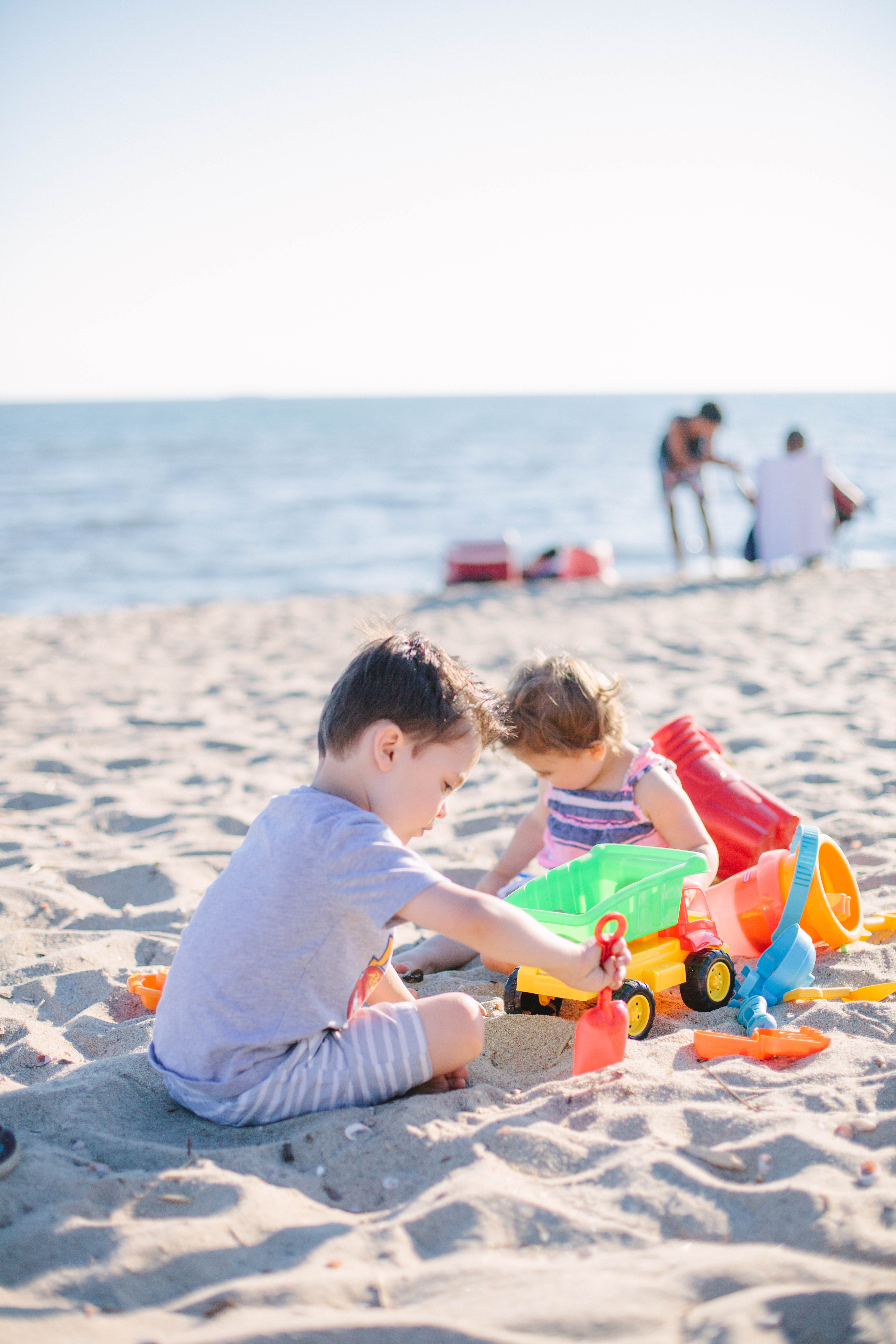 Kids Summer Skincare Essentials
Sunscreen. A no brainer, really, but it's so incredibly important on the littles' skin! I'm actually very picky about the sunscreen I use and try to choose products approved by the EWG. We're currently using Mustela's SPF 50+ Broad Spectrum Mineral Sunscreen Stick, and I've been very pleased. It applies smoothly and easily, and doesn't leave a thick white residue. The stick form also makes it easy to apply, especially to those areas like behind the ears and the back of the neck! It was rated as a 2015 Best Beach and Sport Sunscreen by the EWG, so bonus points for good ingredients!
UVA/UVB clothing. I make sure the kids' bathing suits have the UVA/UVB protection because it's that extra layer of coverage that gives me peace of mind. I actually prefer the little rash guards, even for Noelle, just in case for some reason I missed a spot on their little bodies. I'm really particular with sunscreen application, but things happen! It gives me a little extra confidence. Most kids swimsuits come made this way, but it's always good to check.
A hat! If your kids will keep it on (because that's always the challenge, right?). It really depends on my kids' moods, but if I can, I like to have them wear a hat at the beach. In combination with sunscreen on their face, it gives the best protection against harmful rays. But of course, I'm not always that lucky to have them oblige. 😉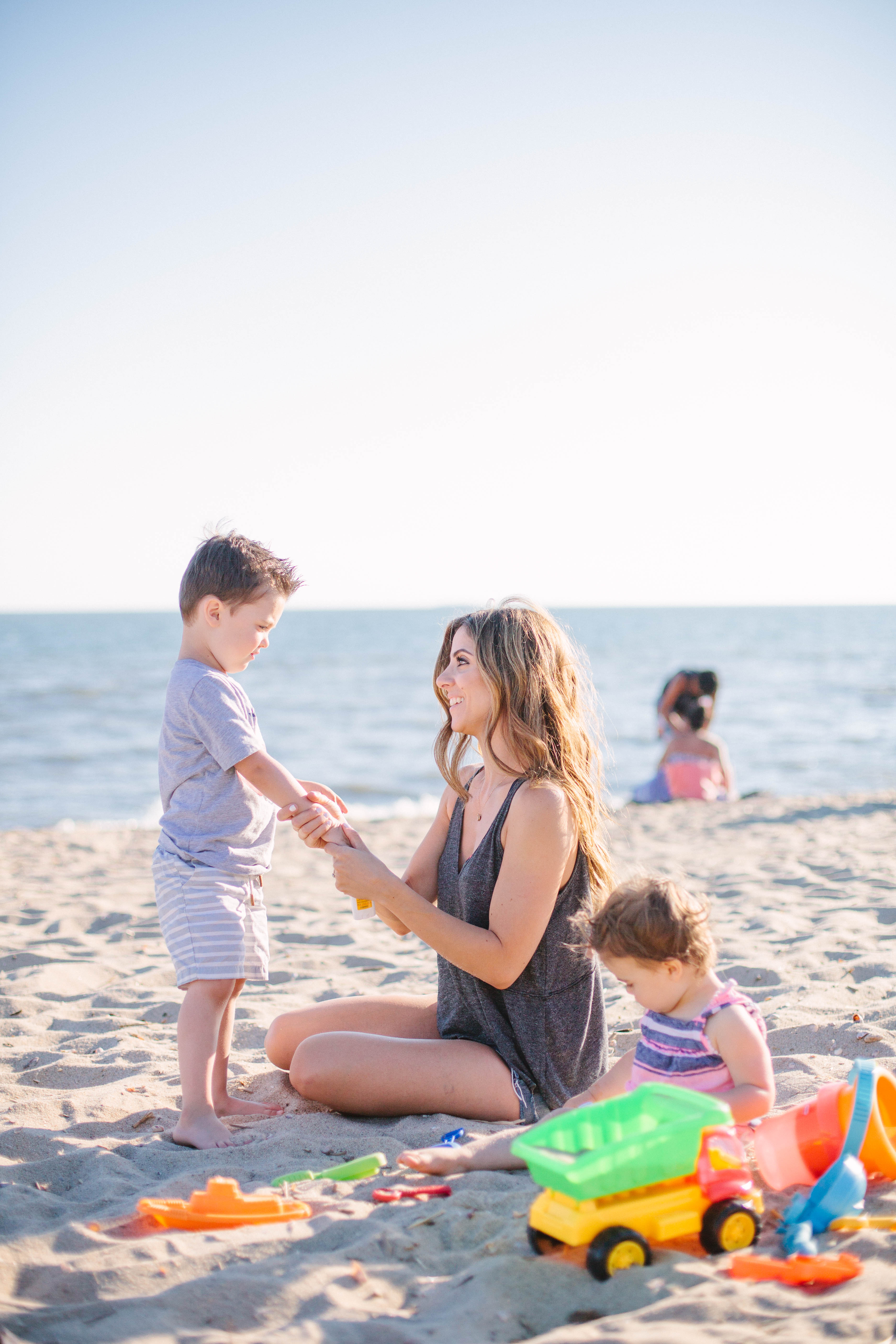 After sun spray. I noticed the kids' skin becoming very dry after a day at the beach, so I was pleased to learn about Mustela's After Sun Spray! It's a soothing lotion-based spray that keeps the kids' skin hydrated after sun exposure. I've been applying it in the evening and have noticed a huge difference in the dryness of their skin! The spray makes it a little easier to apply than a lotion, too. Bonus points for anything easy!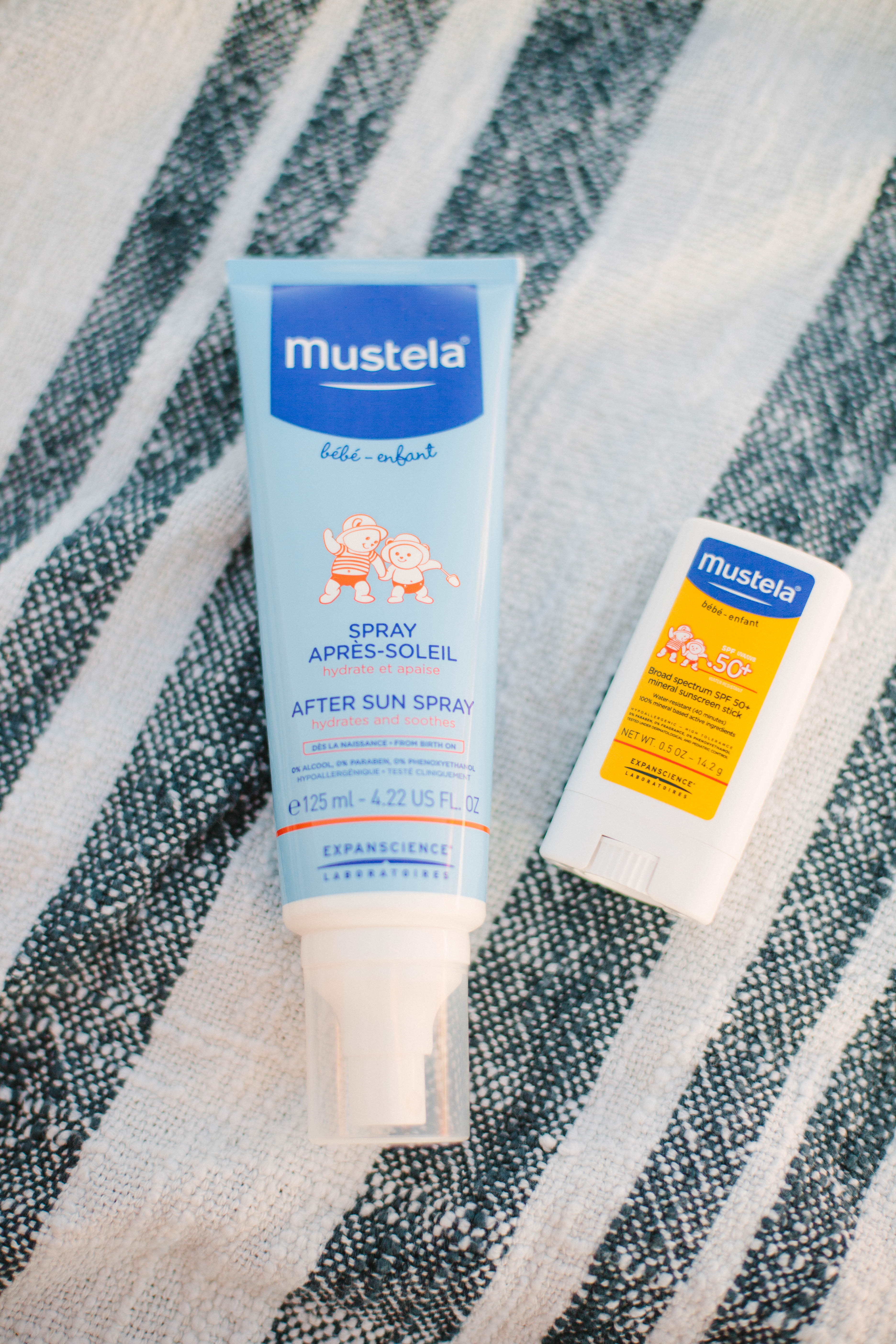 Cleansing water. This was a recent add to our beach bag this year since the beach can get a bit messy! Mustela's No Rinse Cleansing Water is great for easy clean up on the go. It's gentle enough to be used on baby's diaper area, body, and even face, and makes cleaning messy hands or faces easier. It soothes and softens too, and won't dry out their skin!
Baby wipes. I always carry a pack of wipes in my beach bag! Noelle is still in diapers, so they're a must – especially at the beach. If you're looking for soothing wipes for baby, Mustela's Dermo-Soothing Wipes are formulated with natural ingredients to soften, soothe, and protect the skin. They're also extra thick, which I like because I can't tell you how many times I've punctured my finger through a ripped wipe and got poop on myself, haha!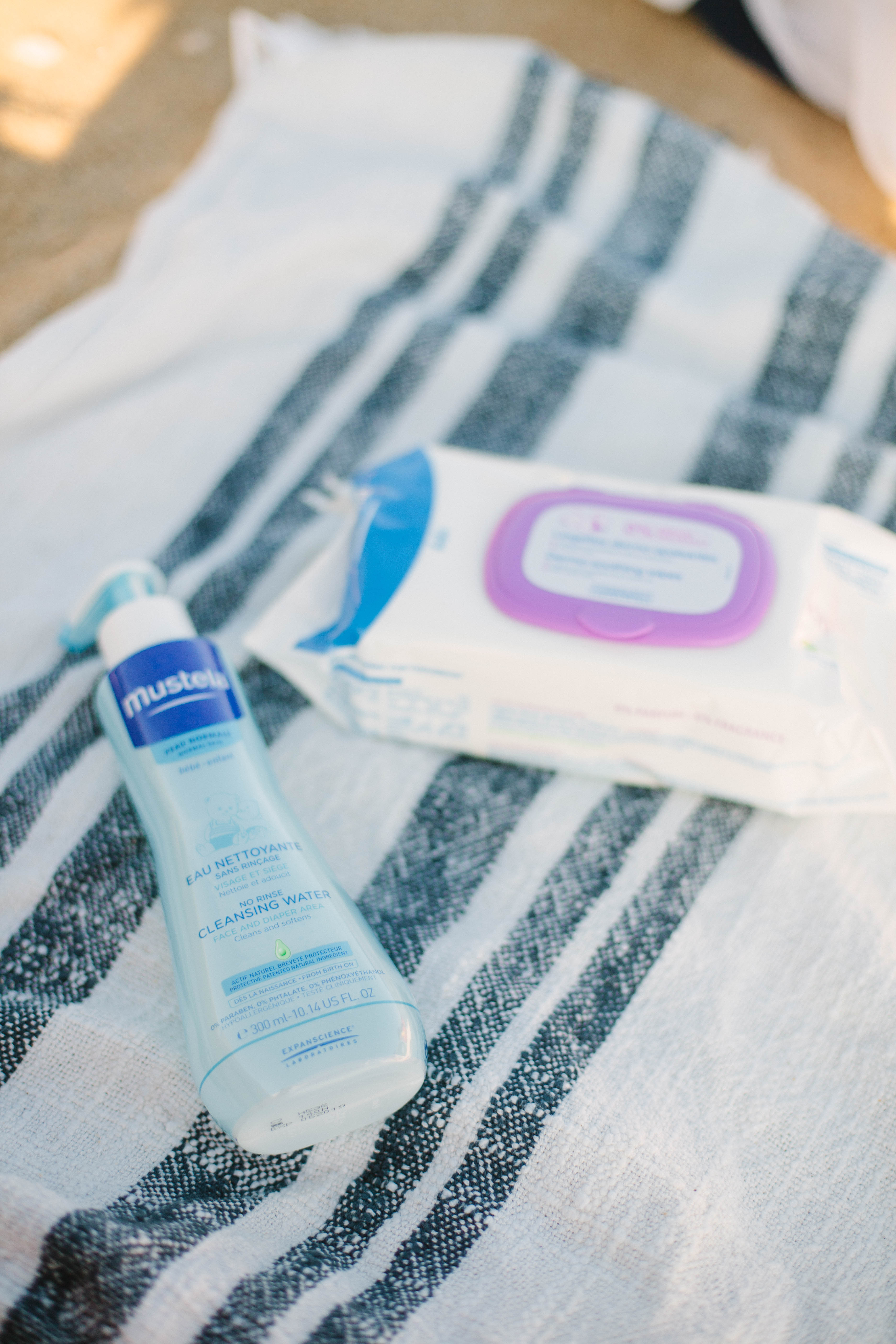 What are some kids summer skincare essentials you use on your own little ones? I would love to hear about them! Be sure to check out the entire line of products Mustela offers for babies! They're, hands down, our favorite to use because of the quality and ingredients!