This is a sponsored conversation written by me on behalf of True Value. The opinions and text are all mine.
Once the warm weather hits, we try to hit the beach as much as we can (I say we, but Pat hates the beach with every fiber of his being. So he's usually forced into it, haha!). My favorite thing to do is have a beach picnic with the kids! I've strategized over the years and have come up with some Summer Beach Picnic Essentials that I bring with us every time we go, so I thought I'd share them with you today to make your life a little easier if you're attempting a beach picnic with kids!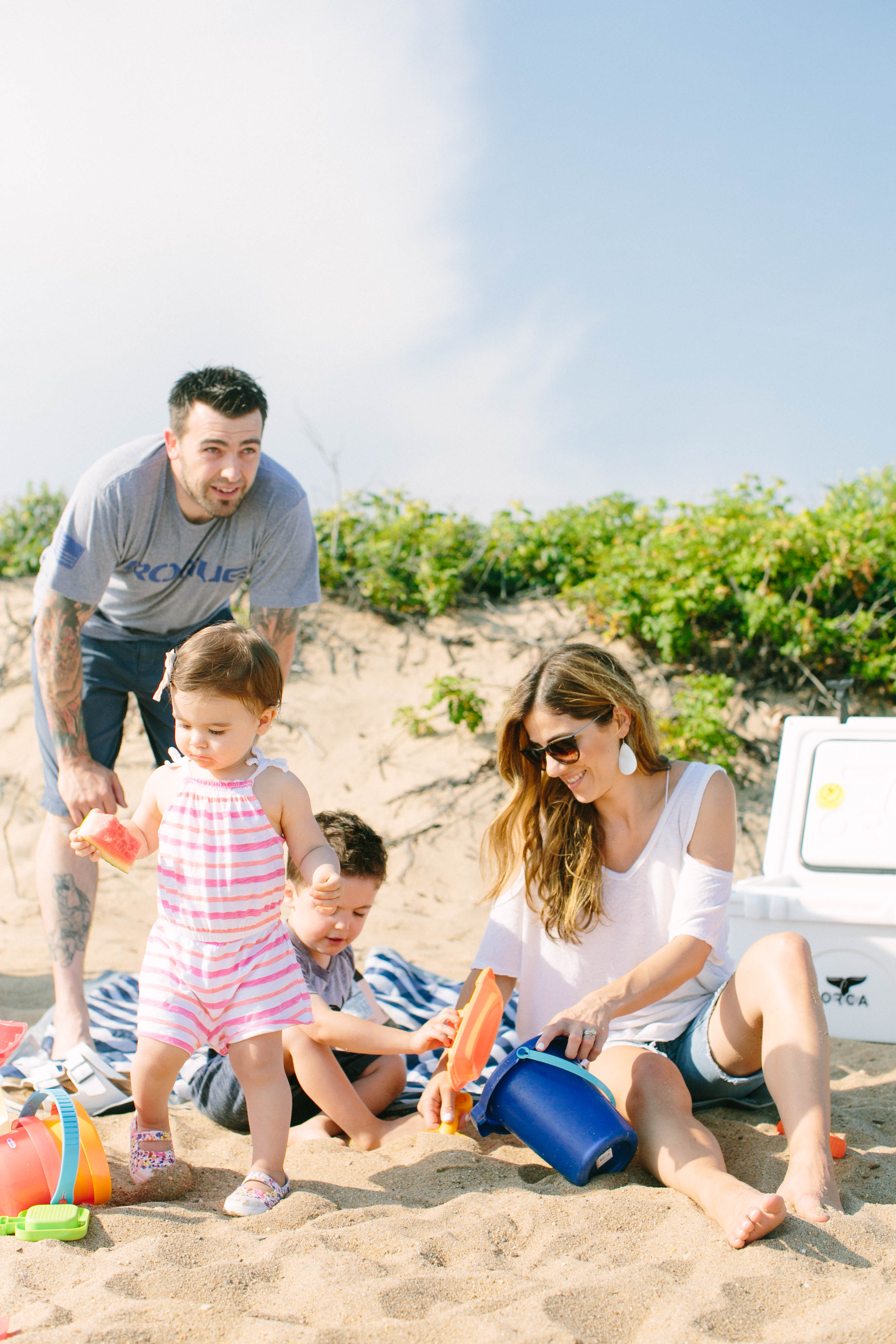 Summer Beach Picnic Essentials
A good cooler. The beach with kids can't happen without food. It just can't. I like to pack easy foods for the kids to snack on throughout our beach day. Finger sandwiches, watermelon, grapes, dry snacks, and even those kid fruit and veggie pouches (I still use those…SUCH a great and easy way to get fruits and veggies in the kids, and easy cleanup!). I try to avoid anything that requires a fork because my kids are way too excited to sit and eat lunch that way at the beach. Finger foods are key.
We are currently loving True Value's Orca Cooler because it keeps things COLD. It can hold up to 24 cans (not that we're drinking, but so you know for size!) AND can keep ice for up to 10 days! Thats insane to me, and my husband commented that we should've had this a few years ago during the hurricane when we lost power for a week (every place ran out of ice and we lost SO much food). The Orca Cooler has a cargo net for drink ware and other essentials, and it's lid gasket and whale tail latch ensure a perfect seal. There's also a LIFETIME warranty! Keep reading because there may or may not be a giveaway for one at the end of this post! 😉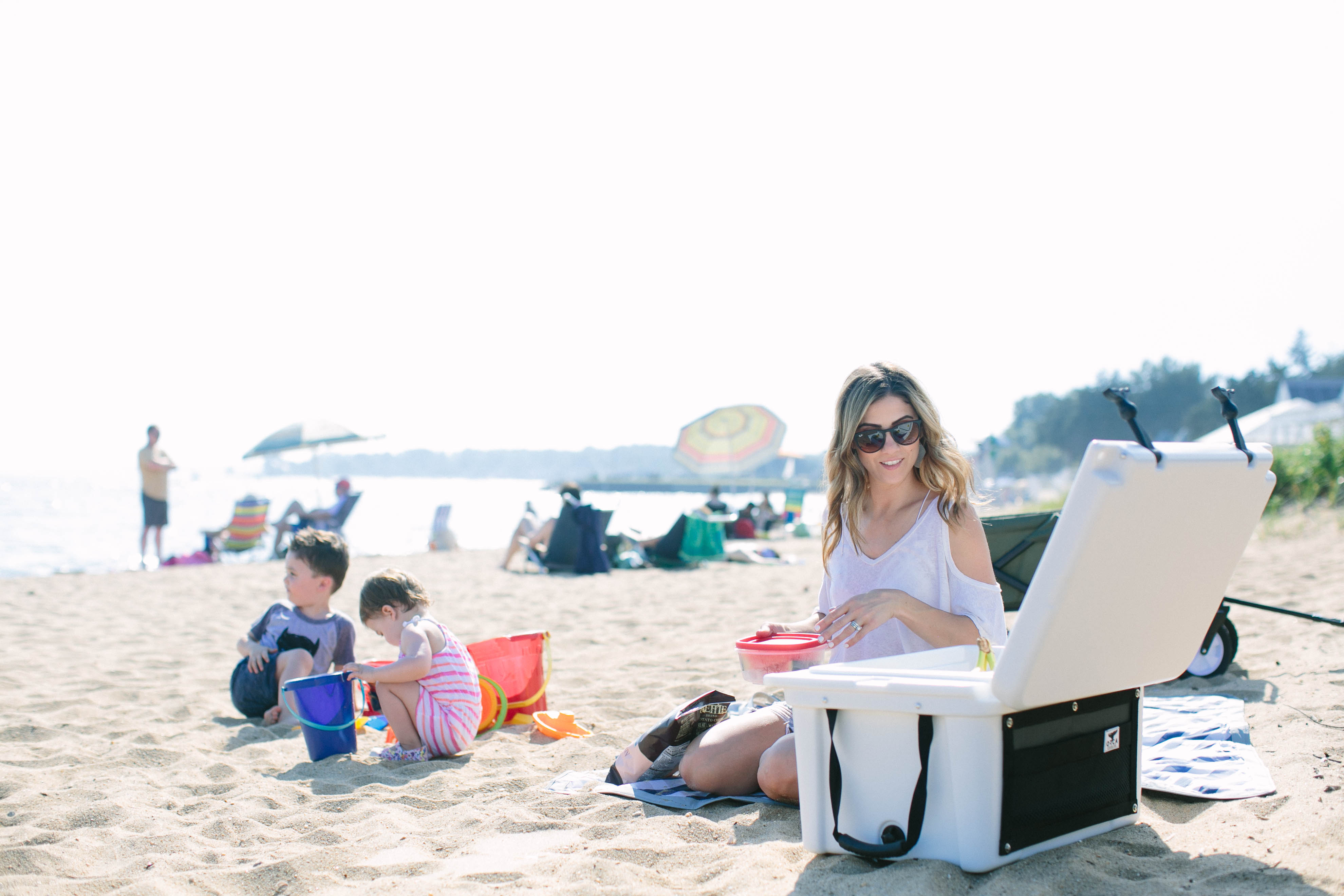 A waterproof beach mat. I invested in one of these last year, and it's the best thing I purchased! Mine folds up easily, has a handle I can wear over my shoulder, and wipes clean in no time. Much easier than a beach blanket!
An umbrella. We always bring an umbrella to the beach, but I think it's especially nice to sit under here and eat our food with some cool water when the time is right. It gives the kid a chance to cool down and refuel for more beach play!
Sunscreen. This is a no brainer, but no beach picnic is complete without sunscreen for us and the kiddos. I feel like our summers are way too short here, so I like to get the kids outside as much as possible. Sun protection all around is important!
Hand and face wipes. I like bringing these to the beach so I can wipe the kids hands and faces before and after they eat. Sandy hands and food are bound to happen with kids, but I like to wipe them clean at times if I can!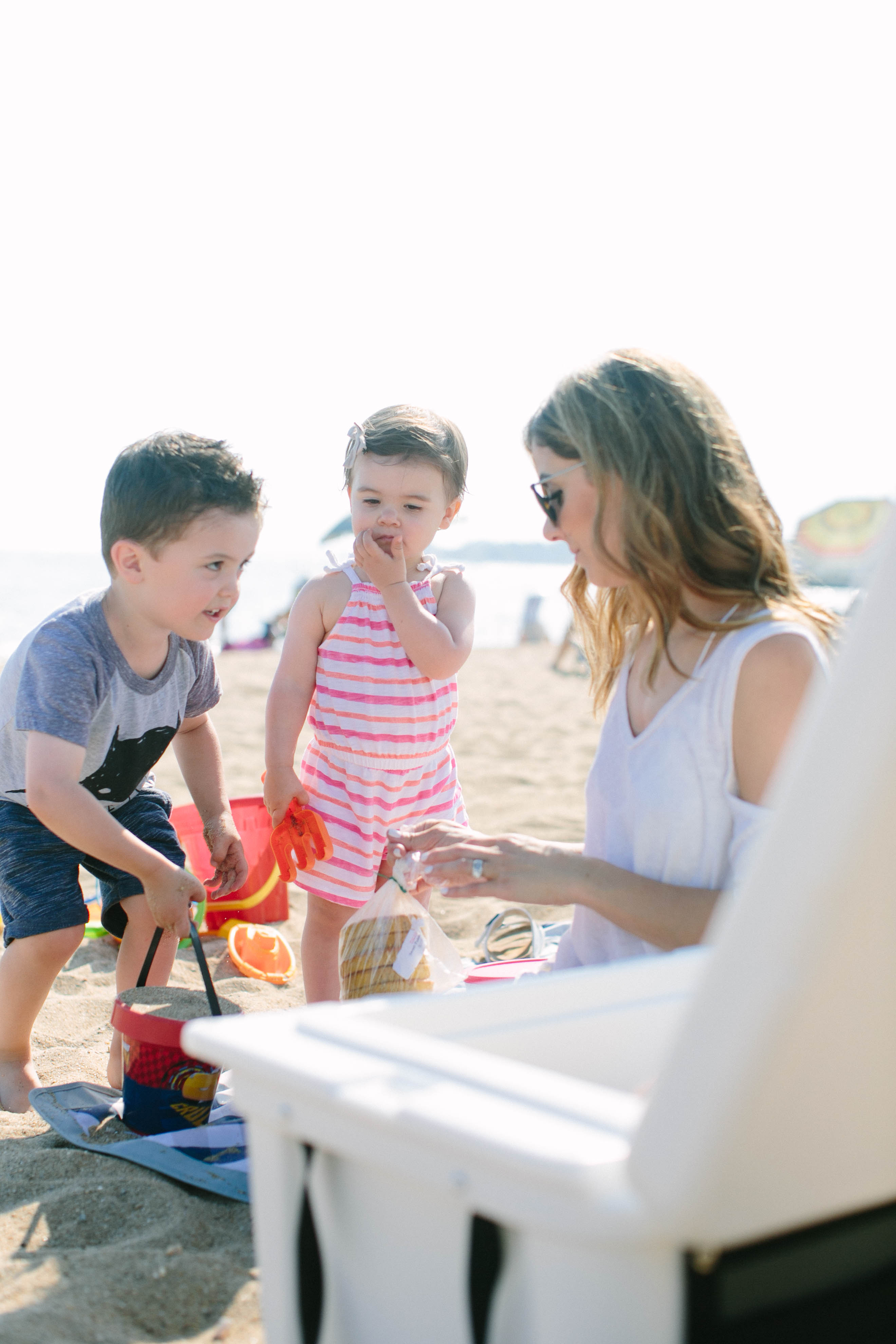 A little garbage bag. For some reason the garbage pail at our beach is a good ways away from where we sit, and I just have zero desire to walk over there with my kids whenever I need to! I've made it a habit to bring a little grocery store bag to use as a trash bag to then dispose of when we get to the parking lot. WAY easier.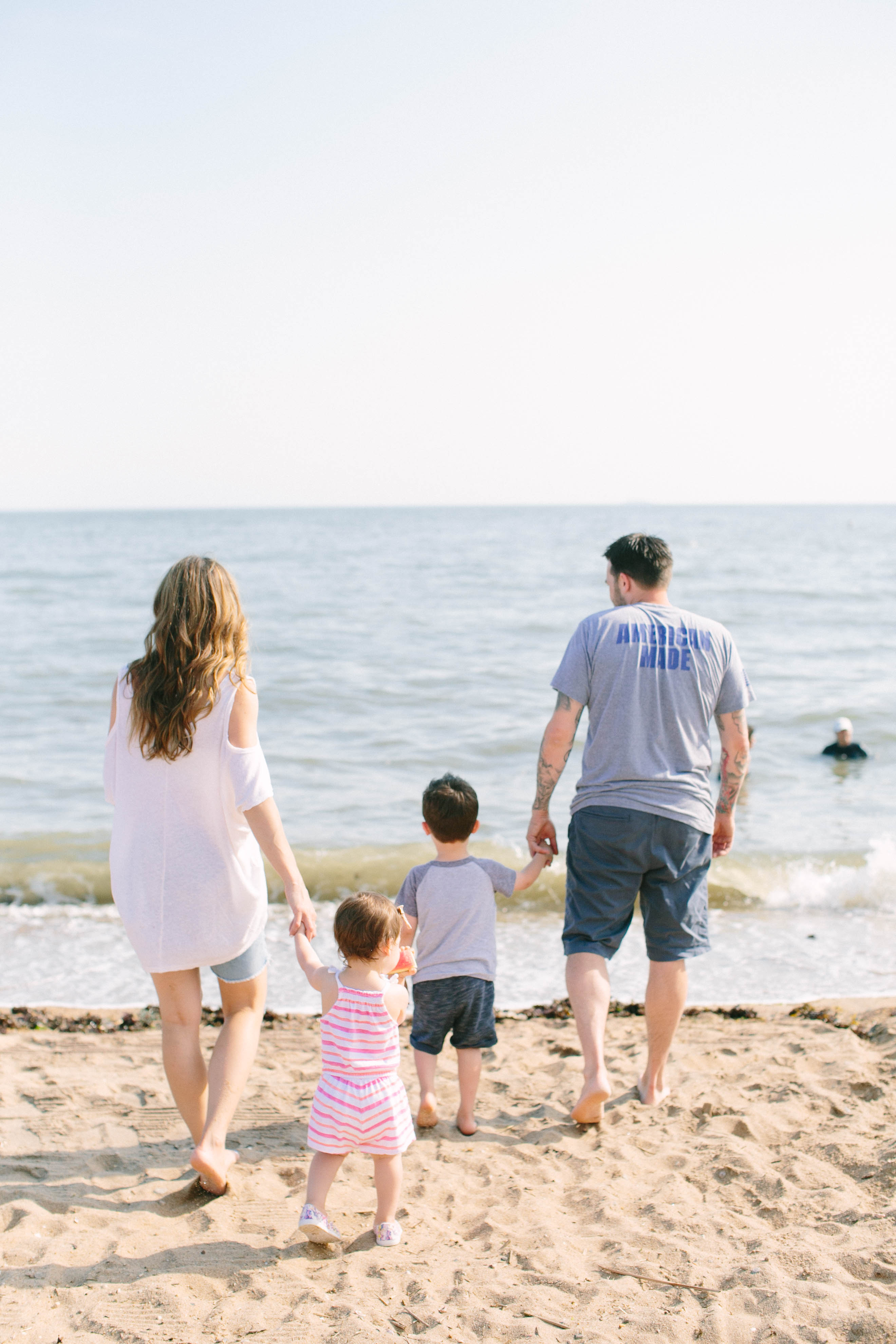 Here's a little video about our beach picnic adventure!
And now True Value has been kind enough to offer up an Orca Cooler for ONE lucky Lauren McBride reader! These coolers are valued at $199.99, so this is quite the prize! Enter via the Rafflecopter below (if you're on mobile, click "A Rafflecopter Giveaway") and good luck!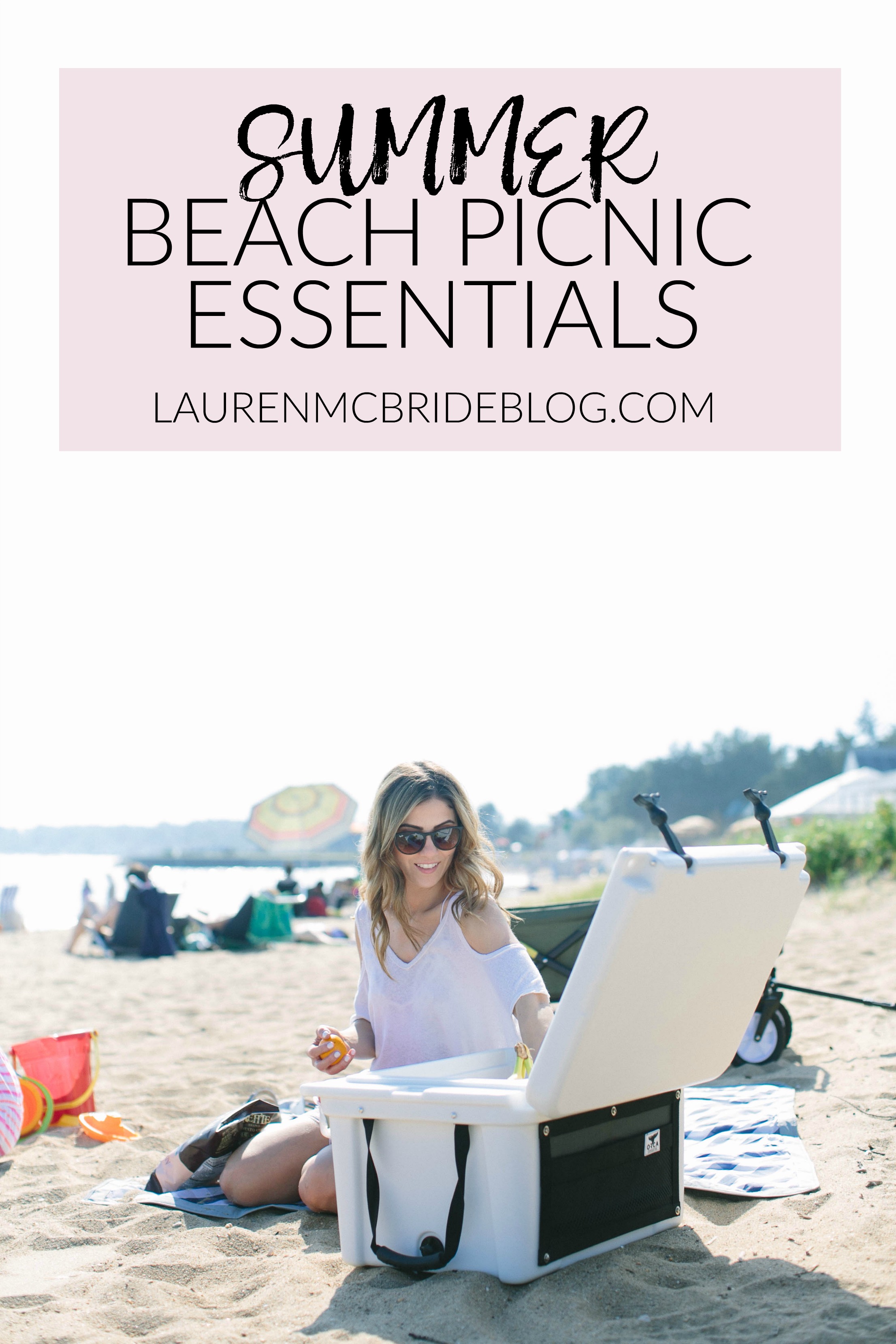 This is a sponsored conversation written by me on behalf of True Value. The opinions and text are all mine.