Thank you to Nordstrom for sponsoring today's post!
As I'm in the early stages of my second trimester of pregnancy, I'm making it an effort to be selective with items I purchase for my wardrobe. I've invested in a few non-maternity dresses that will last me the duration of my pregnancy based on a few key "qualifying" factors. Today I'm sharing with you Tips for Wearing Non-Maternity Dresses to wear throughout your pregnancy!
Tips for Wearing Non-Maternity Dresses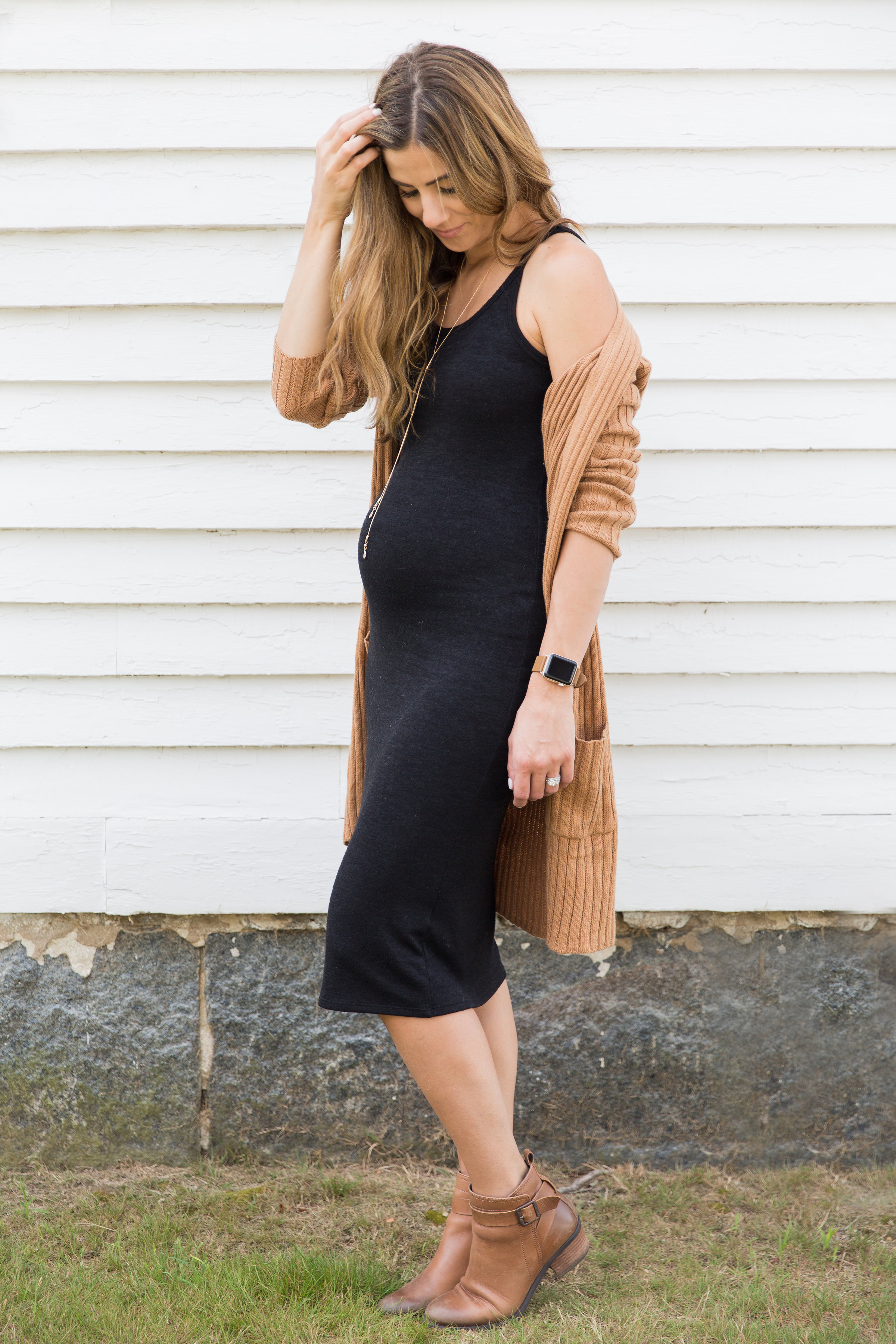 Bodycon and stretchy materials are your friend! Look for dresses that have some stretch that will grow with your bump. I prefer to show off my pregnant belly (pregnancy is a beautiful thing!) instead of hiding it. I love that this dress by Leith hugs my figure yet is incredibly comfortable enough to not be constricting. It's the perfect non-maternity dress to wear while pregnant! I love wearing it with a long cardigan (this one by BP.) and booties, but this dress is incredibly versatile! Another favorite way to wear it is with a t-shirt or tank top tied over the bump!
SHOP THE LOOK

Look for dresses with length. As the bump gets bigger, the front of the dress may hike up more! I always look for knee-length or midi-length non-maternity dresses that will allow my bump some room to grow. I prefer them to also be a stretchy material, as previously stated, because they hug the bump better! This dress by Treasure & Bond is the perfect length for pregnancy. I also like that it can be dressed up or down! I wore it casual with a chambray top tied under my bump, these comfortable Nike sneakers, and my favorite new backpack from Sole Society.
SHOP THE LOOK

Avoid awkward waistlines. When pregnant, I avoid anything drop waist. If a dress has a waistline, it needs to fit above my bump in order to be flattering!
Look for dresses with ruching. This simple dress by Leith is one of my favorites when I'm pregnant and when I'm not. The ruching provides some extra fabric and gives room for a growing bump. I wear this dress multiple ways, from denim and cargo jackets to cardigans in the fall. It's comfortable, breathable, and moveable! And casual enough to wear with Converse sneakers. Perfect for an expecting mama!
SHOP THE LOOK

Buy dresses you can purchase in your REGULAR size. I refuse to buy anything larger in size when I'm pregnant because then it's useless when pregnancy is over. Finding a dress in the right fabric and the right length usually means I can purchase it in my normal, pre-pregnancy size.
Hopefully these tips will help you shop for non-maternity dresses if you're expecting! Nordstrom has a great selection of non-maternity and maternity dresses to choose from, and their free shipping and return policy is what keeps me coming back!
I would love to see how you style these dresses if you choose to pick them up for yourself! 🙂