You guys have been asking about a lot of the accessories I've been wearing on Instagram lately, so I thought I'd do a quick little roundup of what I'm currently loving and things I have my eyes on! I typically wear delicate jewelry, and occasionally have some fun with statement earrings (usually on date night). I'm sharing some of my favorites below, plus some pieces I've had my eyes on!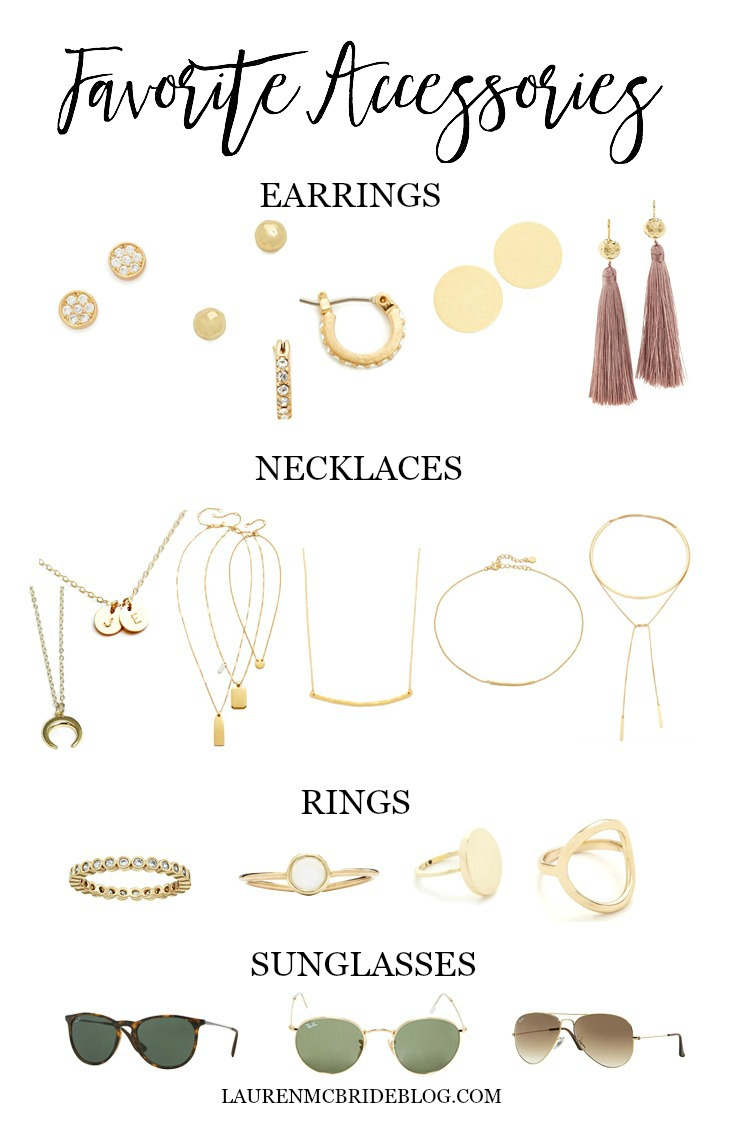 NECKLACES
Silver Wren Horn Necklace / Silver Wren Initial Necklace / Madewell Pendant Necklaces / Gorjana Taner Bar Necklace / Gorjana Choker / Madewell Chain Choker Necklace
I added this Gorjana Choker to my accessory collection, and you guys have been asking me about it every time I wear it! I like to layer it with my initial necklace from The Silver Wren (use code Lauren for 15% off!). I also love this longer version, and think it's a great everyday necklace. For more of a statement, I love this adorable pendant necklace set. It's on my wishlist because I like that they're a little heavier than my everyday but still simple enough to not look overdone. This chain choker necklace is also a great option!
EARRINGS
Gorjana Pristine Gold Studs / Gorjana Mini Studs / Madewell Pave Hoops / Madewell Disc Earrings / Gorjana Tassel Earrings
I prefer simple studs for earrings because years of wearing heavy statement earrings have left my ear holes a little large. The weight caused them to stretch out, so I try to be really careful with what I put in my ears. I love simple studs like these mini pave earrings or these gold ball earrings because they go with everything and just add a little sparkle. These delicate pave hoop earrings are also another great option, and are on my wishlist!
When I do wear statement earrings, I try to make sure they're lightweight. I recently picked up these Madewell Disc Earrings, which you guys have commented on frequently over on Insta-Stories! They're not too heavy, and I love that they're simple yet make a statement. They don't bother my ears either, so brownie points there! One statement pair I have my eyes on are these gorgeous tassel earrings! I can't say for sure, but I'm assuming they're lightweight because the metal is minimal.
RINGS
Gorjana Candice Ring / Helen Ficalora Ring / Madewell Ring / Madewell Circle Ring
I like wearing delicate rings for date nights or when I have nights out with friends, just as another simple and polished looking accessory! I love this Gorjana ring, which you guys always comment on, and my favorite opal ring from Helen Ficalora. I recently picked up these other simple gold rings from Madewell, which always has great delicate options!
SUNGLASSES
Ray-Ban Erika Sunglasses / Ray-Ban Sunglasses / Ray-Ban Aviators
I can't forget the sunglasses! I usually pull my Ray-Ban aviators, but you guys really LOVED the Erika style as well as my new pair in the Phantos style.
Hope you scoop something up you've been loving! 🙂