Thank you to Nordstrom for sponsoring today's post!
I *think* fall has finally hit here in Connecticut, which means I can hopefully start organizing the kids clothes and put the summer stuff away! I always feel like I can't make any drastic moves too soon when it comes to their closets because I never know what the weather will be like the following week. But the air is crisp this morning, and we are in definite need of some pants and sweaters! If you don't like getting too crazy with new clothes each season (they need new stuff EVERY season with how quickly they grow!), then today's post is for you! I'm sharing this adorable Baby Girl Fall Capsule Wardrobe featuring all items you can find at Nordstrom!
Baby Girl Fall Capsule Wardrobe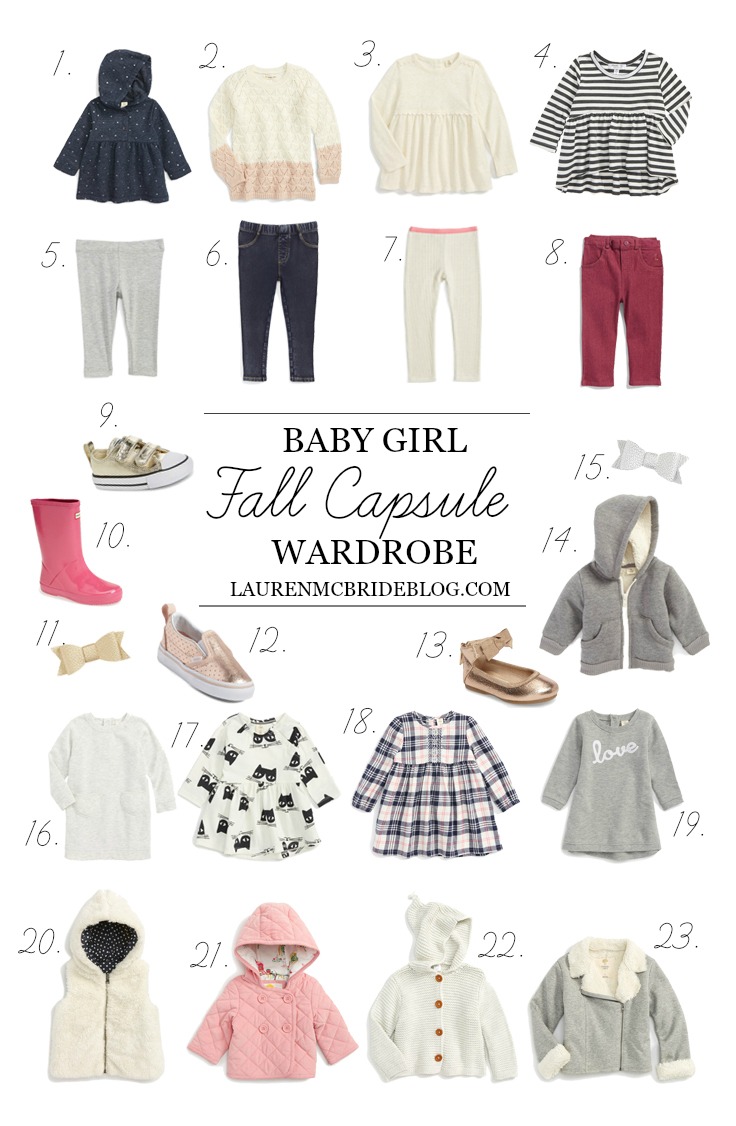 Kids grow craaaaazy fast, so I like buying my kids clothing items that they can wear and style multiple ways, and also clothes that will be durable! I buy a lot of basics and a few patterns to spice things up a bit. I'm also loving metallic this year, and had to get Noelle these adorable rose gold Vans! I recently learned about the Tucker and Tate brand available at Nordstrom, and I love the high quality and reasonable prices they offer. Many of these items she'll be able to carry into the winter season, too!
TOPS
1. Tucker + Tate Foil Star Hoodie
2. Tucker + Tate Open Knit Colorblock Sweater
3. Tucker + Tate Lace Trim Tunic
4. Joah Love Stripe Peplum Tee


LEGGINGS
5. Tucker + Tate Essential Leggings
6. Tucker + Tate Denim Jeggings
7. Tucker + Tate Cable Knit Leggings
8. Robeez Soft Jeans


SHOES/ACCESSORIES
9. Converse Low Top Metallic Sneakers
10. Hunter First Gloss Rainboots
11. Baby Bling Bow Clips
12. Vans Classic Slip-On Sneakers
13. Kenneth Cole Rose Gold Ballet Flat
15. Baby Bling Bow Clips


DRESSES
16. Tucker + Tate Sweatshirt Dress
17. Tucker + Tate Cat Print Dress
18. Tucker + Tate Embroidered Plaid Flannel Dress
19. Tucker + Tate Applique Terry Dress


JACKETS/VESTS
14. Tucker + Tate Fuzzy Lined Jacket
20. Tucker + Tate Reversible Faux Fur Hooded Vest
21. Mini Boden Pretty Quilted Corduroy Hooded Jacket
22. Nordstrom Baby Organic Cotton Hooded Cardigan
23. Tucker + Tate Faux Fur Moto Jacket


Nordstrom has been my go-to for kids apparel this fall season because of the high quality and affordable prices! And, as always, you CANNOT beat their return policy. So if something doesn't work, just send it right back! They make shopping for moms super easy (because I do NOT enjoy bringing my kids to the clothing store!) I'll be sharing a toddler boy fall capsule wardrobe in the upcoming weeks, so stay tuned!