Thank you to eos for sponsoring today's post!
There comes that blessed time when your kiddos are old enough for you to nix the big bulky diaper bag and you can go back to carrying your regular purse…just in time to push out another baby and start all over 😉 We are currently diaper bag free at the moment (unless we have big day trips), but I still feel like I have to carry a lot of stuff in my mom bag! I try to downsize and only carry essentials, but I like carrying a little bit bigger of a bag (like the backpack you see below) so I have extra room for the kid's water bottles, snacks, and maybe a diaper if I need it! Today I'm sharing SIX essential items you'll always find in my mom bag and why they're such crucial items that I can't leave home without! I'm sure many of you mamas can relate!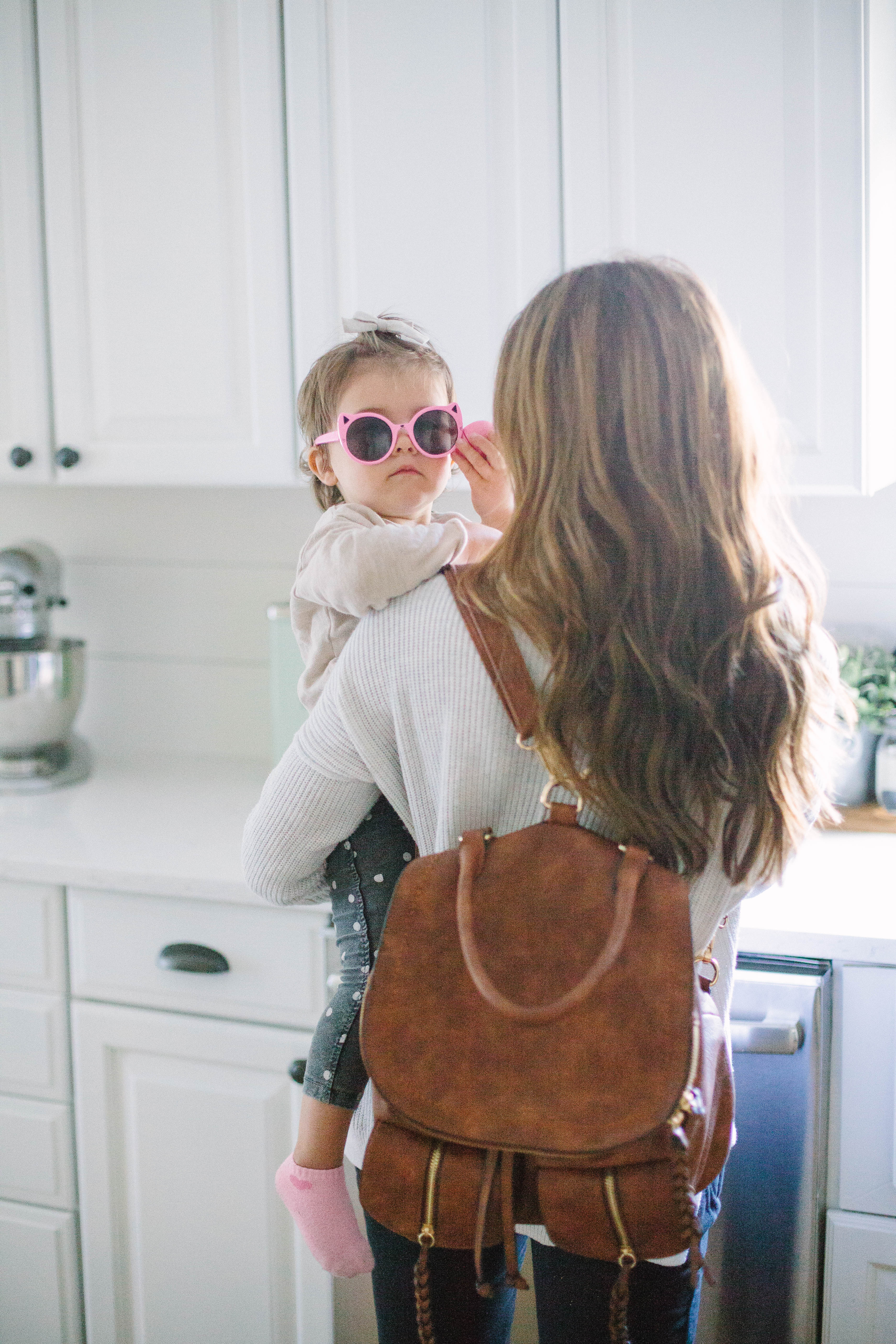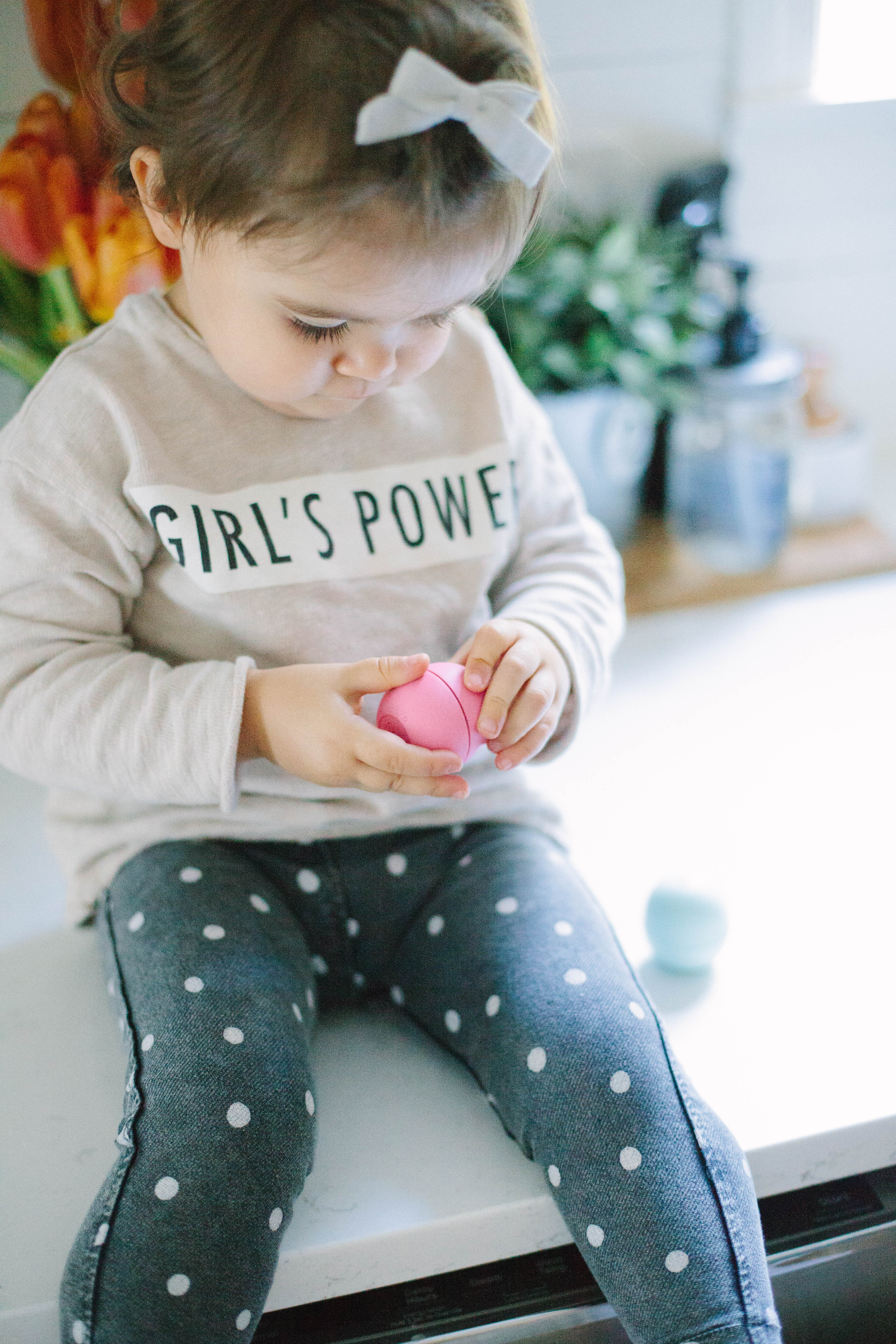 Lip balm. I'm the person who owns like 10 lip balms and has one in every place (bathroom, makeup bag, bedside table, car, kitchen, purse…you get the idea). I switched over to all natural and organic lip balm once I had kids because all I do is kiss them and get it on their cheeks! My go-to is eos Lip Balm, which is now better than ever because it's 100% natural, USDA-certified, paragon free, gluten free and now 95% organic! It's fill with healthy ingredients like coconut oil, shea butter, jojoba oil, and sunflower seed extract. My lips feel good, and I feel good knowing that it's not bad for my kiddos either! Noelle also LOVES the eos Lip Balm cute packaging ("open it!" she always says), and so do I because it's easy to find my in huge purse! My favorite is the Strawberry Sorbet, but Noelle doesn't discriminate flavors 😉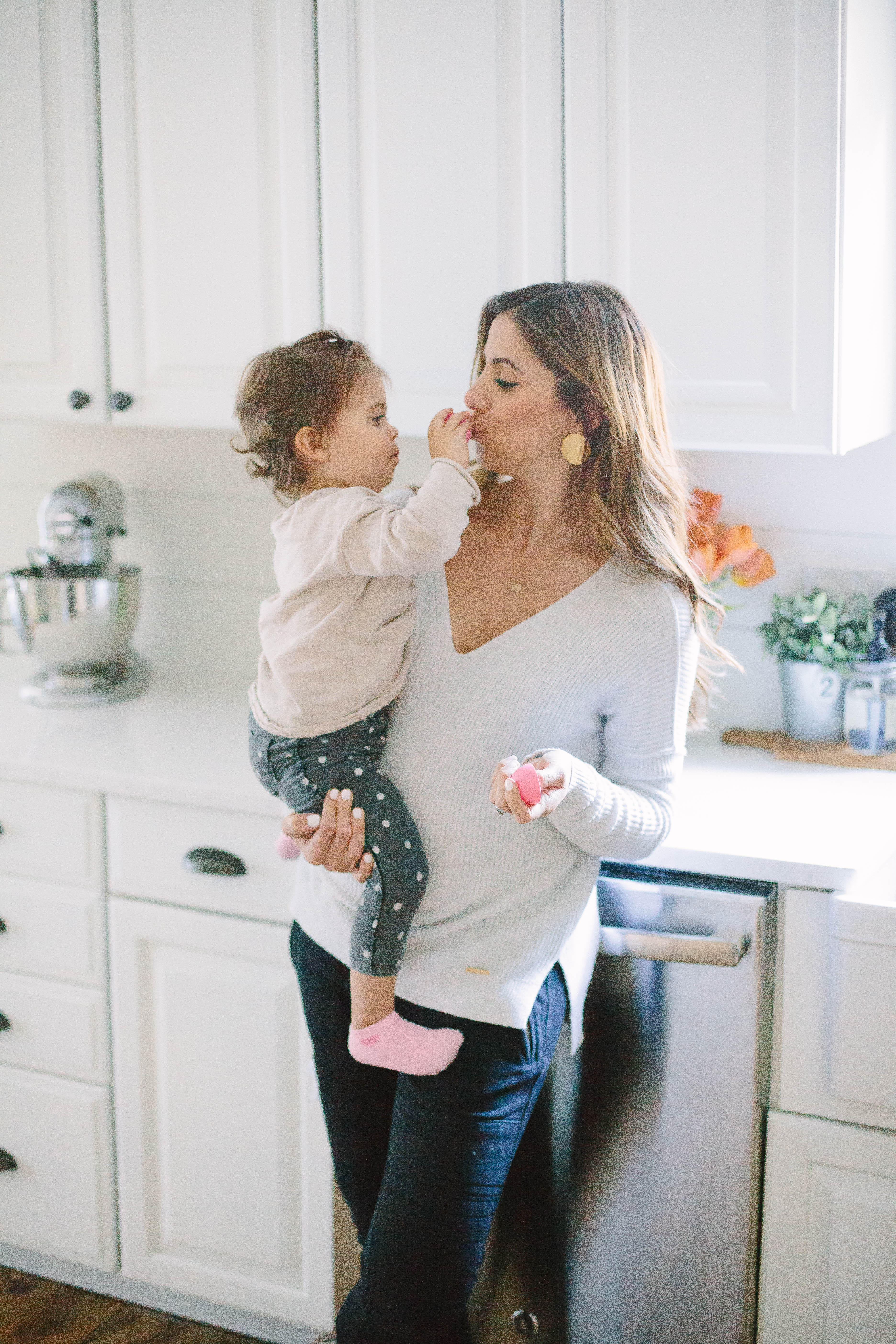 Wallet. An obvious essential! If I don't have my wallet, I'm pretty much useless (although thank goodness for Apple Pay, right?) I have this horrible habit of leaving my purse on the ground, which results in Noelle going through it. Her first item of choice is ALWAYS my wallet. She ends up moving everything around (I have things in a certain order, as we all do, for easy access!), and then I never know where anything is. Apparently this was MY favorite thing to do as a toddler, so clearly the apple doesn't fall far from the tree 😉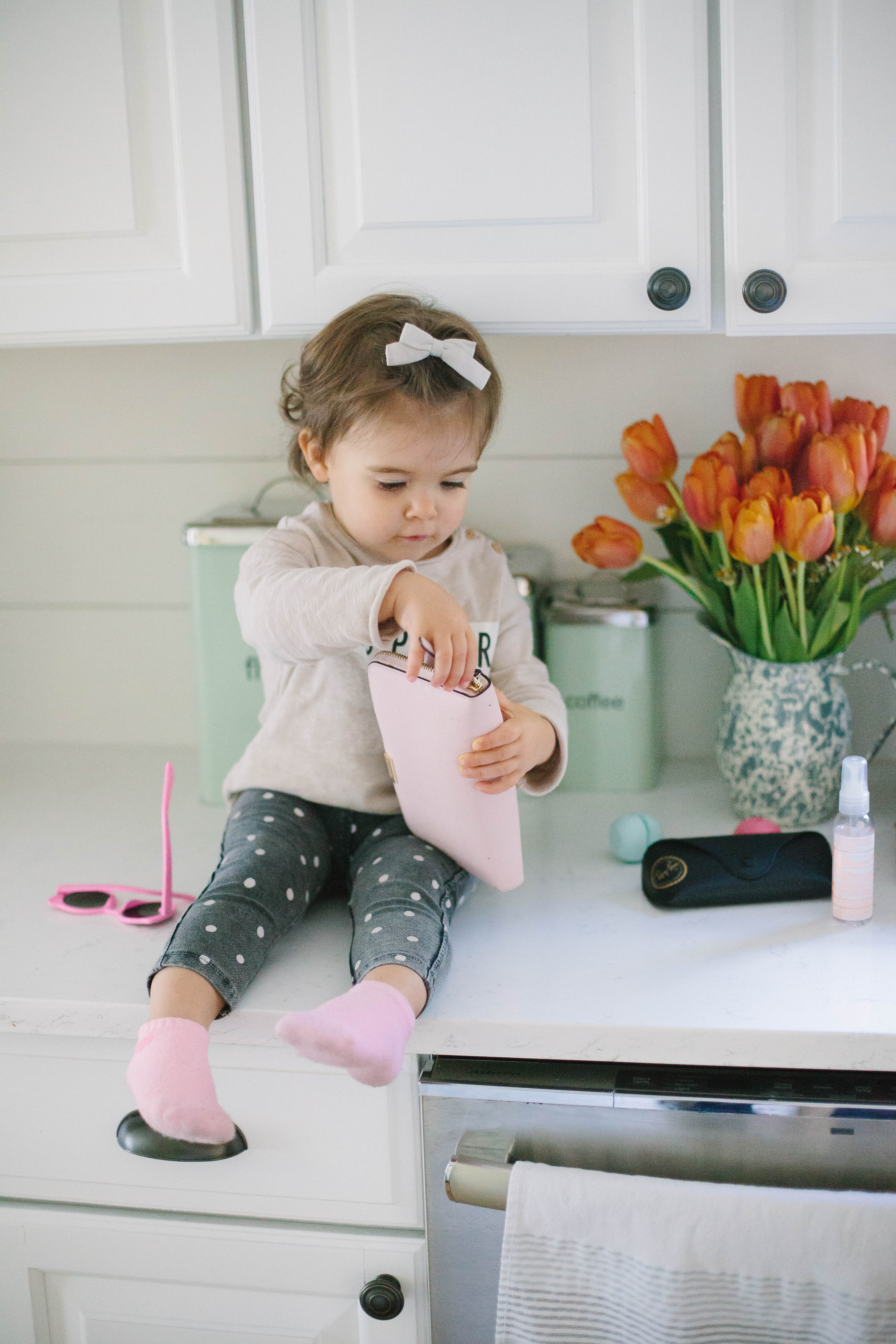 Sunglasses. I actually carry multiple pairs (I have no reason as to why), but sunglasses are an absolute necessity for me. I can't be without them because I feel like otherwise the sun is always way too bright. I especially need the while driving! Noelle usually throws her pair in my bag too 😉 Also great for those no-makeup days that us moms have all too often, right?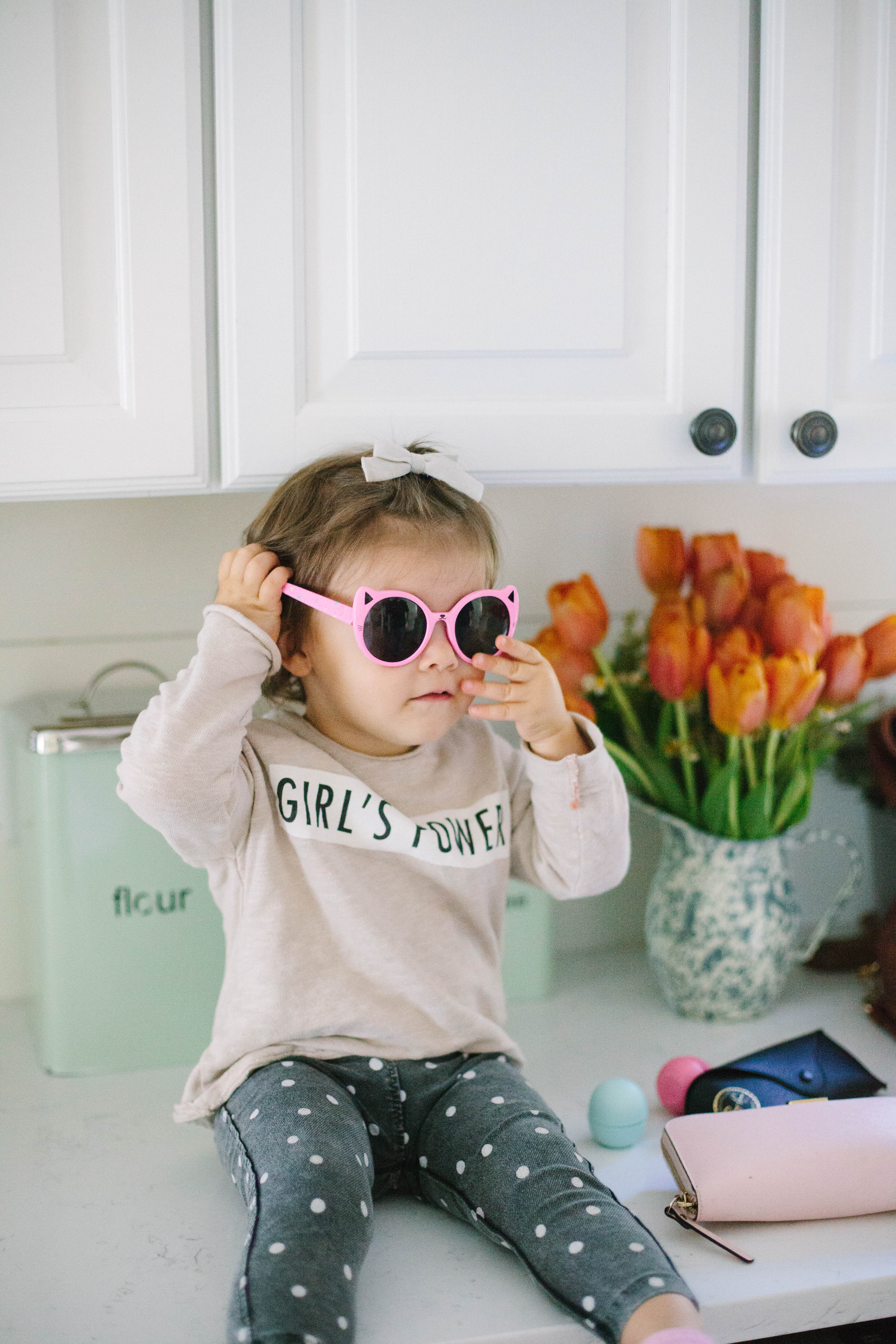 Hand sanitizer. This might be more because I'm a nurse, but I like to have hand sanitizer on me wherever I go. Public bathrooms aren't always the cleanest, and I just like having access to something until I can do a good hand wash. I like to keep a natural kind on hand so the kids can use it too!
Wipes. Wipes are a mom's best friend! I always keep a small pack in my bag (or even just the car!) for easy clean up, because you never know when you need them. I prefer the hands and face wipes for easy cleaning of sticky little hands when we're out to lunch or having a snack on the go.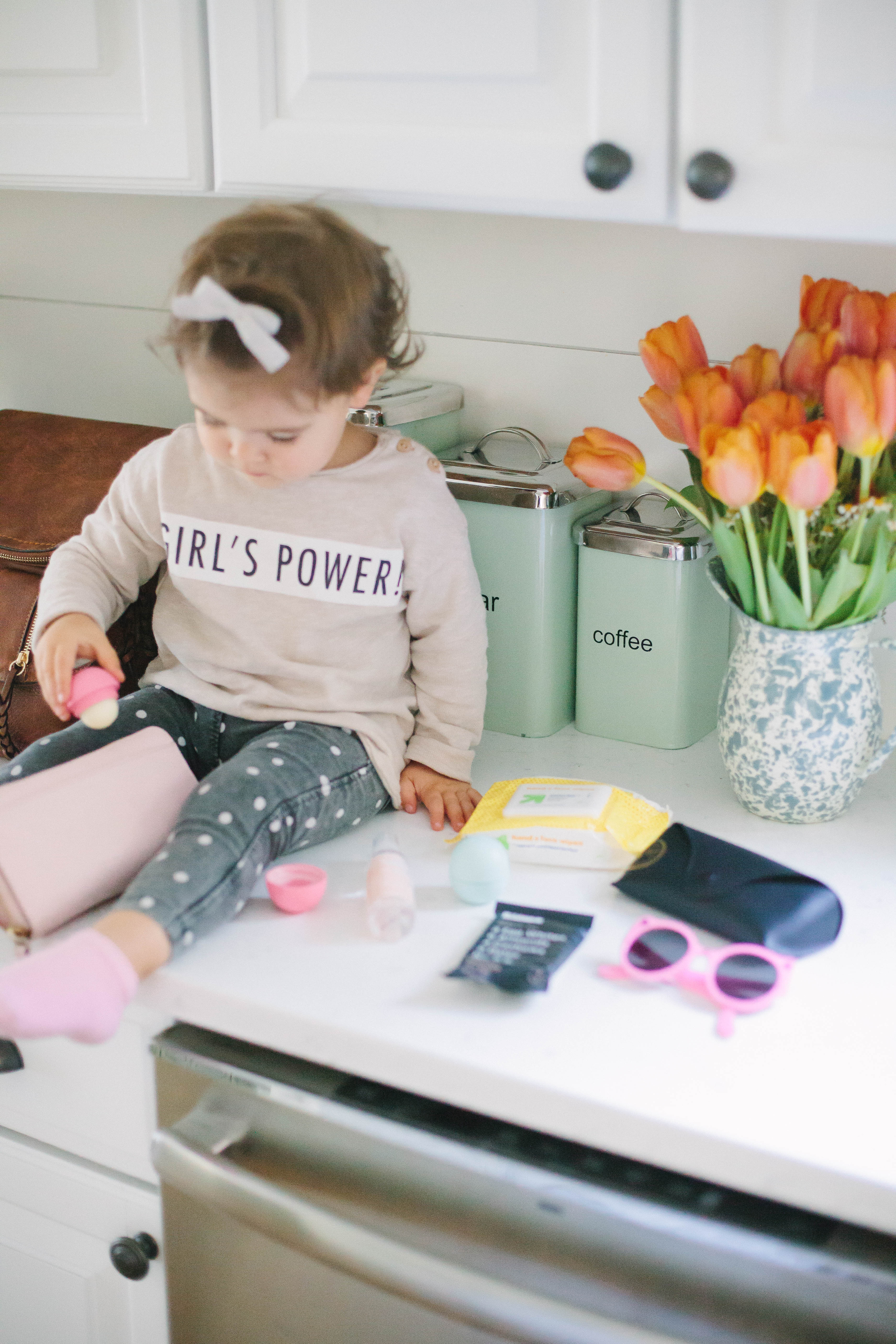 A snack! I'm always putting my children's needs first (that's what we do as parents, right?), and I often forget about myself! I've learned to carry around protein bar (my favorites are RX Bars because minimal sugar and natural ingredients!), so I always have something on hand in a pinch. This is especially a must during pregnancy. I usually throw in a bottle of water, too!
What are some essential items in your mom bag? You can pick up eos's better than ever organic Lip Balm at major retailers including Target, Wal-Mart, and Ulta! I always add one to my cart when I spot it at checkout!