I was asked to participate in the #MiaMily3DBabyCarrier campaign, sponsored by MiaMily. Although I have been compensated, all opinions are my own.
Let's put the fact that I'm pregnant with #3 on hold for a second and back up to when I had Noelle. Going from 1 to 2 kids literally rocked my world. I don't know what to expect for #3, but 1 to 2 was such a difficult transition for me (probably because Noelle was a horrible sleeper at first, and there was a lot that went along with that) and I learned a LOT in the process to keep in mind moving forward. Today I'm sharing with you some Tips on Transitioning to Two Kids, and also to remind myself of them when I'm juggling three in the near future! 😉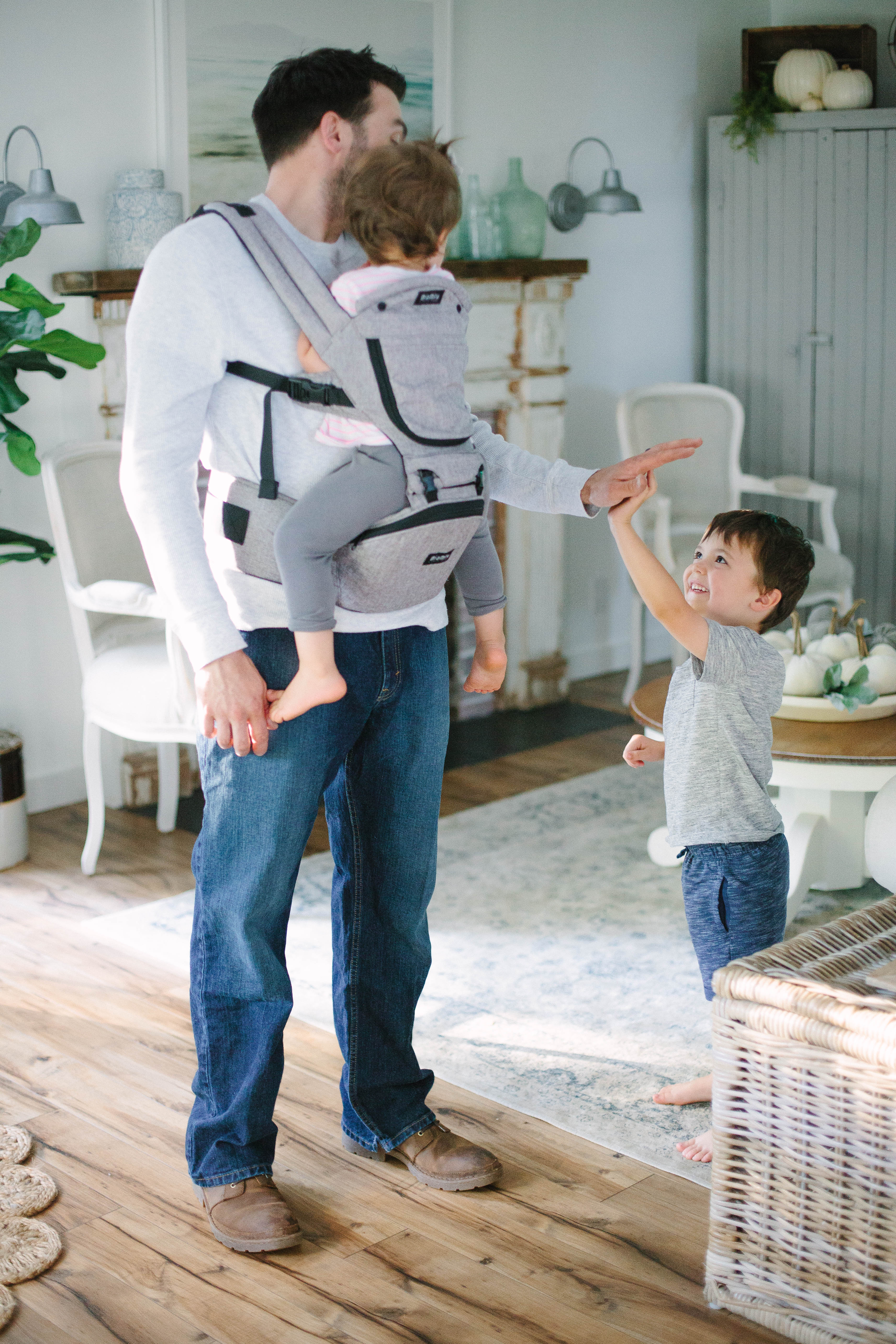 Tips on Transitioning to Two Kids
Try to wake up before your kiddos. This might be easier said than done, but I found that when Noelle would wake up for her 5am feeding, I would just stay awake and have some time for myself while they were both still sleeping. I used this time to get ready for the day, put actual clothes on, have a cup of coffee, or start breakfast. Anything to make it a little easier once they were both actually up. Even just a half hour helps SO MUCH.
GO HANDSFREE. This is probably the best advice ever given to me, and oh my gosh is it helpful. I didn't use a baby carrier as much with Landon as I did Noelle. I needed free hands to help him with whatever we were doing that day, and it was much easier to have her in a carrier than in a stroller at times. Plus, she never slept, so having her sleep in the carrier was the best thing I could've done at the time. I'm really picky with my baby carriers because some of them can be difficult to put on (which isn't what I want to deal with when I've got a toddler pulling on one arm and a screaming baby in another).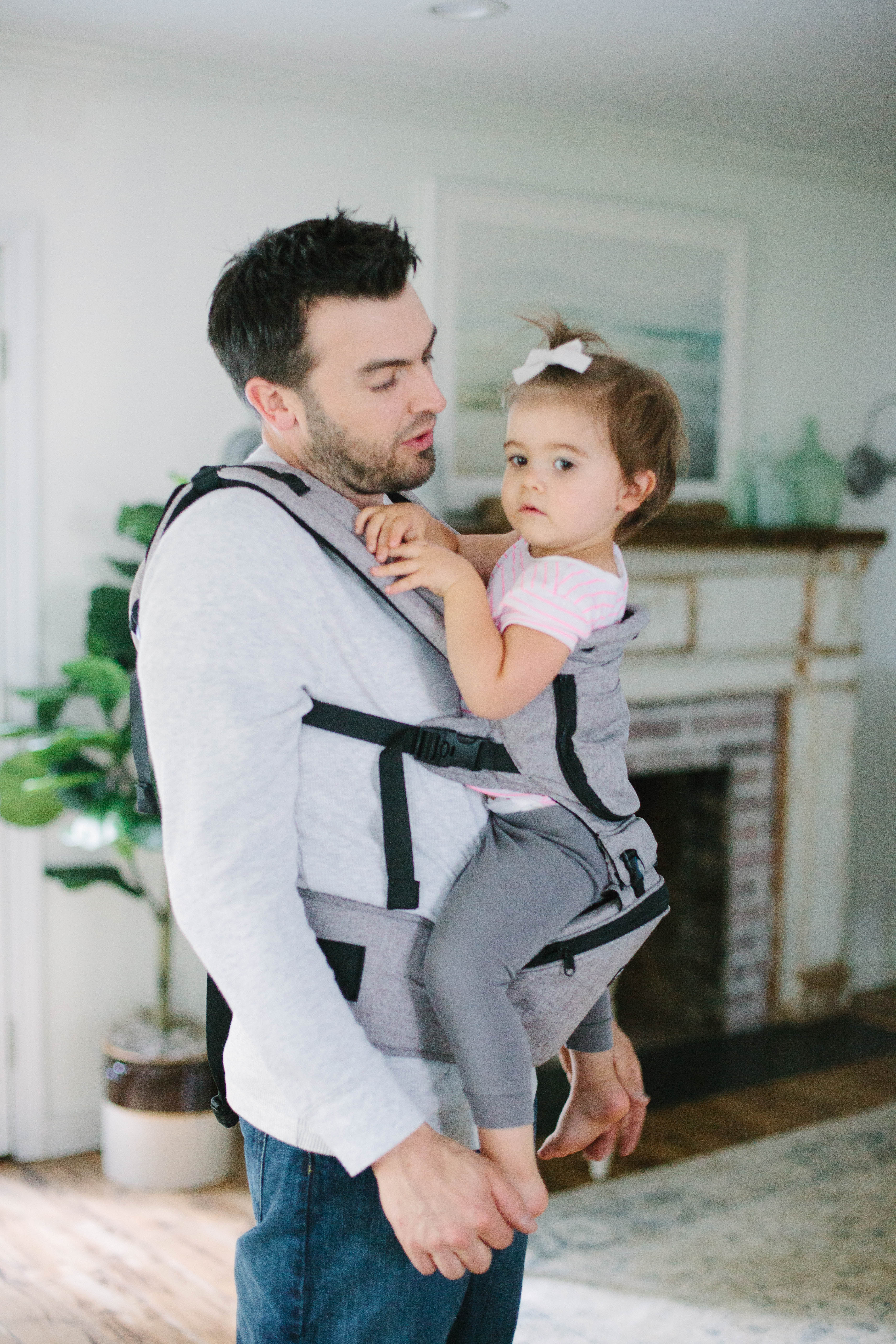 We recently discovered the MiaMily HIPSTER™ PLUS 3D Baby Carrier and it's seriously life changing. It's the one and ONLY baby carrier you'll ever need because it has 9 different carrying positions and a modern, versatile design. It can be used from ages newborn to FOUR years old (up to 44lbs!). And it's the ONLY 3D baby carrier on the market! It's approved by the International Hip Dysplasia Institute as a hip healthy carrier because your baby's legs are supported in the healthy "M" positioning with the 3D seat…even in a forward facing position! That's huge, because not all carriers provide that. The sturdy 3D hip seat and high waist belt provide lumbar support for the parents too, which is so important if you're carrying around a heavy kiddo! It's ergonomically safe for you AND baby…because you have to take care of yourself, too!
My preferred method of carrying is always with the baby facing in, as my husband is so kindly demonstrating with Noelle here (since I've got a big ol' baby belly at the moment!). This is my favorite position especially for the newborn stage. I love that there's a side carrying option, too, for when they're older! The MiaMily HIPSTER™ PLUS 3D Baby Carrier can be used without or without the double shoulder straps depending on the position, as well.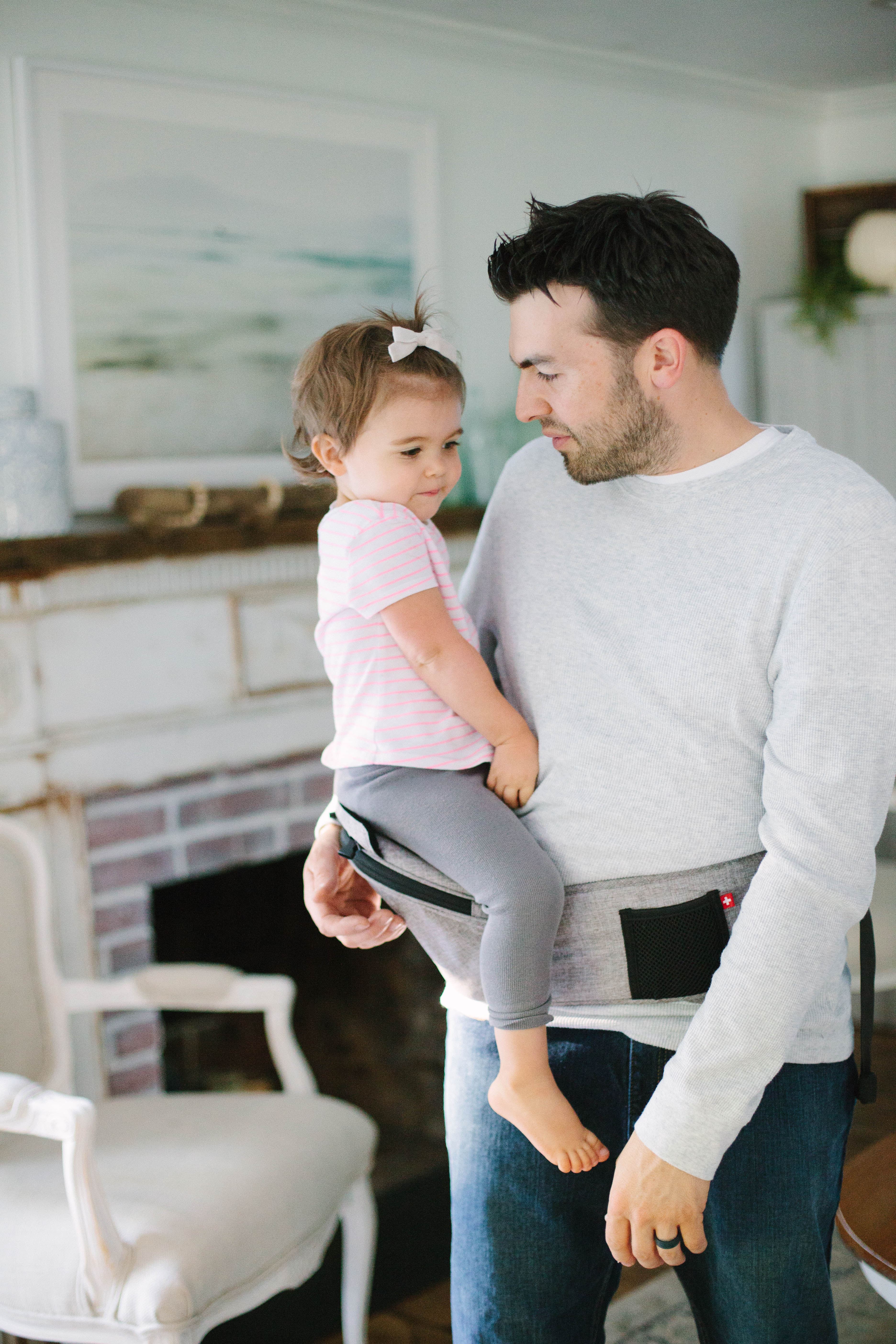 The last thing I love about the MiaMily HIPSTER™ PLUS 3D Baby Carrier is that there are SO MANY POCKETS! It has the biggest storage pockets on the market, which makes it THAT much easier to be handsfree. I like to shove my phone, debit card, a diaper and some wipes to cut down on my need for a bag if I'm running into a store quick. It's amazing how much can fit into one carrier! This product will seriously change your life as a parent!
Stock up on "busy" activities. I felt super stressed when Noelle was eating around the clock because I felt like I couldn't devote time to Landon like I used to be able to (which we can't help, our time is divided now!). One thing that helped was having some busy activities for him when I was nursing, which he could do next to me as I was feeding her. I stocked up on crayons, colored pencils, stickers, water books, play-doh, and even some new books to read so that while I was feeding I could still be involved. And, he had something new and exciting to do as a treat! I'd be lying if I said I never used the television when times were desperate, but generally speaking arts and crafts are always a good choice.
Take advantage of nap time. I tried to spend as much quality time as I could with Landon during Noelle's naps, but I ALSO tried to sync up their naps so I could get some quiet time as well. Noelle was a horrible napper, but if this can be done…DO IT. Trust me.
Have patience. I know it's hard. Believe me, I know it's hard. Life with 2 is a whole new ballgame and it's totally normal and expected that your older child will go through a tough transition. Be patient, more loving, more caring, and try to tend to their needs quickly so they don't feel like they are less important. Another great piece of advice I received was that if both kids are melting down at the same time, tend to the OLDER child first. The baby will be okay (or use the carrier!) for a minute as you get the older child settled.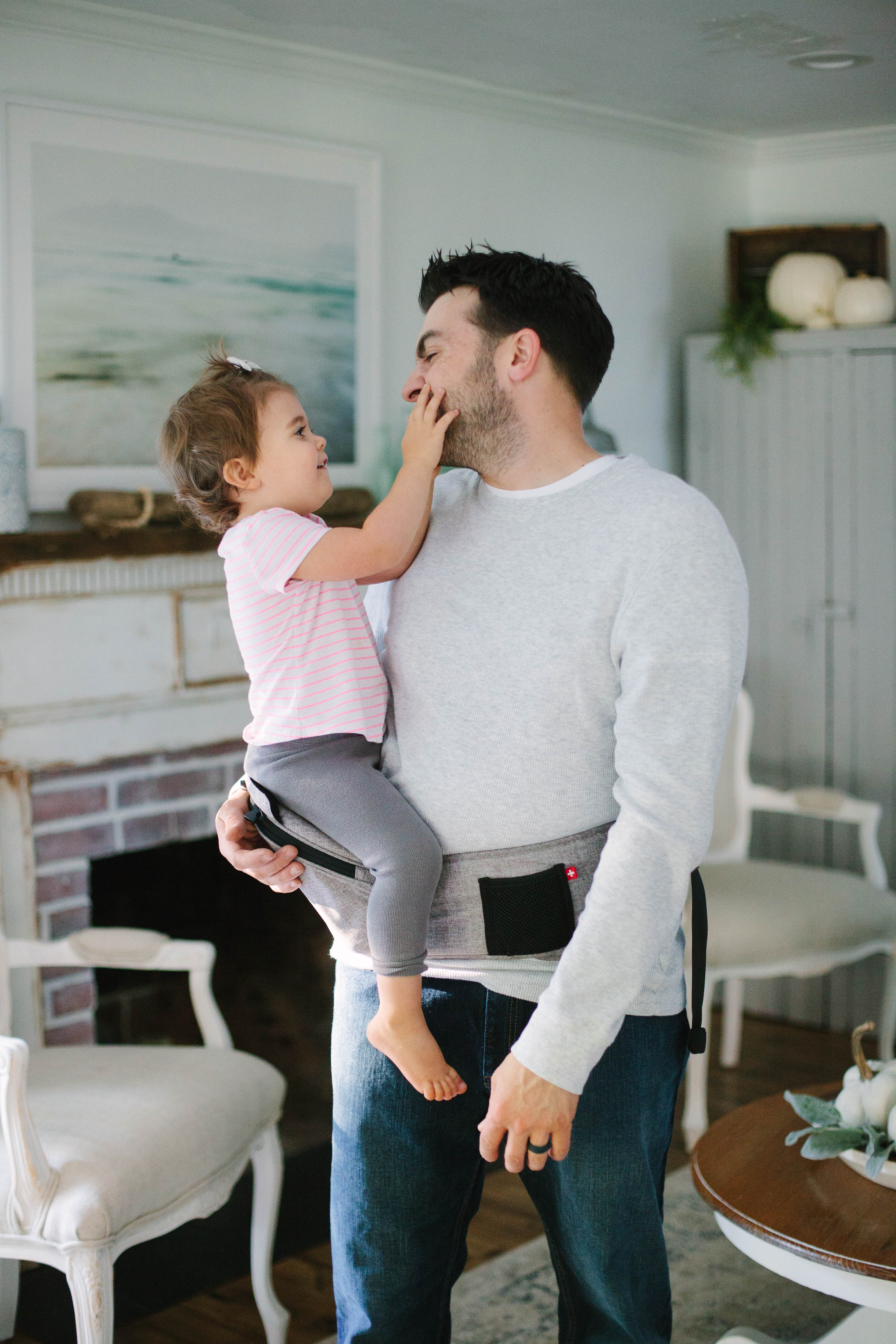 I need to remind myself of these things when #3 comes around! What's one tip you have for transitioning from 1 to 2 kids (and beyond?) Leave a comment below so other mamas can cash in on the advice!
For the entire month of October, the MiaMily HIPSTER™ PLUS 3D Baby Carrier is discounted $10 buybuybaby.com! I can promise you'll get plenty of use out of this carrier, and I'm so impressed with the ergonomic design for parents and baby. I feel better knowing it prevents hip dysplasia, too. You can shop it or add it to your registry at buybuybaby.com!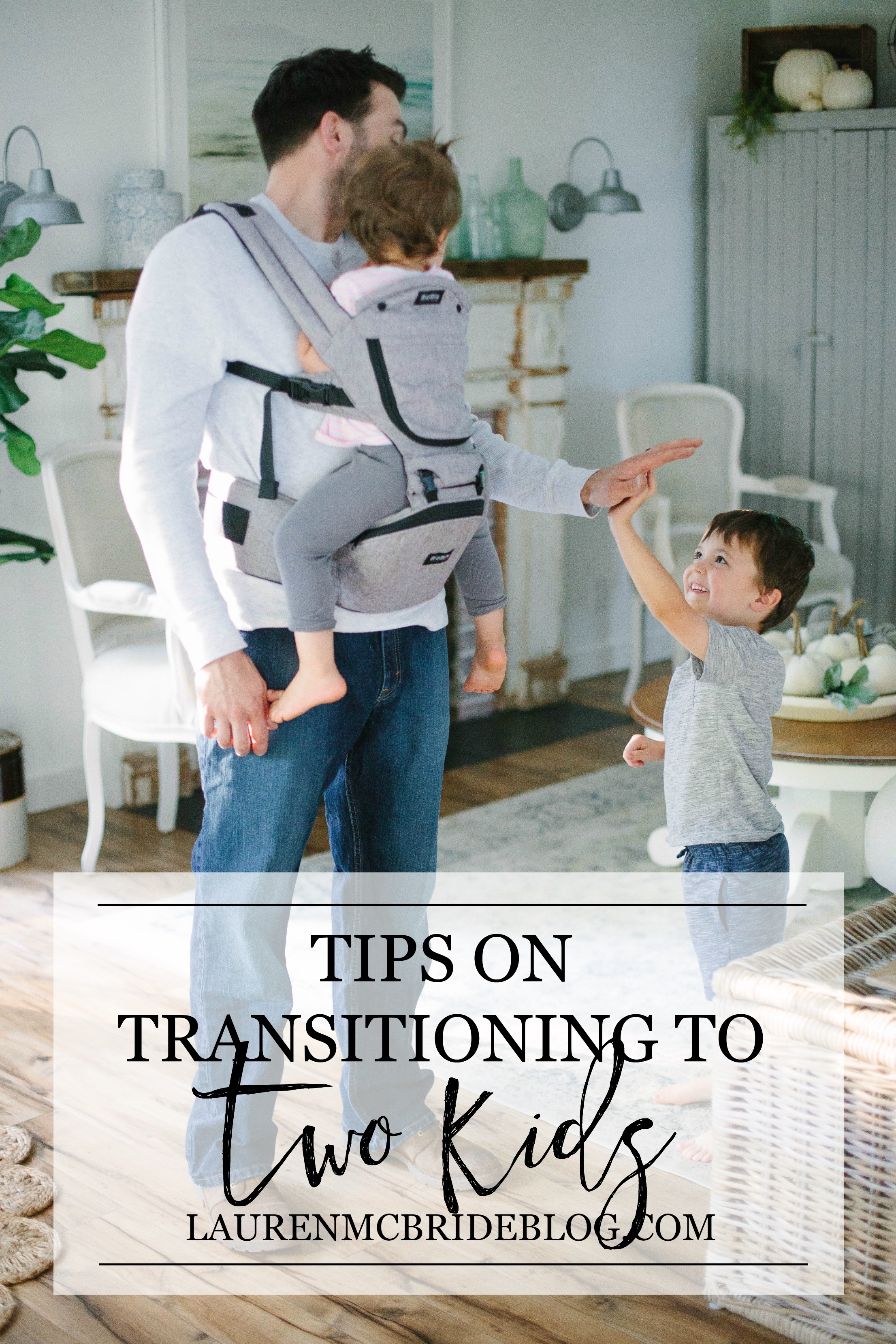 This is a sponsored conversation written by me on behalf of MiaMily. The opinions and text are all mine.