Thank you to Nordstrom for sponsoring today's post!
A few weeks back, I shared a baby girl fall capsule wardrobe with you, and I promise you one for all your little men out there too! Today I'm sharing a Toddler Boy Fall Capsule Wardrobe, featuring a variety of jackets, tops, pants, and footwear that can be mixed and matched to last you all season (and into the next!)
Toddler Boy Capsule Wardrobe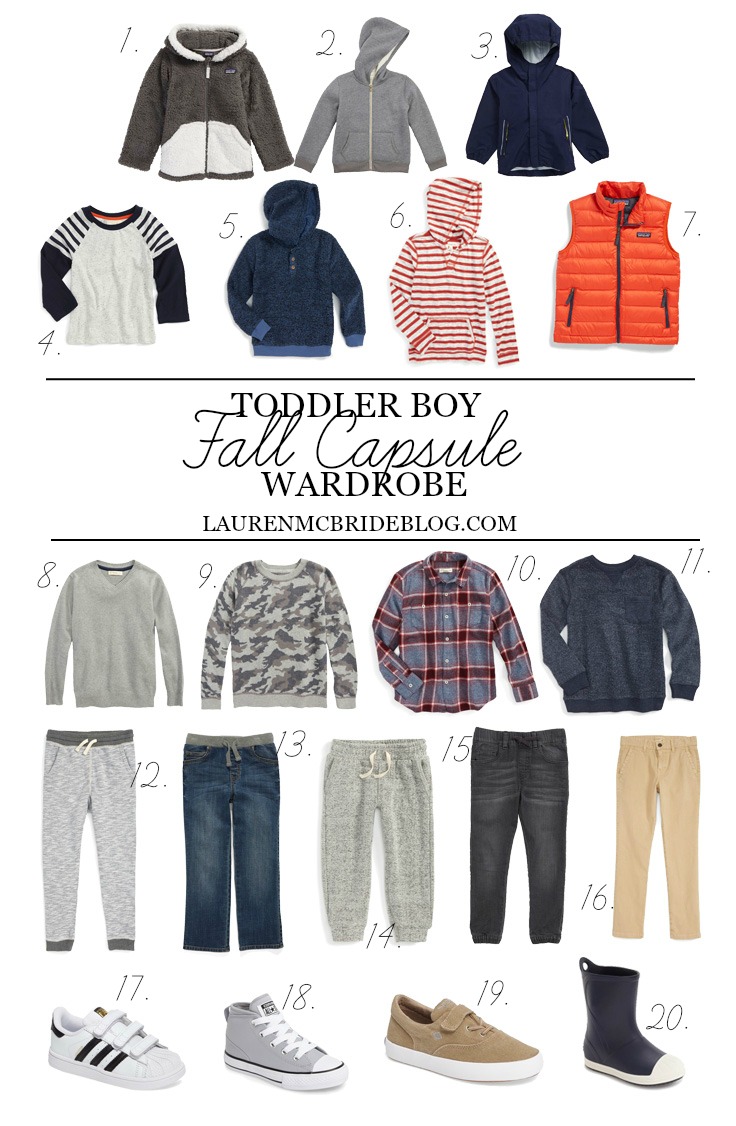 JACKETS
1. Patagonia Furry Friends Zip Hoodie
2. Tucker + Tate Plush Lined Zip Hoodie
3. Mini Boden Parkway Waterproof Jacket


TOPS/SWEATERS
4. PEEK Stripe Raglan Sleeve Tee
5. Tucker + Tate Fleece Hoodie
6. Tucker + Tate Striped Hooded T-shirt
7. Patagonia Vest
8. Tucker + Tate V-Neck Sweater
9. Tucker + Tate Camo Print Sweater
10. Tucker + Tate Plaid Flannel Shirt
11. Tucker + Tate Fleece Sweatshirt


PANTS
12. Tucker + Tate Knit Jogger Pants
13. Tucker + Tate Straight Leg Jeans
14. PEEK Knit Jogger Pants
15. Tucker + Tate Denim Jogger Pants
16. Tucker + Tate Chino Pants


SHOES/BOOTS
17. adidas SuperStar Sneakers
18. Chuck Taylor All Star Syde Street High Top Sneaker
19. Sperry Kids Wahoo Sneakers
20. Crocs Bump It Waterproof Rain Boots


My FAVORITE find from this capsule wardrobe is these straight leg jeans by Tucker + Tate, available at Nordstrom. They are so comfortable for Landon to move in, and I love the price point! I prefer buying quality items like these jeans that I know can withstand my boy's craziness. I actually purchased a second pair to have on hand! Nordstrom is my go-to for kids apparel this fall season because of the impressive quality and their stand-up return policy! It can't be beat!