Thank you to Sam's Club for sponsoring today's post!
Before close friends of ours moved out of state, we would have an annual "Friendsgiving" dinner every year. I actually preferred this day over our standard Thanksgiving holiday (maybe because families weren't involved? Haha, you know how that can go sometimes). Just a bunch of friends coming together and eating good food..and whatever food we wanted! There was no pressure to make elaborate dinners, and we could bring anything we desired. I loved how easy and carefree the day was! Today I'm sharing some tips on how to have an Easy Friends-giving and create a simple, carefree tablescape to go with it!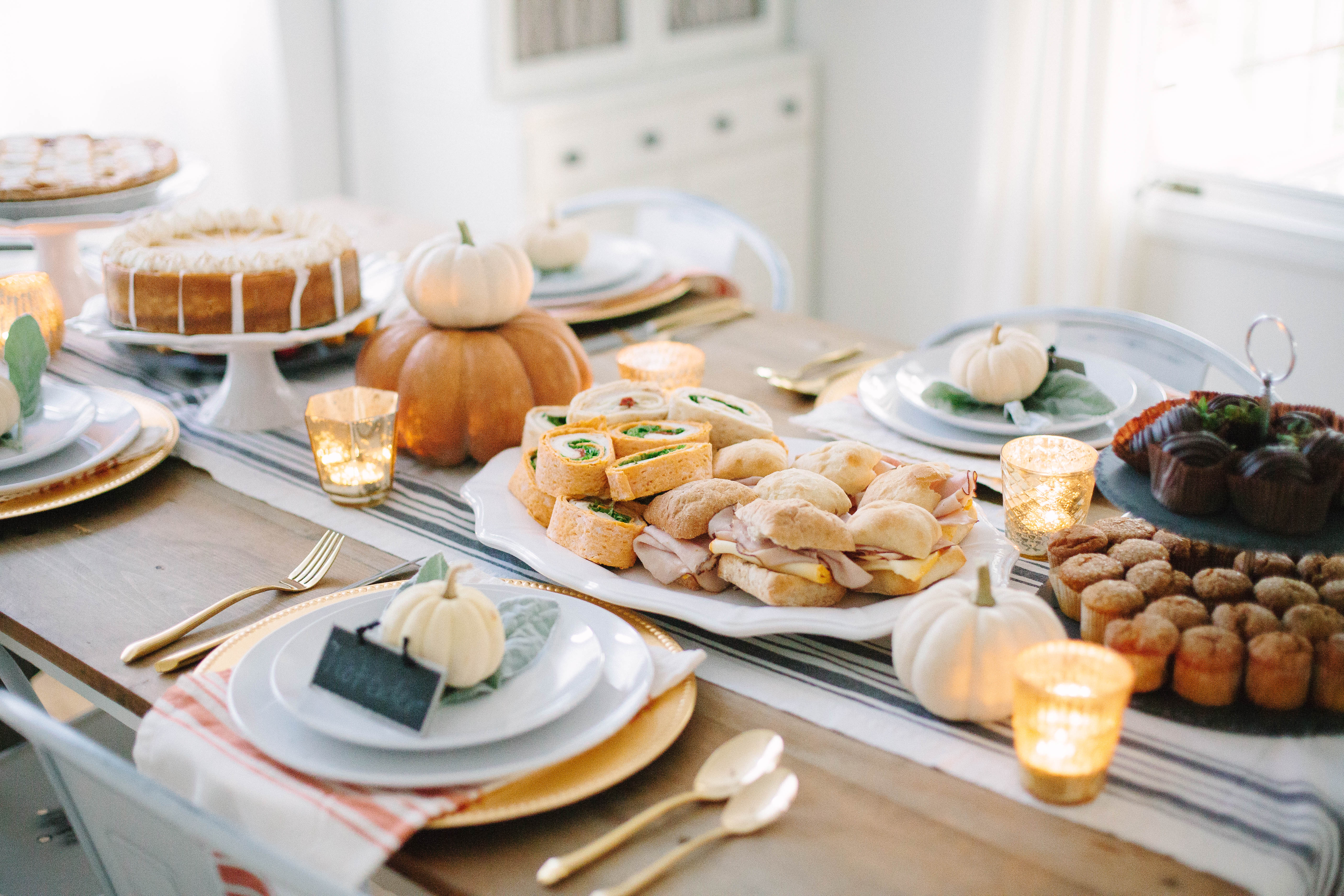 Have everyone bring a food item!
I used to work 12 hours shifts on Thanksgiving, as did one of my dearest friends who's also in the medical field. It was easier for everyone to bring a food item to our friends-giving so one person wasn't responsible for it all! She still managed to make homemade meals, even after working her shift (she's incredible), but I took the easier route and would bring something premade (no harm in that!). Whether it's wine, appetizers like this Member's Mark Fruit and Cheese Party Tray from Sam's Club, or a delicious dessert, anything is welcome!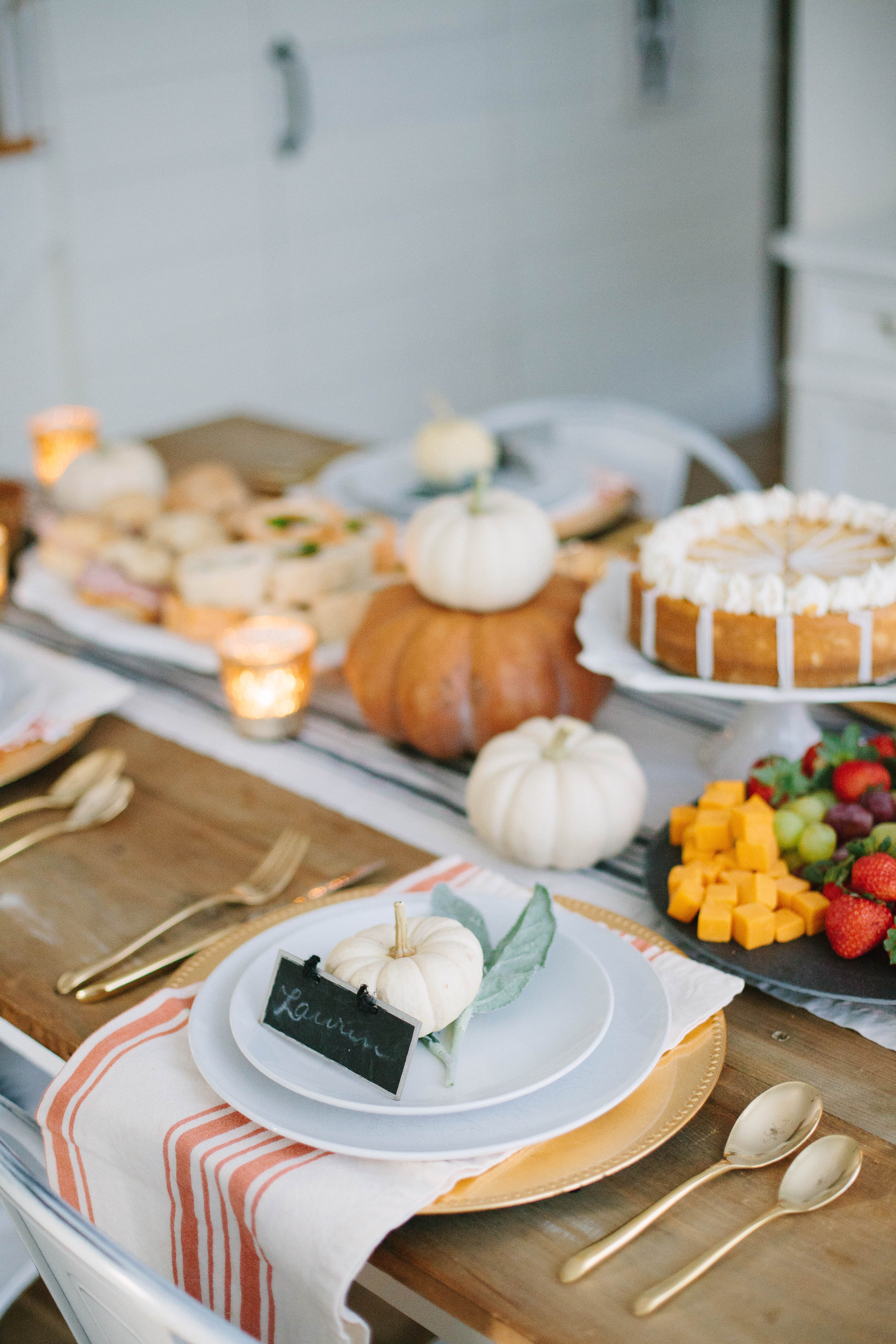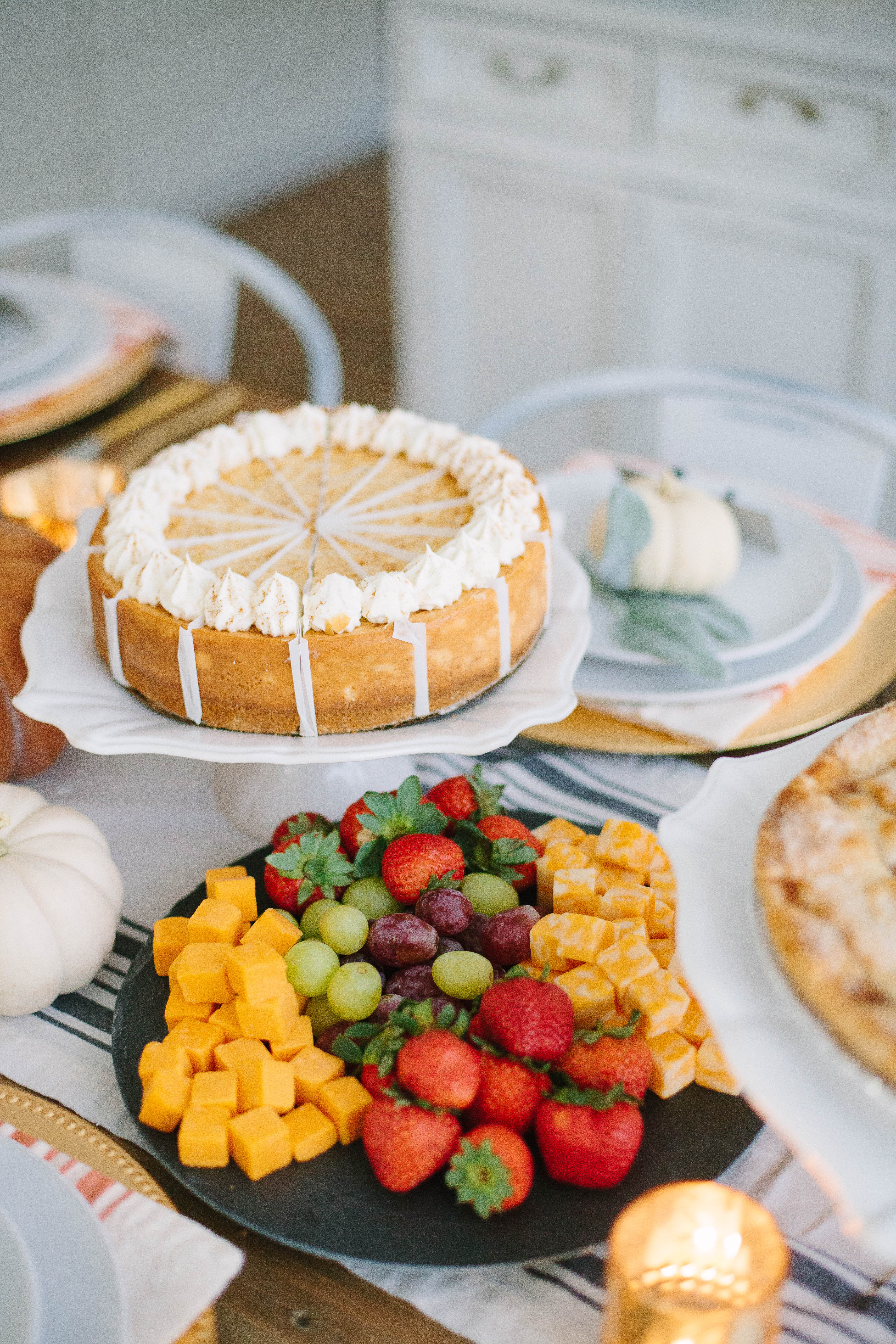 Keep the decor simple.
There's no need to get crazy over holidays. Sure, I love a good tablescape, but I also know that the holidays can be super stressful..and it's NOT about being stressed! Keep the decor simple, with a table runner, some candles (candles always amp up the decor!), and minimal, natural decor like these sweet pumpkins I have at each place setting. Actually setting the table with dishes and flatware always makes the ambiance more sophisticated.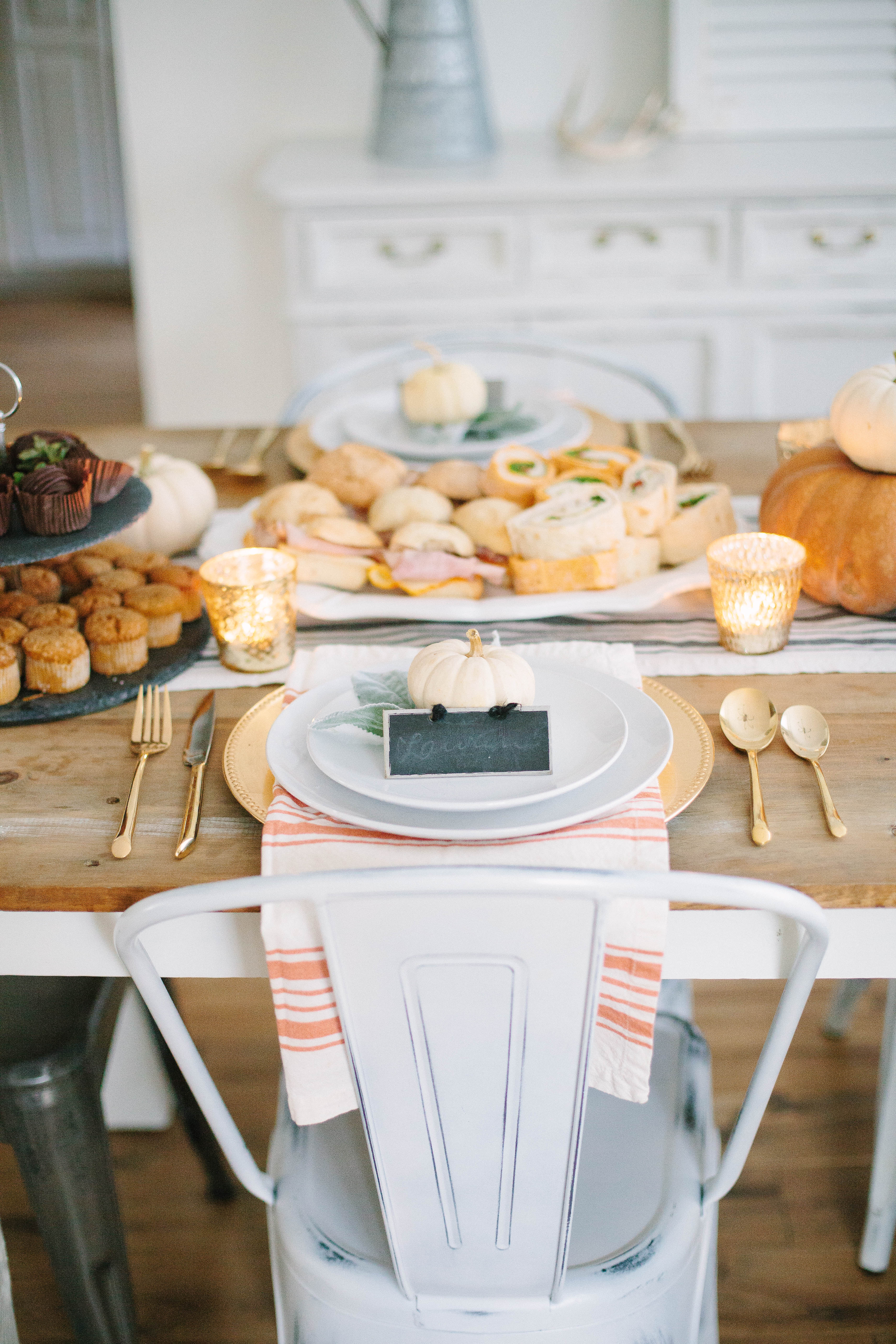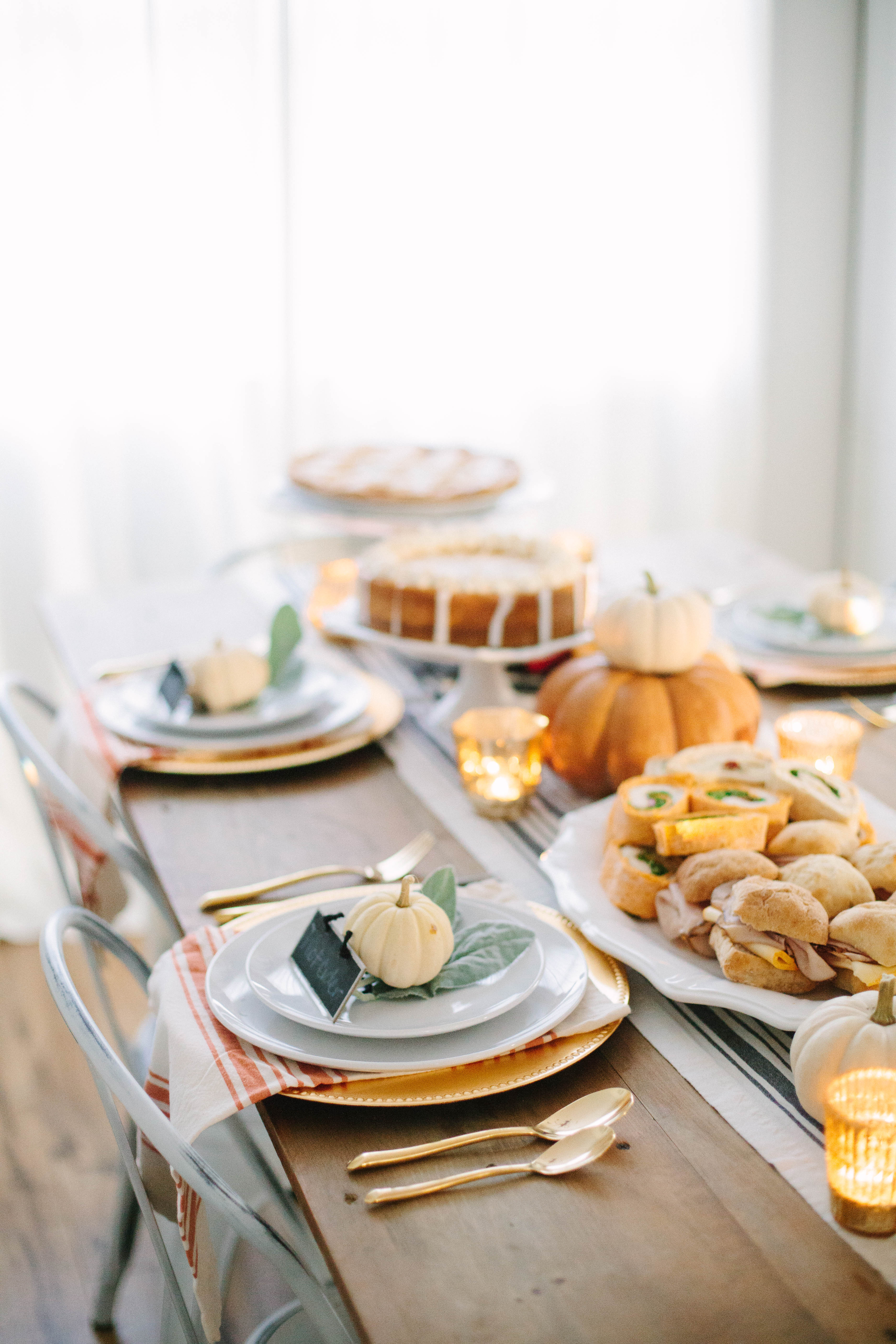 Put the food on display.
Our friends-giving involved everyone bringing over whatever they wanted, because as long as there was food we were happy! I used to work on Thanksgiving, so my time for making food to bring was minimal. It was much easier for me to swing by my local Sam's Club and shop their private label Member's Mark line that has a variety of food options! Sometimes I would pick up this Riesling wine or delicious dessert to bring like this Apple Pie or Pumpkin Cheesecake from Sam's Club. Displaying them on these Pedestal Cake Stands makes them part of the decor! I also displayed these Wraps and Ciabatta Finger sandwiches (really great as appetizers!) on the smaller platter from this 2-Piece Platter Set. Member's Mark also has a variety of beautiful serveware at great prices, and it even makes a great hostess gift to bring food on for your friends or family!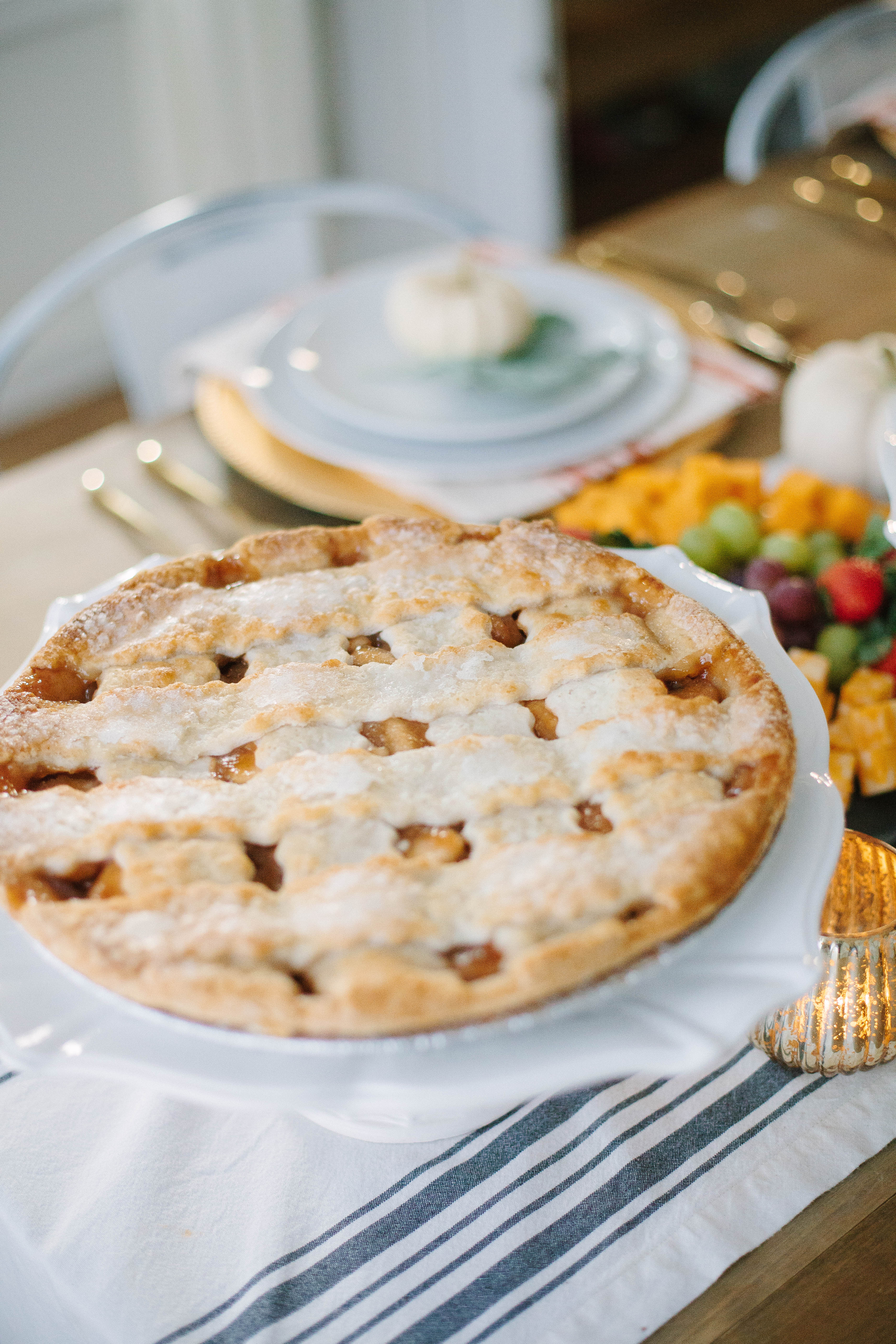 Remember, it's about giving thanks.
I find that we often get so caught up in the hustle and bustle of the holidays that we forget the true meaning of the day. I love traditional Thanksgiving food, but the truth is I'm just happy and thankful to be with my friends and family. I don't need anything elaborate…I just want to be in the company of those I love most! So this is just a friendly reminder of that 😉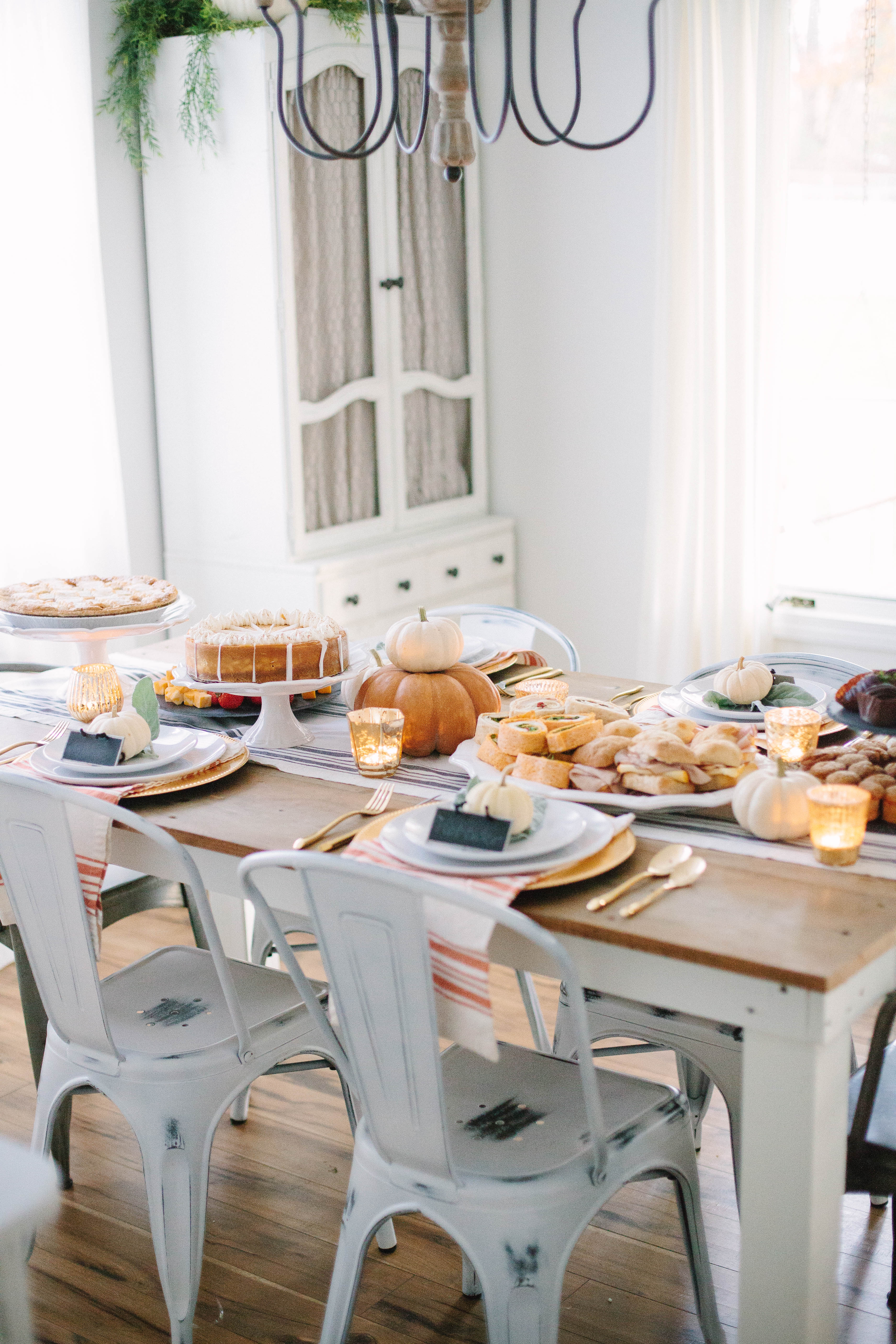 Sam's Club just expanded and upgraded their Member's Mark private label, and I'm really impressed by the quality! Their selection of pies is incredible, and I was even tempted to pass it off as homemade, ha! The line carries a variety of items beyond food, like plates, napkins, serve ware, and serving utensils. In fact, most of the items shown in my tablescape can only be found at Sam's Club. You can get everything you need in ONE trip, which is the ultimate time saver! And, get this, they offer Club Pickup! I was able to order everything online and pick it up at the service desk upon my arrival. Super easy!
Do you celebrate a friends-giving? I'd love to hear about it in the comments below!