Toddlers. I'm always struggling with trying NOT to buy toys they'll get tired of in a day, and instead buying things that will last for awhile! I've compiled this Holiday Gift Guide For Toddlers that consists of just that! We have many of these items ourselves, and a few are on our list this year. Happy shopping!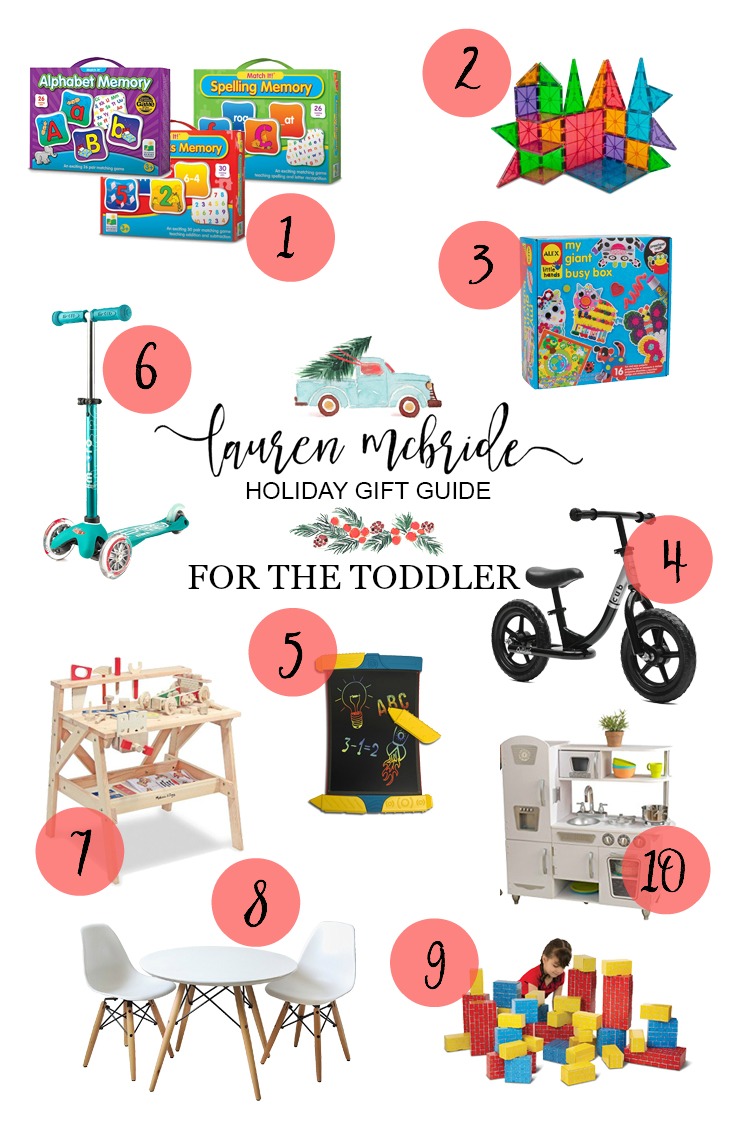 1 // The Learning Journey Match It! Memory Games
I really love the concept of these Match It! Memory Games, especially for toddlers ages 3 and up. Landon has something similar with matching photos, but I'm actually buying the spelling one for him this year! I think it will really help with learning to read and word recognition. There's also a mathematics one too!
2 // Magnatiles
Why are these things so damn expensive? I've only ever purchased the actual Magnatiles, BUT the knock-off versions on Amazon are just as good! I actually scooped up a pack of these cheaper ShapeMags to try them out. My kiddos are always fighting over the "magnets" so I feel I need an ample amount to avoid any further issues, haha!
3 // Arts and Crafts Box
We received one of these arts and crafts boxes for Noelle's birthday, and it's such a great gift! There are a variety of projects inside and countless hours of play time. These are great to stash away for rainy or snowy days where you're stuck inside and need something fun to do!
4 // Balance Bike
We have a balance bike for Landon, and it's a great way for him to learn how to ride a pedal bike! It helps with balance and coordination, and I feel like it's always a highly recommended gift by any parent. There's a variety of options, and this one comes in multiple colors!
5 // Boogie Board Scribble 'n Play
One of you actually recommended this Boogie Board Scribble 'n Play to me, and it's so cute! I love that it's easy coloring with NO clean up. Great for some quiet time for the kids, or even for long car rides! I also like that it's small enough to throw in a diaper bag and bring to restaurants (anyone else's kiddos have like a 28 minute threshold before they're just DONE? Maybe it's just Noelle, haha).
6 // Micro Mini Original Kick Scooter
We purchased the Micro Mini Original Kick Scooter for Landon last year and he LOVES it. He caught on super quick, and then Noelle became frustrated because she wanted to use one as well! We just bought her the Micro Mini Deluxe Scooter with the adjustable handle (since she's a bit shorter! They have fun zooming around the house (yes, in the house! Great during the winter months!) together! I can't recommend them enough!
7 // Project Workbench
I debate buying a wooden workbench every year because if there's one things my kids love, it's TOOLS. Yes, tools! They have a small toolkit they love to play with, and I know they would love this too. If you have the space, it's a great gift for the kids…especially if their parent is a handyman! Our kids love to pretend to fix mommy's table or chairs, and even pull them out to pretend to fix their scooters. It's adorable!
8 // Mid Century Modern Table and Chair Set
I love this adorable table and chair set! Perfectly sized for your kiddos, and also cute enough to make a statement wherever you place it. We need a new table ourselves (our current one is crappy quality and ruined!), so I might invest in this one!
9 // Melissa & Doug Cardboard Building Blocks
K, here me out before you're like "where the F am I going to put these, Lauren?!" But my kids freakin' LOVE THESE Cardboard Building Blocks. They play with them every week at an appointment we have and they could easily spend an hour building and knocking them down. Yes, they're huge, but I'm thinking I'll get a giant plastic tub to keep them in and bring them out on rainy or snowy days! They're great for imaginative play!
10 // Toy Kitchen
I know, are you sick of seeing this kitchen?! Honestly, it's the best one of the best toys we've ever gotten for the kids, and the KidKraft one is the BEST price! Ours kids still play with it daily, so it's worth every penny. I do have one recommendation though…be sure to put it together BEFORE the holiday. It took my husband more time than he cares to admit, and, if he drank, I'm sure he would've been throwing back bottles in annoyance! 😉