Thank you to Nordstrom for sponsoring today's post!
Yesterday I shared holiday gifts for kids under $50, and today it's all about the babies! I've compiled a short list of thoughtful and classic gifts that are perfect for little ones or expectant parents. This list of Holiday Gifts for Babies Under $50 is sure to have something they'll love!
Holiday Gifts for Babies Under $50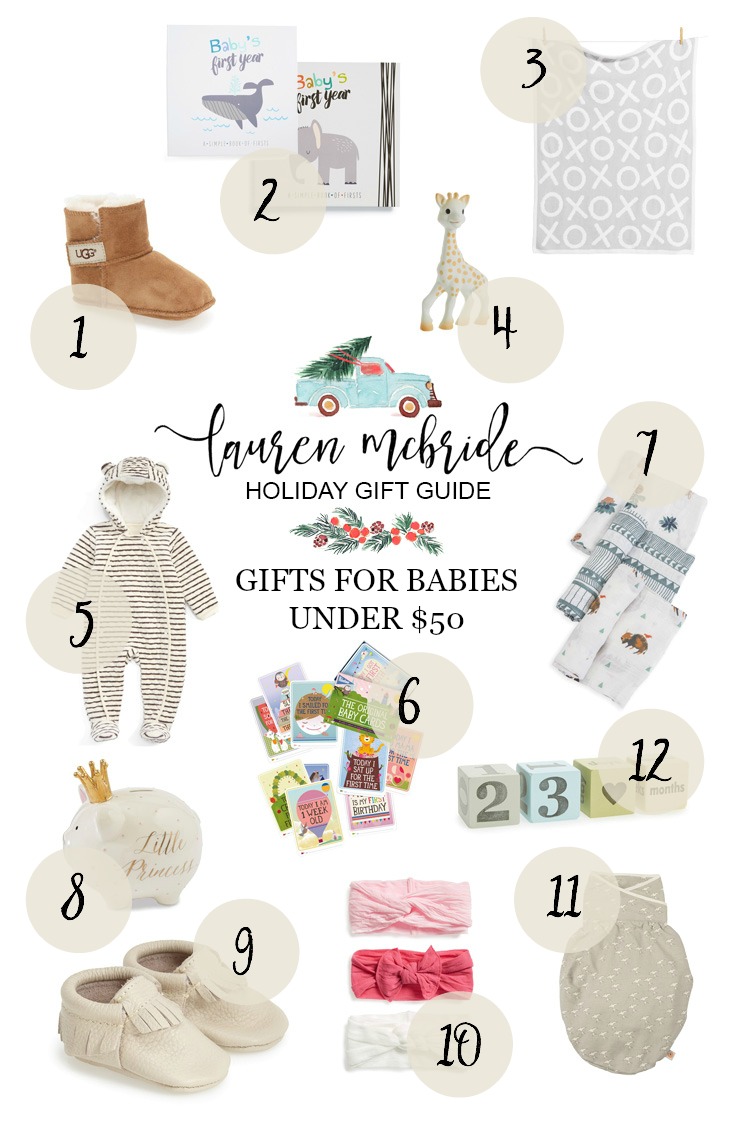 1 // Ugg Booties
These Ugg Booties are a really great gift idea for a new little babe! They aren't typically something I would purchase myself for my kiddos, so receiving them is an extra special treat. They're also great for babies born in the winter months!
2 // Baby's First Year Book
This sweet Baby's First Year Book is a great gift not only to a little babe, but also to an expectant mom! They're a great way to document baby's first year of life and special milestones along the way. I love the little whale version, too!
3 // Chenille Blanket
I know babies receive MANY blankets, but gifting a really special one like this adorable Chenille Blanket is always a good choice. The chenille fabric means it's incredibly soft, perfect for baby to lounge on during play time or as a cozy cover up during stroller rides.
4 // Sophie la Girafe Teething Toy
Guys. I don't know what the heck it is about this Sophie la Girafe teething toy, but it's literally the ONLY teething toy my kids liked. I wish I was the creator, because she's making millions off of this thing haha! But it IS a really great teether, and while it's on the pricey side for something they chew on, it's a great gift for that exact reason. I like gifting things parents won't typically purchase themselves!
5 // Hooded Bunting
This adorable baby bunting is great for babies during the colder months! I love the snap up front for easy on and off. These are great when babies are too small for jackets! I grabbed this one for our newest babe since he'll be born in February!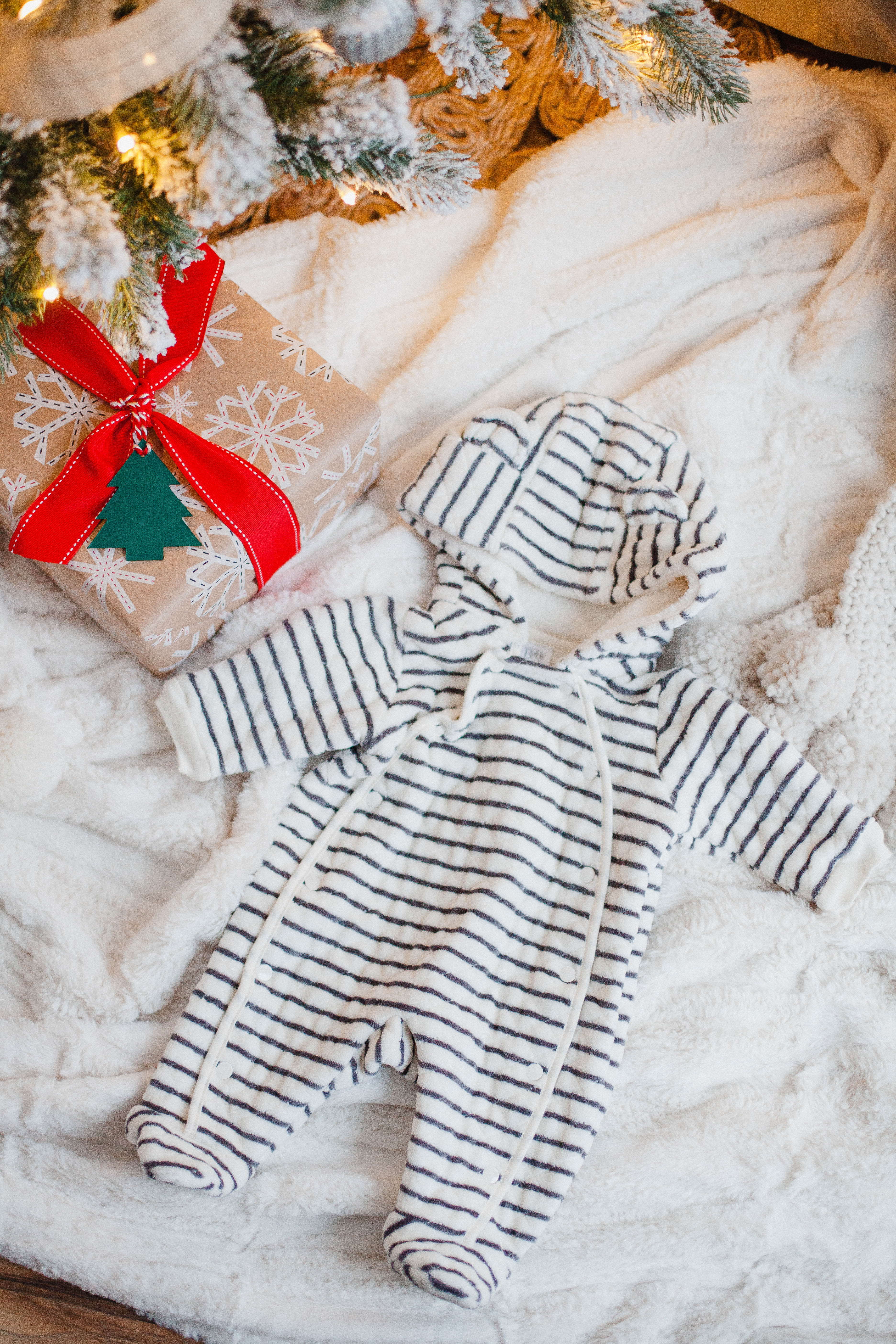 6 // Milestone Baby Cards
I'm in LOVE with these milestone baby cards! They have adorable illustrations to document your baby's special first moments, like first smile, first words, and more. These are a great gift to an expectant mom!
7 // Little Unicorn Muslin Swaddle Blankets
I had a few of these Little Unicorn blankets (and crib sheets!) for Noelle, and I'm obsessed with them. They're great for swaddling, cuddling, or even a quick cover up for nursing if you choose! Little Unicorn has the most adorable prints, but I think I might scoop up this Bison print for our new babe. I love the Farmer's Market ones too!
8 // Piggy Bank
This Little Royalty Piggy Bank is SO CUTE to gift to a little boy or girl! We actually don't have one for our kids, but it's one item I wish we did have for them because I feel like it's an heirloom gift!
9 // Freshly Picked Moccasins
I've always loved Freshly Picked Moccasins because of their quality and how well they hold up! They can easily be passed down from kid to kid, especially if purchased in a neutral color. They're upwards of $50 a pair, but that's why they're a great special gift for an expectant mom or new baby.
10 // Baby Bling Knot Headbands
Perfect for baby girls, these Baby Bling Knot Headbands are soft and stretchy and won't hurt your babe's head! They also come in a variety of colors right here.
11 // ErgoBaby Swaddler
Any type of swaddle is a great gift for new parents (at least in my opinion because I swear swaddling promotes sleep!). This ErgoBaby Swaddler is ergonomically designed so the arm pockets cross the body to replicate the in-utero hand to heart placement. Baby's hips and legs can move naturally in the frog-leg position recommended by the International Hip Dysplasia Institute. There's a removable leg pouch to make diaper changes easier, too!
SHOP BABY GIFTS UNDER $50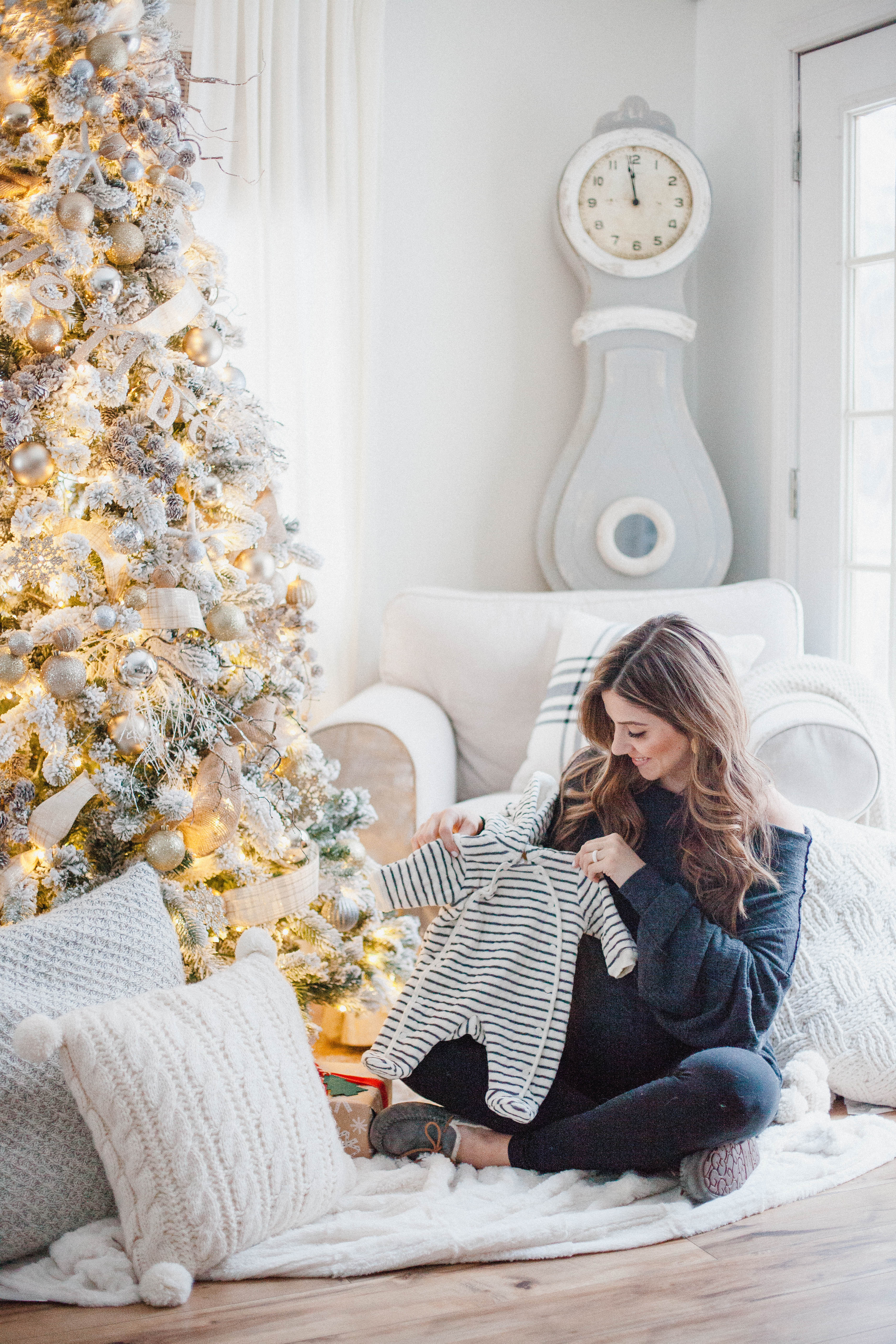 Nordstrom has become my go-to for holiday gifts this year, and I was so pleased to see the adorable selection of baby items! If you're stuck on what to buy, you can never go wrong with a Nordstrom gift card. I love that they're super easy to purchase, and their eGift Cards are delivered same day (great if you're a last minute shopper like me!). Whoever you're purchasing for, Nordstrom has you covered!