Okay ladies, we've seen this post done many times on the internet, but I've yet to see one show what you REALLY need in your hospital bag. You know…the stuff that's really important. I'm talking the vaginal spray and Depends! Those are the items that really matter! So today I'm sharing a Hospital Bag Checklist with everything I have packed, and hopefully it will help you when packing your own bag! There's always a fun giveaway at the bottom of the post, so keep reading!
Hospital Bag Checklist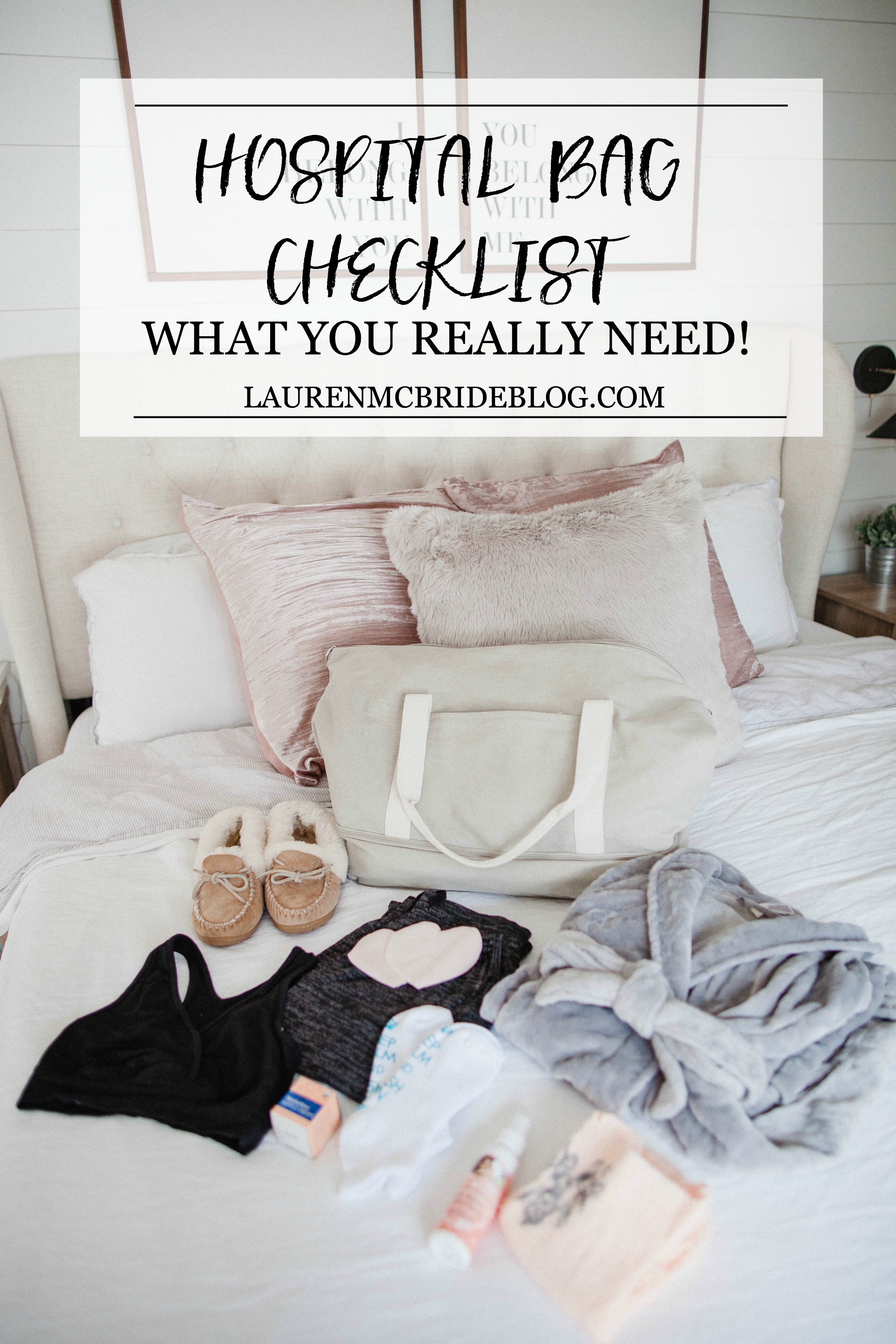 I've been looking for a good sized hospital bag that will also double as a great carry-on or overnight bag for the future, and finally found it in this Lo and Sons Catalina Deluxe Large Tote! It's the PERFECT size for a hospital bag, and I love the bottom nylon compartment for slippers, flip-flops, and toiletries. It's easy to wipe clean, too. I also love that its canvas, so it's easy to collapse and put away when it's not in use. It's also WASHABLE! Just throw that bad boy in the washing machine and it's good as new! There's also a cross body strap to make carrying even easier, and a pass through sleeve that can go on your luggage if you use it for travel. The BEST part is Lo and Sons has been kind enough to give one of these bags away to a lucky reader, so keep scrolling to enter! Woo!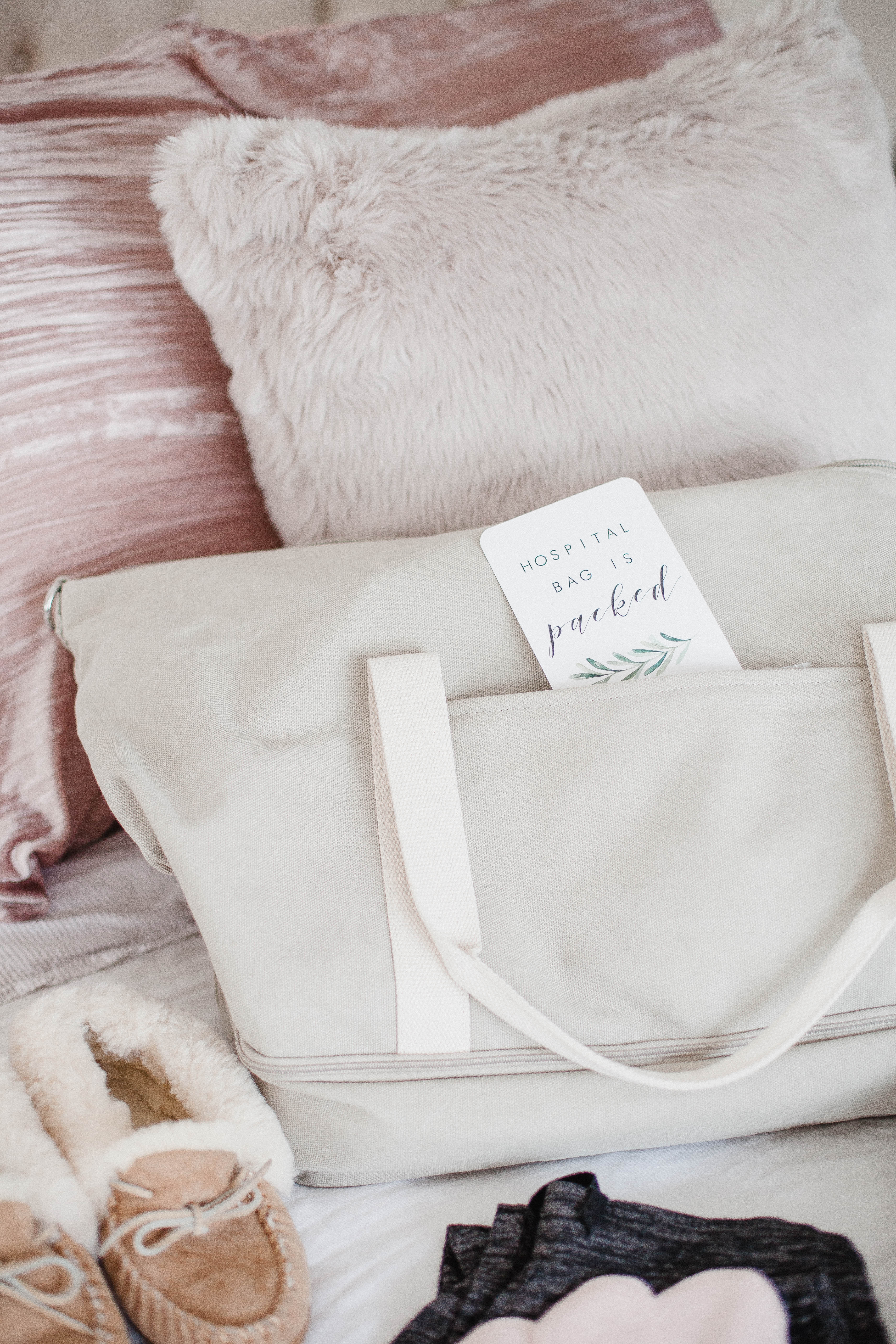 I keep things simple when in the hospital because…it's the hospital. I don't dress super pretty and keep things really basic. I always pack some comfortable sleep nursing bras like these by Kindred Bravely. They're insanely comfortable and easy to nurse in…and made for wearing while you sleep (I always need to wear a soft nursing bra once those milk boobs come in, especially with some pads for leakage!). The great part about the Kindred Bravely company is it's run by work-at-home moms who share the same mission as the creator, who began the line after having her own baby! Their mission and values are to be grateful, be generous, be brave, and be encouraging. I love that message for moms! Use the code LRENKB20 for 20% off on Amazon!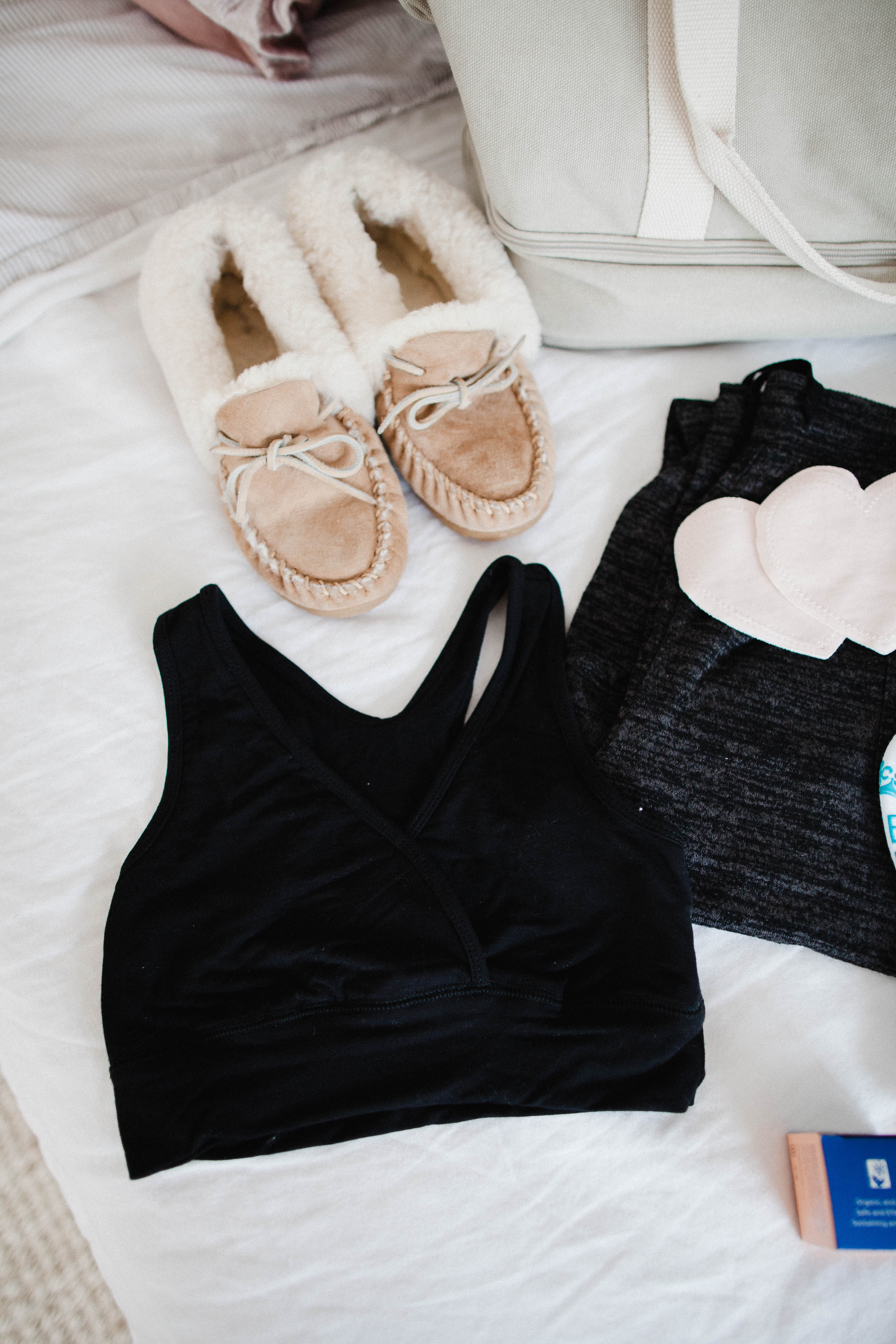 I know the hospital provides socks, but they're not comfortable in the slightest bit and surely not cozy. And I don't know about you, but I like being as comfortable and cozy as possible after having a baby! The Kindred Bravely Non-Skid Hospital socks have inspirational quotes on the bottom of them, like these that say "Keep Calm and Push On." They're also MUCH softer than standard hospital socks. The non-skid feature makes them safe to wear on the hospital floor, too! Use the code LAUREN20 for 20% off!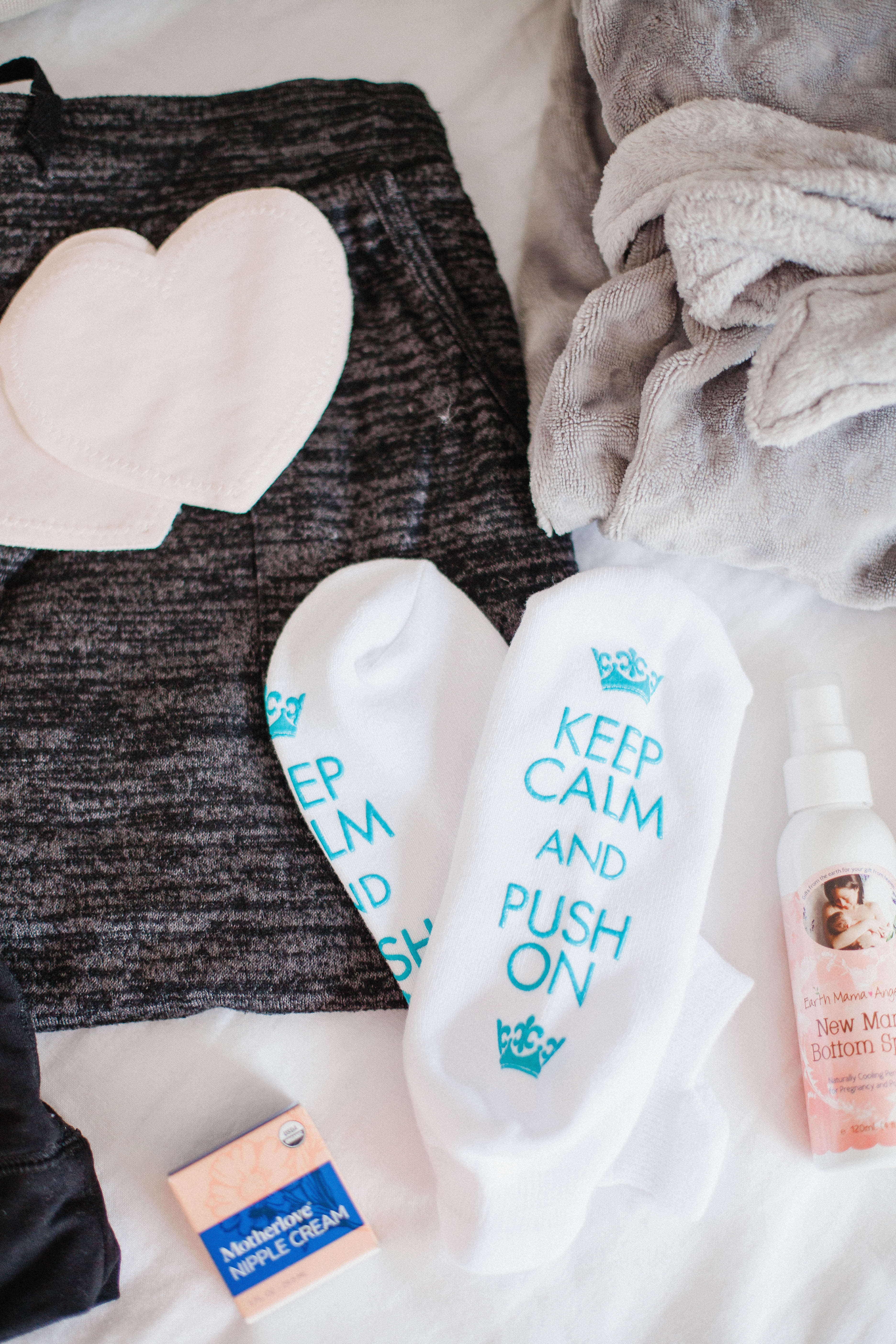 4 // Bathrobe
I ALWAYS bring a bathrobe with me to the hospital, not just because I love my bathrobes (as you know!), but because I feel like it's much easier to deal with when nursing. I typically wear pants, a soft nursing bra, and a bathrobe during our stay. The bathrobe keeps me warm, and it's easy to just pop open and nurse the baby. I won't bring my nice bathrobes for fear of bleeding all over it, so I always pick up an inexpensive cozy one like this one from Target! If you're looking to treat yourself, this is a nice option too!
I only bring black or gray pants to the hospital. I've definitely leaked through them in the past, so I like having a few dark colored comfortable pants to lounge in and sleep in. I always make sure they're loose fitting (no yoga pants for me) in the waist band and crotch area. This time around I'm bringing a few pairs of these joggers because they're insanely comfortable and meet my requirements! They're also tight around the ankles so I don't have to worry about tripping.
Slippers are a must have for me, and slippers with GOOD TRACTION. If I'm not in my hospital socks, I'm in my slippers. I'm bringing my L.L. Bean pair, but these are also a good and more inexpensive option if you're looking for some!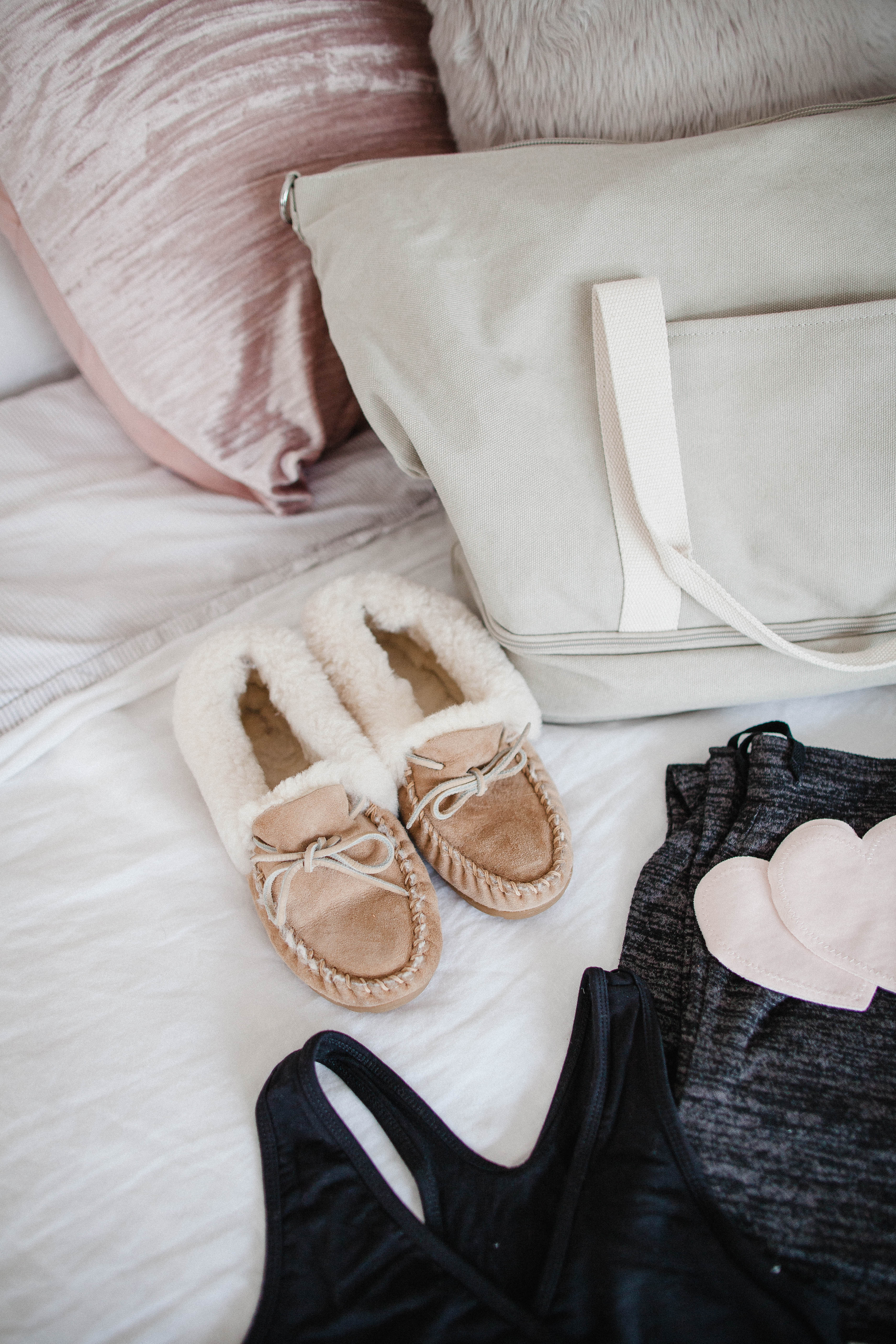 Working in the hospital for so many years as made me never want to step foot in a shower without flip-flops on. Let's just leave it at that. 🙂 PACK THEM.
This was tip from MANY of you ladies, and I don't know why I didn't think of it before! So many suggested packing a pair of thin Depends instead of using the mesh underwear and ginormous diaper-sized pad. I haven't tried this myself yet, but I picked up a pack of Always Discreet Depends and have them ready in my bag!
Okay this is something I feel robbed of with my past two deliveries. My hospital NEVER offered up the Dermoplast! I learned about it in my motherhood Facebook group and bought it IMMEDIATELY. Apparently it helps with all the pain down there, so I bought some for my bag since my hospital doesn't offer it! If you're looking for a more natural option, there's also this Earth Mama Herbal Perineal Spray (which I also bought to try out!).
The hospital will have nipple cream if you ask for it, but I always bring my own because I've had poor experiences with breastfeeding in the past. I like to come stocked and ready so I don't have to wait around for a lactation consultant. This time I'm packing Motherlove Nipple Cream, which is a lanolin-free, organic nipple balm you can apply after feedings that doesn't need to be wiped off before baby feeds again.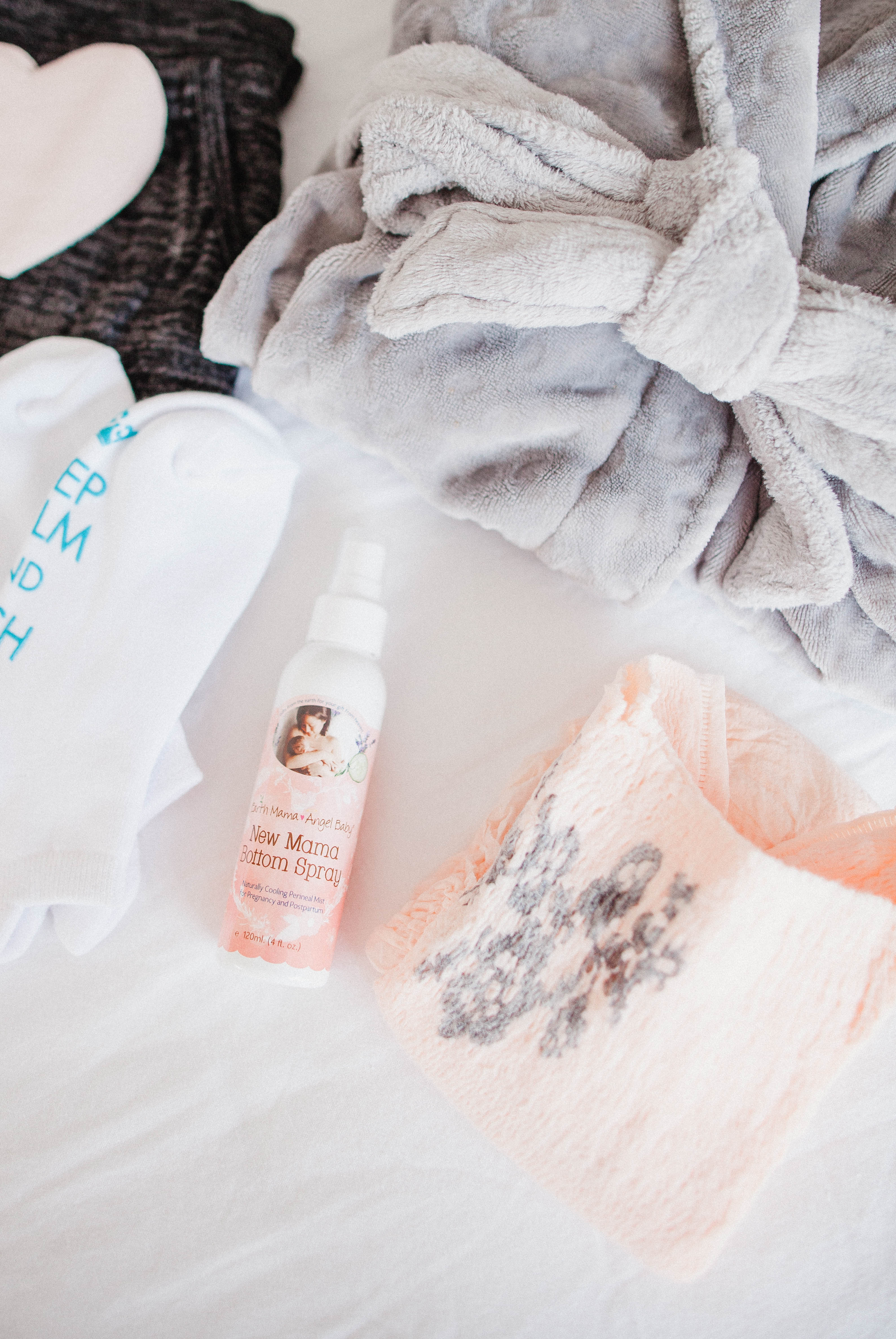 I only use disposable breast pads if they're absolutely necessary because I've had them stick to my sore nipples before and MAN does that hurt. Instead, I love using Bamboobies Washable Breast Pads. They have regular absorbent and overnight options, and I love that you can just throw them in the wash! They're much more comfortable to wear, and also save money because the disposable ones aren't cheap.
I remember being incredibly pissed off that the outlet was so far away from the bed the last two deliveries (why are the iPhone cords so damn short?!), so I purchased this 6 foot phone cord that I plan on bringing to the hospital. Much easier!
13 // Snacks
My hospital has crappy food. It's just terrible! And obviously no snack options, so I ALWAYS pack a ton of snacks for my husband and myself. I plan on bringing RX Bars and some of our other favorites this go around.
13 // Going Home Outfit for Baby
Our hospital onesies aren't the best for bringing baby home in the cold weather, so I'm bringing a cute little onesie bring this guy home in! I think I might actually use the same outfit I brought his brother home in (I still have it!), but here's another great option!
14 // Going Home Outfit for You
I'll never understand why some moms want nice going home outfits, but to each his own! I'm wearing another pair of jogger pants, a loose-fitting shirt with a nursing tank underneath, and slippers. Keep it simple, ladies!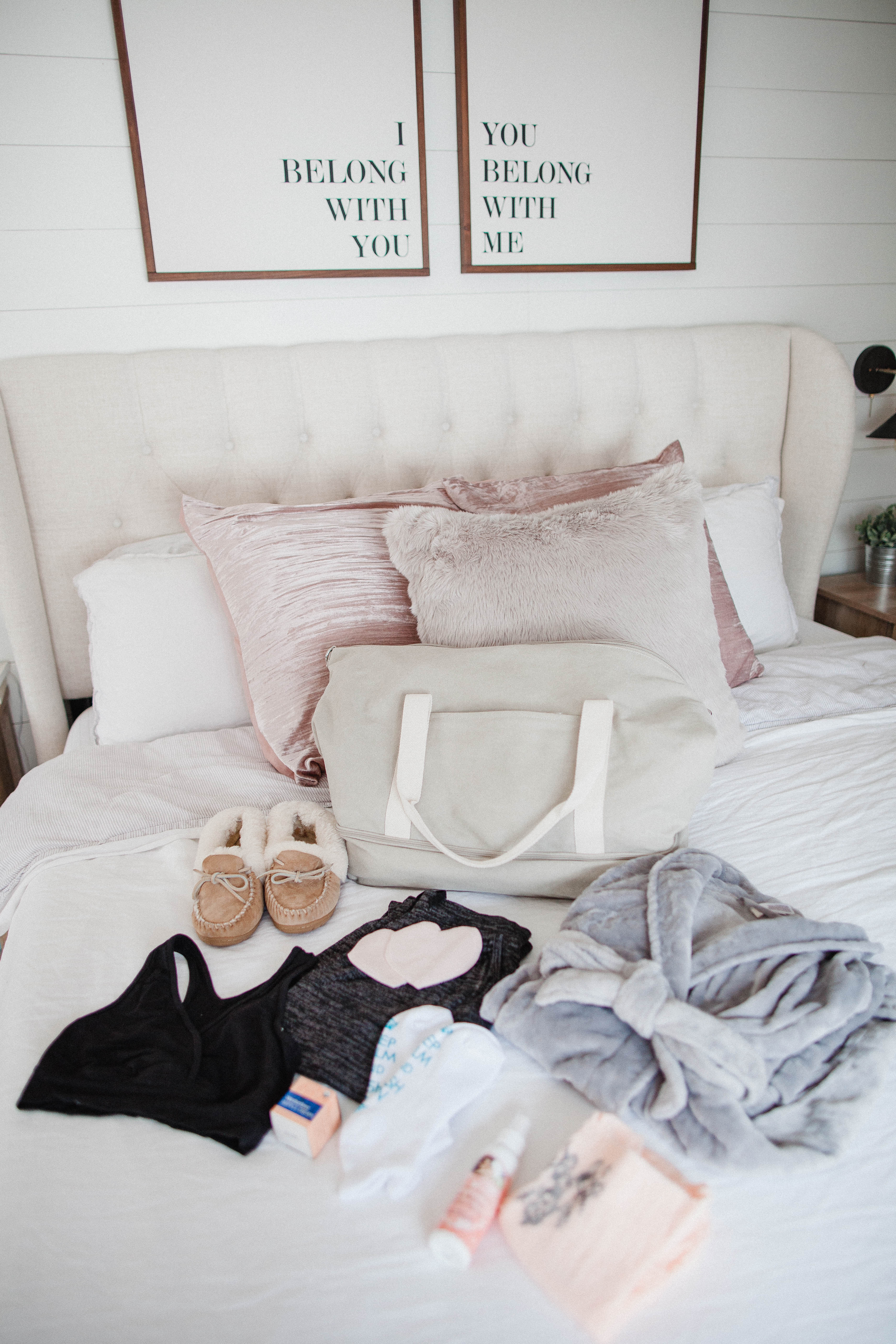 15 // Toiletries/Hair Items
These will look different for everyone, so I won't list them all out. I personally like to bring all of my body and skincare items, and then I only bring makeup basics. I'm a gal who needs her makeup to feel like a normal human being, especially with photos being taken all the time! I haven't decided if I'm going the dry shampoo route or what this time, but I'll figure it out soon enough. If anything, I might just bring a brush and a blow dryer.
16 // Thank You Gift for the Nurses
As a nurse, TRUST ME when I say this is so appreciated!!!!!! Even a simple card is a kind gesture. I plan on bringing a card and having my husband bring donuts for the staff before we head home!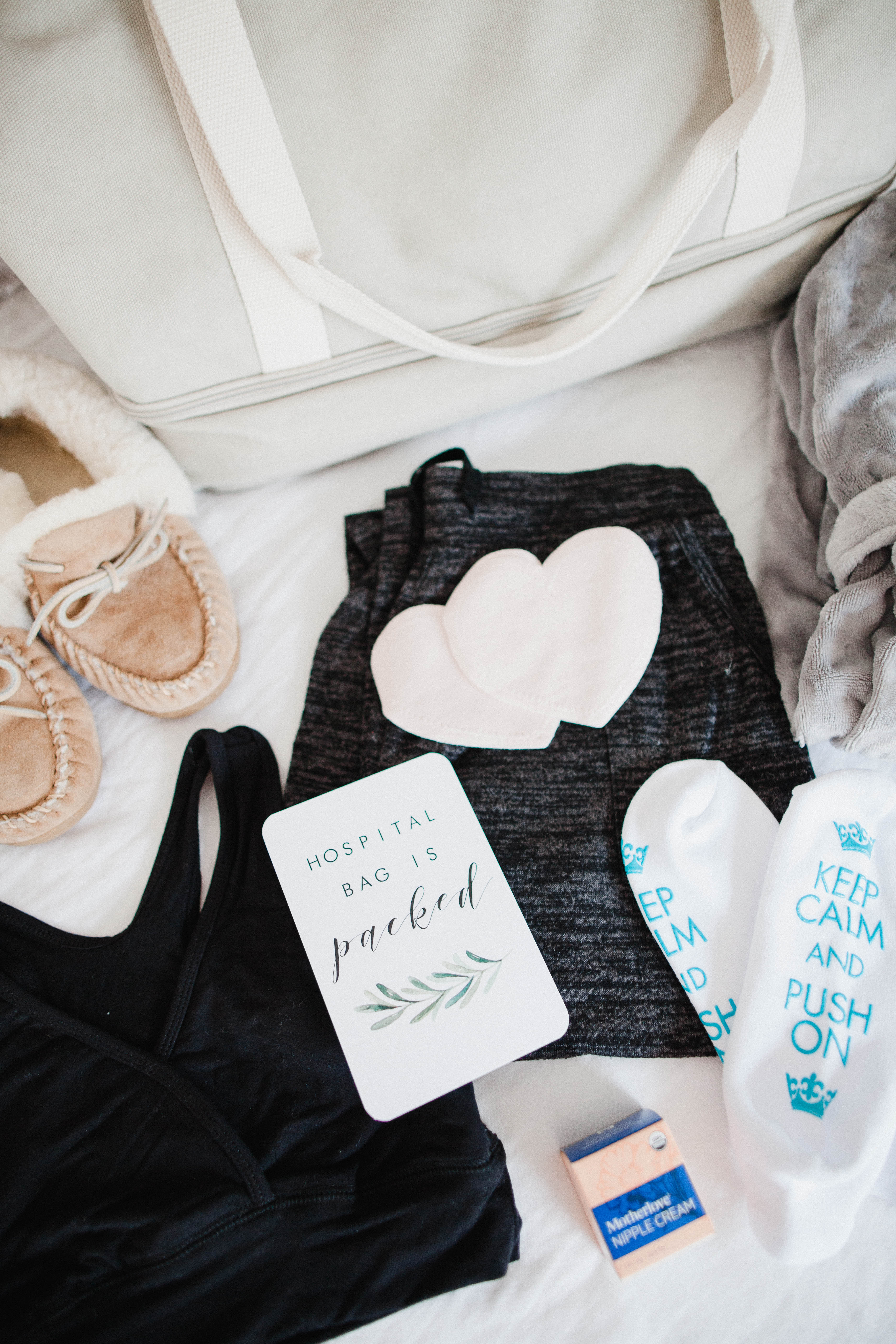 I created this printable checklist for you to make packing easy! Again, these are the essential items you need, so feel free to pack more or less as you see fit. Just click the image below and it will open up to print!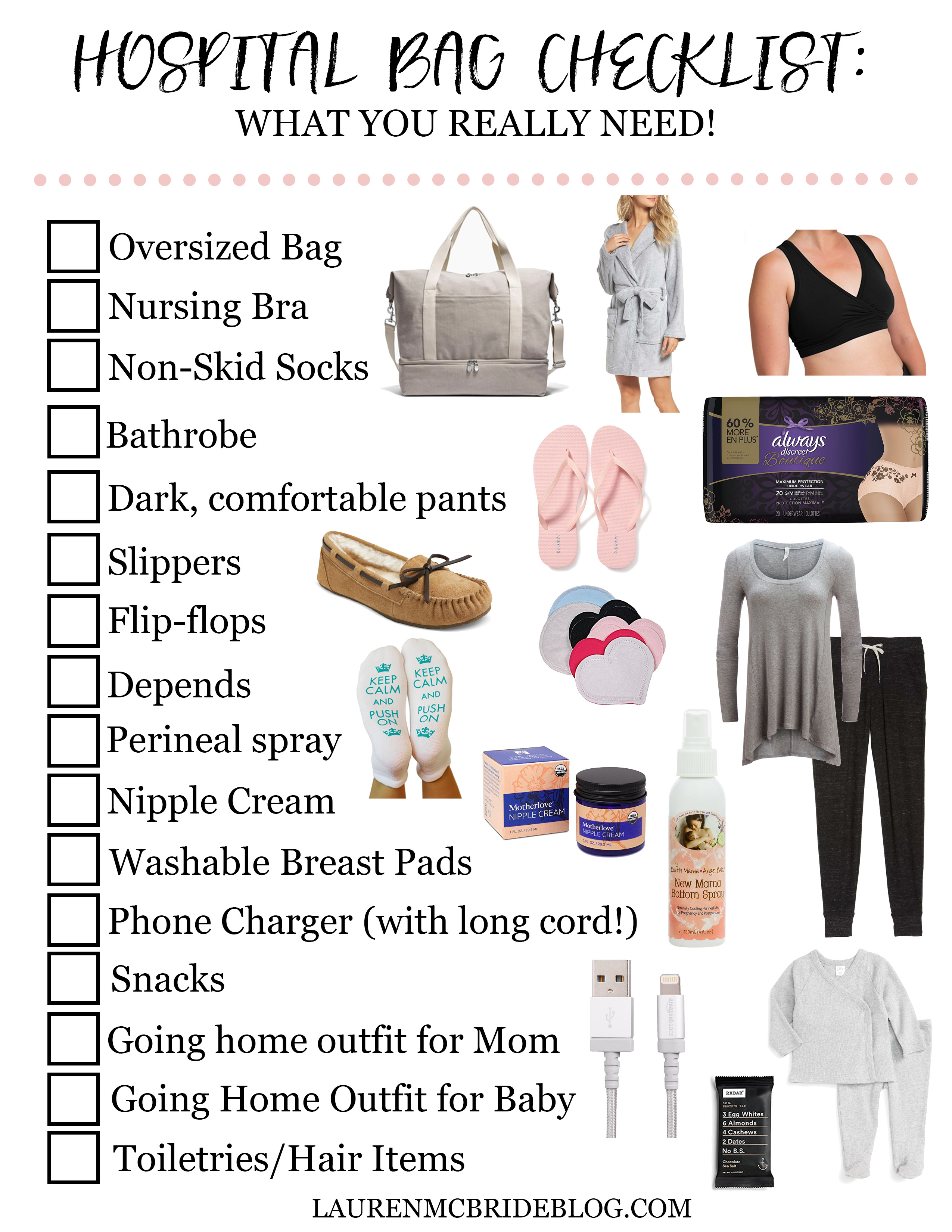 Lo and Sons is kind enough give away ONE CATALINA DELUXE LARGE TOTE IN ANY COLOR to a lucky reader! Enter via the Rafflecopter below, and GOOD LUCK!
a Rafflecopter giveaway