Okay ladies. I put a TON of dry shampoos to the test, and I'm finally ready to share my results with you! I keep gravitating towards two of them, one which I prefer over the other, but the other is a close second! I'm also going to share How to Use Dry Shampoo because, SPOILER ALERT, I've been using it wrong my entire life. I switched it up and it's been a total game changer and I'm like HOWWWWW did I know realize this ages ago? Maybe some of you are like me (or maybe you already knew this!), so I thought I'd share what I've learned as well as my TOP pick for the Best Dry Shampoo EVER.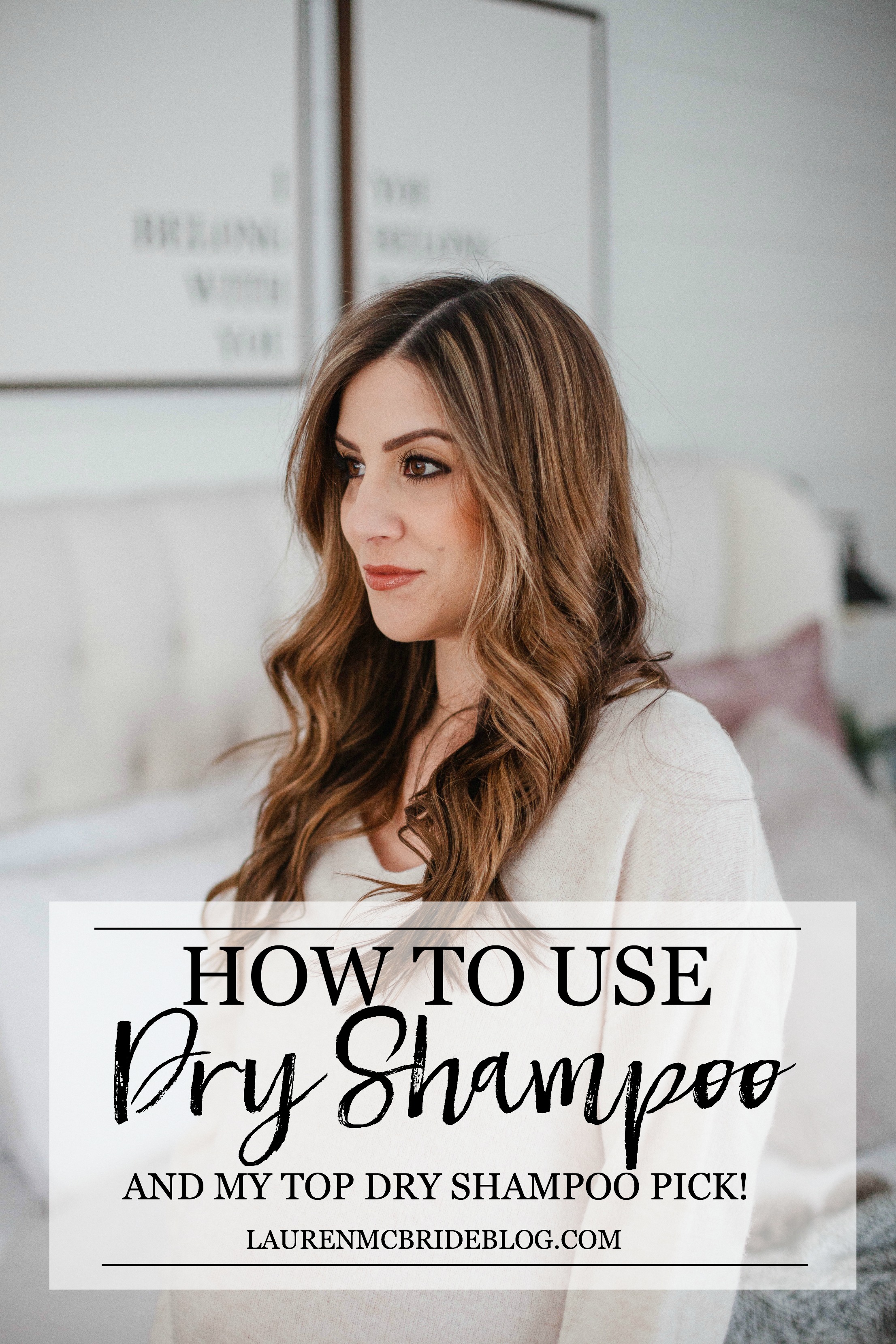 HOW TO USE DRY SHAMPOO
Also, please note. This is what works for ME. So I can't guarantee it will work for you, but I DO suggest giving it a try to see!
First, let's talk my hair type. I wash my hair at night (have been since I became a nurse and starting showering at night…I just CANNOT fathom getting into bed with gross stuff on me from work!) and usually let it air dry but touch up the roots for some volume. My hair gets oily quickly, so I was previously washing my hair every other day. I was never really able to go longer than that without it feeling greasy. Here's the method that has finally worked for me!
THE METHOD
I start on Day 1 by washing and drying my hair. I'll usually let it mostly air dry, but touch up the roots with my blow dryer and round brush for some volume. When it's completely dry, I'll spray in some dry shampoo BEFORE BED. If it's day 2 or more, I obviously won't be washing my hair and I'll just apply the dry shampoo again BEFORE bed as shown below.
I section off THREE pieces on each side of my head and spray at the root of my hair – a top, a middle, and a lower piece. I'm just showing section (the middle) below!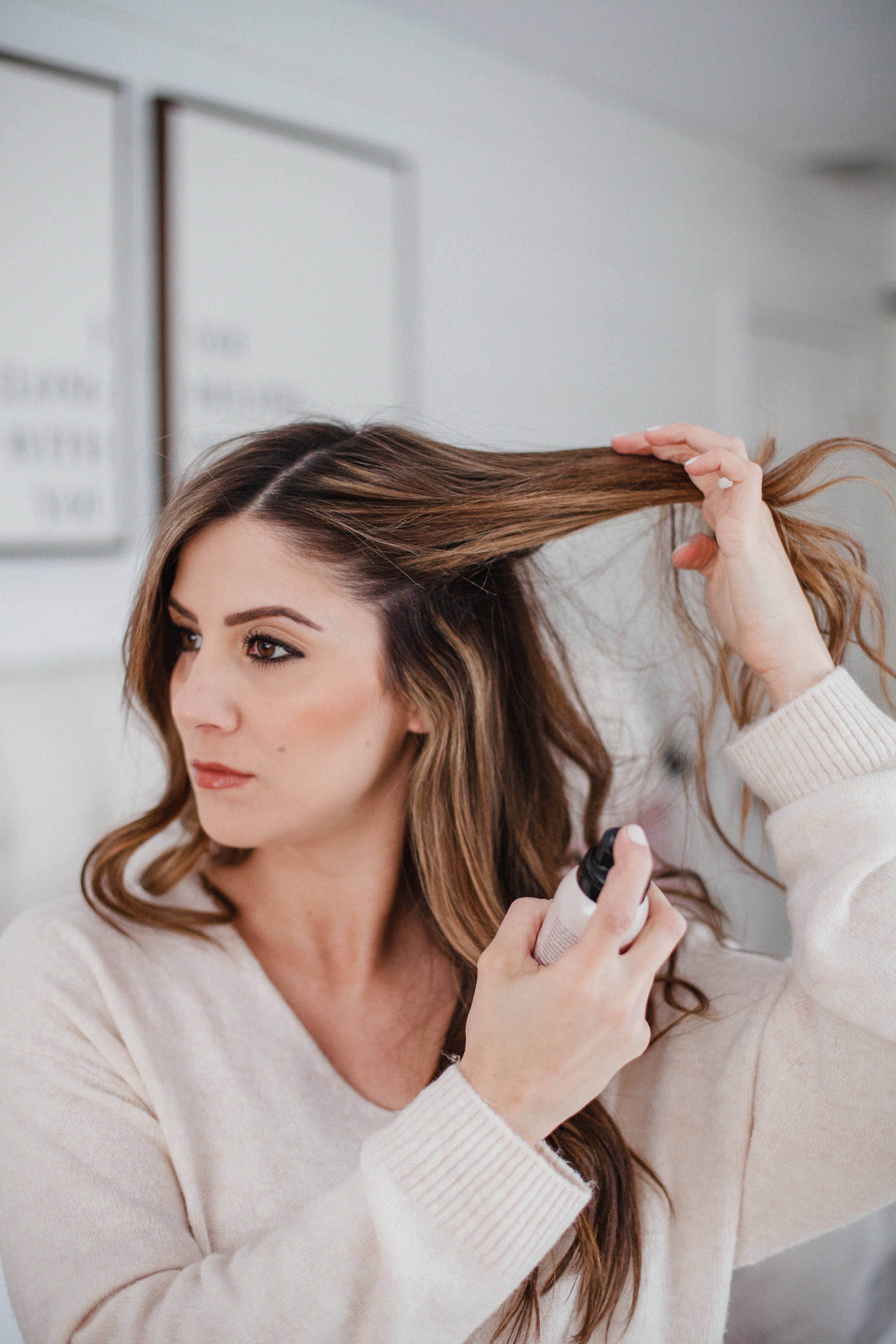 I then spray some dry shampoo down my part since this is where my oil tends to show the most.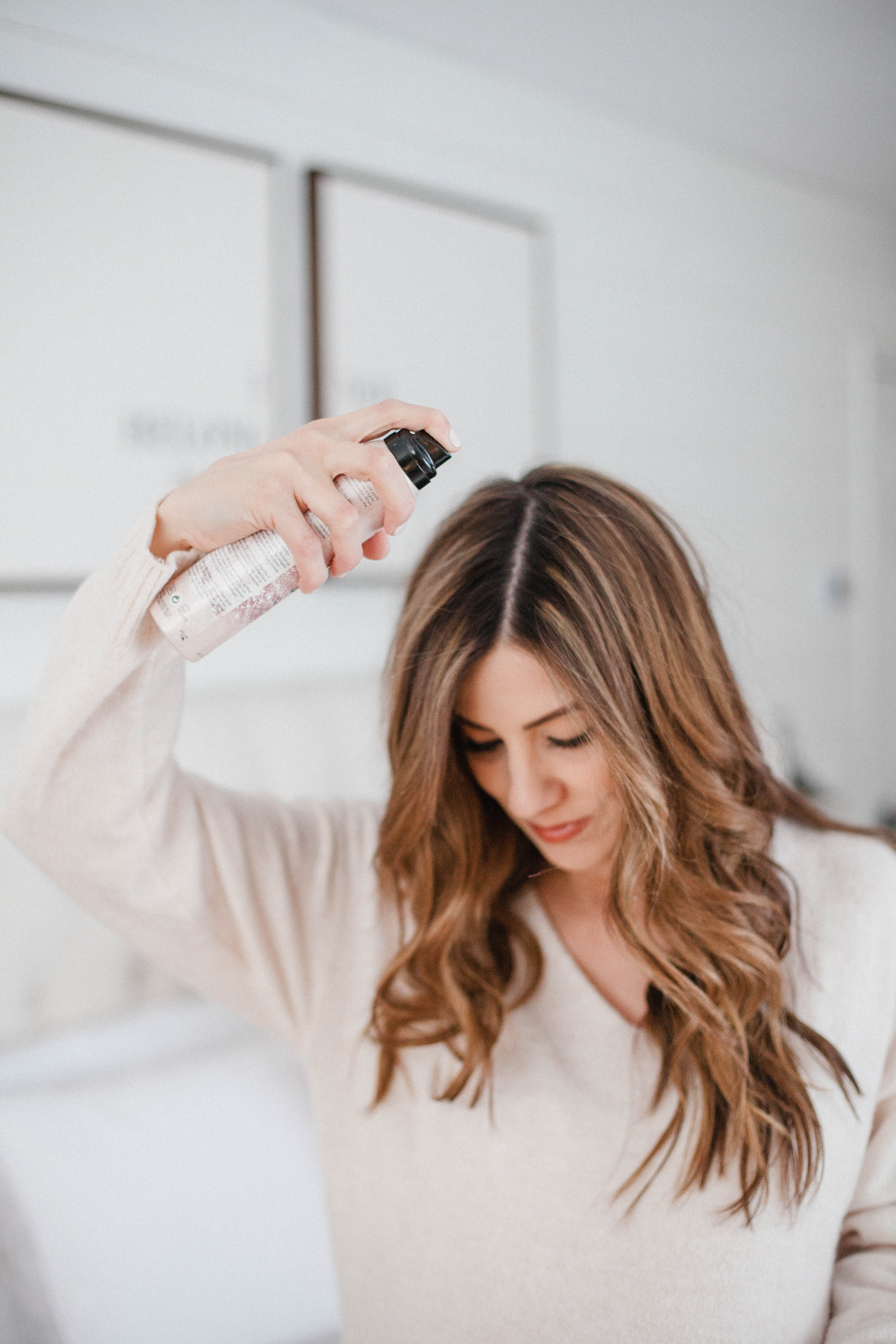 Last, I'll section a few pieces in the back of my head and again spray the dry shampoo at the root. I'm not super neat about the sections, as you can see.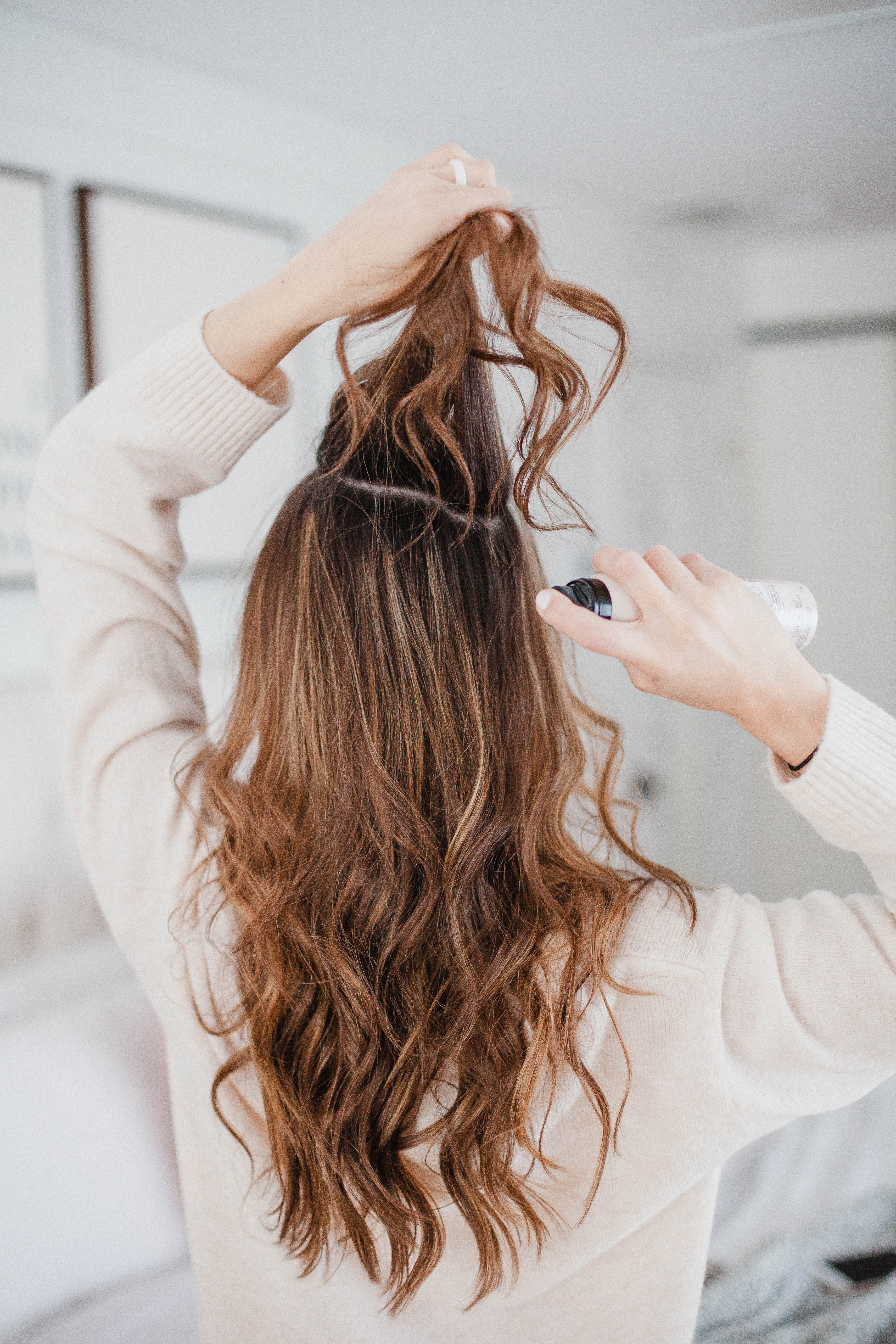 I wait about 30 seconds, and then take CLEAN HANDS (as in, just washed…no need to add more oil to those roots!) and gently massage the dry shampoo into my roots.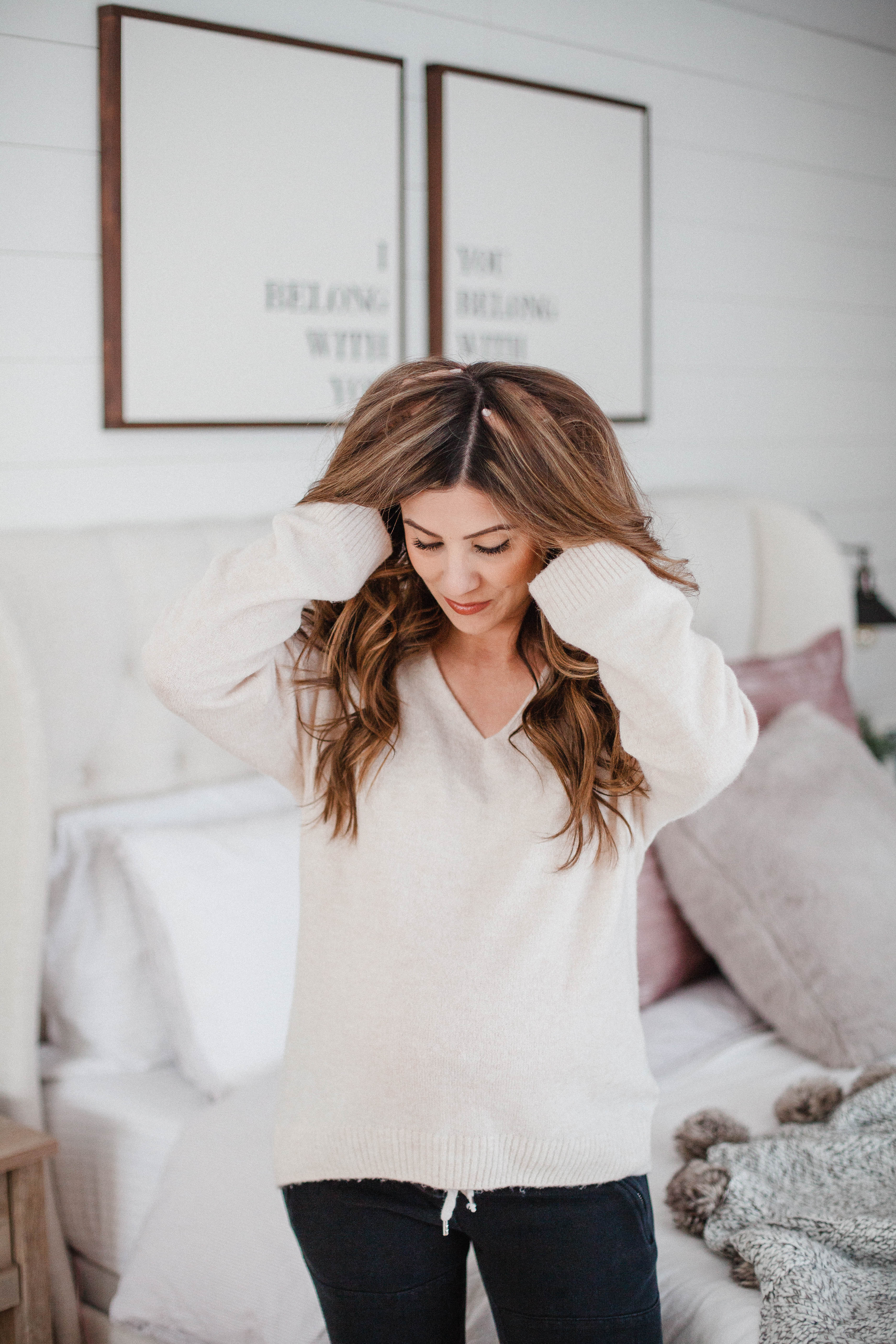 I then put my hair up in a very loose ponytail and go to sleep! In the morning, I'll touch up my roots if I need to and then touch up my curls if they've loosened.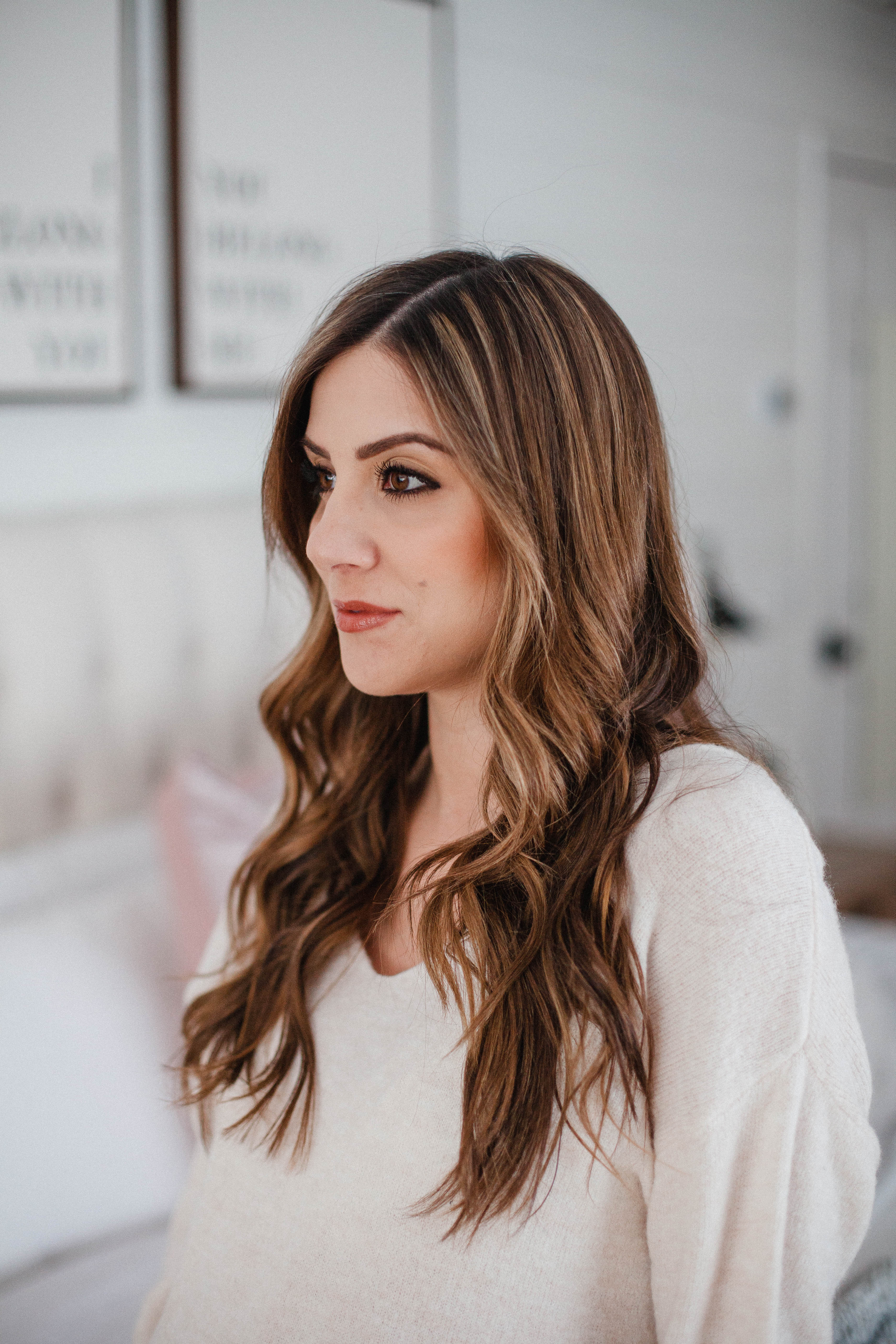 THE WINNERS
I tried a multitude of different dry shampoos while training my hair to go longer than a couple of days, and narrowed it down to TWO dry shampoos that I feel work best for me (and some of you, as you've already shared!)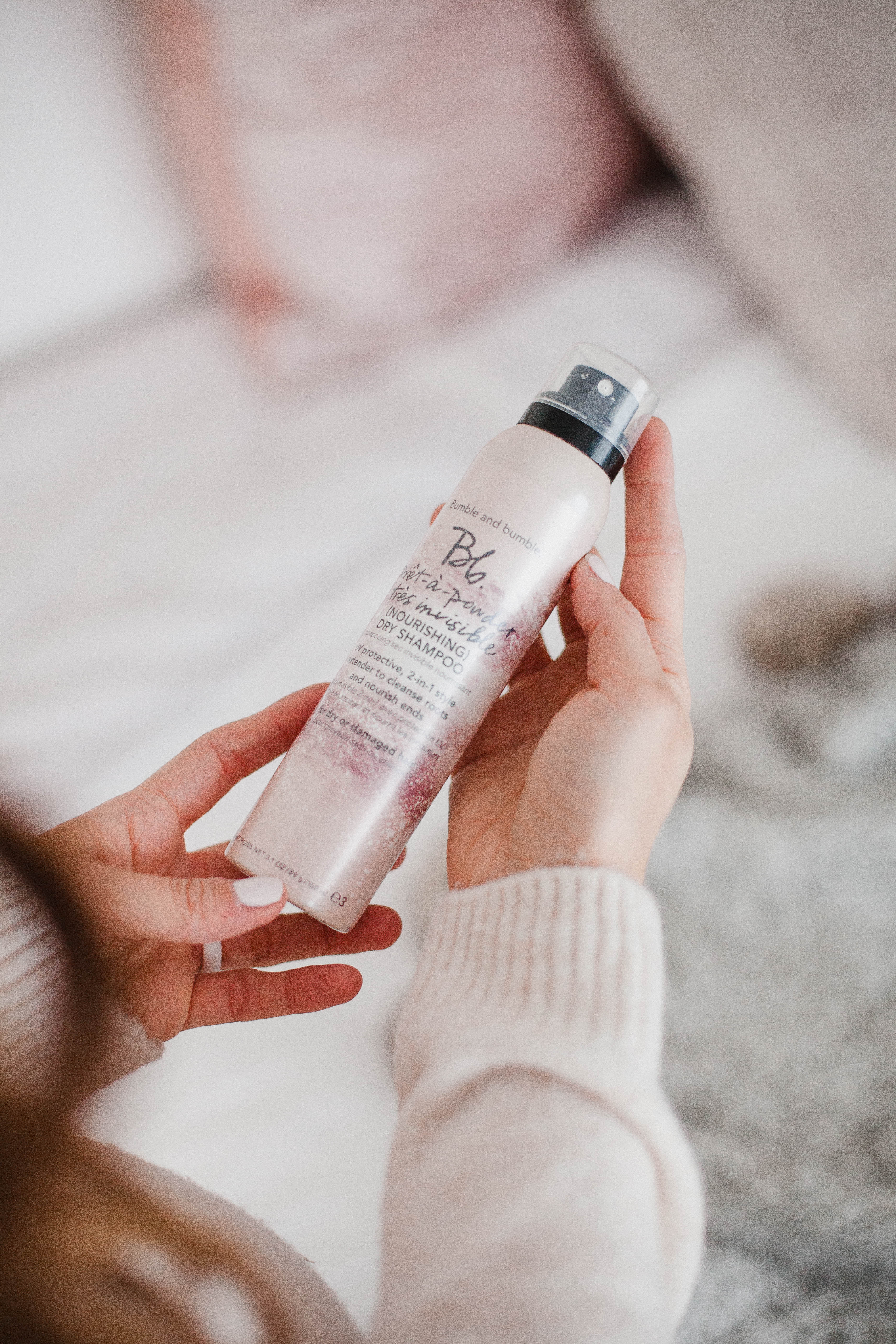 The Bumble and Bumble Bb. Pret-a-Powder Tres Invisible Dry shampoo is the best damn dry shampoo I've ever used in my LIFE. It leave NO RESIDUE on dark hair…none! And they make it in two forms…one for Normal to Oily hair (which I prefer! But accidentally tossed the bottle when I finished it, whoops) and for Dry or Damaged hair. They both work incredibly well, but the Normal to Oily hair version definitely works better for me. It's lightweight and doesn't feel like there's anything in my hair. I can go up to 5 days without washing when using this (which is awesome for me!)
The Living Proof Phd dry shampoo is my second runner up because I can go equally as long when using it. The downside is it DEFINITELY shows white residue, so I feel like you really need to massage it in or even take a blow dryer to get it to not be white (for my brunette ladies!). I can also feel this one a little more than the Bumble and Bumble, but I actually like the texture it gives me at my roots!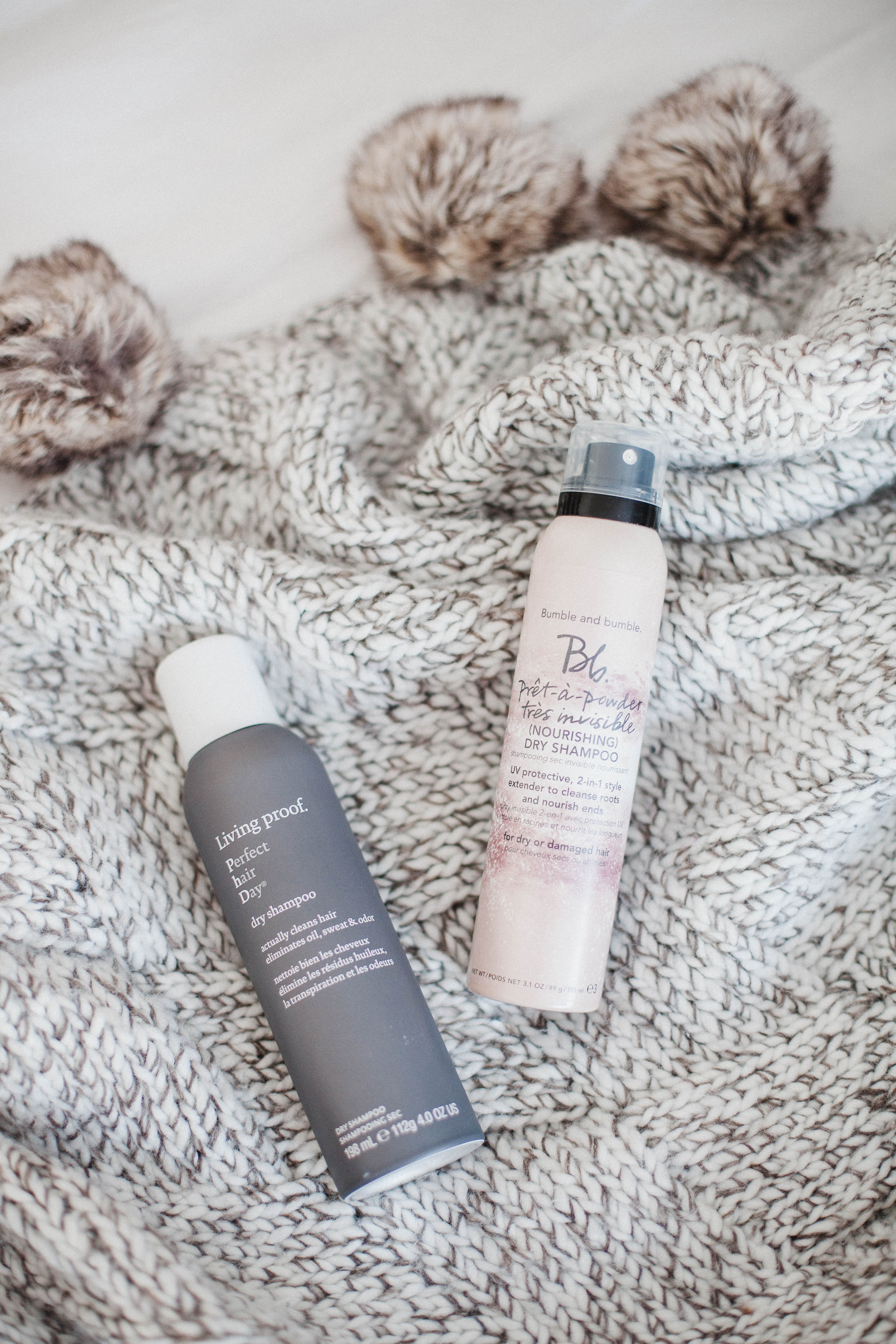 The dry shampoos I tested out were the following: Khlorane, Batiste, R & Co., Oribe, Not Your Mother's, Drybar, and Kenra. I realize there are a multitude of other dry shampoos, but I was SO pleased with my results from Bumble and Bumble that I didn't feel the need to experiment further!
If you currently love the dry shampoo you use, I highly recommend applying it AT NIGHT if you aren't already. TOTAL game changer! 🙂
SHOP MY DRY SHAMPOO PICKS BELOW!