Having a professional maternity shoot is something that's very special to me. I love having those special photos to look back on, probably because they hold deeper meaning for me given our history with miscarriage. As a result, I take them very seriously 😉 Winter maternity shoots can be a little tricky, so today I'm sharing some ideas on What To Wear for a Winter Maternity Shoot in case yours falls during the cold months!
What to Wear for a Winter Maternity Shoot
(Photos by Alicia Ann Photographers)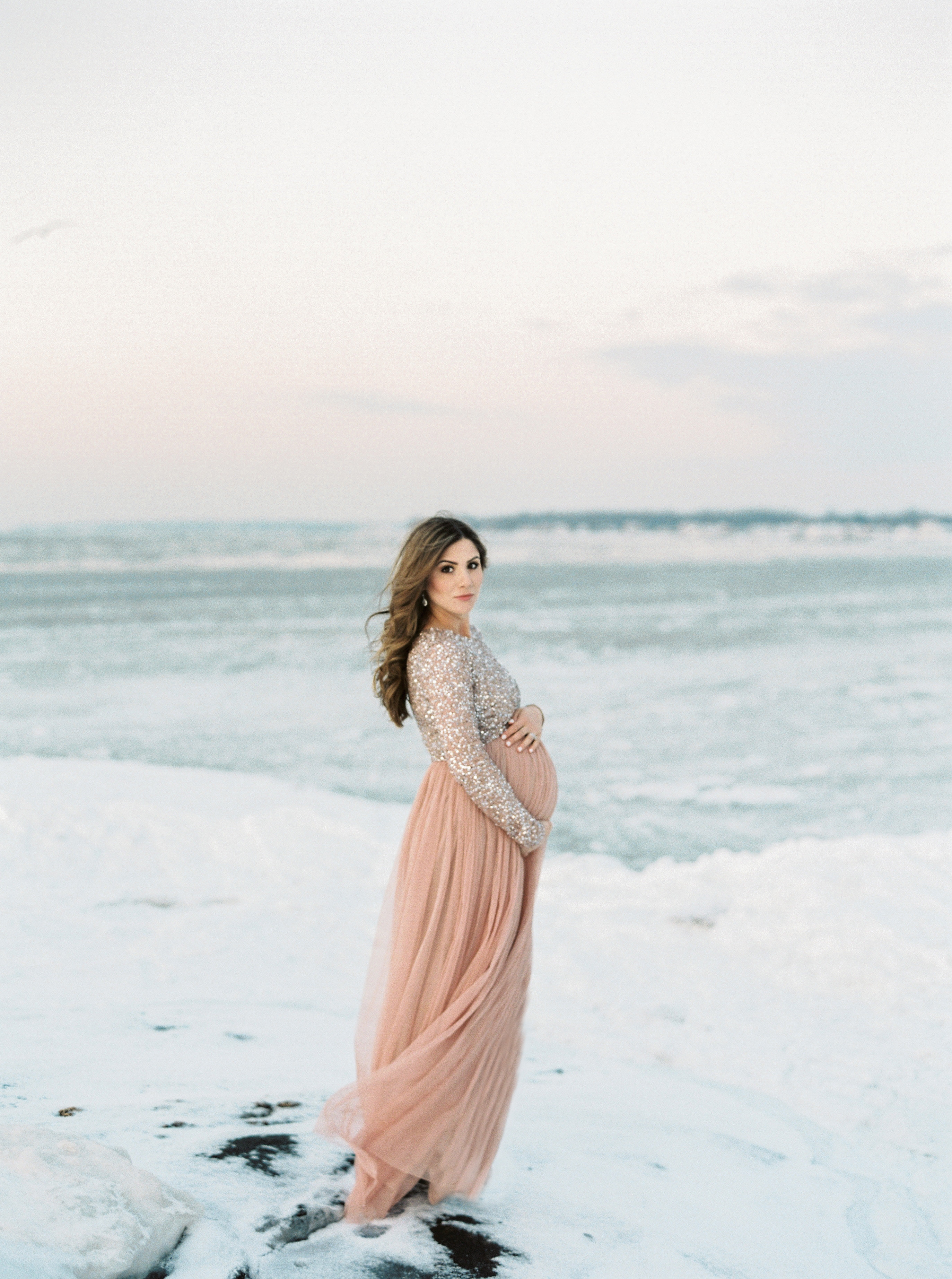 Winter can be tricky if you're looking to have outdoor photos, depending on where you live. It's all ice and snow up here in Connecticut, and while I easily could have chosen a beautiful indoor shoot, I wanted to take advantage of the stunning landscape we have here this time of year (even if I hate every bit of it being cold). Originally, I had wanted to shoot during actual snowfall, but the timing was really tricky and couldn't be planned out. That was totally okay though because these images on an icy beach blew that out of the water.
Consider your landscape.
I gravitate towards neutral colors, especially for timeless shoots like maternity, family, or engagement sessions. But my typical white and beige surely wouldn't have worked against a white background. Considering the landscape of your shoot location is important when initially deciding on what you'd like to wear. I wanted a dress that would really stand out against the white of the snow and ice, and this blush one turned out to be a great choice. Choose a color that will pop against the background of your session.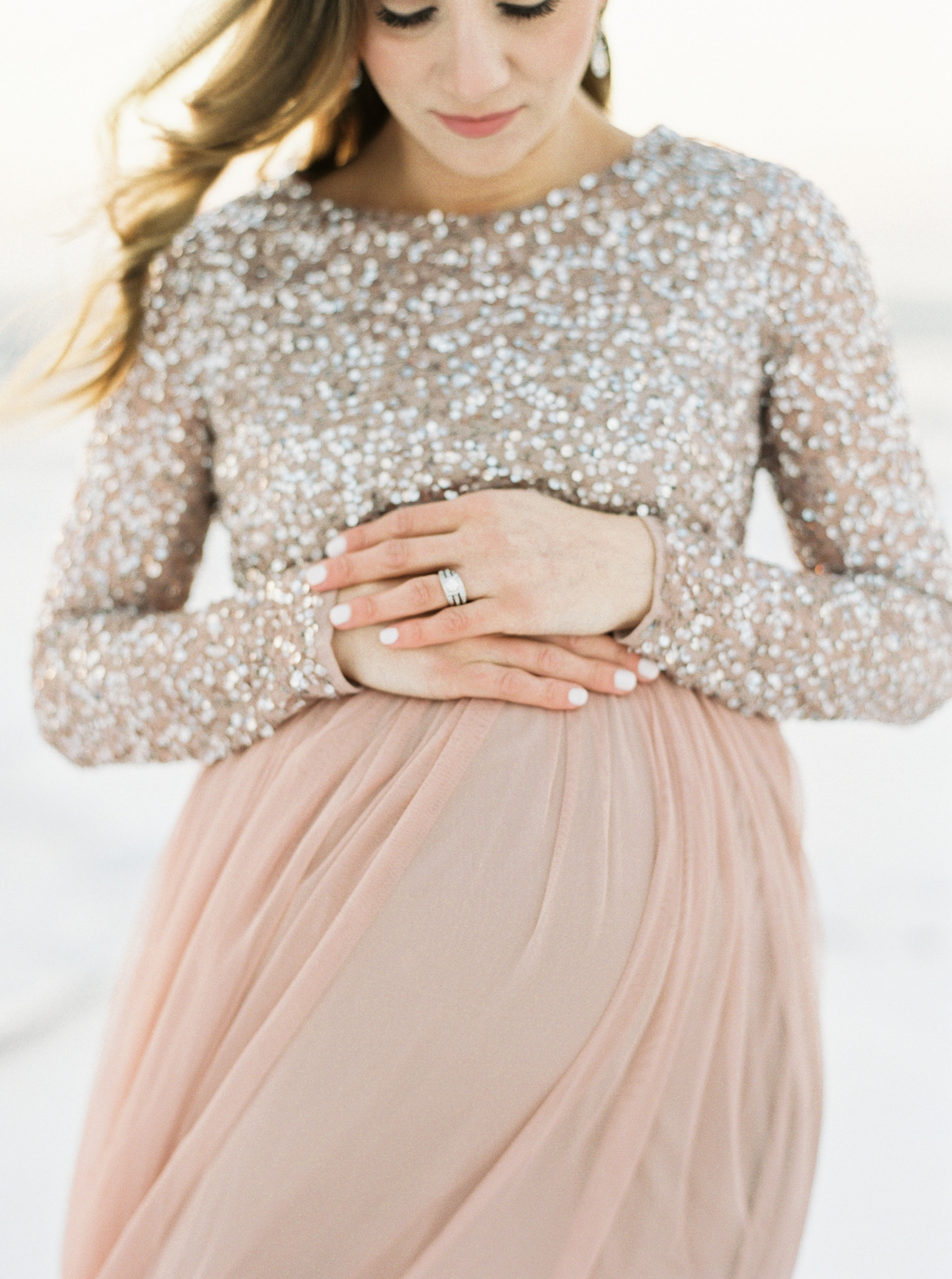 Consider the climate.
It's FREEZING here in Connecticut during the month of January, so I knew I needed to dress appropriately. It was still cold (even with LAYERS of leggings, socks, and warm snow boots underneath the dress!), but I'm glad I chose a maxi style with long sleeves. Absolutely consider the weather, and dress accordingly. If you can't find a long sleeved option, consider a dress that would look great with a cardigan! Chunky, cream and white colored cardigans are always beautiful in professional shoots.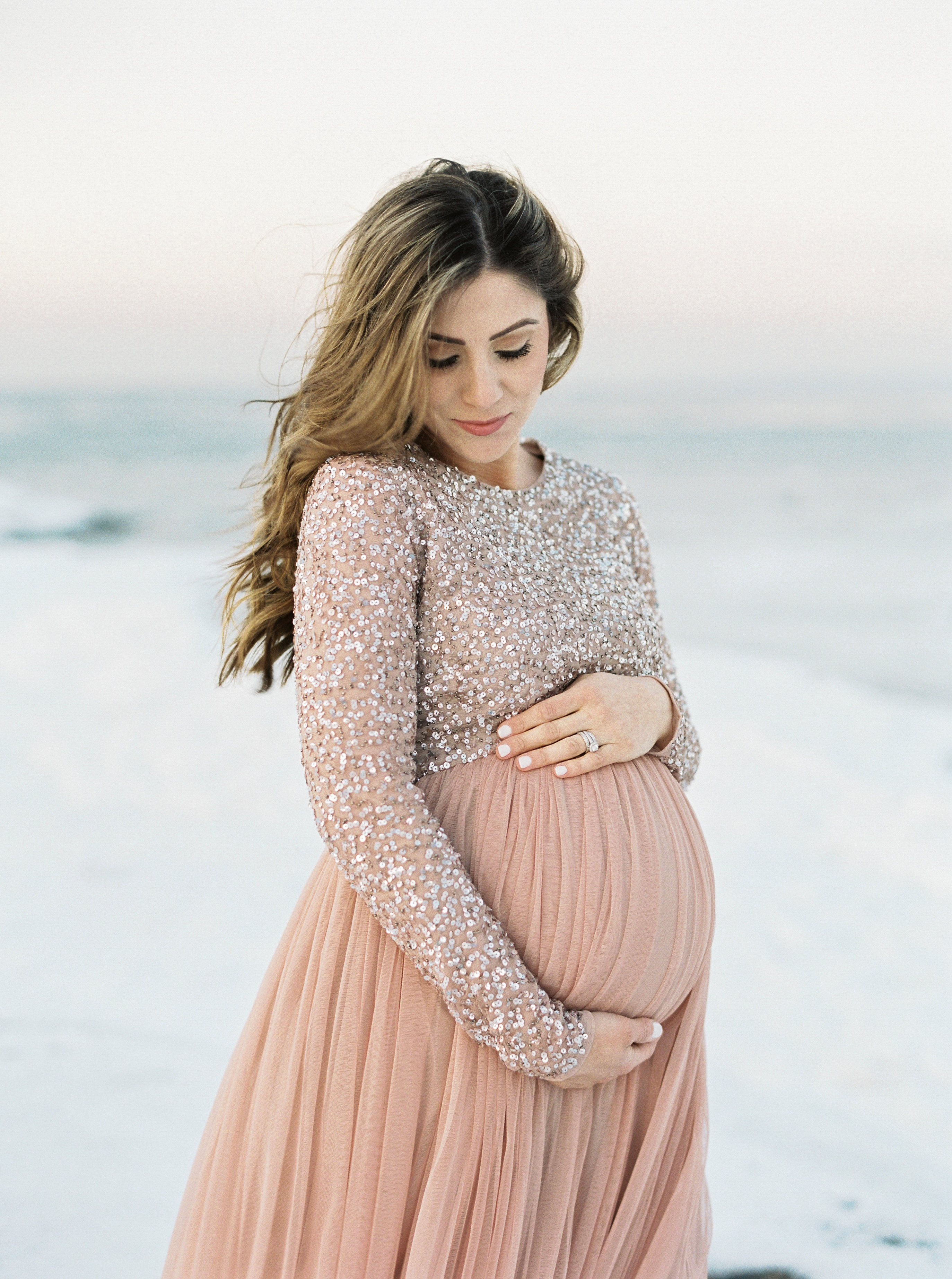 Go with solid colors.
Solid colors are far more timeless than patterns and prints, and will only highlight your baby bump more. I find that prints tend to take away the focus of the bump, which is not the goal for a maternity shoot. Adding texture (like the tulle skirt or sequin top of this dress) is much more beneficial. Lace is another beautiful option!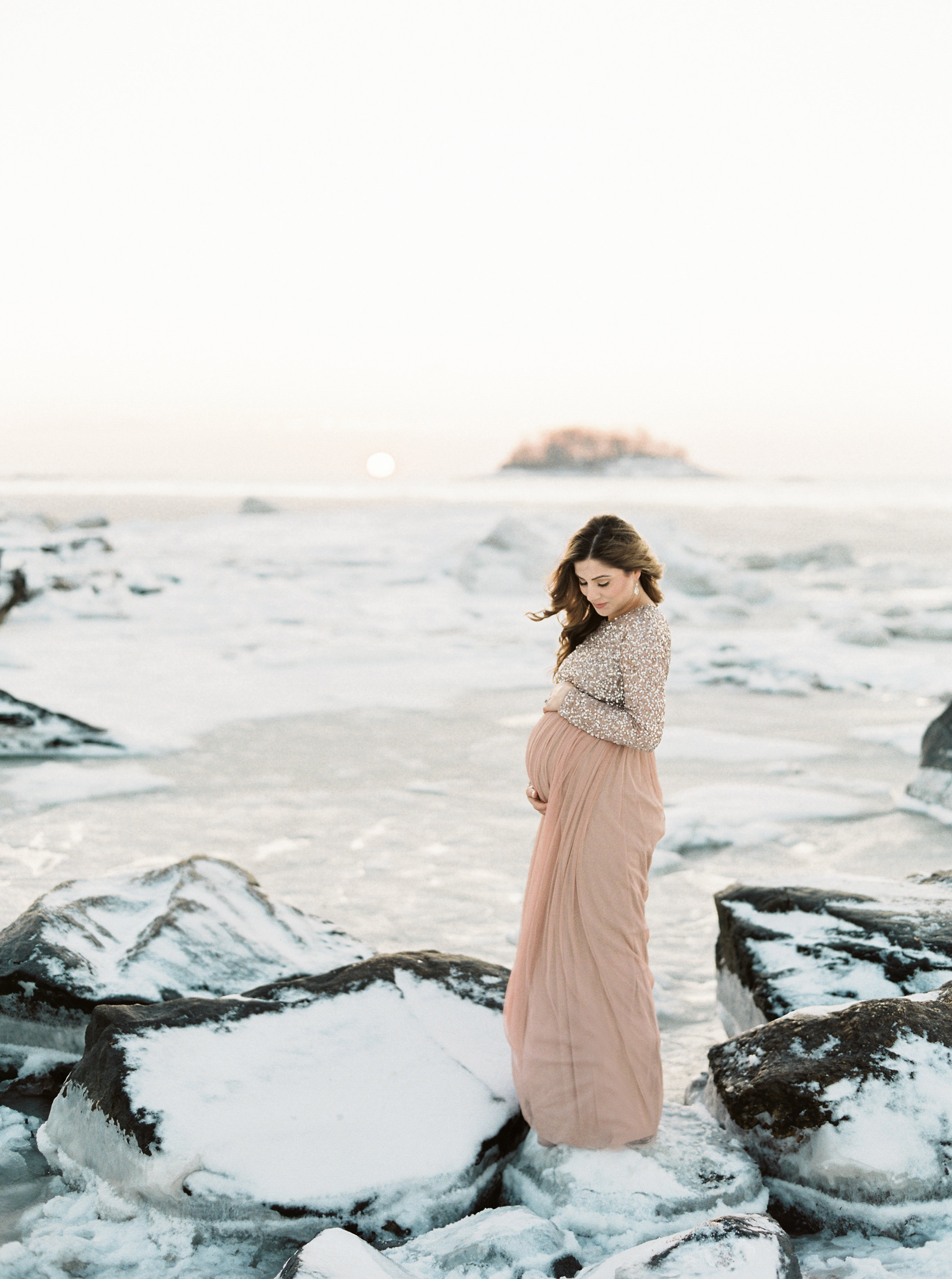 Dress for the day.
As I previously mentioned, I had LAYERS under this dress because I knew it would be cold. Luckily I have a phenomenal photographer that I've worked with before, so we both knew we could shoot for about 20 minutes and most likely get some great images. I have a thick tank top, fleece leggings, 2 pairs of knee high socks, and snow boots under this dress. It was a little tricky to hide the boots at times, but we made it work! My photographer also kept my jacket near her so I could wear it while we changed locations.
Choose a dress that will compliment your baby bump.
There are certain styles of dresses that are better for pregnancy than others. You want the waistline hitting ABOVE your bump, which is a key component if there's a waistline in the dress. Fitted dresses are always gorgeous as well because they hug your body and really accentuate your bump. I share about this in this post on What To Wear for a Maternity Shoot (along with some beauty tips!) right here!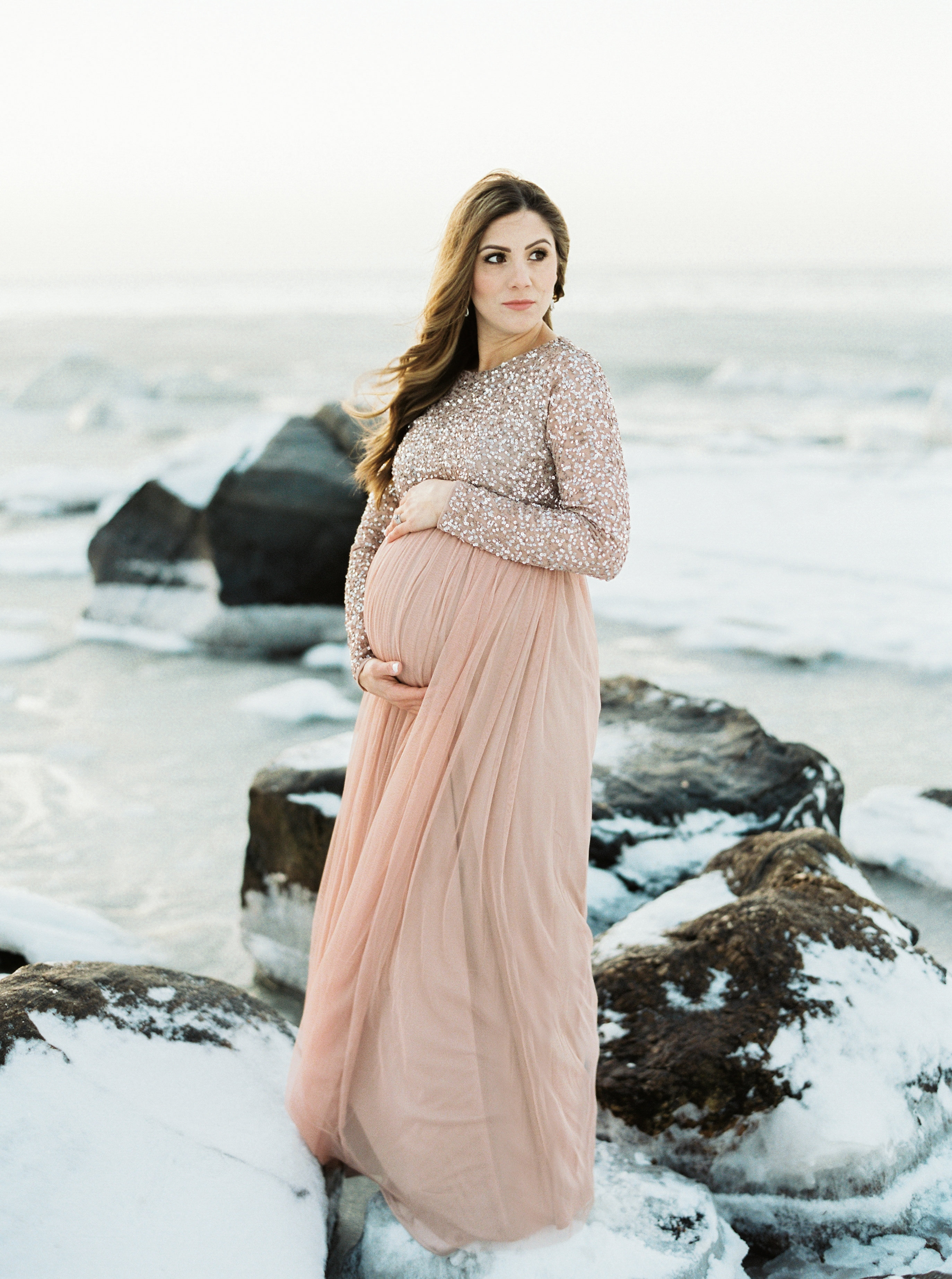 These are just a few of my favorite images from my recent maternity session with Alicia Ann Photographers! I debated doing a shoot altogether given that this is baby #3, but I also realized it's most likely my last baby and why not seize the day 😉 I'm so happy I did! You can see more of the images on Alicia's blog right here.
SHOP SIMILAR DRESSES BELOW