It's been a little over 2 weeks since Austin graced us with his presence, and it's crazy to think time has gone by that quickly already. I know this is most likely related to my sleep deprived state, but I feel like it was just yesterday that I was pregnant! It also makes me a little sad about the future. I often feel like I can get so caught up in daily life that I'm missing my kiddos grow right before my eyes. I know all of us parents can relate on this level, as we often are so focused on our routines.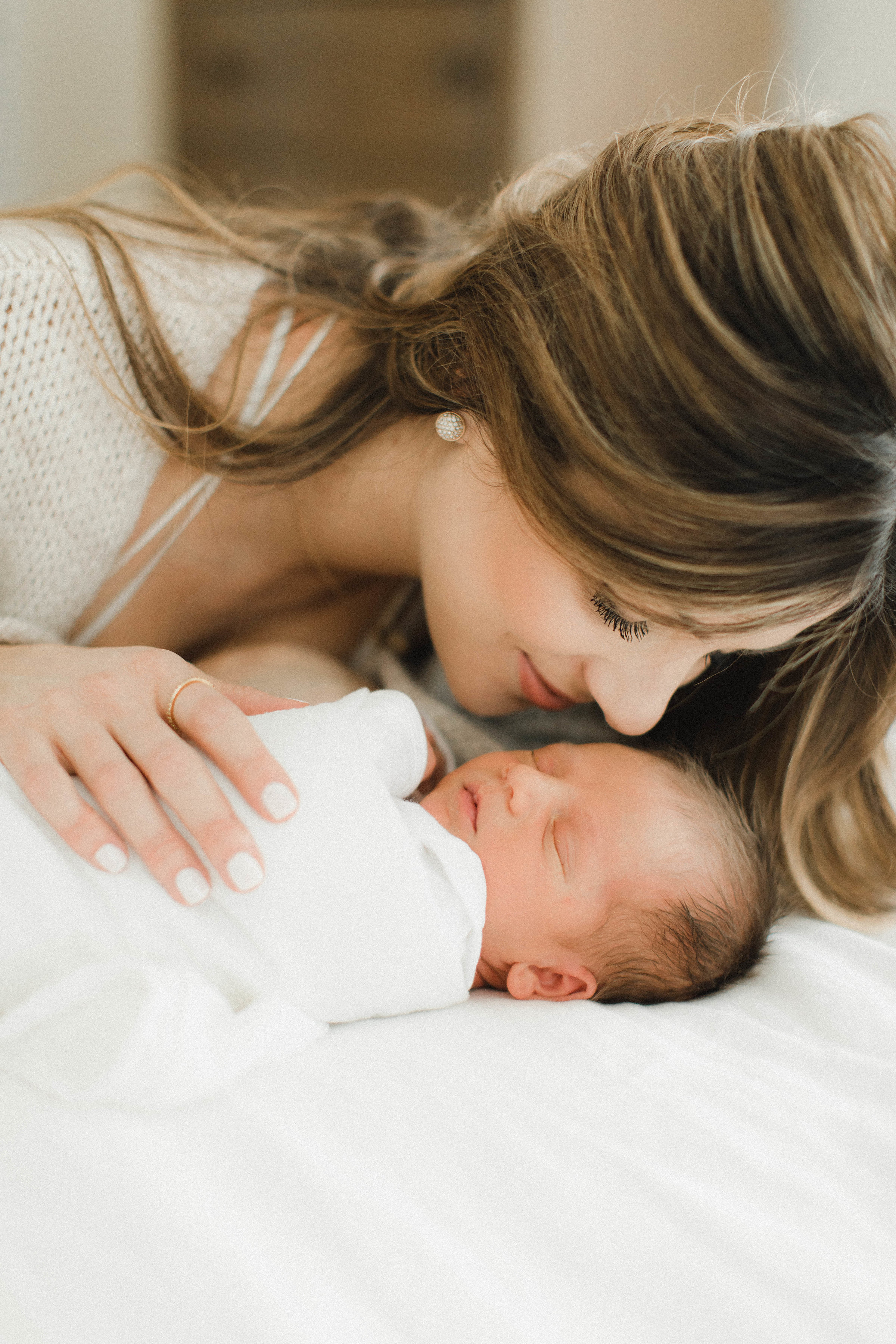 At two weeks in, we're still in an adjustment period (of course). I know we'll be here for quite some time, but surprisingly my older two have done incredibly well. Landon has been struggling with typical 4 year old emotions, but nothing more than what he was dealing with prior to Austin's arrival. Noelle acts like a little mommy and is so incredibly caring towards her baby brother. She is always wanting to kiss him, say hi to him, help with him, and asks where he is frequently when he's napping upstairs. Landon LOVES to help give him a bath and get the diapers and wipes for diaper changes. I've been making it a point to have them help so they feel important and confident in their role as big brother and sister. I do think this has help with the transition period. It's amazing to watch them be so loving and caring towards our new family member, and I don't think they can picture life without him anymore! The other day Landon asked, "Is baby Austin staying forever?!" And he was so excited when I responded with a big, "YES!" It makes my heart so happy to think that even in a years time they'll all be playing happily together, like three musketeers.
As far as how I'm adjusting, it's been quite the challenge if I'm being honest. I'm a routine oriented person, and naturally I knew our routine would change again with Austin's arrival. We are still working on establishing a new routine (not too far off from our old one, but taking into consideration that we have a 3rd kiddo now), and I know it will take some time. I've only been alone with all 3 for short periods of time, and I'm still figuring out how to juggle all of that. I've also felt a little guilty that I haven't been able to spend as much time with the older two since Austin is basically on my boob all day. I'm trying to make it a point to show each of them undivided attention, whether it's playing Legos with Landon or cuddling with Noelle after her nap, but damn it's hard with a cluster feeding baby! I know it's just a season, and I keep reminding myself of that every day. I'm super grateful Pat has a flexible schedule..I know that's surely not the case for everyone. We've also been trying to prepare meals that will last a few days at a time to cut down on dinner prep. There are still some things I need to get a handle on (laundry? ????) but I know that will all come with time. I'm trying to give myself some grace and reminding myself that eventually we'll have a routine down. Mornings are still a little rough for me in particular, but I know once Austin's feeding habits regulate a bit they'll be better (at least it was with the last 2!).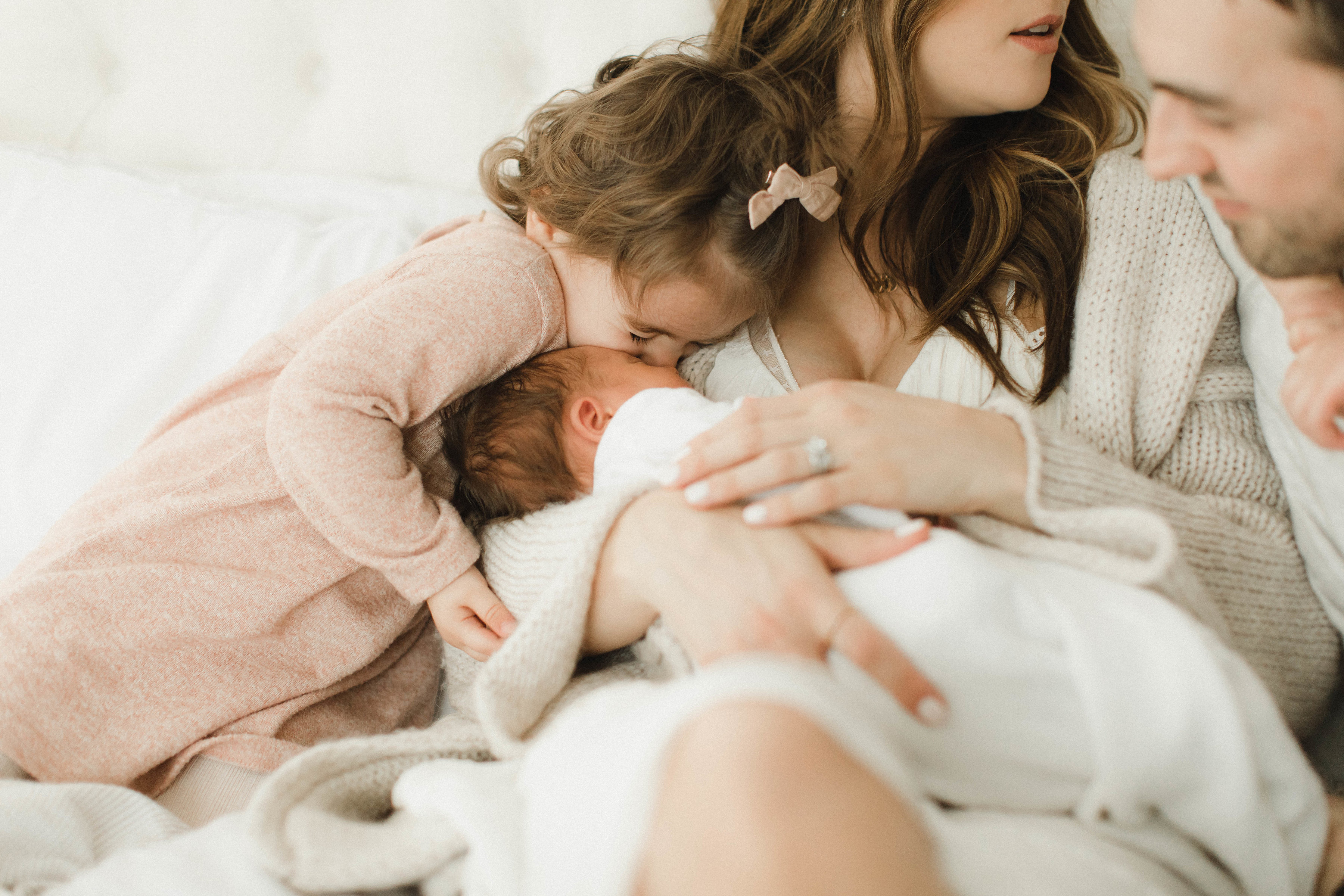 Physically, I feel GREAT. Austin's birth was by far the easiest for me, and my body's response is proving that. I had minimal pain, and honestly have to keep reminding myself that I JUST had a baby. I also can function remarkably well on little sleep, so I've been having to remind myself to sit down and rest. I'll share his birth story soon!
Breastfeeding has also been improving every week, which I'm super happy about. I honestly had zero expectations, as I did with Noelle, because I knew I couldn't exclusively pump again like I did for Landon. My mentality since then has been that I'm 100000% fine with formula if we have breastfeeding struggles. Austin is following in his sister's footsteps and breastfeeds like a champ! I still have a little soreness from my few days of engorgement and some latch difficulties, but we've surpassed that and are in the healing process. He's also gaining CRAZY weight (a pound a WEEK) so it's mutually going really well!
One thing that's annoying me is the damn hormonal night sweats that come in the postpartum stage. I literally feel like a sweaty pig when I wake up in the morning, and NEED to shower to get the stench off of me. Any other mamas experiencing this?! It drives me nuts because I'm a shower at night kinda gal. I can't be bothered in the morning, and this is adding to throwing my routine off! I've tried sleeping in less clothing, sleeping with a fan on, windows open, etc and no matter what I STILL sweat. I can't remember how long it lasted with my other two, but I literally wake up soaked. If any mamas have tips on handling this, I'd love to know so I don't have to shower in the morning, haha!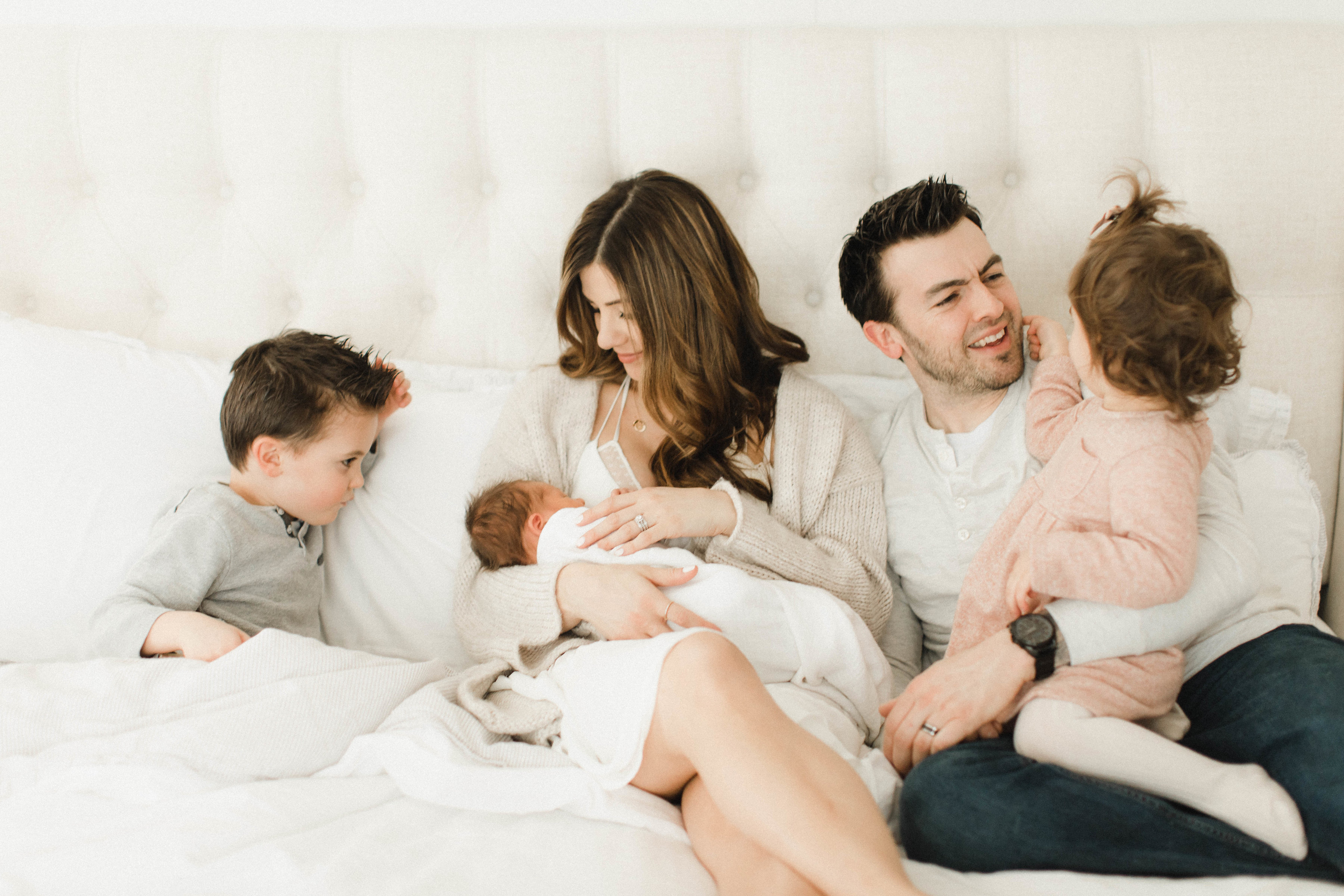 I've been asked a few times how I feel about Austin being our last baby, and to be honest I haven't thought much about that yet. I've always felt 3 was our number and I'm pretty confident in that, but I'm sure I'll have some reservations when we make the "ultimate" decision. For now, I'm just enjoying this newborn phase since it's most likely the last time I'll go through it. ????
If you're a mama going through this stage as well, I'd love to hear how you're doing! Leave a comment and let's have a discussion about it! I plan on doing more of these updates, too, in hopes that some of you can relate or even share what's working for you!
(Photos by Victoria Gloria)