Thank you to the New York Marriott at the Brooklyn Bridge for sponsoring today's post!
Back in November, we were invited to visit Brooklyn, NY for a short family trip. I've been to New York City MANY times, given that we live a short train ride away, but I've actually never ventured into Brooklyn. I've heard it's a really great place to visit, so we eagerly accepted the opportunity for a short family getaway! Today I'm sharing with you all the details of our short trip in case you're in the area looking for family friendly places to visit!

I cannot speak highly enough about this hotel. It was so family friendly, accommodating, and in the perfect location for hopping around Brooklyn. The rooms were perfectly sized, and the kids loved that Netflix was on the TV (and so did we for when we needed a moment to relax!). It's prime location for a variety of family-friendly attractions like Jane's Carousel, Brooklyn Children's Museum, and the Prospect Park Zoo, which we tried to visit while we were in town! It's also perfectly positioned to enjoy nightlife, a variety of delicious restaurants, shopping, and sight-seeing all around Brooklyn. It was a little chilly to walk, so we drove to most of our destinations. But it was super convenient, and surprisingly easy due to the hotel's location!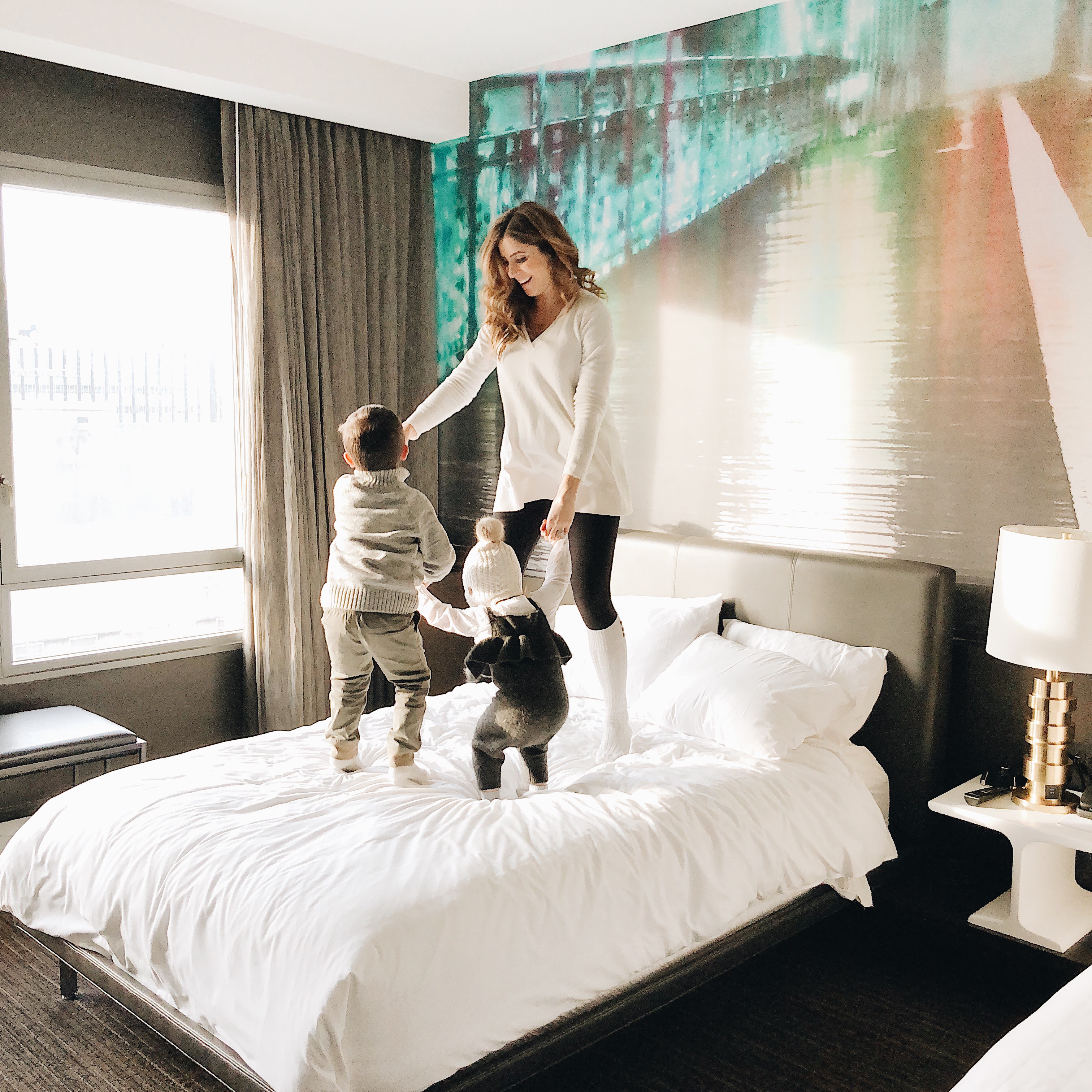 I also loved that the hotel partners with many local partners to deliver an authentic Brooklyn experience. Their in-house restaurants offer a variety of options from Brooklyn's culinary scene! Which means you can get a taste of Brooklyn without leaving the hotel (you know, in case your kids are having a moment 😉 )
You can see a video on why we loved the New York Marriott at the Brooklyn Bridge right here:

Julianna's Pizza: We were told Julianna's is actually better than the famous Grimaldi's, so we waited in line for half hour to try it out (which was short compared to the usual wait…we had good timing)! It did NOT disappoint! I will say, they are SUPER quick to serve you though, so I did feel like we were a little rushed out of the place. But that was okay because our kids were ready to go by the time we were finished. The pizza was absolutely delicious!
The Egg Shop: We had breakfast here Saturday morning, and it hit the spot! I had a delicious sausage and egg on a fancy biscuit that was devine. I also really loved the vibe in this little shop, and they were kind enough to modify their menu for our kiddos!
Dun-Well Donuts: A friend of mine swore by this donut place, and they were absolutely delicious! We stopped here after breakfast to get the kids a quick treat. They had chocolate glazed, and I had a delicious toasted coconut that tasted similar to a Samoa cookie (my fave). It was a cute little spot!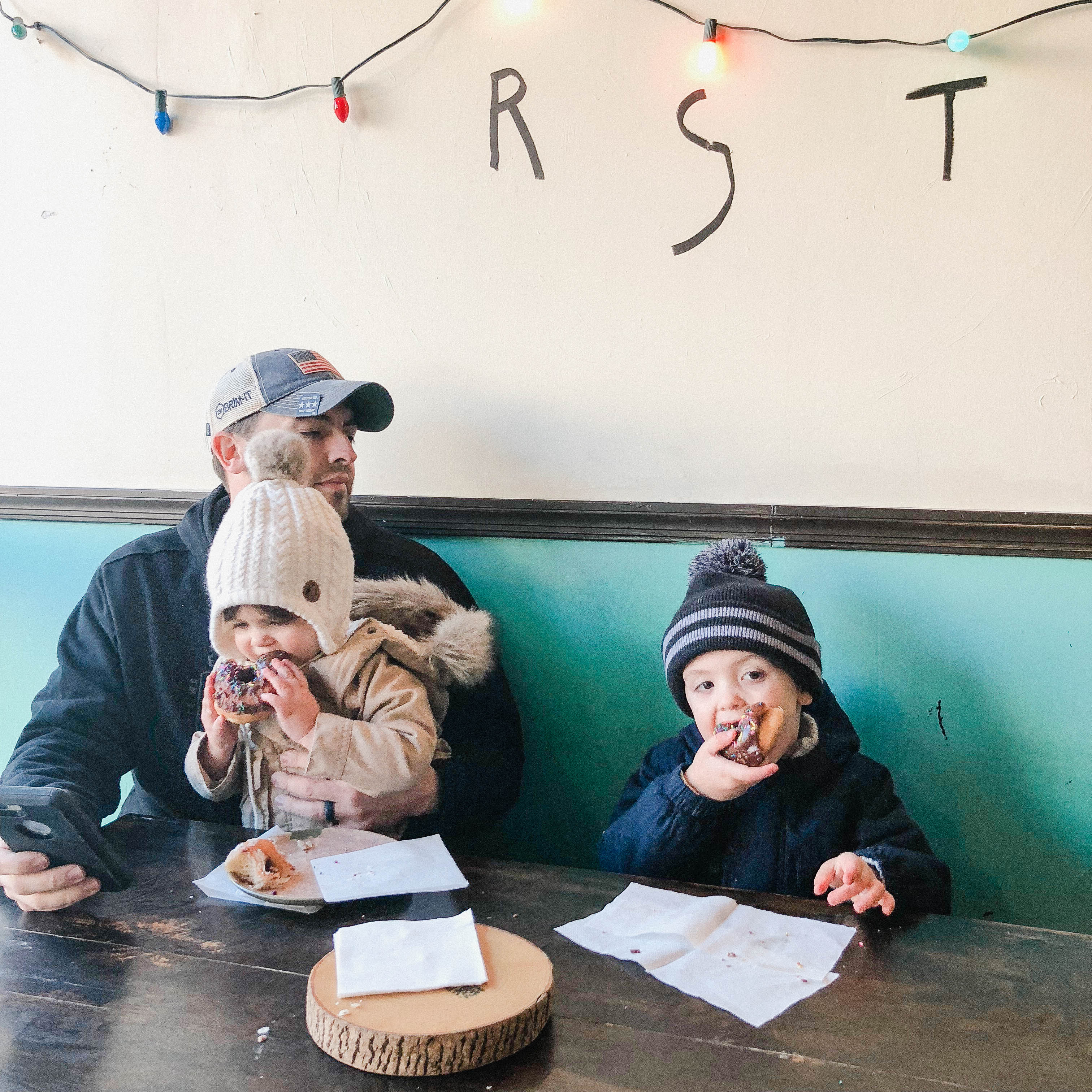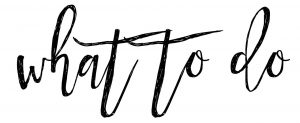 Prospect Park Zoo: We were looking forward to bringing the kids to the zoo, but it was unseasonably cold while we were in Brooklyn and we just didn't feel it was the best idea (since the zoo is all outdoors!). It was quite the disappointment for them, but I figured it was the best choice. We made up for it with some yummy treats instead. However, I hear it's a great zoo to visit!
Jane's Carousel: The kids had a BLAST on Jane's Carousel and it made up for our lost trip to the zoo! I loved the scenery down by the Carousel as well, as it has perfect views of the Brooklyn Bridge. I also loved reading the history behind the Carousel, too, and I imagine it's a gorgeous little spot in the summertime!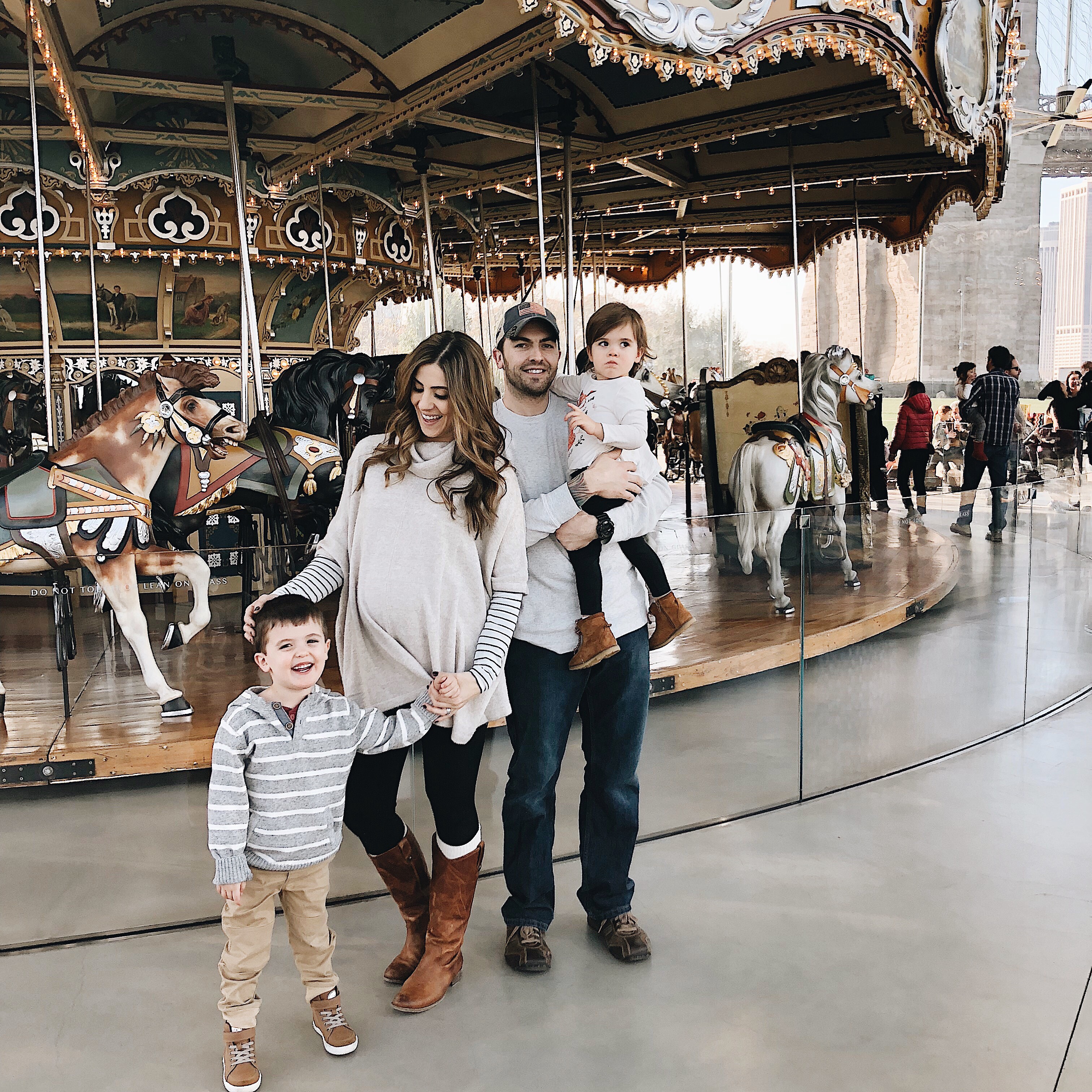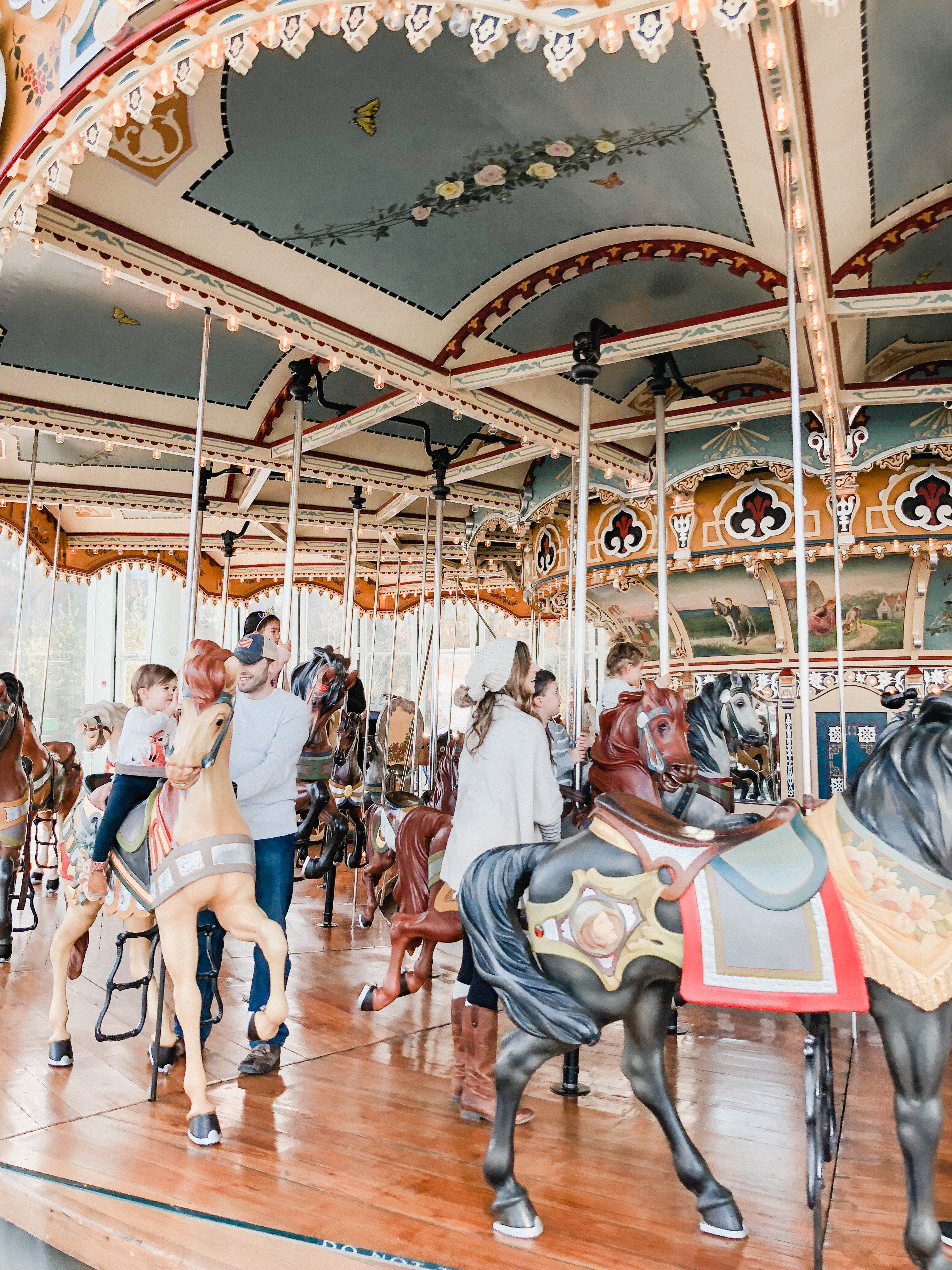 Shop in DUMBO: We walked around DUMBO a bit and hit up a few shops along the way. We popped into a chocolate shop for the kids to grab some goodies for the road. I really liked how this section of Brooklyn was set up, and that it was easy access from the Marriott!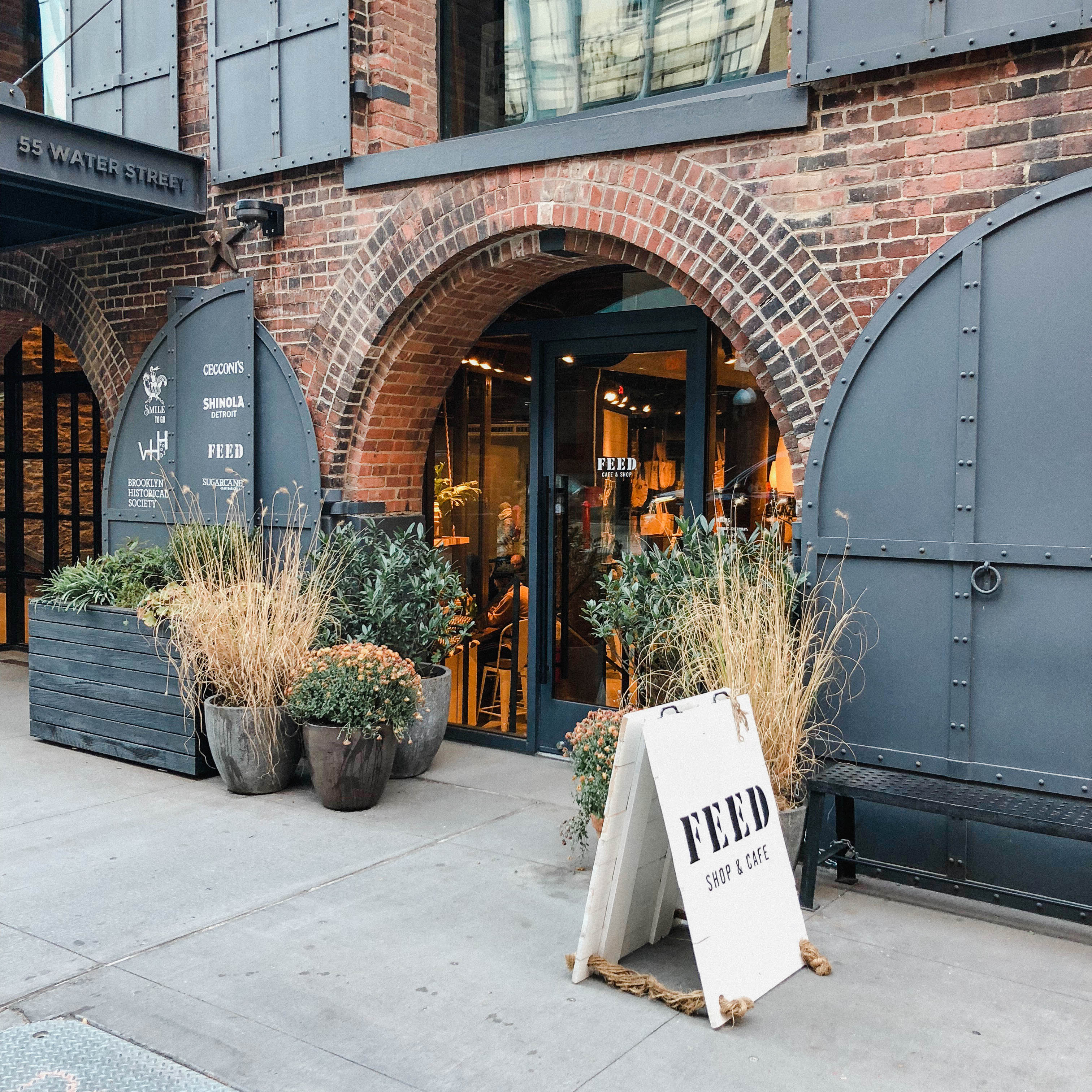 The Brooklyn Bridge: We couldn't come to Brooklyn without walking over the Brooklyn Bridge! One thing we learned: do NOT walk in the bike path…you'll get some rude comments, haha! The views of the city were beautiful, and Landon loved seeing the buildings and "ships."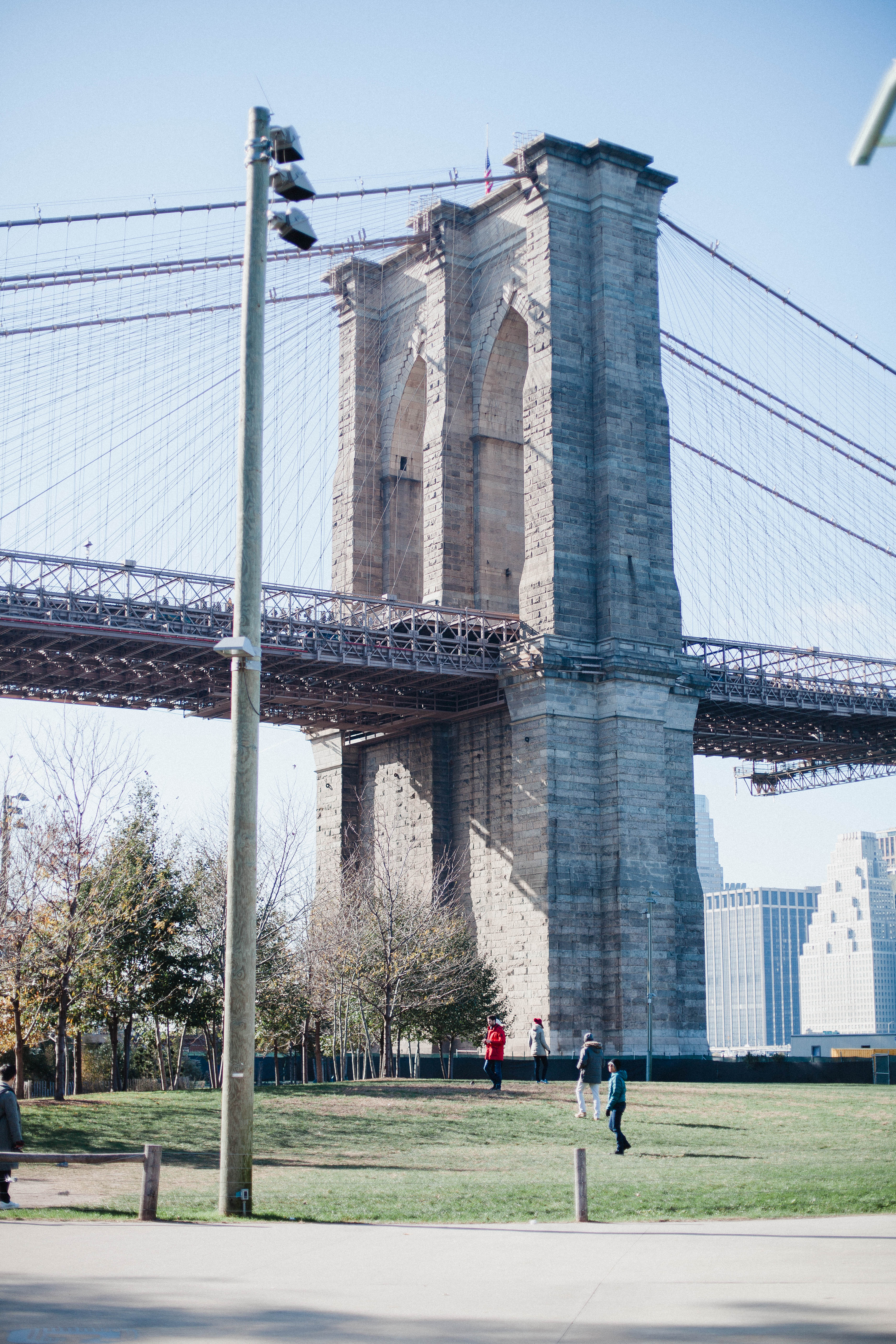 Our trip was short, but we enjoyed it (although I do wish it was a little warmer)! I'd love to go back during the summer time to enjoy Brooklyn even further! A huge thanks to the New York Marriott at the Brooklyn Bridge for hosting our stay!