Thank you to eBay for sponsoring today's post!
My mom is an interior designer, so I grew up in a house that looked magazine worthy my entire life. She was VERY particular about it being kept clean, and that's definitely rubbed off on me in my older age (<– that just made me sound older than I really am). I feel more productive and can function better in a house that's not in disarray, but as you know that can be tricky with tiny humans running about! I've learned to let a LOT go since becoming a mom, but I still like our home to be generally clean day to day. Today I'm sharing our general cleaning routine with you, and I also want to hear about yours in the comments below!
1 // Daily cleaning tasks.
There are general cleaning tasks we perform daily as a family to keep the house looking clean. I function better with a semi-clean house (meaning, somewhat orderly). There are certain things I'll let go (like the laundry piled up in our bedroom), but one thing I can't let slide is a dirty kitchen. We run the dishwasher and wipe down the counters daily (kitchen AND bathroom!), and well as the dining room. I don't like food being left out (especially this time of year when those lovely mice try to make their way inside! Remember that?), so a daily clean up is important. We'll also encourage the kids to pick up the playroom at the end of the day (also important because they have a tendency of leaving cheddar bunnies on the floor!). Doing a quick clean up makes all the difference.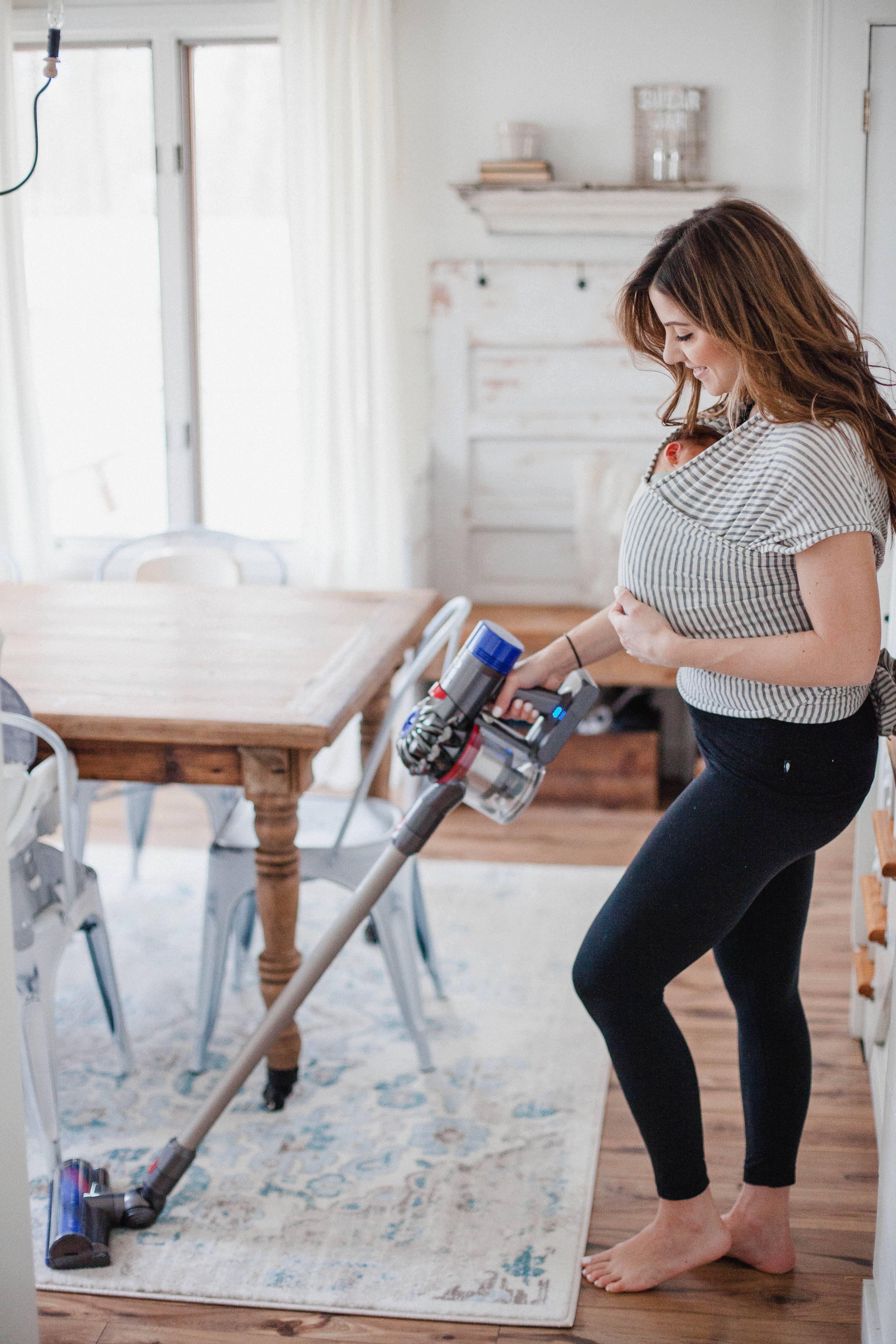 2 // Frequent vacuuming.
I hate vacuuming with the passion, but when you have messy kids and a 140lb dog who sheds enough hair for a small animal a day, it's necessary. I used to vacuum EVERY. SINGLE. DAY. but I've gotten lazier as I've acquired more children 😉 Now it's about every other day. I recently switched over to this Dyson V8 Animal Cordless Stick Vacuum I purchased on eBay, and guys….GAME CHANGER! Why did I not buy a cordless vacuum sooner?! This Dyson was new in the box and a "Buy It Now" option – and it arrived in just a few days! The fact that it's cordless and has a rechargeable battery saves me time from plugging and unplugging from room to room. I also like that it turns into a handheld vacuum quickly so I can easily clean the couch of dog hair and crumbs. And even the car! I appreciate it's use of HEPA filters as well, especially since we have Ammo. Can you tell I'm in my 30s?! I'm ridiculously excited about this vacuum..which I think officially makes me old, haha!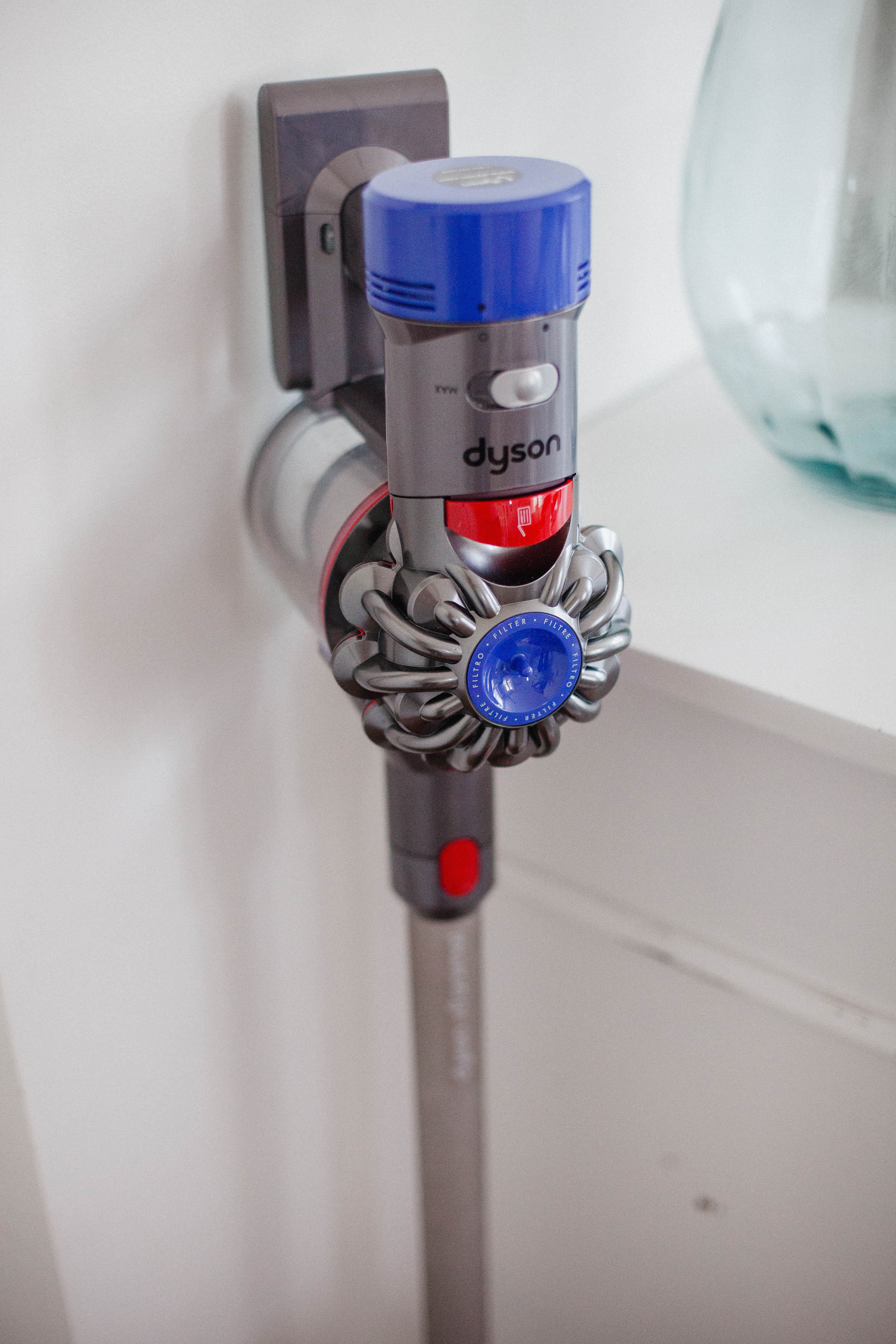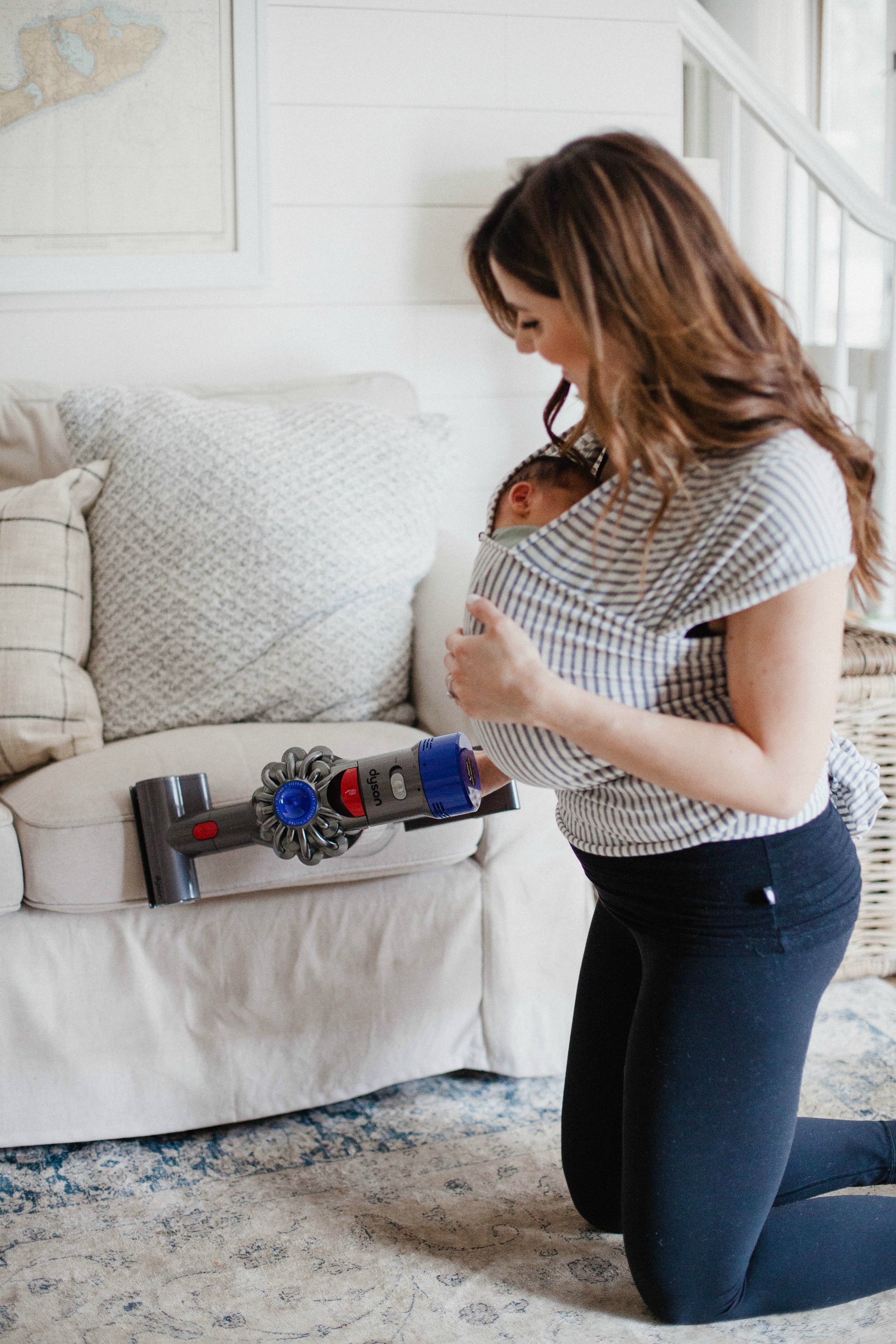 Did you know that 81% of merchandise sold on eBay is new and available with the "Buy It Now" option? That means no bidding necessary! I also love that there's a money back guarantee, which makes me more confident in my purchase. There are a variety of Dyson products at amazing prices, too. eBay is becoming my go to place to shop for a variety of items because I know I'll get the best deal! Right now you can use the code PSTARTEARLY for an ADDITIONAL 20% off from 2/28-3/5!
3 // Get the kids involved.
Obviously this will differ depending on the ages of your kids, but we've started having Landon and Noelle participate in a few simple chores. They're responsible for cleaning the playroom, and also for putting their pajamas in the laundry room when they get dressed in the morning. Landon also loves to clear his plate after meals and helps put his laundry away. I believe instilling simple chores at a young age teaches responsibility and also helps the family dynamic. It's all about teamwork! I got them a little toy cleaning set for Christmas because they were always asking to help me sweep, so they love "helping" with that, too! Of course, I'm not pushing the chores on them. They're eager to help, so I've used that as a teachable moment!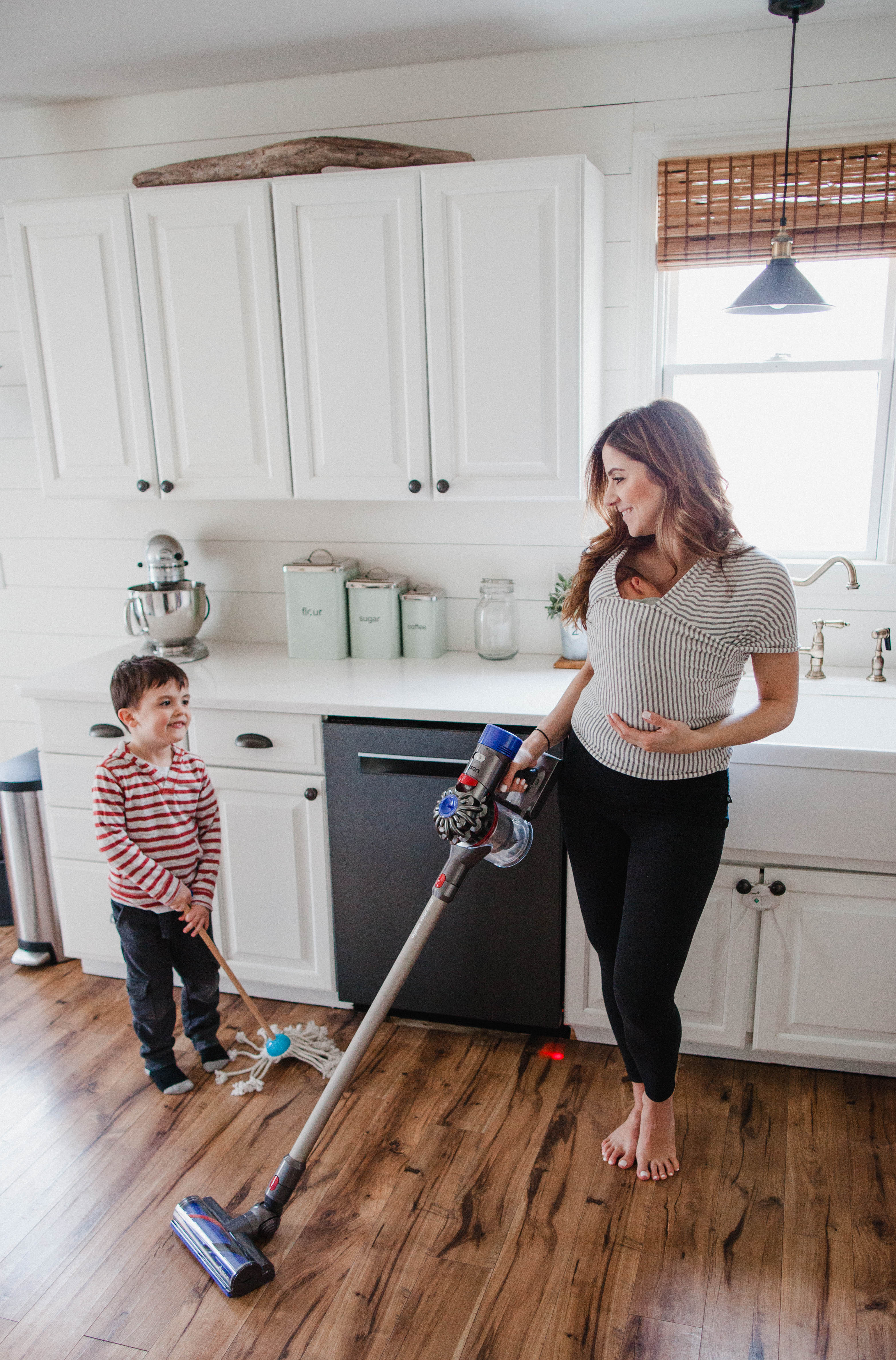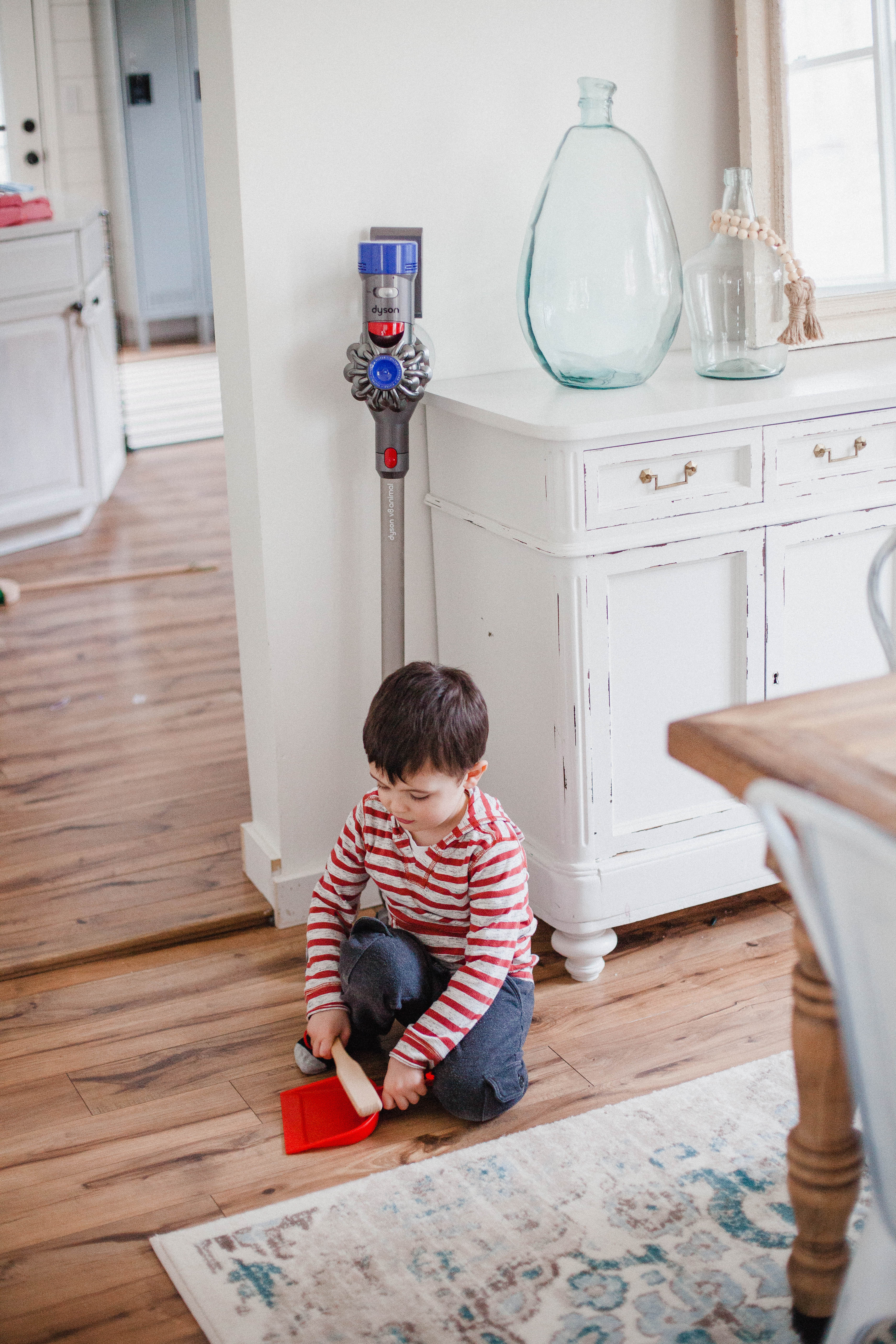 4 // Declutter and donate.
I try to do this on a monthly basis because for some reason things pile up QUICKLY. Whether it's donating old clothes or organizing the craft closet, I try to tackle one small area at a time. This past weekend it was the kid's craft closet, which easily become a disaster in a matter of days. I find myself getting frustrated and stressed out when things are unorganized and filled with clutter, so keeping things in check on a monthly basis has significantly helped that. We all have our Monica Geller closet, right? I know I do, and it become a dump room for everything I have no place for! Regularly going through and cleaning it out on a monthly basis helps keep it somewhat organized, and also helps us get rid of the things we really don't need.
5 // Hire out.
I'm starting this off by saying I FULLY understand this is not the option for everyone, and that's okay! When I had my son and was working full time Monday through Friday, my husband and I sat down and decided we didn't want to spend the time we had with our son after a long work day by cleaning. We budgeted for a cleaning service, and it's been one of the best things we ever did. I still have her to this day, 4 years later. She is the kindest human I've ever met, and I love that I can support her business while she's helping me. I have her come twice a month (every other week) to do a deep clean. It's really helped me, especially as a mom of young kiddos. If you can factor it into your budget, I highly recommend!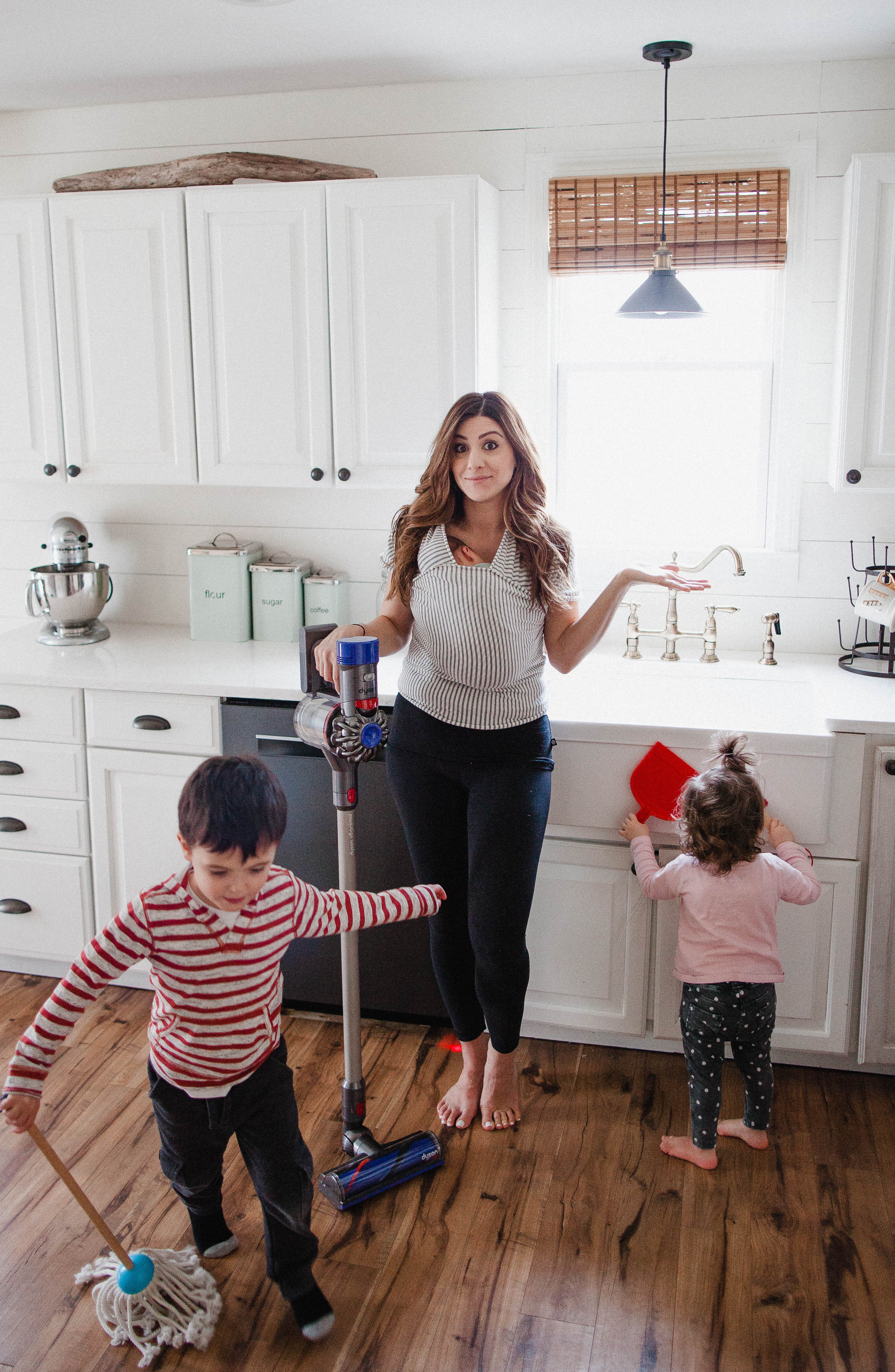 Things I'm not good at: laundry. I'm HORRIBLE at laundry. My husband usually takes on this task, but we need to get better at figuring out a way to lessen the burden so we're not spending hours folding. A good friend suggested doing one small load a day, and I really need to be better at implementing that. It's on the goal list for 2018!
I'd love to hear your own tips or things you do to cut down on the stress of cleaning in your own home! Leave a comment for myself and others to see – I'm always looking for more efficient ways of doing things!
And don't forget to check out eBay for your Dyson needs! The Dyson V8 Animal Cordless Stick Vacuum Cleaner will be a game-changer in your cleaning routine, and it's available on eBay for a great price! And don't forget, you can use the code PSTARTEARLY for an ADDITIONAL 20% off from 2/28-3/5!
SHOP MORE DYSON PRODUCTS BELOW