I've had many requests for a post about my morning routine and how I manage to get myself up, dressed, and makeup on every day. It's taken me awhile to establish a routine, but it's one I function much better on! The truth is, I am a much more productive person and better mom when I'm not a frazzled mess in the morning. And I truly believe that the way you start your day sets the tone for the rest of the day!
(I just want to add here, this is just what I do in particular. There's no right or wrong, this is just what works for me!)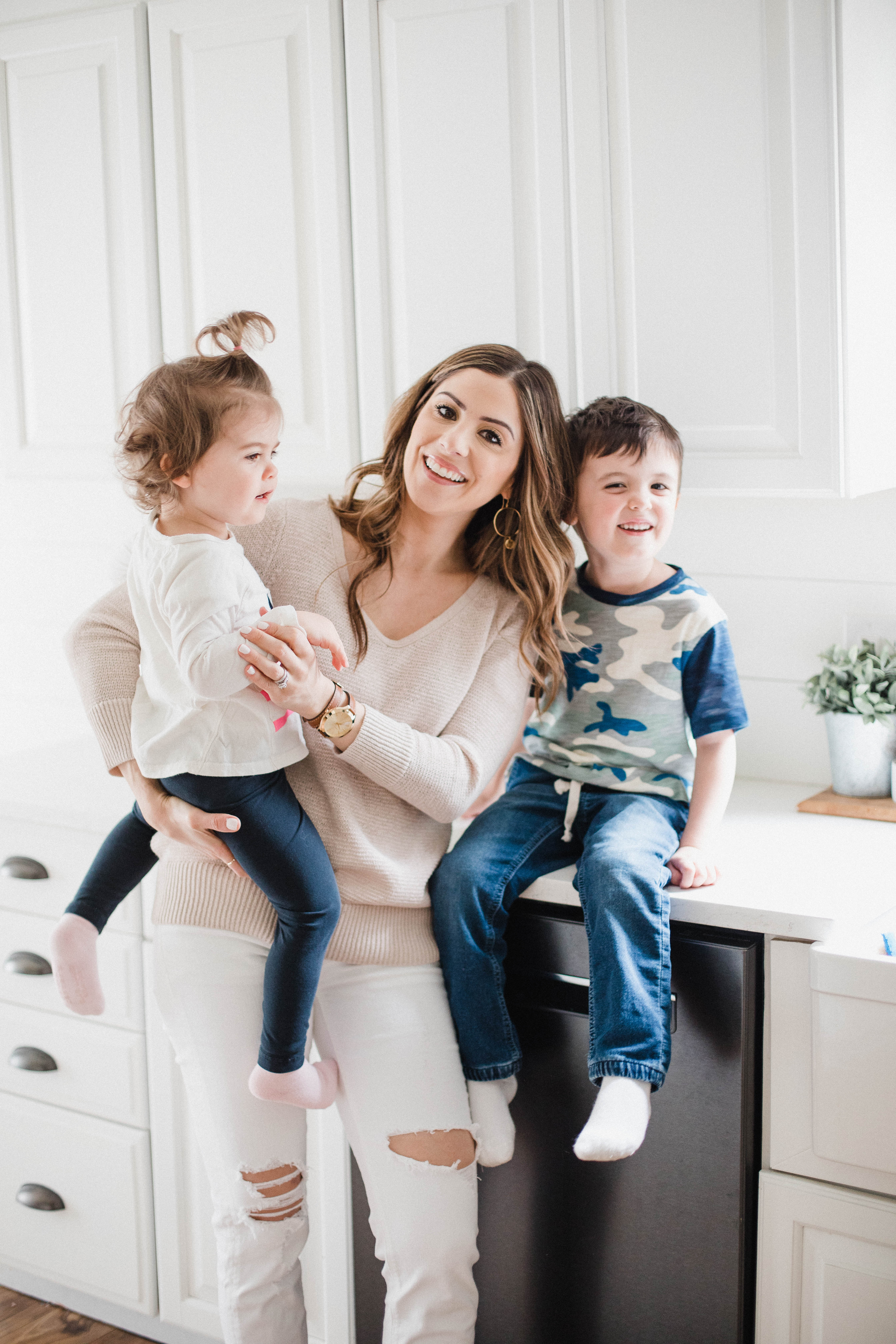 (Austin was napping!)
My morning routine actually starts the night before. My husband and I will spend time cleaning the kitchen, doing a general pick up (except for the playroom – the kids do that), prepping lunches for the next day, getting the kids' clothes ready for the next morning, and having everything ready (including coffee!) so the morning can go as smoothly as possible. I'll make a mental note about the outfit I want to wear the next day (even if it's just workout clothes!), as well as have my makeup bag laid out on the counter. I'll even shower at night so it's one less thing I have to do in the morning. With 3 kids, this night before routine is so, so crucial for us!
I have learned that I'm able to roll with the punches more when I'm dressed and have some makeup on. This is just me, and I realize not everyone is this way. I feel more productive and ready to tackle the day when I'm in actual clothes (even if it's leggings and a t-shirt!) and don't feel like I look like walking death. There's nothing wrong with taking a little time to make myself look more presentable, especially if it makes me FEEL good and ready for whatever comes my way. So this is something I make time for every morning, whether my kids are awake or not. I'll skip my hair because there's nothing wrong with a good old top knot, but some concealer and mascara do WONDERS for my mentality and productivity.
I try to wake up about an hour before my kids (this is a little hard at the moment because Austin's still not on a great sleep schedule…but I'll get back to this once he does!) so I can accomplish part of my morning routine without interruption. I'll wake up, get dressed, throw on makeup and fix my hair in whatever way I choose for the day (top knots for life!). I'll come downstairs and start breakfast, have a cup of coffee, and finish the kids' lunches if they need anything added last minute. I'll even get a head start on work for the day if time allows!
If for some reason I wake up later than anticipated, or to buy some extra time, I'll throw on my makeup at the breakfast table or downstairs bathroom while the kids eat. Keeping it in a makeup bag like this one makes it easy to grab and go and finish anywhere. We usually listen to kids songs during breakfast because our days go a little better when we're singing "Shake It Off" from the Sing soundtrack!
Once the kids wake up, I get them dressed immediately (their clothes are laid out the night before) and bring them downstairs for breakfast. I like to have them eating by 7:30am so that they can have some play time before preschool. Getting them dressed as soon as they wake up is a HUGE help. We'll even sing the Daniel Tiger song "clothes on….eat breakfast…brush teeth, put on shoes and off…to..SCHOOL!" which will now be in your head all day, you're welcome). After breakfast, all they need to do is brush their teeth and they're ready for school (like the song 😉 ) I bring their toothbrushes downstairs with us to avoid having to walk up and down the stairs a million times.
My sitter arrives around 8am on preschool days which has been a huge help with anything last minute. I'm usually having to feed the baby or get him down for a nap right before the kids leave for school, so she stays with him while I do drop off. She's an incredible help, and I'm so grateful for her especially on days shit hits the fan and things aren't going smoothly (because let's face it, those happen!)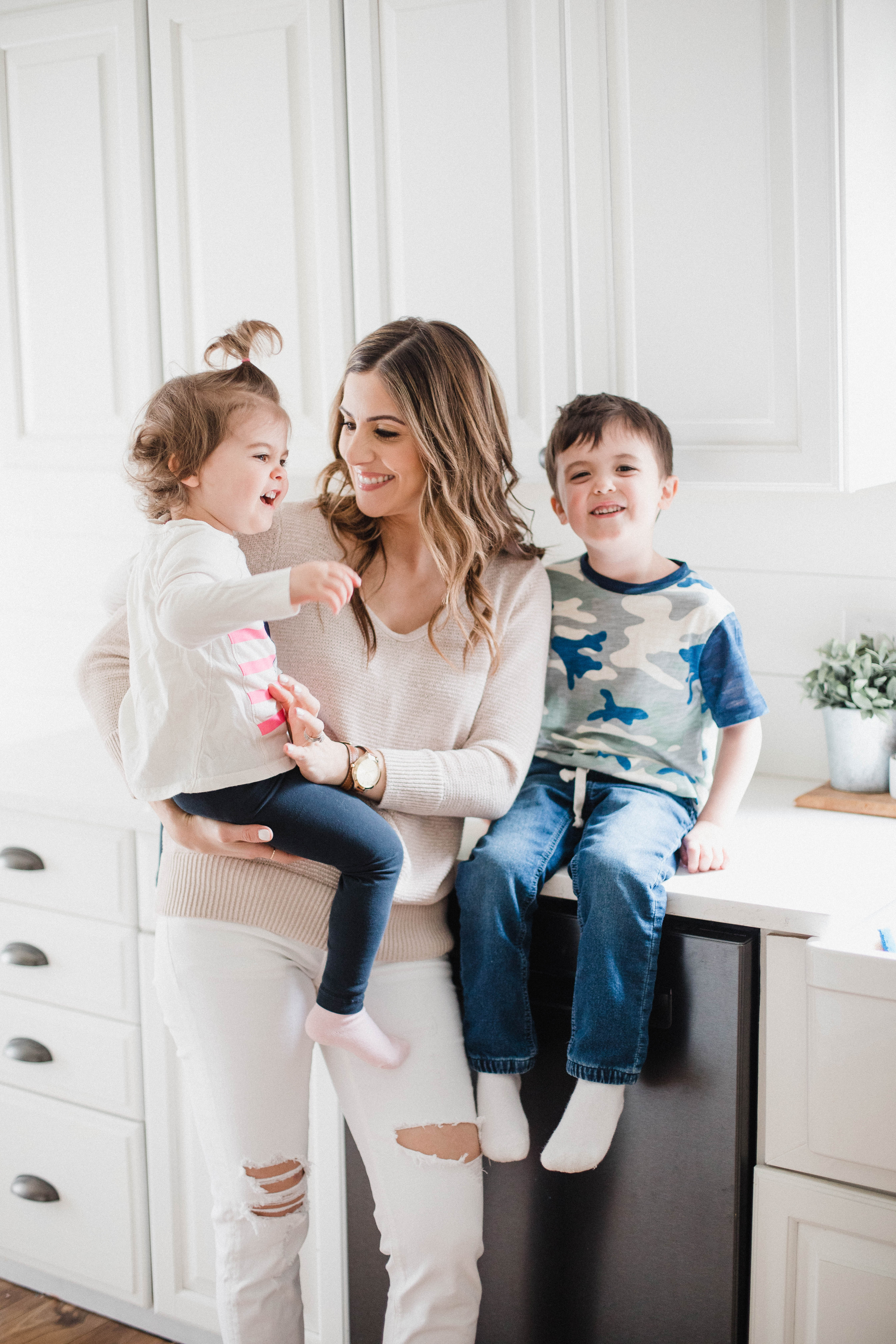 Not every day is perfect, and there are definitely days everyone is scrambling in the morning. And to prove my earlier point, those days are the days I feel MOST stressed. And I'm not a good wife, mom, friend, and business woman when I'm stressed.
There are definitely things I'm still working on structuring in our home (laundry, for one) and I know they'll get there with time. But having an established routine for mornings really helps set the day off on the right foot for us.
I would love to hear any tips you have in the comments on how to make your mornings go smoother! I'm always looking for things to implement!