Thank you to Rack Room Shoes for sponsoring today's post!
I'm big on having staples pieces in my wardrobe, like a good denim jacket, a basic white t-shirt, and a really great pair of jeans. One item my wardrobe cannot be without are my favorite Converse sneakers. They're one of the most versatile pairs of sneakers I own. Today I'm sharing with you How to Style Converse Sneakers several ways to make the most of your wardrobe.
How to Style Converse Sneakers
There are several reasons I love my Converse, but mainly because I feel they go with ANYTHING. They have an elongated toe and a slim design, which makes your legs look longer and you look taller. They're a very basic, no fuss shoe which makes them incredibly versatile all year round. I'm styling this adorable blush pink pair from Rack Room Shoes in these outfits below!
I always pull my out my Converse when I need a comfortable shoe while with the kiddos. They're durable, easy to clean, and can withstand running on the playground. I'll throw them on with my overalls or short overalls and a basic tee for a simple, casual look. Their rounded toe and sleek design makes them look great whether you're wearing jeans or going bare legged.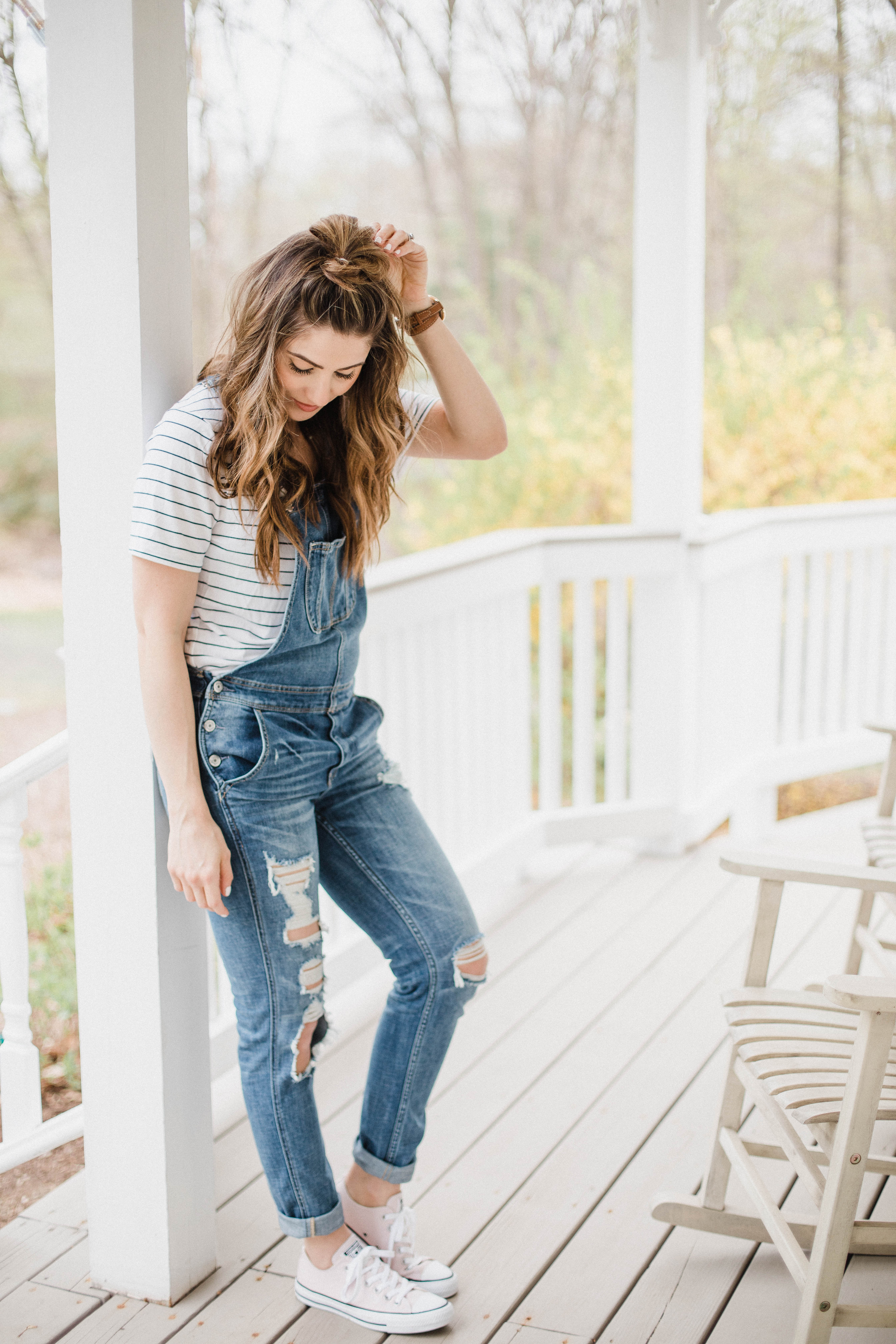 They're also my favorite sneakers to wear with a casual dress. This is one of my favorite outfits for spring and summer because it's so incredibly easy and effortless. Literally – just throw on a dress, the sneakers, and you can even tie a denim jacket around your waist. Minimal effort, and a complete outfit!
I also love wearing my Converse with shorts in the spring and summer! I prefer wearing them when I want something a little more supportive and secure than a sandal, and they're often my go-to when I'm with the kids. I like that they don't have an athletic look and they aren't bulky, which again makes them versatile enough to wear with any outfit.
One quick sizing tip for Converse! The sizing is UNISEX, which means you need to select the sizing for a men's shoe. For example, I'm a size 7, but these are a size 5! 🙂
These ADORABLE blush pink Converse Chuck Taylors are available at Rack Room Shoes, which is the go-to shoe destination for everything spring! They have the latest trends in a variety of options, including footbed sandals, canvas options, and wedges. And I love that there's something for the whole family! I can literally get shoe shopping for the entire family done with the click of a button. The Rack Room Rewards program also gives exclusive discounts, coupons, and $15 in rewards for every $200 spent – who doesn't love a deal?! I also just noticed these sneakers are on sale, so scoop them up before they go!
Are you a Converse fan? Tell me below! And don't forget to check out Rack Room Shoes for all of your family shoe needs!