I never got around to sharing Noelle's birth story, and I'm not quite sure why! I actually found this saved as a draft, and I LOVED reading it again! Her story is one I really enjoy telling, partially because I'm still in shock (over 2 years later!) with how it all happened. Here is how she made her grand entrance!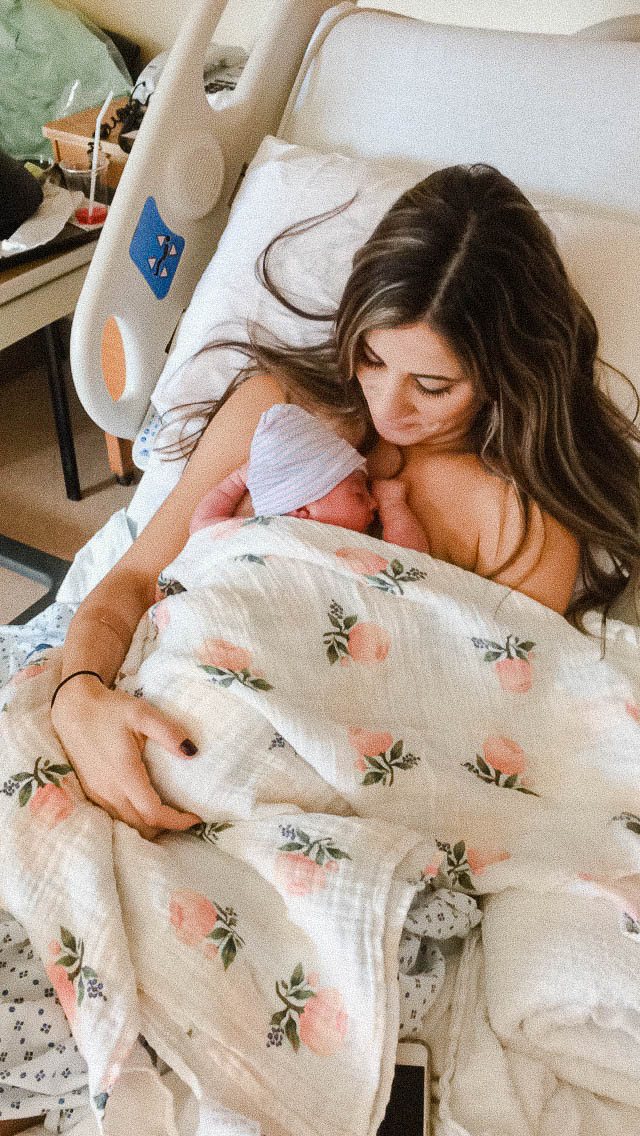 I was deemed at risk for preterm labor AGAIN around 28 weeks for the same issues I had during my pregnancy with Landon. Frustrated, I had to "rest" as much as I could with a toddler (which means barely) and fully expected her to come around the same time her brother did (38 weeks). When 38 weeks rolled around and nothing what happening, I began to get even more frustrated. 39 weeks hit, and I think at this point I felt like I was losing my mind. Why was she not here? How is she cooking for longer than her brother? Especially when I'm at risk? WTF? But the ultimate WTF moment was when I was pushing 40 weeks and STILL nothing. I was over it, uncomfortable as all hell, could barely stand because she was SO low and the pressure was unbearable, and basically being a really miserable human being. My due date came and still nothing, and I remember thinking "Of course you're going to be late. That would be how this goes!" and cursing my doctors for telling me I was at risk for preterm (we all get to that point around our due date, am I right?).
That morning I woke up, 40 weeks pregnant, and Landon had another cold. His cold was so bad that it caused some respiratory issues (enough to make ME, a nurse, concerned) and we ended up in the pediatric emergency department for neb treatments and oral steroids. I kept praying the entire time, PLEASE do not let me go into labor. I had to deal with every doctor and nurse asking, "So when are you due?" And deal with the same reaction on each of their faces when I said, "Today, actually," only to then have to deal with the same response of, "well, you're in the right place!" Except the last place I wanted to if I went into labor be was in an emergency department with my son who can't breathe.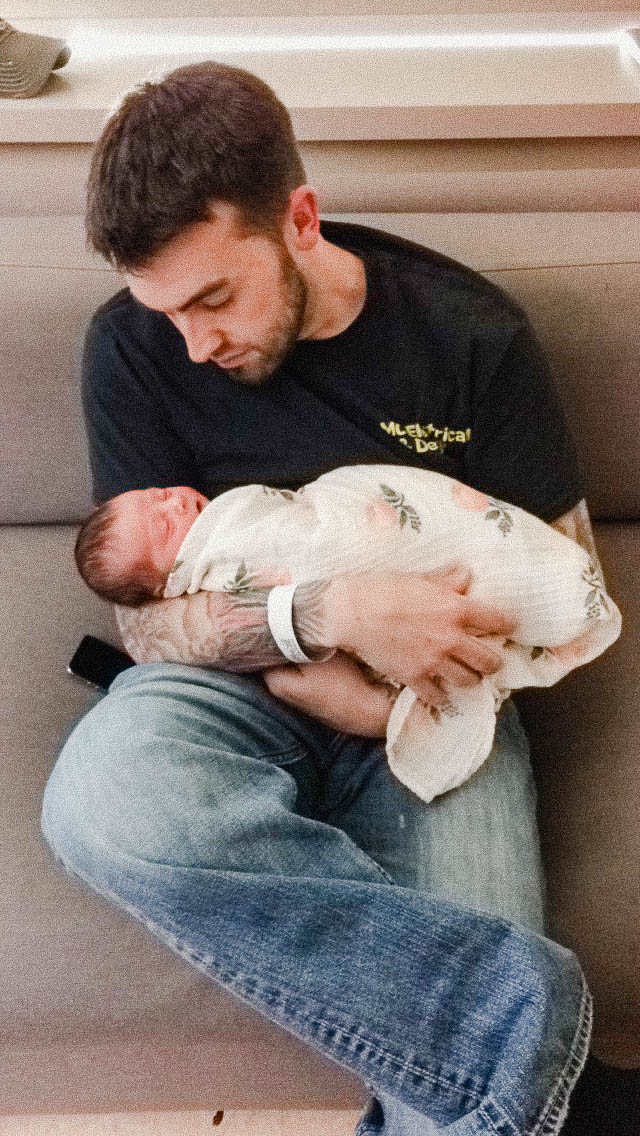 I started spotting while we were waiting for Landon's medication to kick in, but didn't mention anything because I refused to have a baby while Landon needed me. Refused (as if I could prevent that). Luckily the spotting wasn't bad, and we were able to go back home and have him rest. I had my regular Braxton Hicks contractions that I had all pregnancy, but nothing else of the sort. I let my mom know I had been spotting and I would call her if anything changed (since she was coming to stay with Landon). I was also praying she held off a few more days because of Landon's cold. I knew he wouldn't be able to be at the hospital with her, and I didn't even want to think about leaving him and having him not be there.
I went to bed that evening and was woken up by sharp stomach pains around 12:30am. I knew I was either having a contraction or had to poop. TMI, but my stomach was a hot mess all pregnancy, so I figured I had to poop and could then go back to bed. I used the bathroom, but then the pain didt go away and the contractions started. I called my mom to let her know, and she immediately got in the car to head up to our house (45 minutes away). In a matter of 45 minutes I went from not knowing if I was having a contraction to having difficultly walking. I phoned my OBGYN when my mom arrived and specifically remember saying "I'm having contractions. They're [this] many minutes apart. My labor with my son was QUICK, I need a callback STAT." I was told I would get a call within 20 minutes. 20 minutes came and no call. It was 2am and I looked at Pat and just knew we needed to get into the car NOW (we live about 30-35 minutes from the hospital).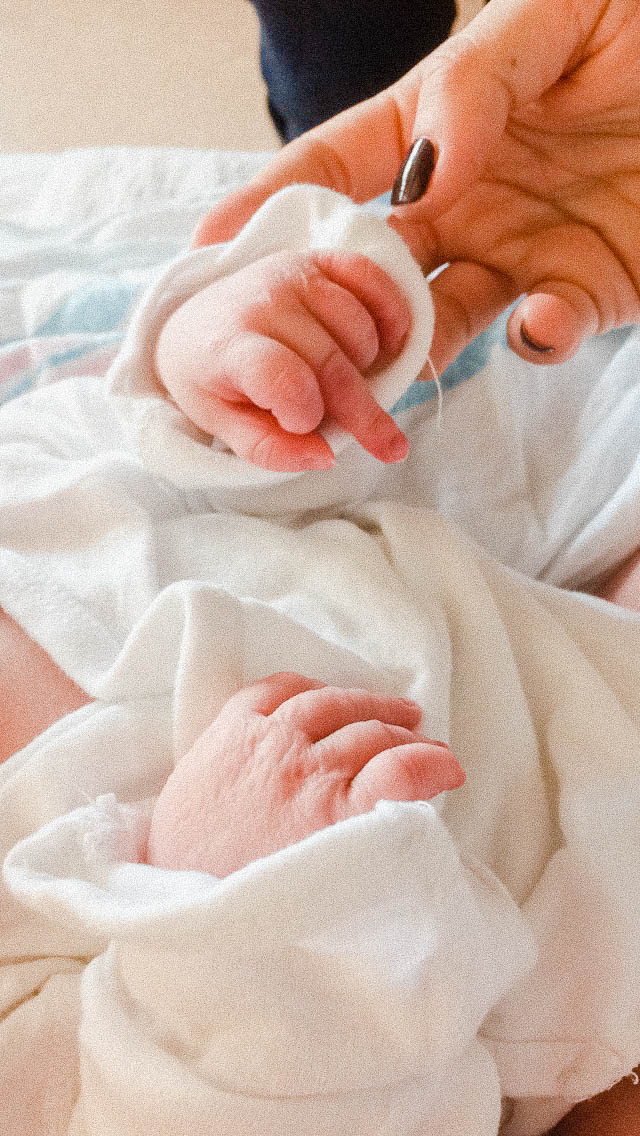 Mid car ride, a total of 40 minutes after my phone call, my OBGYN called back apologizing that he didn't get the message when I first called. I cut him off and said, "I can't talk through my contractions anymore, I had a fast labor with my first, I'm on my way in," and he calmly said, "I'll be waiting." I remember them hitting SO hard in the car ride. We arrived, I hopped out, and I couldn't even walk to the door they were so painful. I was hunched over in the parking lot thinking there was no way in hell I was making it upstairs.
It was 2:45am when we finally got up to triage. My doula was on her way. I was 7cm dilated. All of a sudden, I started shaking with each contraction. I knew exactly what that meant…I was in transition. My nurse asked me, "Have you been shaking this whole time?" and I said to her, "No, I shake when I'm in transition." And at that moment I realized there was no time for an epidural. AGAIN. I looked at my husband and said, "I DON'T WANT TO GO THROUGH THIS AGAIN! I JUST WANT THE EPIDURAL!" and my sweet nurse grabbed my arms and said, "Honey, I can call the anesthesiologist. But you're already there. You know as well as I know that you're having this baby before he gets here."
I accepted the situation for what it was and declined the epidural. I knew there wasn't time. She then said, "Do you feel like you have to push?" to which I answered "No…..YES." It literally happened in an INSTANT. They quickly wheeled me into L&D and I was half pushing as I was getting onto the bed from the stretcher.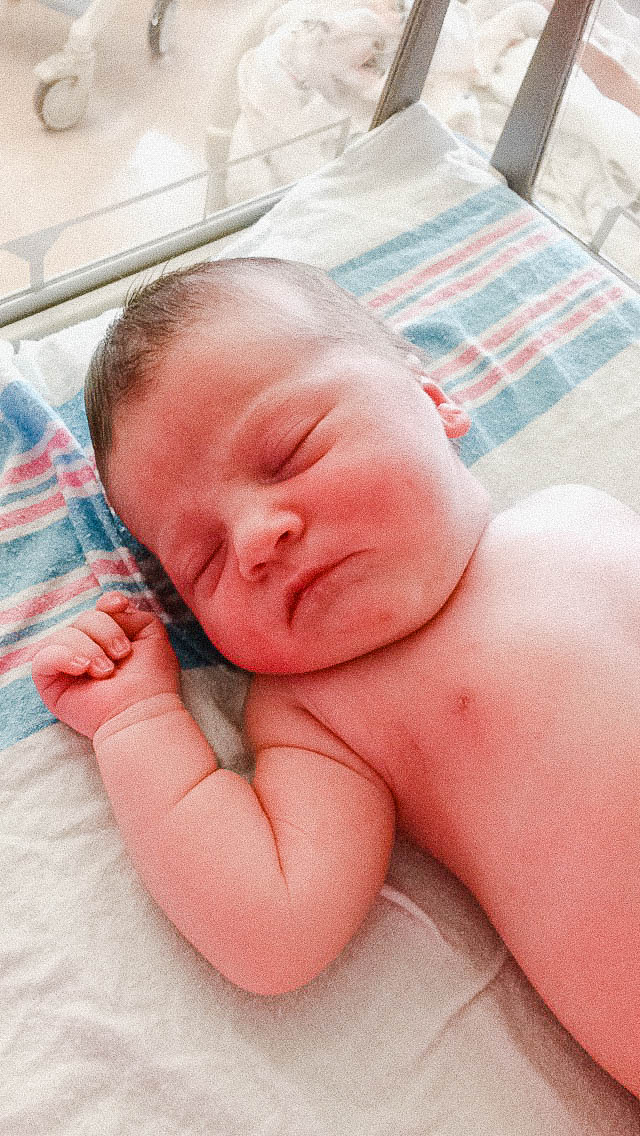 My OB was there and said, "okay, let's give a practice push, your bag of water is right there." And that's when I remembered my water hadn't broken yet. One push and BOOM. My water broke ALL OVER HIS FACE. I yelled, "I'M SORRY!!!!!!" but didn't even care because I just needed her OUT at that point. It took a total of three pushes. THREE. I screamed my head off in pain each time because OMG the pain. And the ring of fire (you know what that is!). Thank God it was 3am and there was basically no one on the floor because everyone and their mother could hear me at that point. Noelle made her grand entrance at 3:21am.
You read that right. First contraction was at 12:30am. She was born 3:21am.
Had I left my house ANY later? She would've been born on I-95 or in the parking lot.
The first thing I said after she was born? "WHAT THE F*** JUST HAPPENED?!" I was literally in shock over how fast my labor went. And I still am, over 2 years later!
If Noelle's birth was any telling of the type of personality she has, ohhhhh man was it on point. She is a sassy, spunky little thing who waits for NO ONE. I'm so proud to be her mama, and can't wait to see who she becomes when she gets older!