Thank you the The Company Store for partnering with me on today's post!
Bedtime. It's a special time of day, and not just because it means finally having some silence in a busy household 😉 No, bedtime with my kiddos is very special to me. As apart of The Company Store's Mother's Day campaign, I'm sharing WHY it's so special with you today.
I often joke around that Austin will need to be a go-with-the-flow baby since he's got two older siblings. I try my best to make sure he's napping at home and isn't too overstimulated, but life can't stop and we are a very busy family! So sometimes his naps are en route to the store, or during the opening day parade for teeball this past weekend 😉 The noise level in our house with three kids is definitely at max volume, so his little world is a very busy one even when I try to keep things calm. For these reasons, my alone time with Austin is pretty minimal. Landon is no longer napping, so at least one of his older siblings is always awake. My only real quiet and calm alone time with Austin is right before his bedtime. And that time is time I cherish very, very much.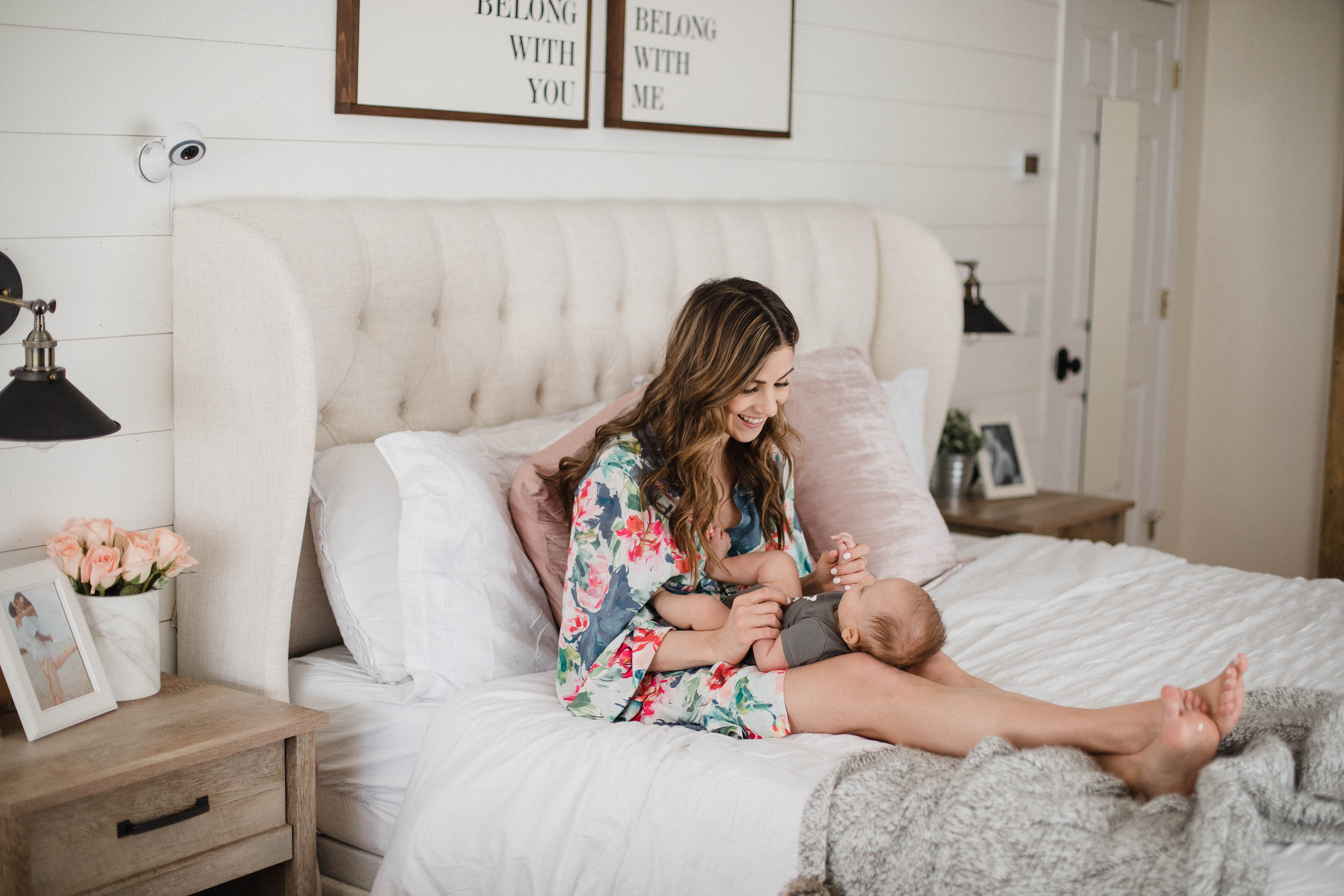 Bedtime for Austin is pretty much the first time I get to sit down in peace all day. Yes, I'm feeding him, but it's a special bonding time for the two of us because there are no other distractions. I can sit quietly with him, stroke his little head, and focus solely on HIM. I'm not trying to find lost toys or fill snack bowls, or break up fights over who had which toy first. This is why Austin's bedtime is such a special moment in our day together.
But it's not just Austin's bedtime that's been special to me…I remember these moments with Landon and Noelle, too. Now that they're older, their bed time routines have changed and they're not nearly as calm as they once were, but I'll always remember and cherish our quiet moments together.
(Duvet cover is the Branson Duvet Cover by The Company Store!)
As my first born, Landon had all the time in the world to spend with just me. I remember sitting in our rocking chair in his nursery while feeding him his bottle and singing him sweet lullabies before bed every night. It was, again, such a special moment for me as a mom. As he got older, and I became pregnant with Noelle, I remember quietly crying as I rocked him one night because I knew our routine would change as our family grew. I knew my arms wouldn't just be holding him anymore, and it was something I mourned a bit before Noelle's arrival (I'm sure you mamas of more than one can relate!). We still have our own routine, and I *need* to give him at least 10 kisses or he can't fall asleep. But he's much bigger than he was back then and my arms aren't always rocking him anymore…which is bittersweet. Now, we chat for a bit before he puts his bed on the pillow (Daddy has already read to him and his sister at this point), and make sure to say "I love you" a million times 😉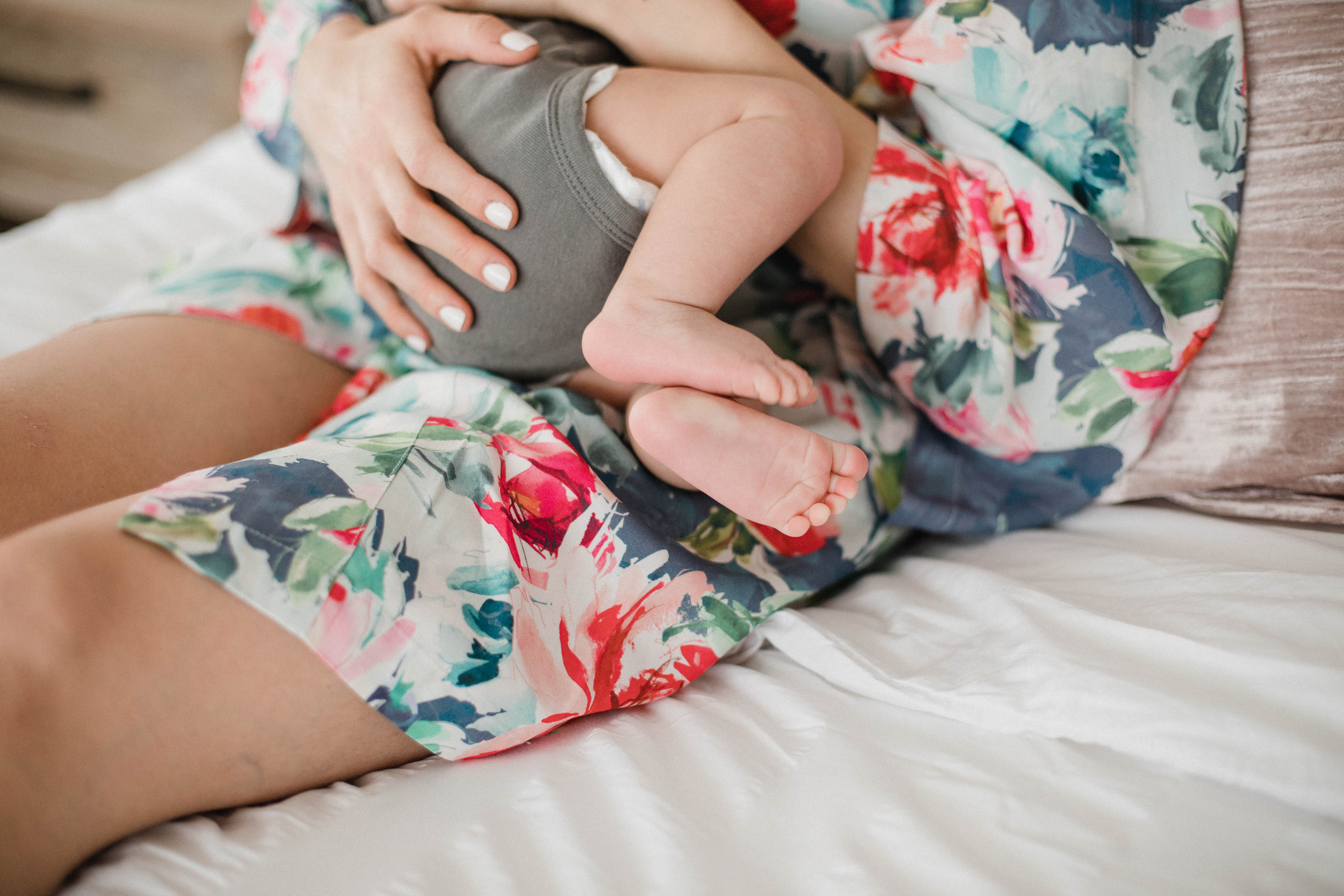 Noelle's routine hasn't changed too much, as she still loves her mama rocking her before bed. She often waits up for me to be finished with Austin, probably because she knows it's quiet time she has with JUST me. We read a book even thought she's already read with her brother and dad (she loves Goodnight Moon), and then rock together (she always says, "mama, let's get comfy and cozy!") while we sing "You Are My Sunshine," which is our special song. She sings with me every night, and it's such a precious moment with just the two of us after a long day. Even if the day was a rough one (toddler tantrums), this time together always turns it around. I know there will be a day she no longer wants to rock with me, so I cherish it while I can.
It saddens me to think there will be a day my children are no longer rocking in my arms and singing quiet songs together before bed. I try to remind myself of this on the really hard days (and nights!) which gives some perspective in the moment. Bedtime with my children is so special because it's the one guaranteed moment of the day I can focus ONLY on them as individuals, without their siblings interrupting that time. And with a house as busy as ours, I know they cherish that time too.
What's your bedtime routine with your children? Is it a time you cherish in your busy day? Share your bedtime routine with The Company Store in a comment below!