I have been compensated by QVC for this post, but all thoughts and opinions are my own.
Ever feel like you kind of lost yourself after having a baby? Yep, I've been there. I remember feeling like I lost the old Lauren after I had my son, and had some trouble adapting to the new one. Of course it came with time, and I realized that I don't need to COMPLETELY lose my old self in the process. Yes, things change with kids, but always for the better! And if we do some searching, we can find ourselves again. Today I'm sharing some tips on how to get your groove back after having a baby 😉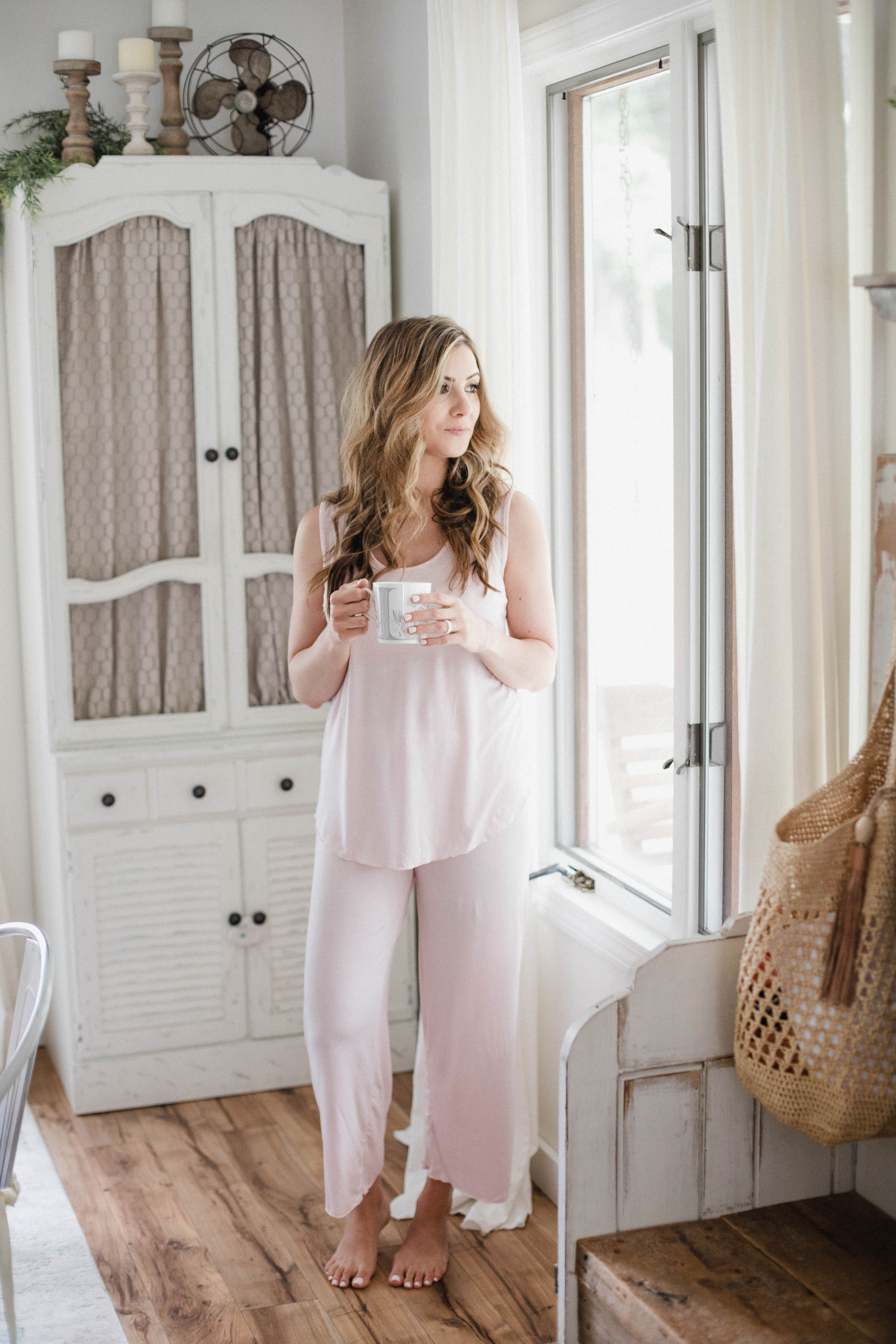 Take some time for yourself everyday. Maybe it's waking up before your kids and having a cup of coffee in silence. Maybe it's reading your devotional. Or maybe, if you've got childcare, it's scheduling a manicure or pedicure if that's what you like, or getting a fresh haircut (obviously not every day, but you get my point). Sometimes I'll just take some time after the kids go to bed and do my own mini spa facial treatment. The point is to devote the time to YOU!
Go for a walk (with the baby!). It's amazing what some fresh air can do for you AND your baby. Pack the kids up in the stroller and hit the road. I used to do this all the time with Landon and Noelle (it's a little harder with 3!) I would steal them in with snacks and water bottles (if age appropriate) and play some music while we walked. The majority of the time they fell asleep and I got to jam out on the walk to some tunes. The fresh air does a body good, plus you're getting in some exercise! This was a daily occurrence for us back in the day (and I swear it made them sleep better).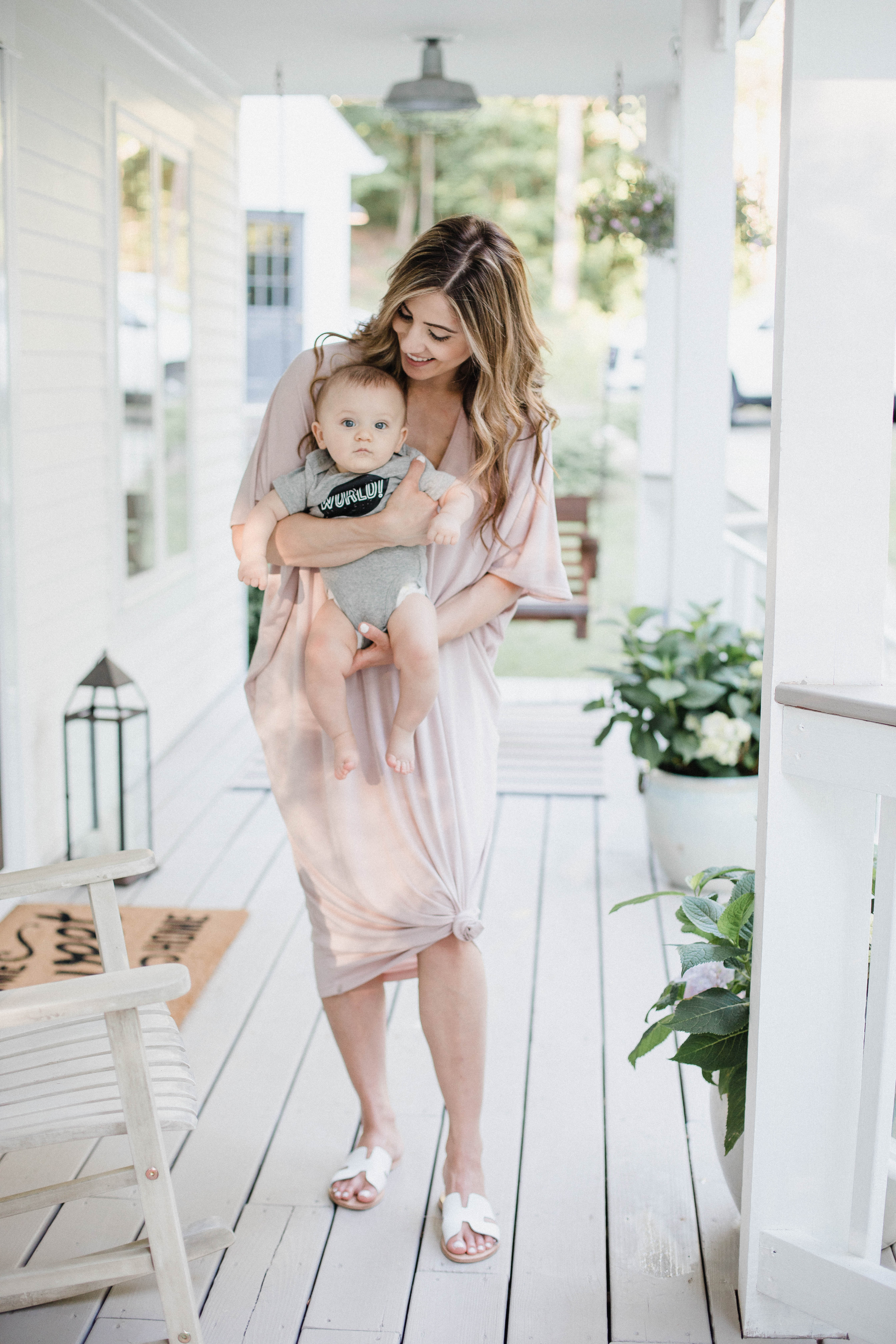 Invest in some comfortable clothing or pajamas.
I know this sounds silly, but hear me out. We're moms, right? Which means most days we're living in the pajamas we slept in or comfy clothes. I slept in old dance team t-shirts and cheer shorts (from my BFF Jackie!) from high school for way too long. After I had Noelle, I was folding laundry one day and has this epiphany that I really needed to invest in some better loungewear for myself. I went through and tossed ALL of my old, ratty pajamas and paint stained clothing and stocked up on some new basic ones as a treat. I don't know why, but it made me feel a little more put together. If you're looking to invest, Barefoot Dreams has a great deal on QVC today! The
Barefoot Dreams Luxe Milk Jersey Caftan
has 2 size options of regular and petite, and comes in 6 colors (Graphite, Black, Indigo, Pewter, Blue Water, and Faded Rose). The TSV price is under $60! You know my love for all things Barefoot Dreams because they wear and wash so well.
This caftan
is great in the summer time because it's lightweight and breezy! I'm also a fan of the
Barefoot Dreams pajama set,
too.
And on that note, get dressed in the morning. Even if I'm just changing into another set of comfortable clothing, actually getting dressed makes me feel more like myself. And more productive! I like to throw on makeup every morning as well, but that's just a personal preference.
Treat yourself to something new. If budget allows, treat yourself to a new handbag, outfit, a pair of shoes, or a good book. Or even a new lipgloss! It doesn't have to be expensive by any means.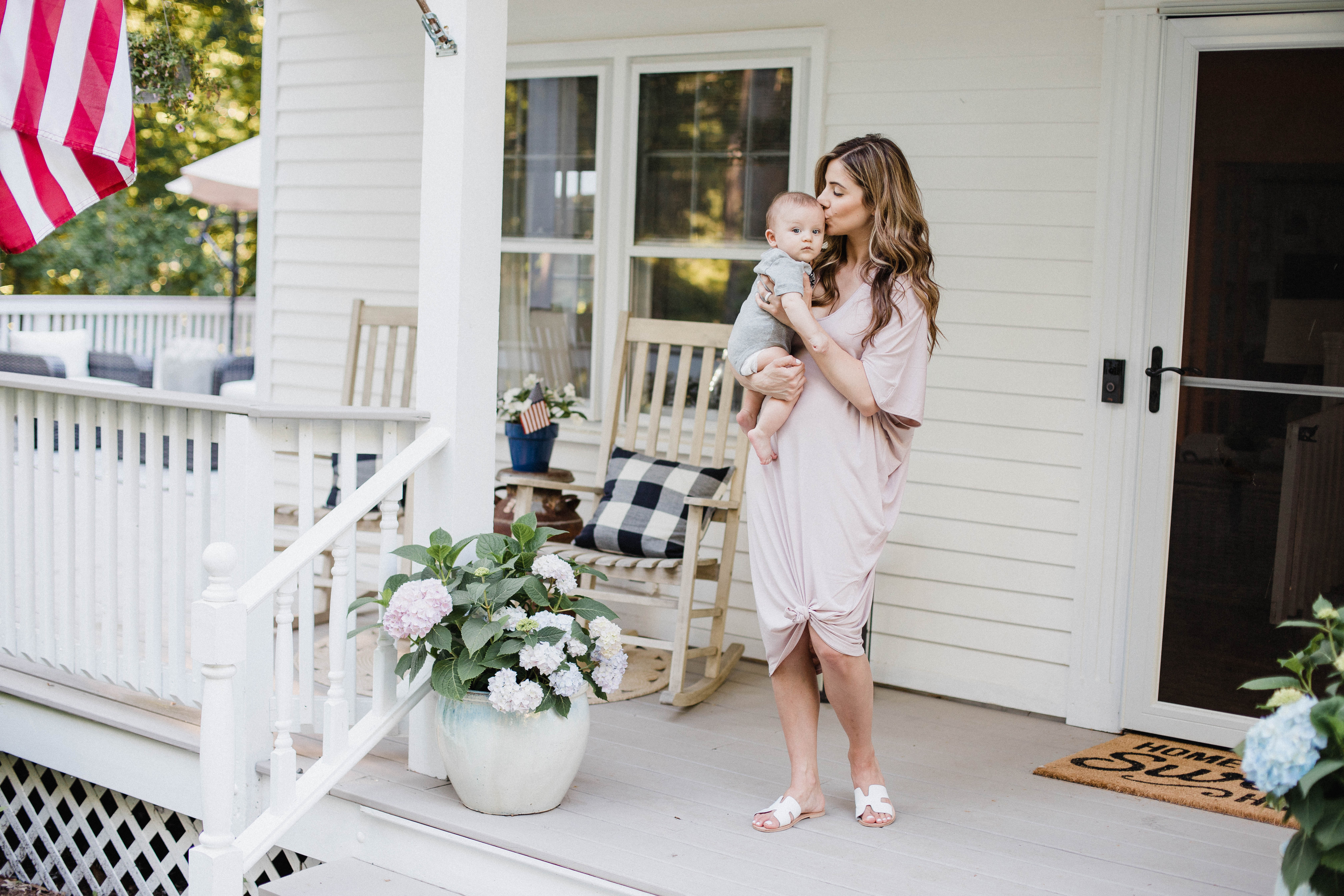 Becoming a mother changes you in the most amazing way, but I promise the old you is still there…just with more love in your heart for that beautiful child you hold in your arms 😉
SHOP THE POST