Thank you to Amazon Handmade for sponsoring today's post!
I recently shared about Amazon Handmade, which is Amazon's spot for genuinely handcrafted and unique items made by Artisans and small businesses. You can find more information about it in this post! Many sellers are offering awesome deals for Amazon Prime Day, so I rounded up some of my favorite picks for you! There's a little something for everyone below – now's the time to stock up on unique holiday gift ideas!!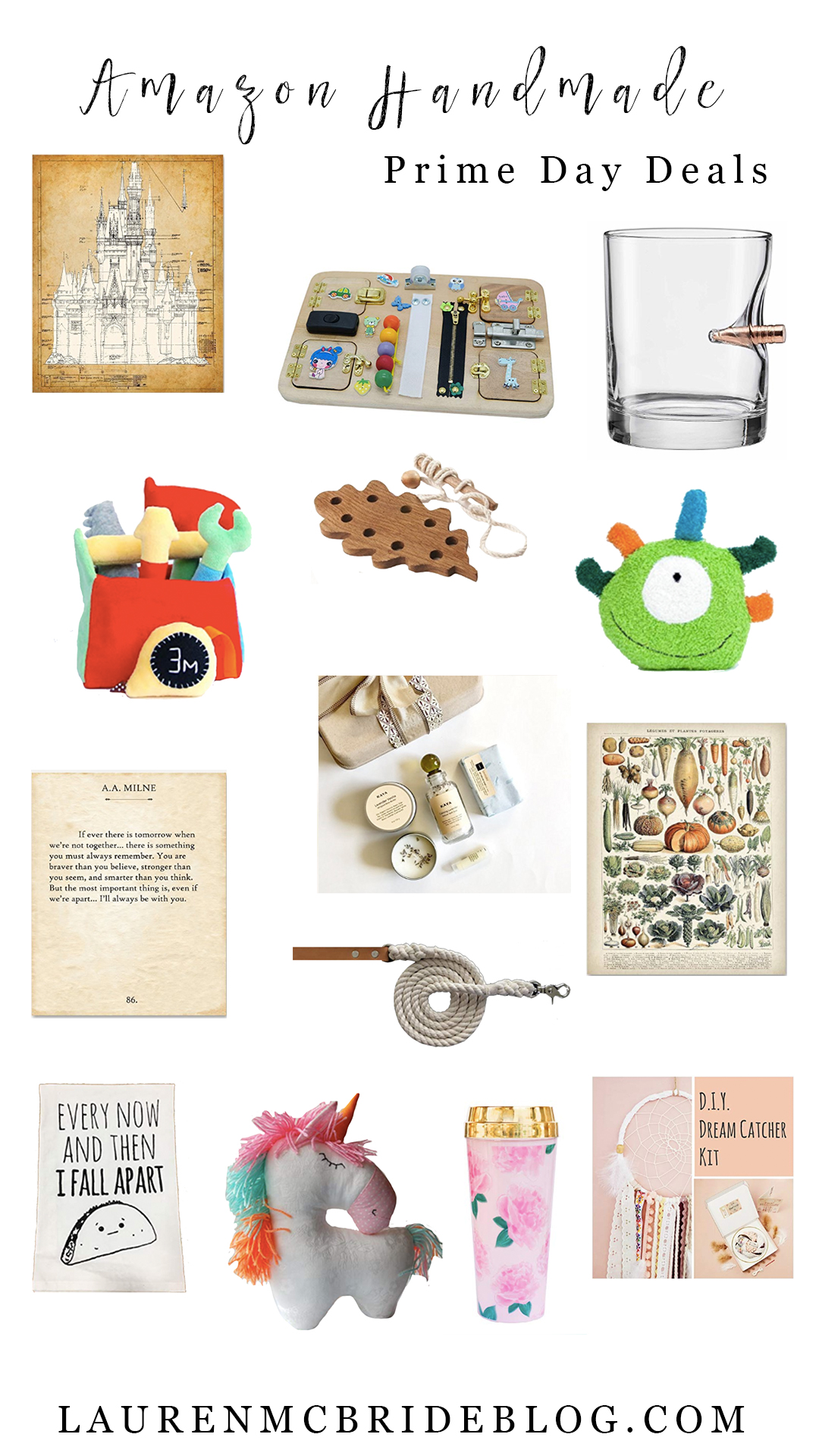 Cinderella's Castle Print // This adorable vintage-style print would be so precious in a little girl's room! Or even for the Disney lover. The antiqued look makes it suitable to display in any room – not just a kid's room!
Montessori Busy Board for Toddlers // I shared this busy board in my last post, and it's now $10 off! It makes a great gift for a toddler's birthday.
BenShot Bullet Rocks Glass // This glass reminded me of something Pat would love! They have a variety of options available, too.
Plush Tool Box // This is SO CUTE for a toddler! I would totally scoop this up for Austin if he was old enough for it.
Wooden Lacing Toy // I love this for quiet time for toddlers. It's great for fine motor skills, too!
Terrycloth Monster Bath Toy // This is super cute for toddler bath time! I love that it can be easily washed too (I hate bath toys that are hard to clean!)
Kaya Lavender Gift Set // I shared about this beautiful, natural gift set in my last post, and it's now $10 for Prime Day! It makes a great gift for a girlfriend, or even a new mom.
A.A. Milne Unframed Typography Print // I love these typography prints (there are many available) to display in the home! I scooped this one up because the quote nearly makes me cry, and I thought it would perfect in the boys room!
Ivory Rope Dog Leash // Can't leave the furry friends out! This is an adorable dog leash, and I love the contrast of the leather and rope.
Antique Vegetables Unframed Art Print // This print is beautiful to display in a kitchen or dining room! I love the antique style and think they look so beautiful in a farmhouse kitchen.
Funny Taco Kitchen Towel // This kitchen towel made me laugh, and I think it makes a great gift! There are a variety of other funny options, too.
Plush Unicorn // This is so cute for a kid's room! I'm debating getting it for Noelle's big girl room, because I call her my little unicorn 😉
Pink Peonies Travel Mug // This travel mug is beautiful and an adorable gift for a friend! Or, you know, for yourself. 🙂
DIY Dream Catcher Kit // I love this idea for kids! It's a great craft activity, and then they can hang it in their room afterwards! It's super cute and would look adorable in a bohemian style bedroom.
So cute, right? You can check out the ENTIRE list of Amazon Handmade Prime Day offerings by clicking RIGHT HERE.These items are 20% off for Prime Members, only! I plan on taking advantage and getting a head start on holiday shopping! 🙂