Thank you to Colleen Rothschild for sponsoring today's post!
If you've been following for a while now, you know Colleen Rothschild is a skincare brand I stand by. Her products are formulated without Parabens, SLS/SLES Sulfates, Phthalates, Triclosan, Formaldehyde, PABA, Toluene, Benzene, and they WORK. I've used a variety her products over the past couple of years, so today I'm sharing some of my favorites with you! Please note: this is not her entire line, just the products I've had the pleasure of trying!
The best part is they're all currently 20% off with code FLAG20 from Thursday June 28th through Wednesday July 4th!
Also note: her products ARE SAFE for pregnancy and breastfeeding, with the exception of her retinol products! Retinol is not recommended during pregnancy and breastfeeding. Always consult your doctor!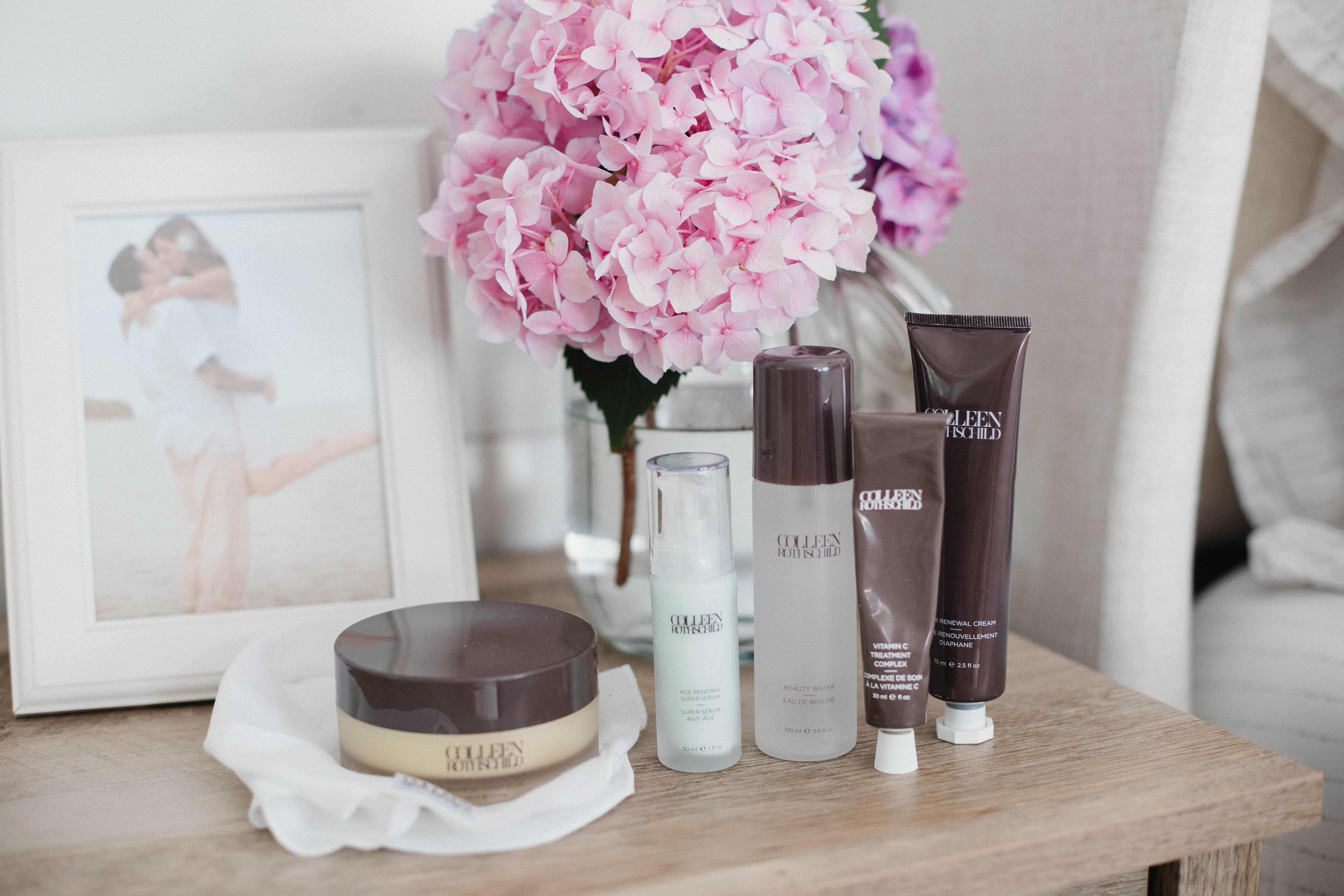 DAILY SKINCARE
Radiant Cleansing Balm // Colleen's cleansing balm is on of my favorite products. It's melts away makeup and leaves my skin feeling clean and refreshed, while staying hydrated. It feels like a mini-facial, especially using the muslin cloth to remove (which is included!).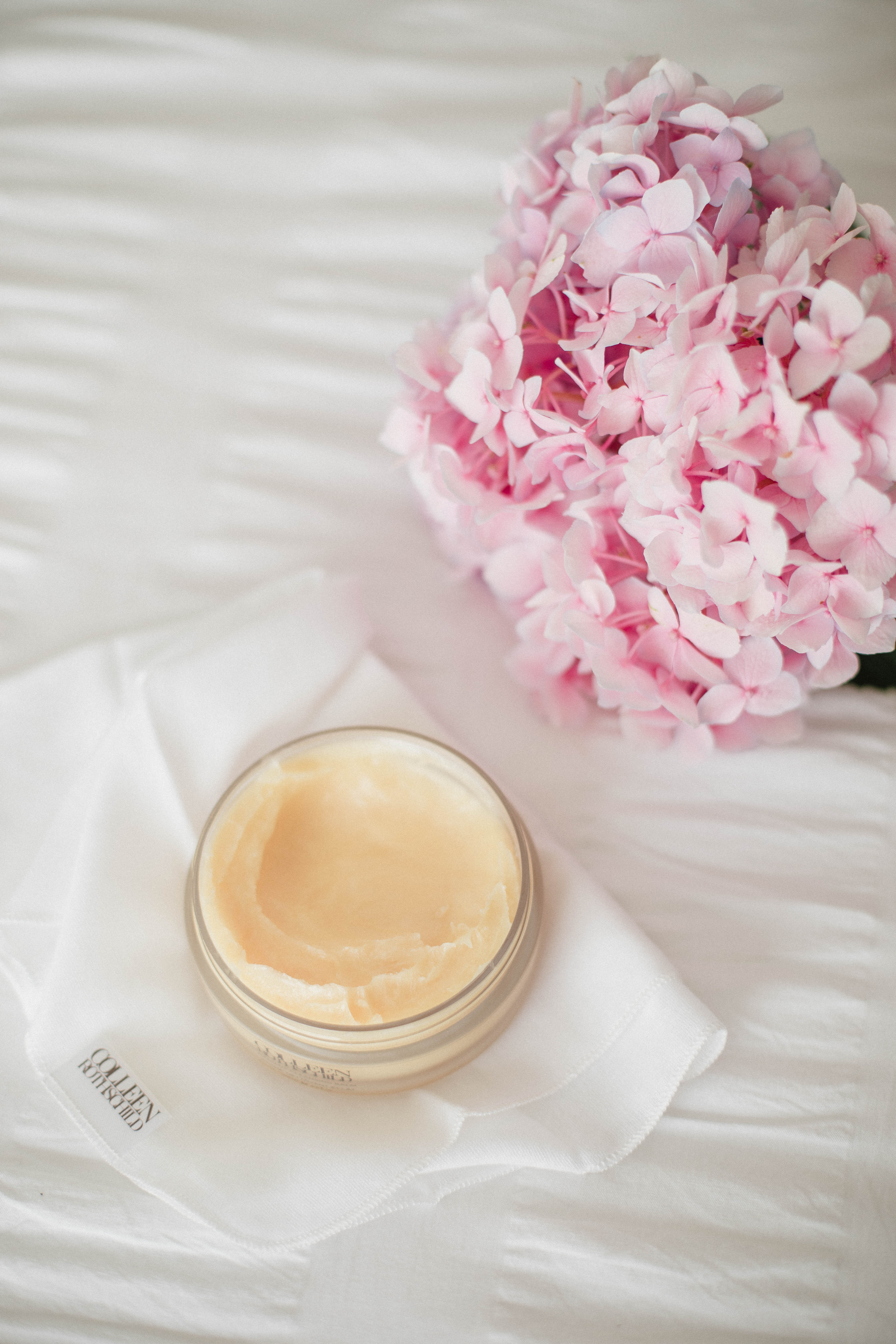 Beauty Water // I love that this product is multi-purpose – it can be used as a toner after cleansing or even as a makeup setting spray to give your face a dewy glow. It calms, tones, and hydrates the skin and has specialized ingredients to keep your skin hydrated for up to 24 hours!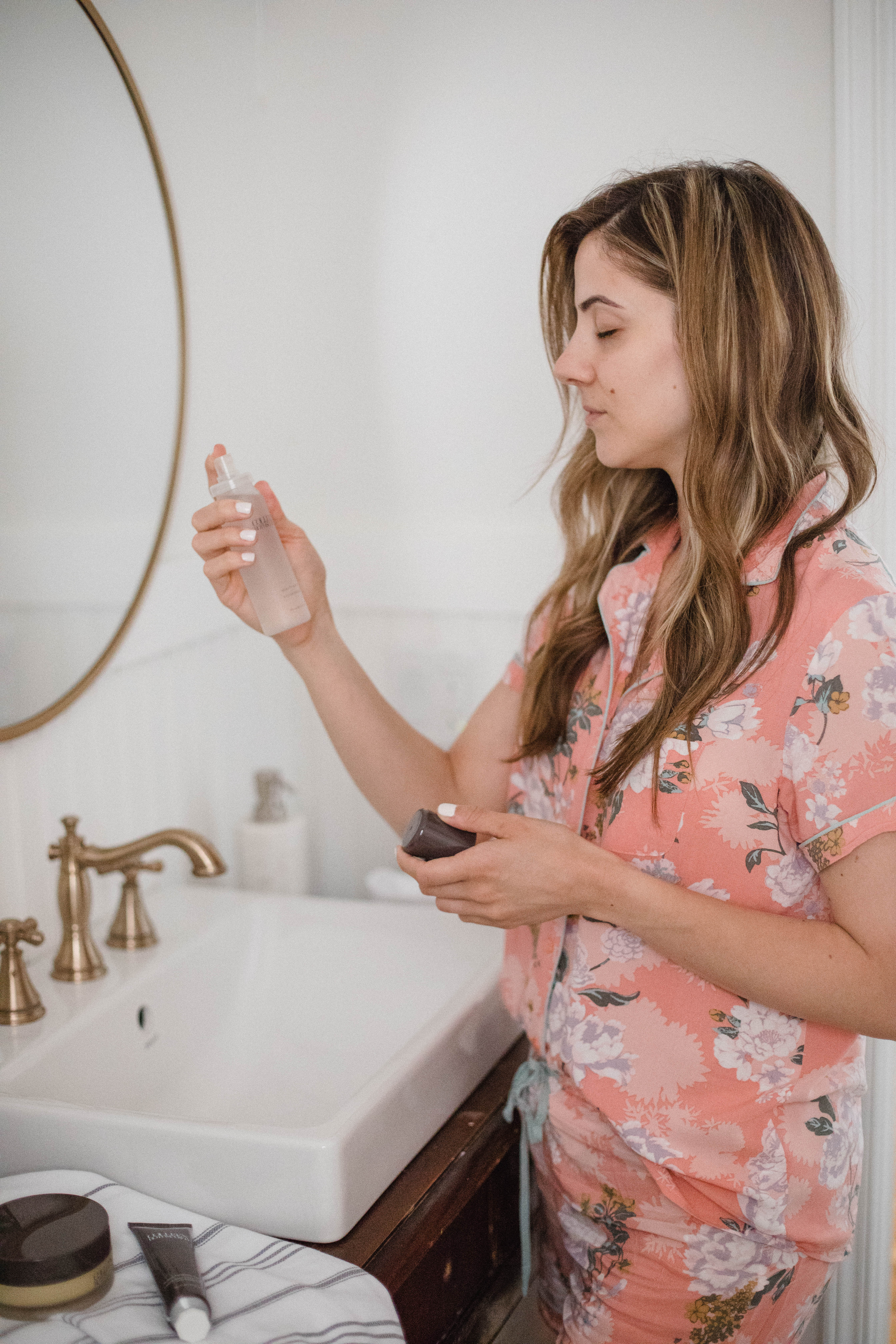 Vitamin C Treatment Complex // A Vitamin C product is one of the best products you can use on your face because not only does it improve your complexion, but it protects your skin from future damage. Colleen's product is SUPER potent, and I swear makes my skin brighter and more even. Use this in the morning after toning and before your moisturizer! And don't forget your SPF!
Age Renewal Super Serum // This serum is a powerhouse product because its loaded with potent ingredients that fight the six signs of aging (texture, dehydration, elasticity, fine lines, radiance, and tone). It's best used morning and night under your moisturizer!
Sheer Renewal Cream // This cream is a great lightweight daily moisturizer that promotes cellular turnover to help minimize the appearance of fine lines and wrinkles. It's also got a key ingredient, Detoxophane, that offers environmental defense as well. I highly recommend for a daily moisturizer!
Face Oil No.9 // This face oil is a fantastic night treatment (use it at the last step in your nighttime routine!) and is formulated with NINE transformative oils (hence the name!) that moisturize, nourish, and leave your skin looking radiant even with just one use! It also does NOT leave a greasy residue, which it's really important to me because I hate feeling like a grease-ball! One of the oils it contains is Marula oil, which you know I'm a huuuuge fan of!
Mandelic Acid Radiance Serum // This serum takes the top spot in my favorite Colleen products. It's an alpha hydroxy acid (AHA), and is meant to be used in the evening. I use it every night after cleansing and toning, and I'm convinced plays a big part in why my skin has looked so great lately. This serum helps promote cellular turnover, which helps with aging, fine lines, dark spots, and texture. I swear my skin looked more radiant with just a few uses. If you're looking for just one product to add to your skincare routine, let this be it!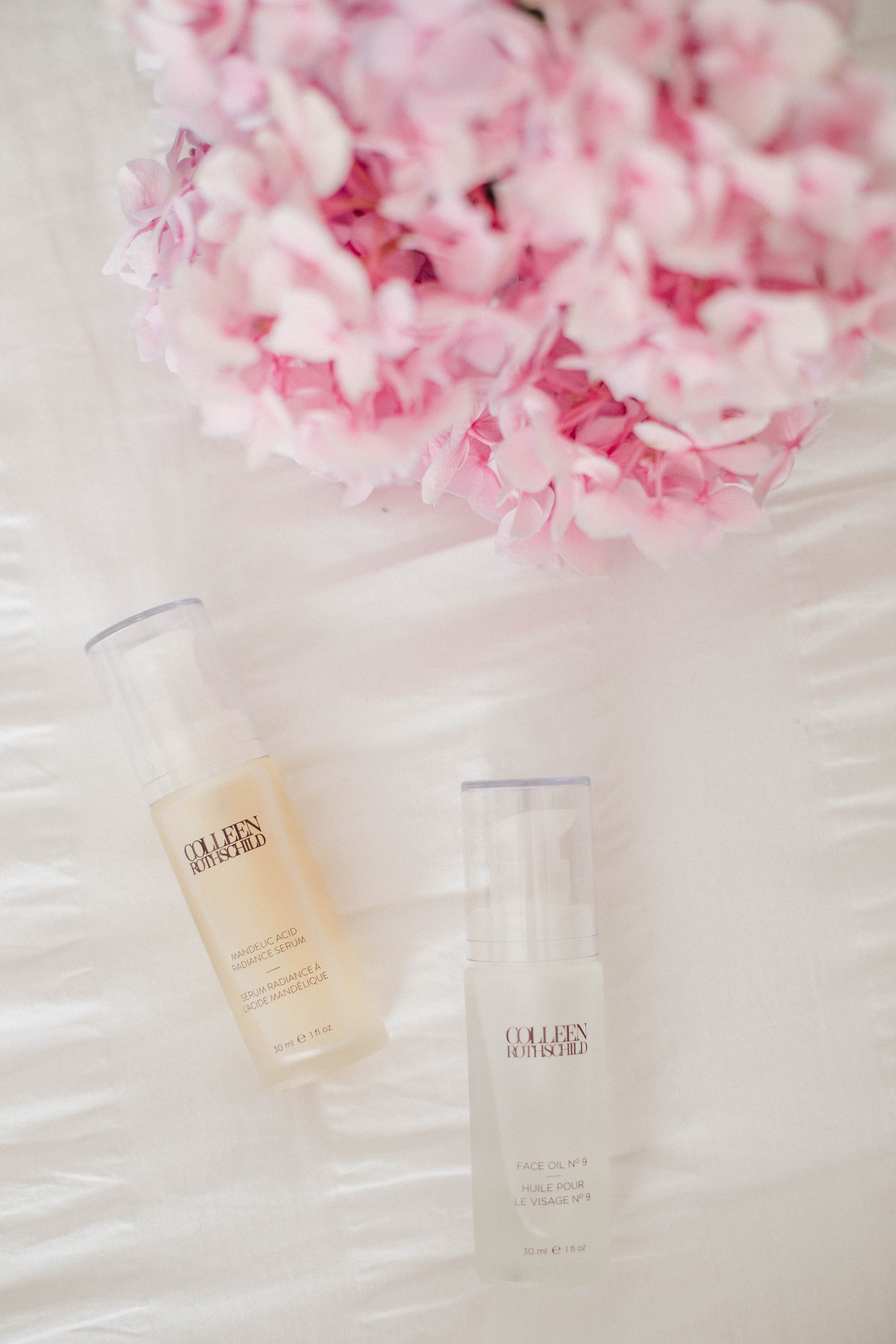 SHOP DAILY SKINCARE PRODUCTS

MASKS
Clarifying Detox Mask // Whenever my skin needs a good detox or I find myself breaking out, I reach for this mask! It has awesome ingredients that make it effective – activated charcoal and French Kaolin clay which detox pores, pure micronized silver that combats bacteria, and Vitamin C and Willowherb extract that brightens and soothes the skin. It packs a huge punch for one product, and is a great charcoal mask if you're looking to add one to your regimen!
Dual Enzyme Polish // When I feel my skin needs a good refresh, I reach for the Dual Enzyme mask. It sloughs away dead skin cells and leaves the skin looking revitalized. I like to use this before photoshoots or events, or when my skin is feeling a bit dull.
Intense Hydrating Mask // I use this mask often in the winter when my skin needs a punch of hydration! It also helps strength the skins elasticity, and I feel like my skin looks more plump after using it. I highly recommend for anyone with dry skin!
SHOP MASKS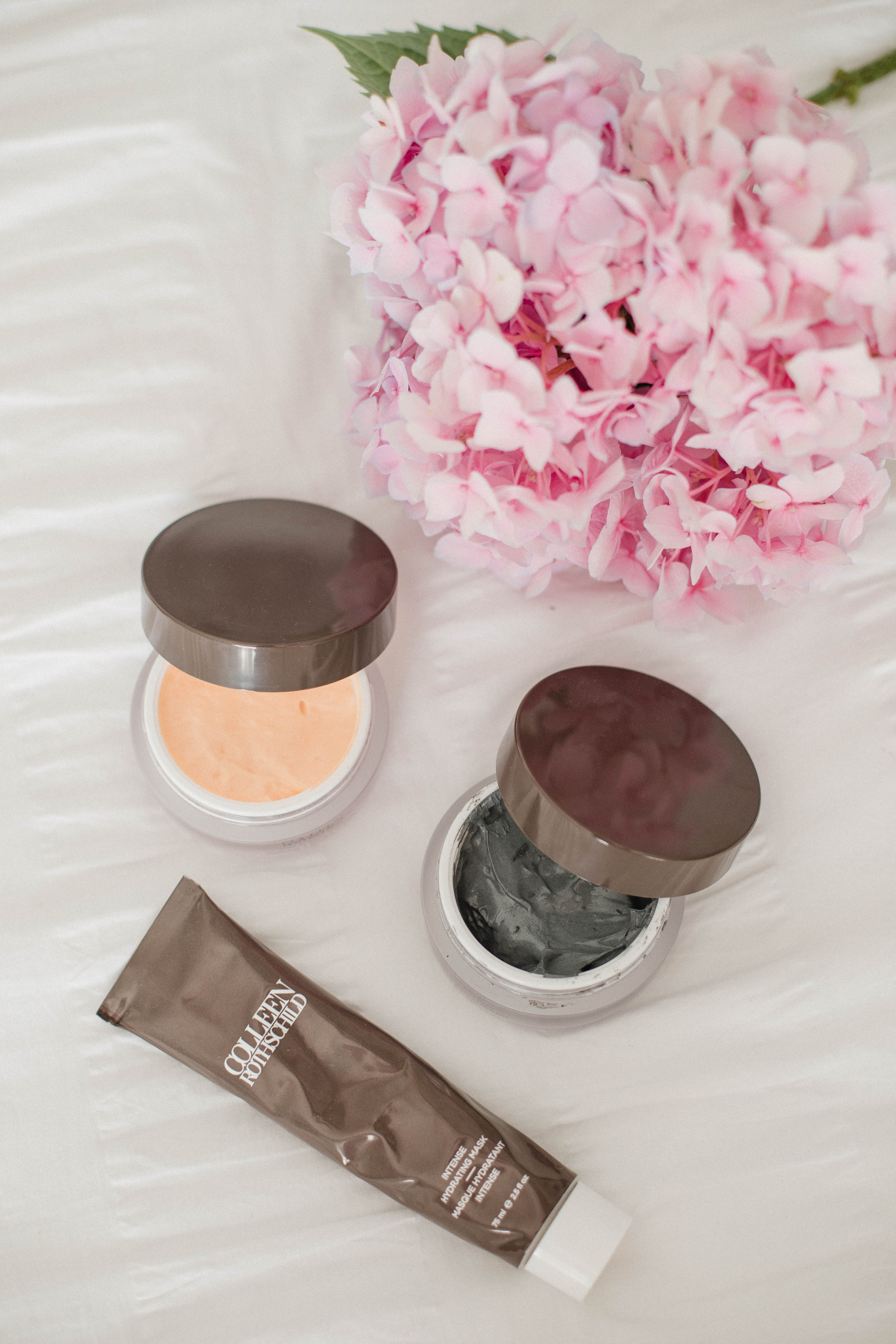 RETINOL PRODUCTS
I have yet to use Colleen's retinol products myself because I've been pregnant or breastfeeding for the past five year, but I've heard wonderful reviews! If you've got aging skin and are looking for products that really target those fine lines and wrinkles, Colleen's Retinol Night Oil, Retinol Treatment Complex, and Retinol Supreme Eye Serum are highly rated.
SHOP RETINOL PRODUCTS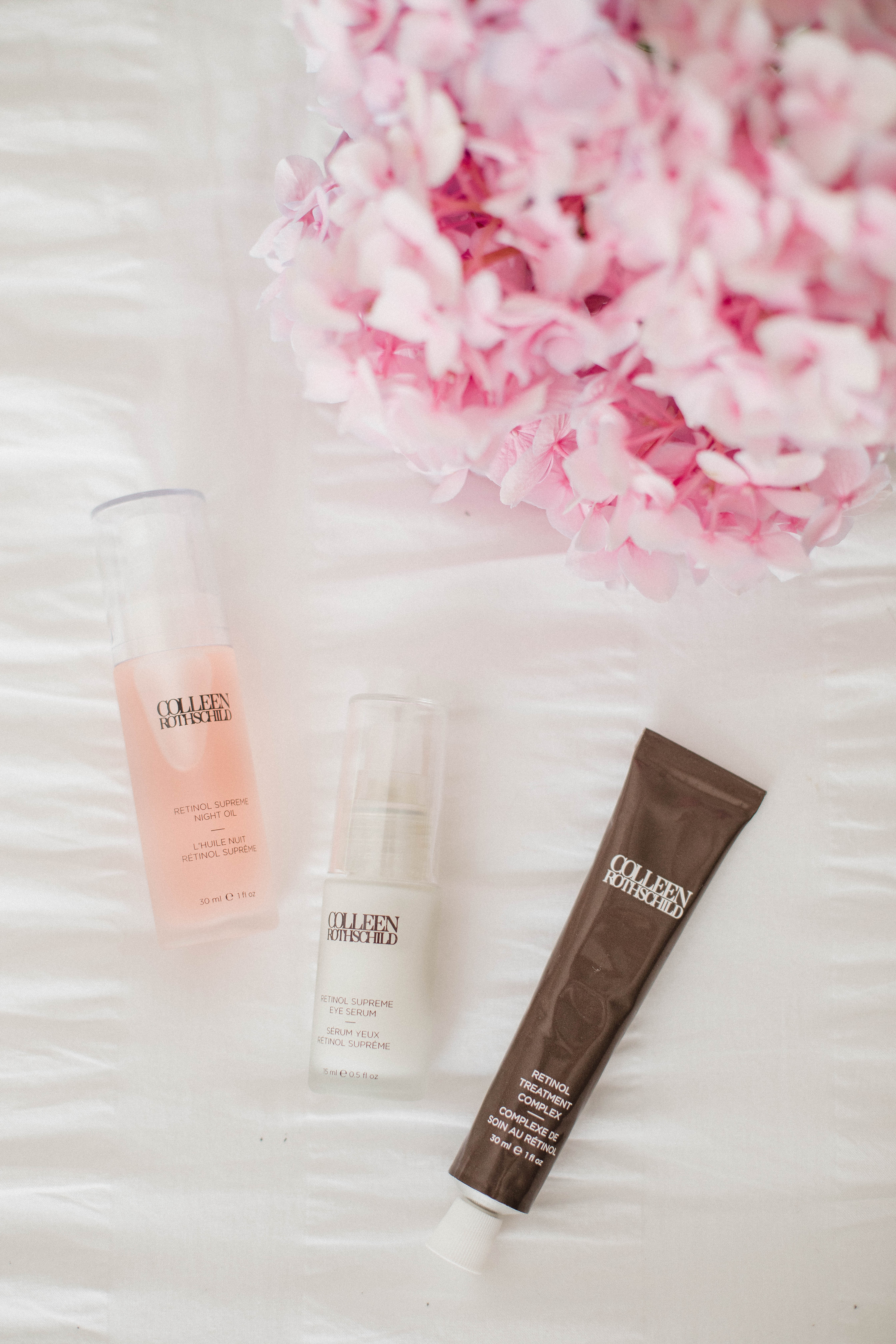 Overwhelmed with what to try? I totally get it! That's why I LOVE that Colleen offers her Discovery Collection kit, which has 7 of her top items for only $95 (and currently $76!). The Discovery Collection contains the Radiant Cleansing Balm, Dual Enzyme Polish, Clarifying Detox Mask, Sheer Renewal Cream, Extreme Recovery Cream, Facial Oil No. 9, a muslin cleansing cloth, and a little travel bag to carry it all in. This kit is a great way to sample some of her products! Buy the kit for $76 here with code FLAG20. Colleen recommends using the products in this order: MORNING – Radiant Cleansing Balm, then Sheer Renewal Cream. EVENING – Radiant Cleansing Balm, Extreme Recovery Cream, Face Oil No. 9. The Dual Enzyme Polish is best used 1-2 times a week after cleansing to slough away dull skin, and the Clarifying Detox Mask is best used 1-2 times a week after cleansing to remove impurities (I would do them on different days!).
SHOP DISCOVERY KIT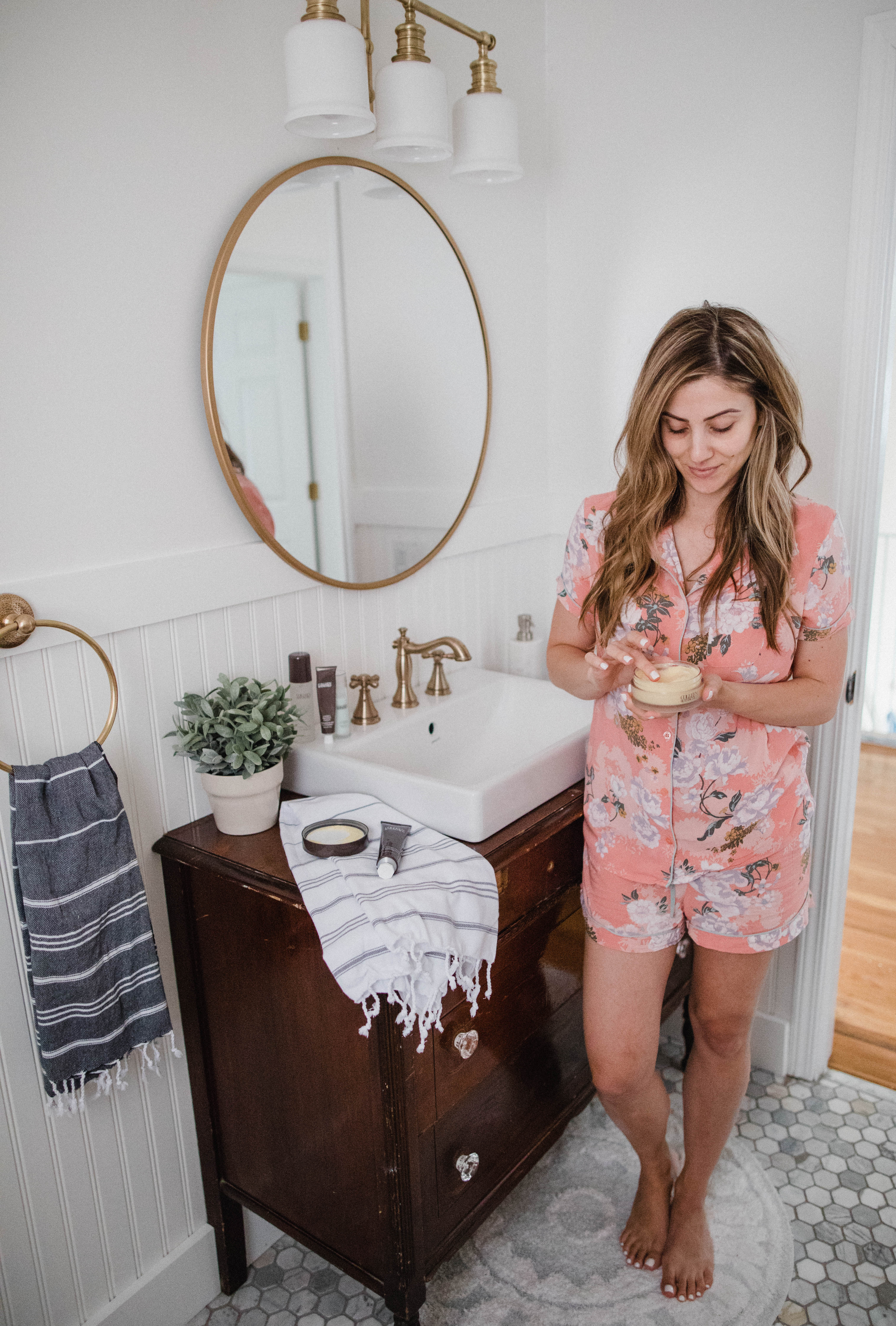 Looking for just ONE product to try? I highly recommend the Radiant Cleansing Balm or the Mandelic Acid Radiance Serum. Her cleansing balm is great for all skin types, and I swear the Mandelic Acid Radiance Serum will stay true to it's name. It's my favorite!
AND, I can't forget to mention my absolute favorite candle of all time – Colleen's Haight-Asbury candle. She gifted this to me last year and I've been obsessed ever since. I'm absolutely taking advantage and buying it during the sale! She's got a variety of candles, including one that smells like the Radiant Cleansing Balm!
Whatever you choose, I know Colleen Rothschild's products won't let you down! Don't forget to use code FLAG20 for 20% off your purchase through July 4th!
Colleen has been kind enough to offer a giveaway for you guys!!!! Enter via the Rafflecopter below 🙂
a Rafflecopter giveaway