I'm excited to share the much requested Best Baby Carriers post today with you! I'm reviewing the variety of carriers I currently have and use, and my thoughts on what I like or dislike about each of them. Note: this isn't a list on ALL the baby carriers out there, just the ones I've tried and own! If you have recommendations on ones you love, leave a comment below!
Best Baby Carriers
Size: 7-45lbs
Infant Insert: Not required
I've been wearing my Baby Tula Free to Grow Carrier a lot lately, if that says anything! It's really easy to get on and off, and I like that it's adjustable to your baby's size. You can adjust the width and the height to accommodate your baby, and you can start using it as little as 7lbs! It's ergonomic, as well, and really comfortable to wear. My only complaint is I wish it had a pocket to stuff my phone or debit card inside of for easy access! EDITED TO ADD: The pocket is actually right on the waistband! Thanks to those of you who shared that bit of info with me!!! Baby Tula has a variety of pattern options that are constantly changing, too! Sadly mine is no longer in stock, but there are similar neutral options!
Size: 12-45lbs
Infant Insert: Yes
Let me start this out by saying I have NOT tried the newer Ergo carriers yet, so this is strictly based on the Original design! I am intrigued by their 360 carrier, so if you've tried it I would love to read your comments about it below. My Ergobaby Original Carrier was my favorite carrier with Landon, and is still a current favorite that I always keep in my car! It's so easy to put on and take off, and the ergonomic design makes it incredibly comfortable. I never liked the infant insert (just personal preference!), so I always waited until I felt my babies were big enough to fit in the carrier without it. I've used mine with all three of my babies, making it the oldest carrier I have. And it's held up great! I love the pocket, too. There's also an SPF 50+ privacy hood, although it frequently falls out of the little storage pocket (I think this is user error on my part!). It's also machine washable!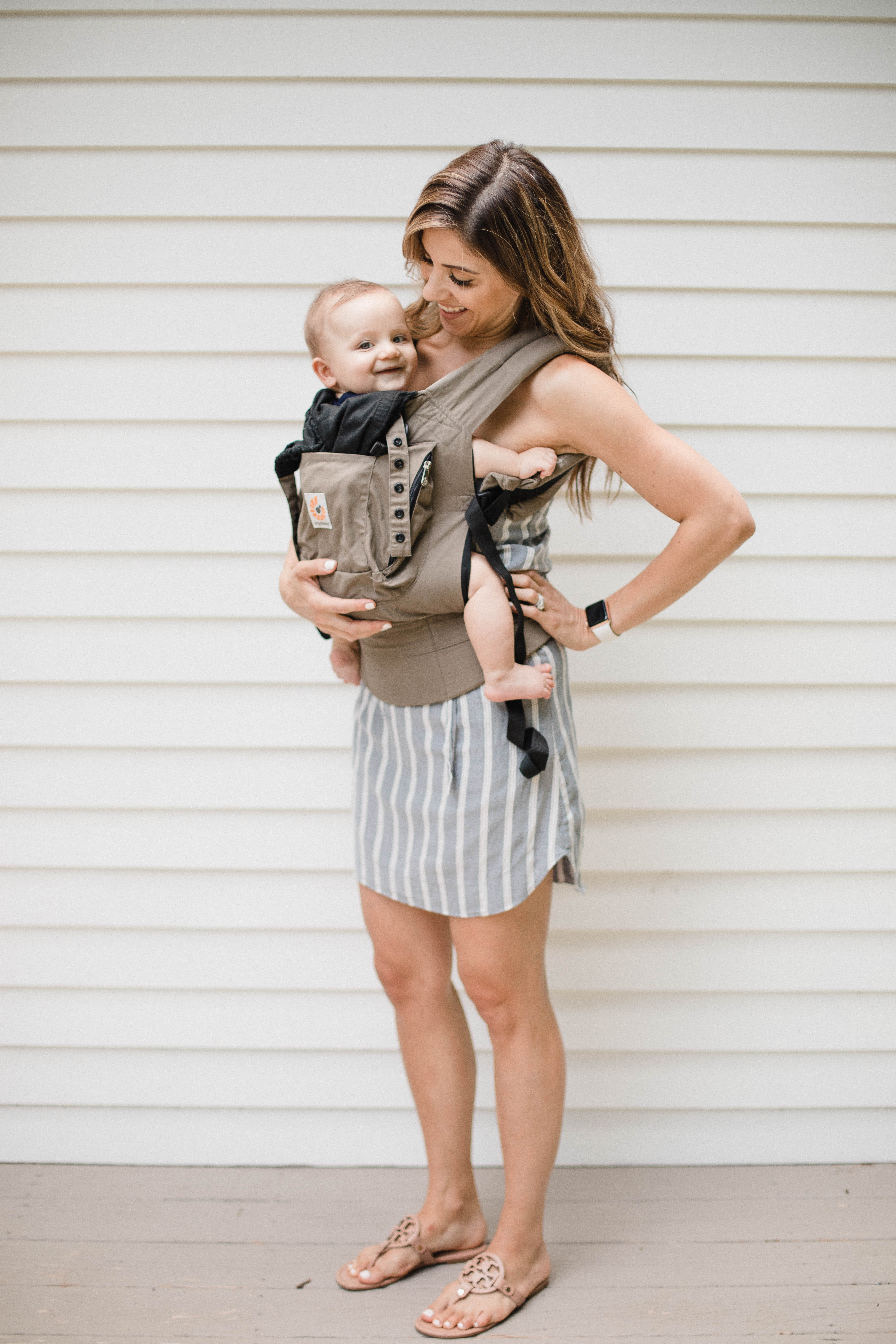 Size: newborn-45lbs
It's been awhile since I've used my Lillebaby 360 Ergonomic Baby Carrier, and I don't know why! I was quickly reminded how much I love this one when I put Austin in it. I like that he can see out more than he can with the other carriers, and that there are a variety of positions I can use it in (6 to be exact). You can also face baby outward, safely. I also like that it's for "all seasons" and that the mesh air panel allows you to control baby's temperature (especially good for the summer when it gets HOT) – I haven't found that with the other carriers I have! I might be pulling this one out quite a bit more for the rest of the summer! I think Austin likes that he can see better in it, too!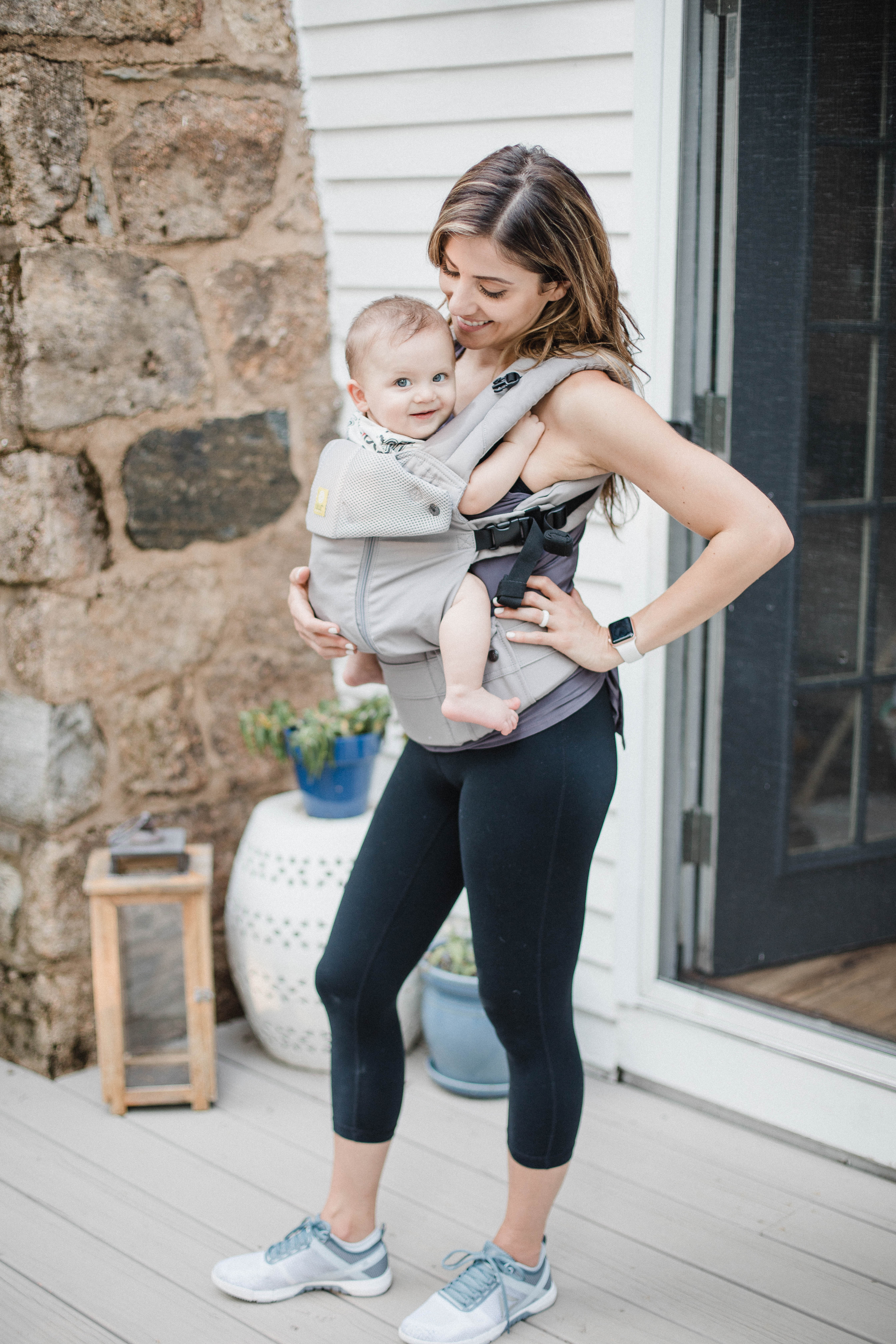 Size: 7-35lbs
The Sakura Bloom Ring Sling was my first ring sling I had with Landon. I found it easier to use (personally) once they're at the point where you hold them on your hip, but they can be used for newborns too! They have a variety of fabrics and colors, and I like their instructional videos as well. I also LOVE how beautiful they look when worn. I do feel like these take a bit to get used to as far as how to tighten, etc, but once you've got it down you're good!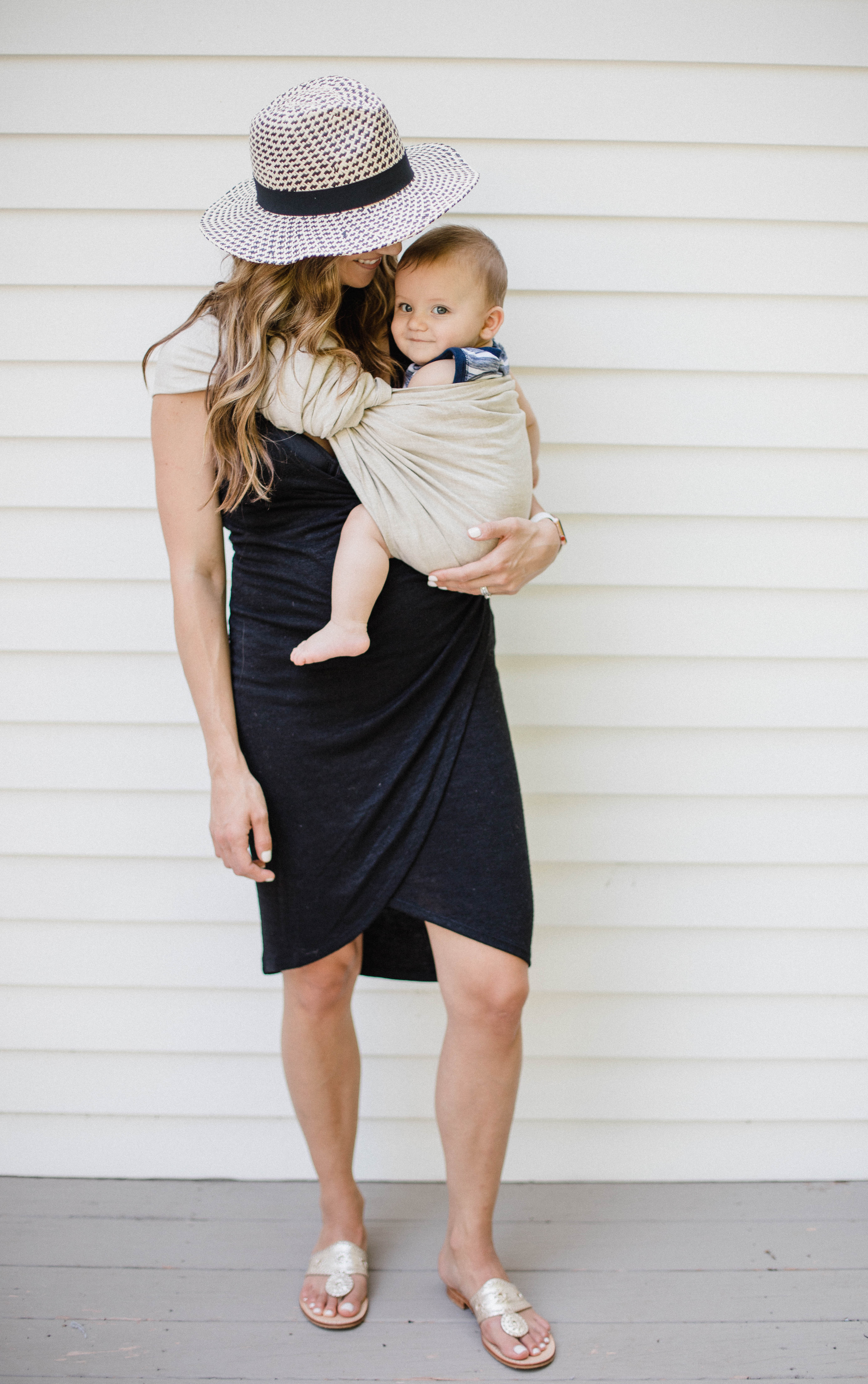 Size: up to 25lbs
When my babies are itty bitty newborns, I prefer using a wrap instead of a carrier. I've used my Solly Baby Wrap since I had Landon, and have added two to my collection since. I specifically love the fabric these are made of because it's incredibly soft and lightweight, and cool to touch. They get softer with each wash, and I've literally never had an issue with integrity of the wrap. They have so many beautiful colors and prints too! This is by far my favorite to use with newborns.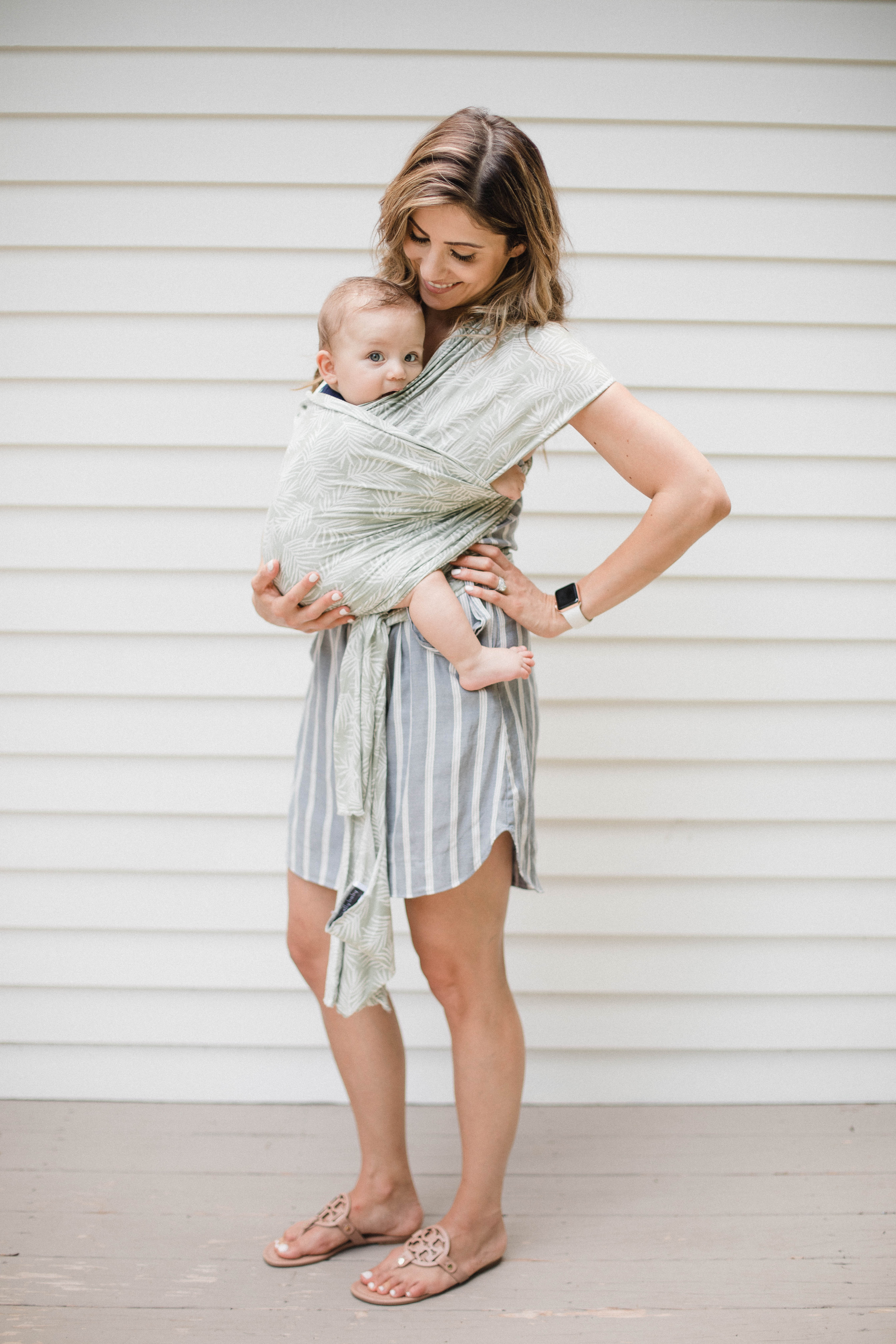 Size: newborn-48lbs
Infant Insert: Yes
If there could be a Cadillac of baby carriers, this is it! I was introduced to the MiaMily Hipster Plus 3D last year and it's LEGIT. Not only can it be used the longest, but it has up to NINE carrying positions – making it the most versatile carrier out here. It has a unique 3D hip seat which absorbs weight and makes it even more ergonomic friendly for you and baby. And it's ergonomic in forward-facing too. My favorite part about this carrier is the zillions of pockets it has. Seriously, you can fit SO MUCH in the large pocket under the seat – nothing compares! It also comes with teething pads to attach to the carrier, which is good because there's always a giant wet spot from my baby teething and drooling on the straps. It's machine washable as well! If you're looking for a carrier with all the features, this one is it!
Size: newborn-35lbs
Very similar to the previous ring sling I mentioned, Wild Bird is a new brand to me! I was not successful in wearing Austin as a newborn in this, but that's definitely user error on my part. I feel more comfortable having him in it at this age, when he can sit on my hip! But their website has a ton of instructional videos to help you. They're also SUPER pretty and they have a variety a fabrics and colors!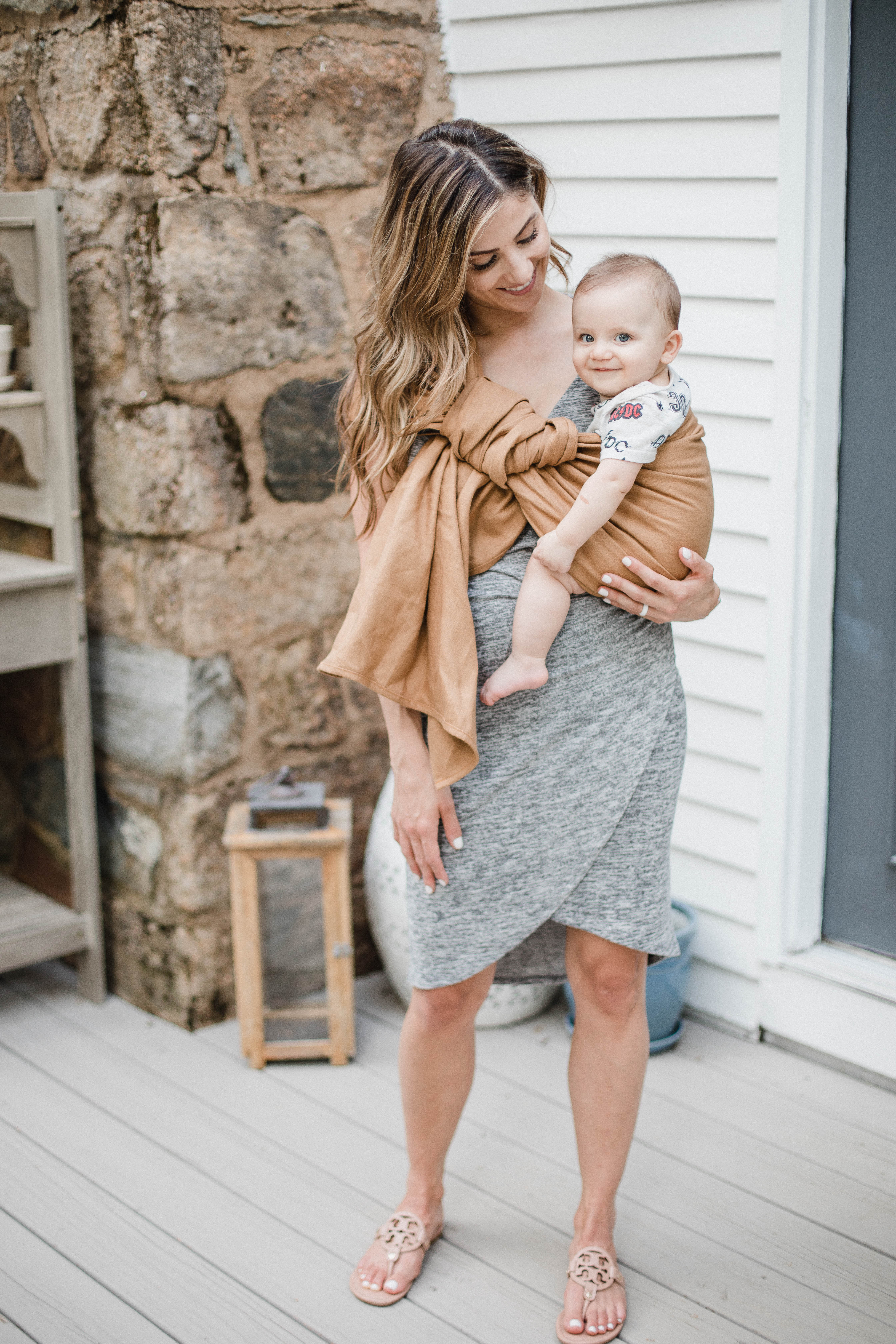 And that's it! Those are all the carriers I own, what I love about them, and when I prefer to use them. I would love to hear about your favorite carrier below!