Thank you to Urban Outfitters for sponsoring today's post!
As you know, we began potty training our daughter this week…and part of her reward was an update to her bedroom! We've been meaning to switch her to a "big girl bed" for some time now, and it seemed appropriate to make it one of her rewards. Today I'm sharing her big girl bed refresh with you!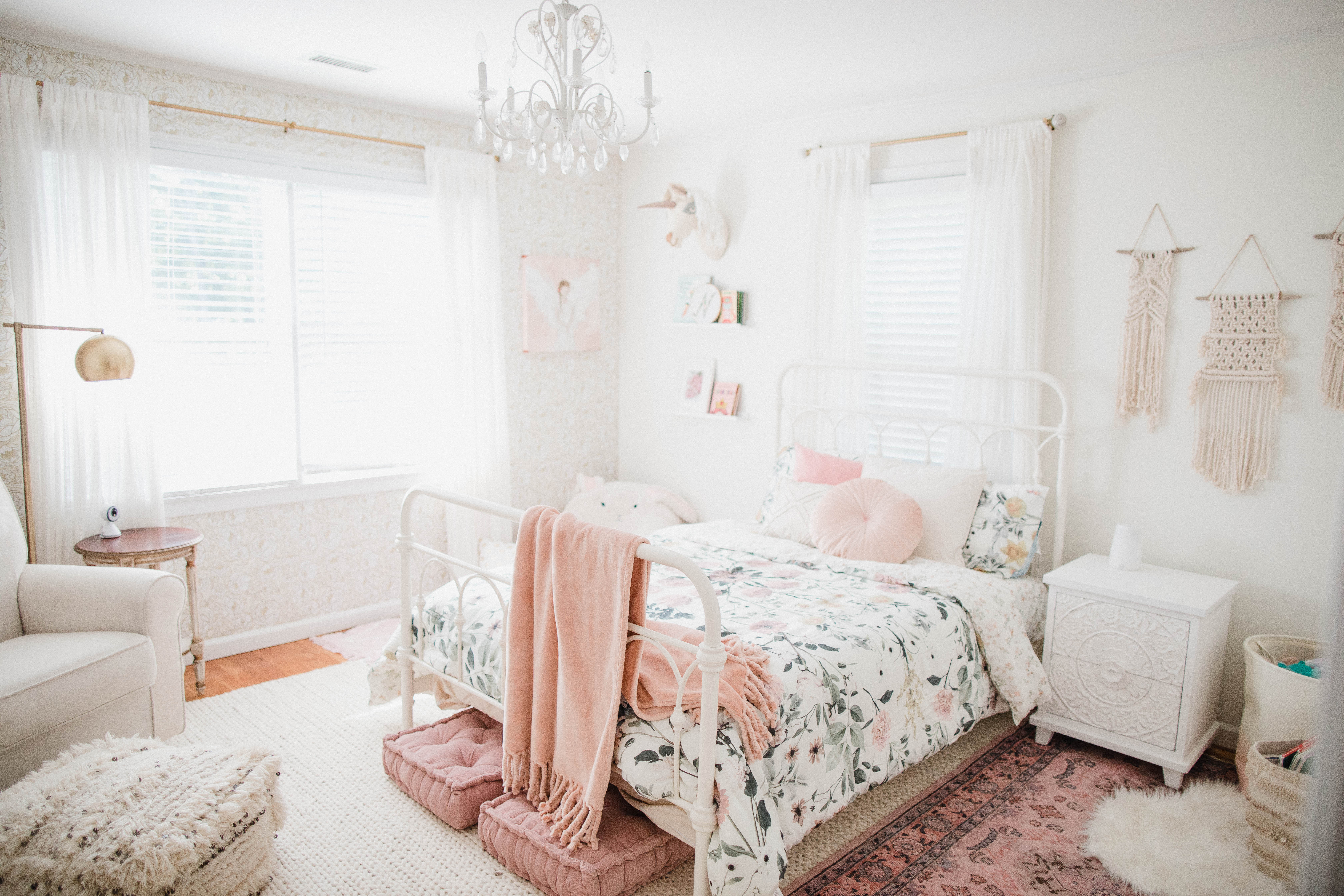 I frequently shop Urban Outfitters home decor collection, so I was thrilled when they asked to partner on a project! My first thought was to use the opportunity to update her room because I already love the bohemian vibe of their bedding, pillows, and decor. Noelle's nursery is a mix of whimsy and boho, and I wanted to keep her big girl room the same since it's so fitting of my girl!
Since her big girl bed was a reward, I included her in the process of choosing items. I asked her to choose the from a few bedding options, and she picked this beautiful Daniella Floral Comforter Set from Urban Outfitters. My daughter is a free spirit, like a little wildflower herself, so I found it to be incredibly fitting of her personality. I absolutely love the color palette of this comforter, and it fit in well with the colors of her room already. I also love the delicate small flowers on the fitted sheet it comes with – it's really a beautiful set!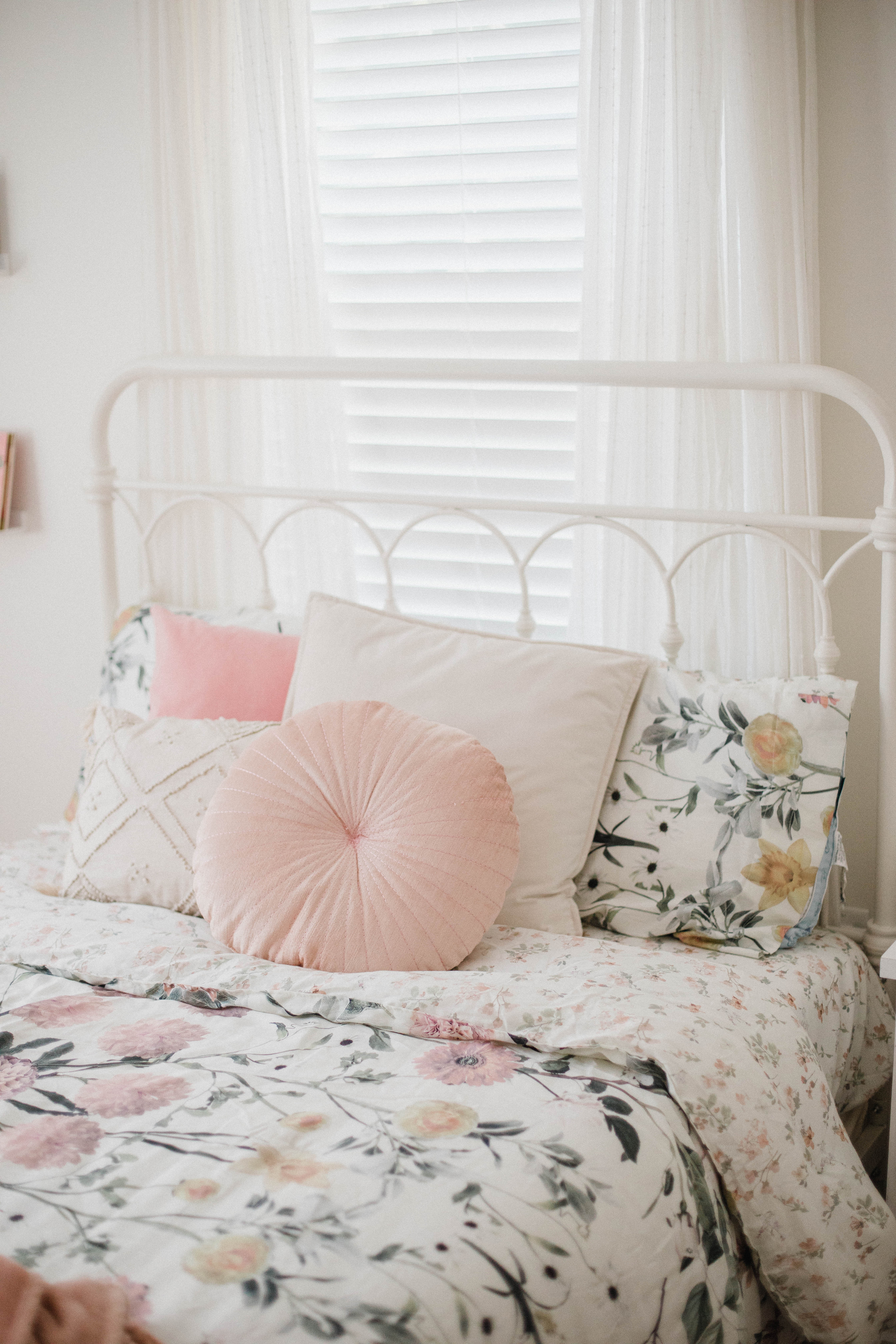 To dress up her new bed a bit, I added a few fun pillows, also from Urban Outfitters. We mixed a few textures including this Velvet Throw Pillow, this Havana Textured Bolster Pillow, and this Shelly Round Velvet Pillow. At the end of her bed, I added some fun Washed Corduroy Velvet Floor Pillows for some seating while she plays! I love the mixture of texture and colors against her ivory rug. Urban Outfitters always has great pillow options!
With the exception of her new bed, I kept the other features of her room the same because we both already loved them so much. I love the pop of texture her wallpaper adds to the room, her vintage crystal chandelier that I found at an estate sale (and updated), her macrame wall hangings (you can find a similar one here!), and her rattan mirrors above her rocker. Her Copper Corners Guardian Angel artwork is also a favorite piece of mine which holds deep meaning. I'll share the full details and sources of her room soon!
I love sophisticated, yet fun kid rooms because they're something they can grow into! She LOVES her bed, and told me it's "comfy and cozy." And I think picking it out herself helps her actually stay in it at night as well, ha!
SHOP THE ROOM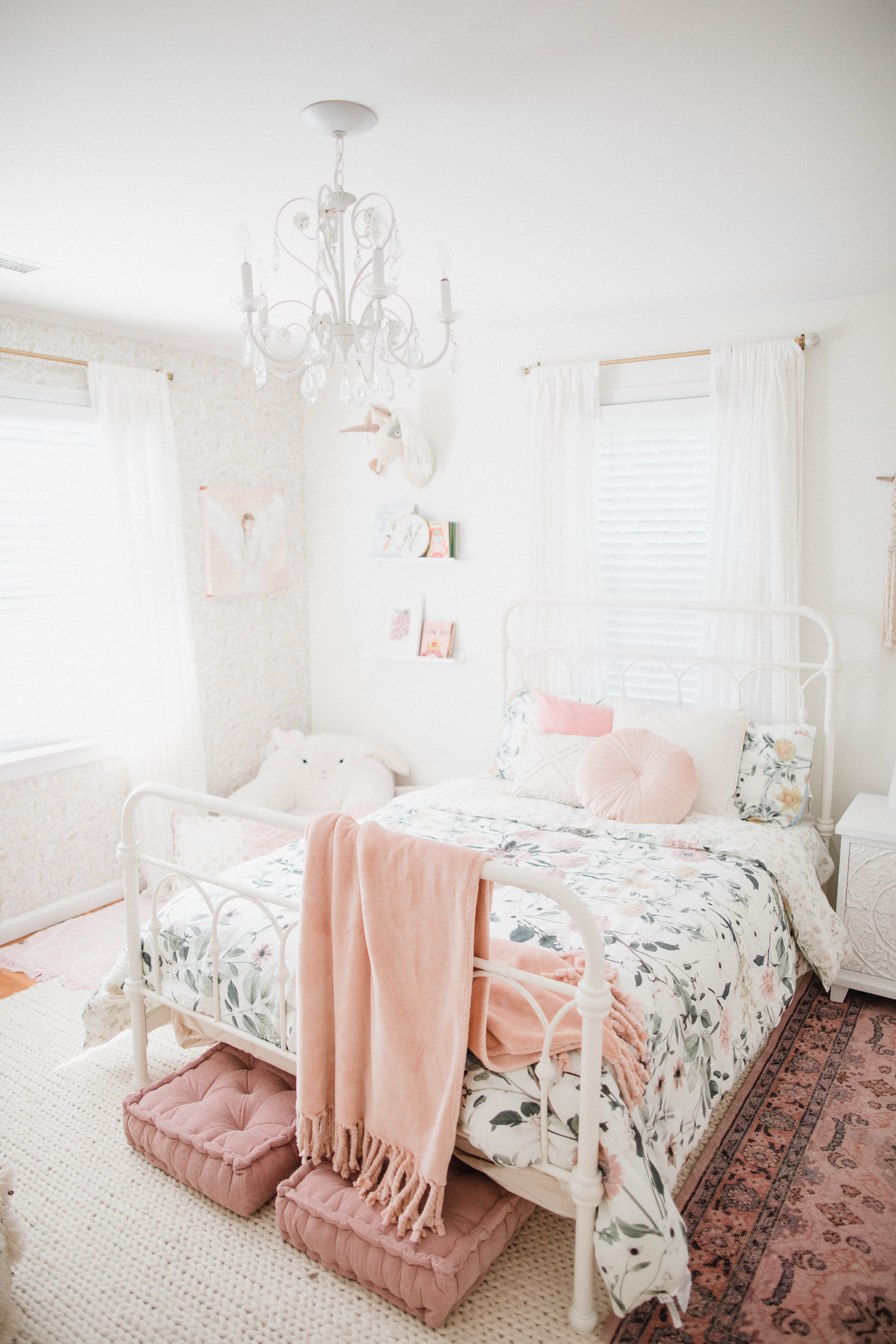 Urban Outfitters is always one of my favorite places to shop for home decor because they have unique pieces at great prices. Their bedding options are absolutely gorgeous and well priced if you're in the market for a bed refresh!
Stay tuned for her full room reveal coming soon!