We recently had the opportunity to spend a weekend in Charleston, South Carolina as I was asked to speak at this year's Haven Conference! That was an incredible opportunity in itself, and something I'll cherish for years to come. While in town, we decided to make a little family trip of it, so today I'm sharing with you our Charleston Weekend Family Travel Guide featuring the places we stayed, ate at, and activities we did with the kids!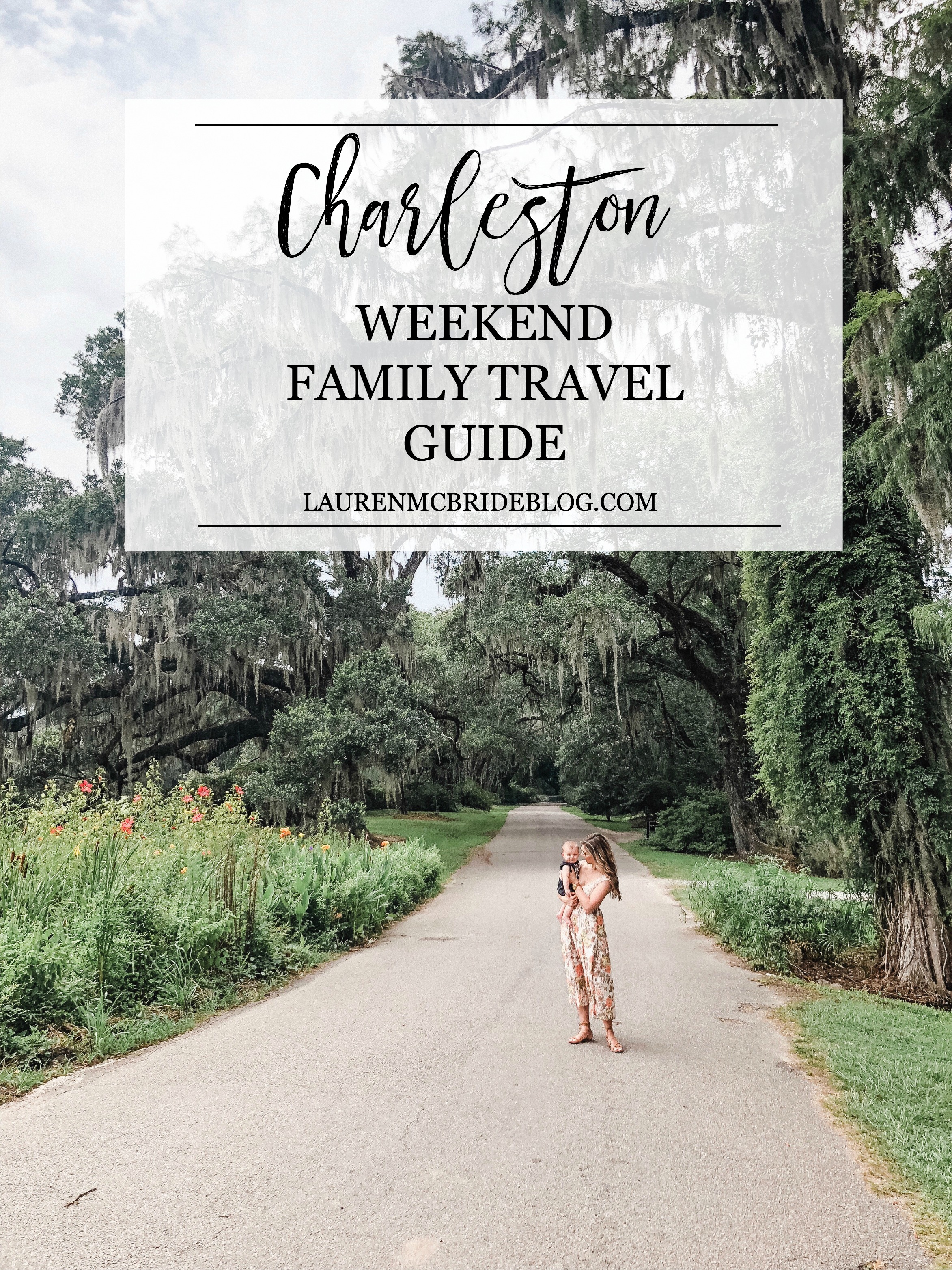 Located in Isle of Palms, many of you suggested staying at Wild Dunes Resort for our trip! I am SO glad we made this choice, so I truly thank you for your recommendations. There are MANY things I loved about this resort. First, we were able to stay in a 2 bedroom condo with a full kitchen, multiple bathrooms, and laundry. I feel like this makes all the difference when traveling with small children, especially the kitchen because we are up EARLY in the morning! We always do a quick shop when we arrive at our destination to get some eggs, bread, and bacon for early morning breakfasts. We stayed in the Tidewater condos, and they were absolutely adorable. We also had a loft area with a patio that overlooked the resort and beach, a screened in porch, and even a little front porch seating area. It was large enough for our family with room to spare!
I liked having separate bedrooms for the kids and being able to relax and watch TV with a class of wine after bedtime. I also liked that we had the beach in walking distance, as well as a pool. Downtown Charleston was only 30 minutes away, and I also liked the proximity to Sullivan's Island. Everything you need is on the resort, as well. There are restaurants, on site activities, shops, and a small market right on site. I would absolutely stay here again.
While visiting, we rented some baby gear from Babyquip. This was SO helpful, and I actually wish I rented more than I did (now I know for the future!). We only rented a crib and a jumperoo for Austin, but in the future I'll rent car seats and maybe even a stroller as well (they'll deliver to the airport – something I didn't realize!). Everything was set up when we arrived, and we literally did not have to do ANYTHING. They came and removed the items when we left!
I learned a little more about the company, and wanted to share some info with you! Babyquip is not only great for vacation rentals, but even if you need some gear for a visit to grandma's house! And if you're looking to make a little extra $ and have baby gear laying around, you can sign up to be one of their Quality Providers. I chatted with the company a bit to learn more about how they work, and I truly feel they are a great company to represent if you're looking to make some extra $! You are essentially running your own business, they just give you the tools to do so. The overhead is minimal, and they provide liability insurance for their QPs (something other similar companies do not offer!). They assist you in setting up your own rental website and guide you on the best way to run your business. I feel like this could be a great opportunity for stay at home moms who want to make a little extra because all you're doing is essentially dropping off and picking up baby gear! And even if they don't have QPs in your area already, that's okay! You can help them expand by signing up as one! You can learn more about it RIGHT HERE.

The benefit of staying at Wild Dunes was we could easily order from one of their on site restaurants to go and bring it back to the condo for the kids. I've learned that sometimes going out to eat is NOT the best with tired kiddos, so I love the option of bringing food back to where we are staying (or even cooking in). Billy G's is right on site, and it was delicious BBQ! The portions were huuuuge, with so many sides!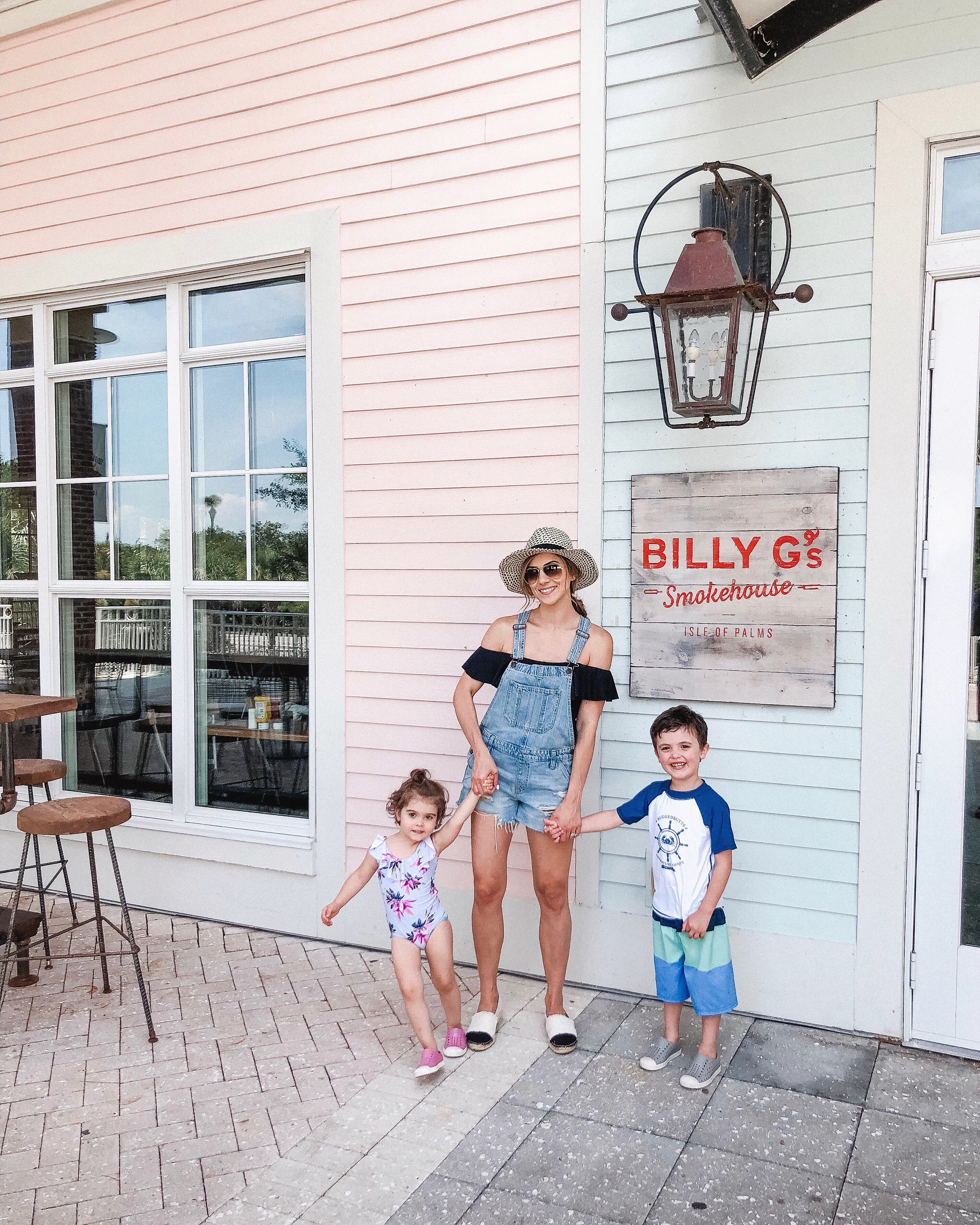 Five Loaves Cafe was a cute little shop that offered gluten free options (which I'm all about). My friend Liz Marie recommended it to us, and it was great for a quick bite with the kids! We stopped here for lunch and had some sandwiches and salads.
We couldn't visit South Carolina without having BBQ! I loved the portion sizes they offered here at Home Team BBQ, and we were able to sit outside with the kids which made things a little easier (although we were attacked by flies and ended up leaving quickly – note to self: bring bug spray next time). I also had a delicious glass of sangria, so bonus points for that!
We took a quick stroll on King Street, and hit up Jeni's Ice Cream because I saw they had dairy free flavors! It was SO GOOD. It's been a loooooong time since I can say I had good ice cream because usually dairy free ice cream isn't totally the same (not nearly as creamy). But Jeni's hit the spot! Even my husband agreed, which says a lot. They were super sweet to our kiddos in there, as well.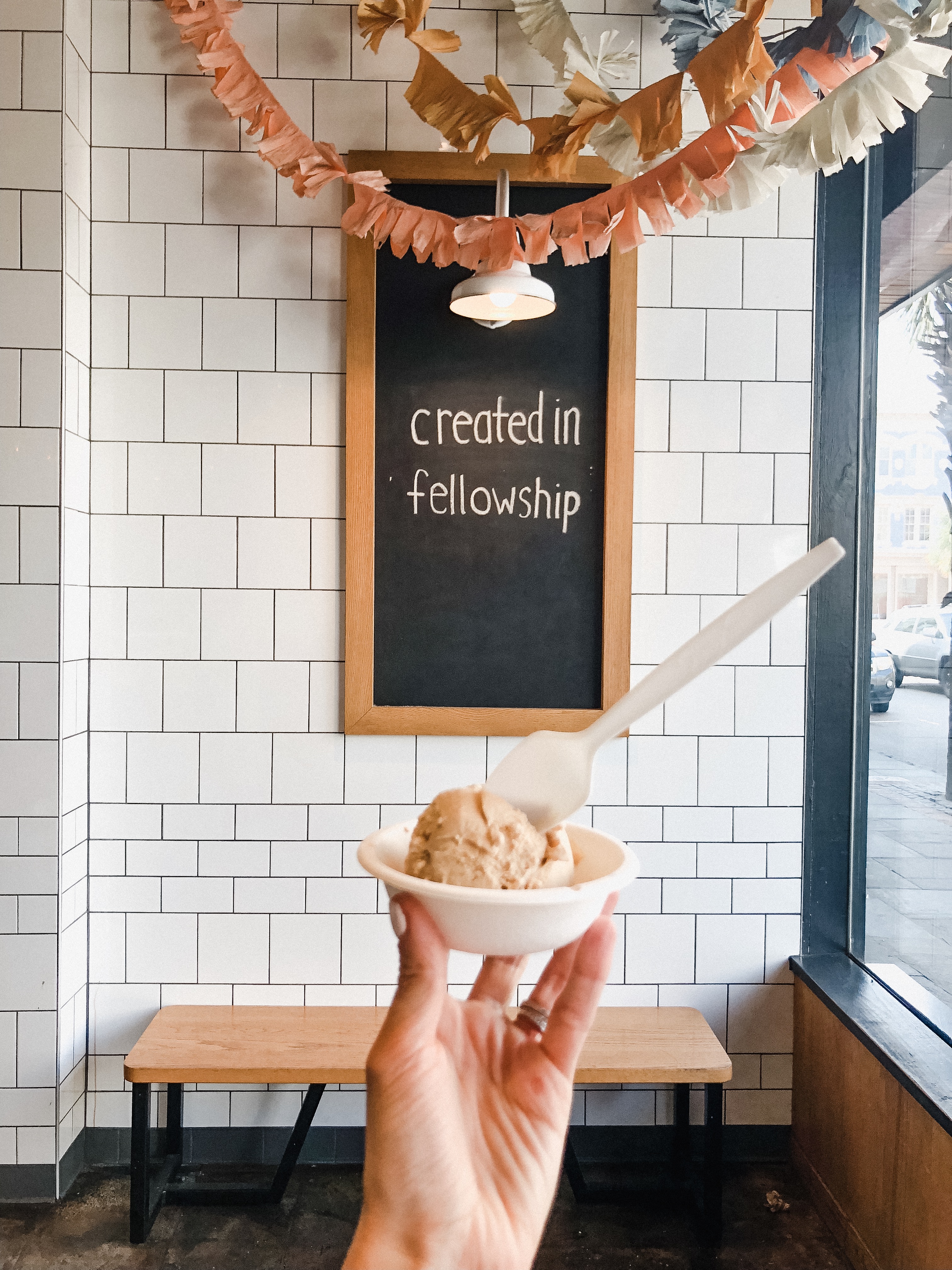 We headed down to Sullivan's Island per the recommendation of this restaurant! I am SO GLAD we did, it was by far my favorite meal! I loved the overall vibe and relaxed atmosphere of this restaurant, and they were SO family friendly. We all loved our meals, the drinks, and the service we received. I highly recommend Mex 1 Coastal Cantina!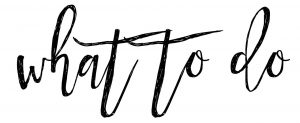 I was speaking at the Haven Conference the first two days of our trip, so our time was a little limited! But we made the most of it! Here are some things we did to get a taste of Charleston.
This was REALLY great for the kids! They loved it and broke up the day a bit. It was suitable for all ages, and they really enjoyed seeing the exhibits and watching the scuba divers in the tank. It also helped us cool off from the awful humidity (bless you guys who live down South! Maaaaan was it hot!).
I honestly wish we visited during a different time because I feel the plantation would've been more manageable for us if it wasn't so terribly hot. It was SO. HOT. My kids were done within 5 minutes, but perked up when they saw the animals and got to ride on the Nature Train! They liked seeing the alligators, and were only slightly afraid of the peacocks 😉 I also appreciated that they had a food stand because we were able to eat lunch before we went exploring. I really liked the history behind everything, and I would've loved to spend more time here exploring their romantic gardens! But our kiddos had had enough, so we left after the train ride.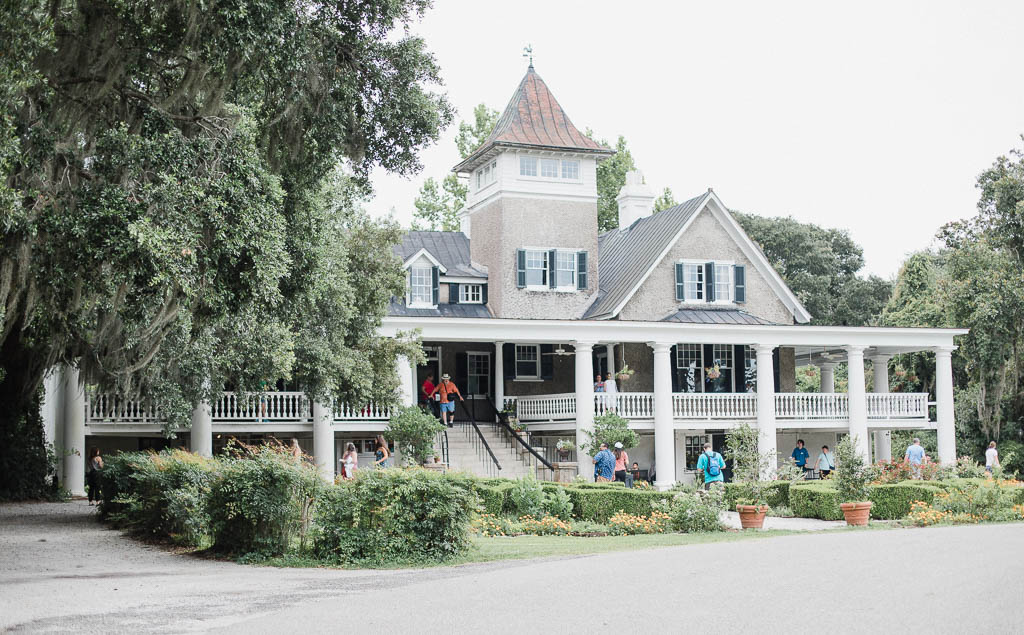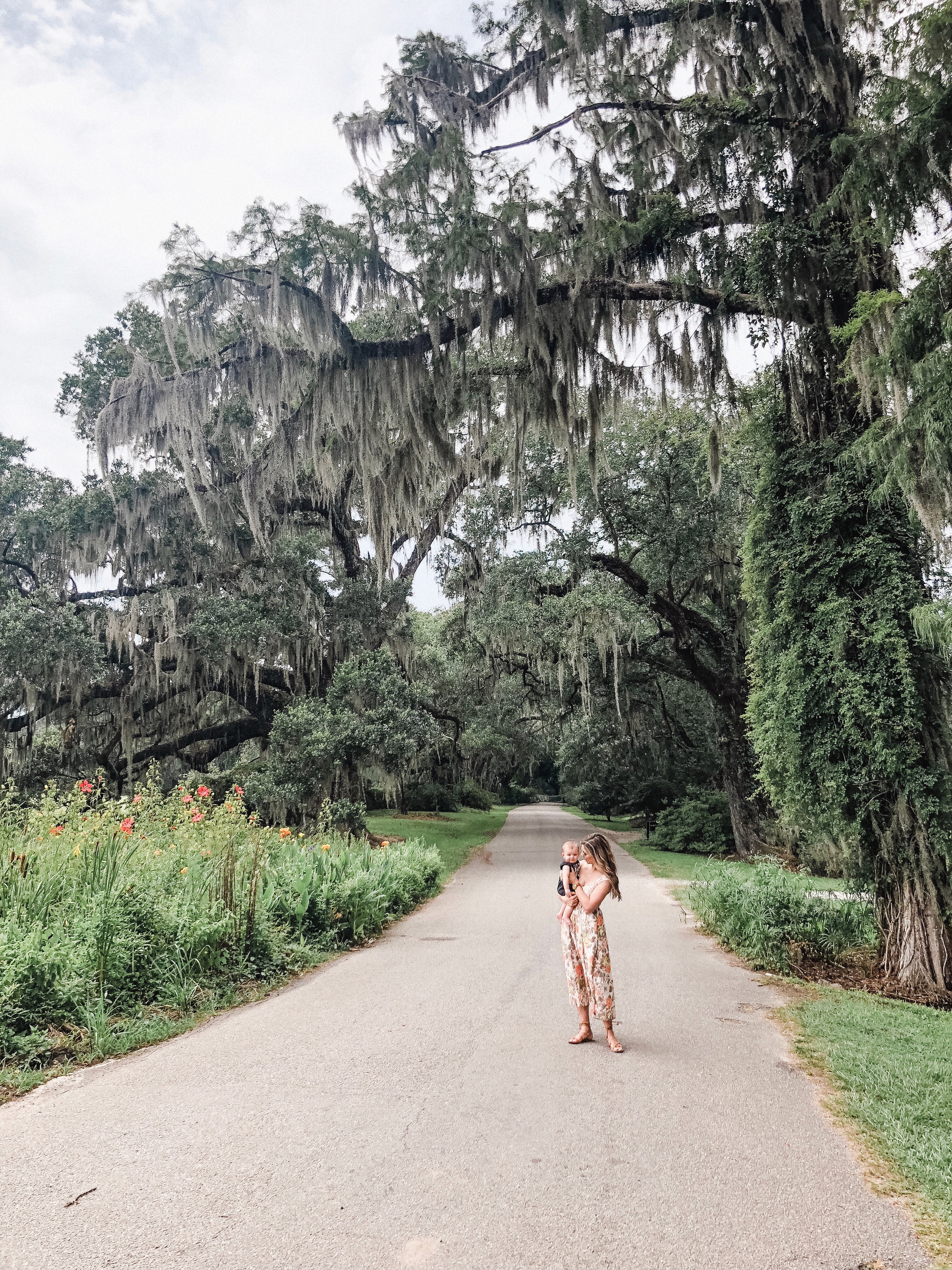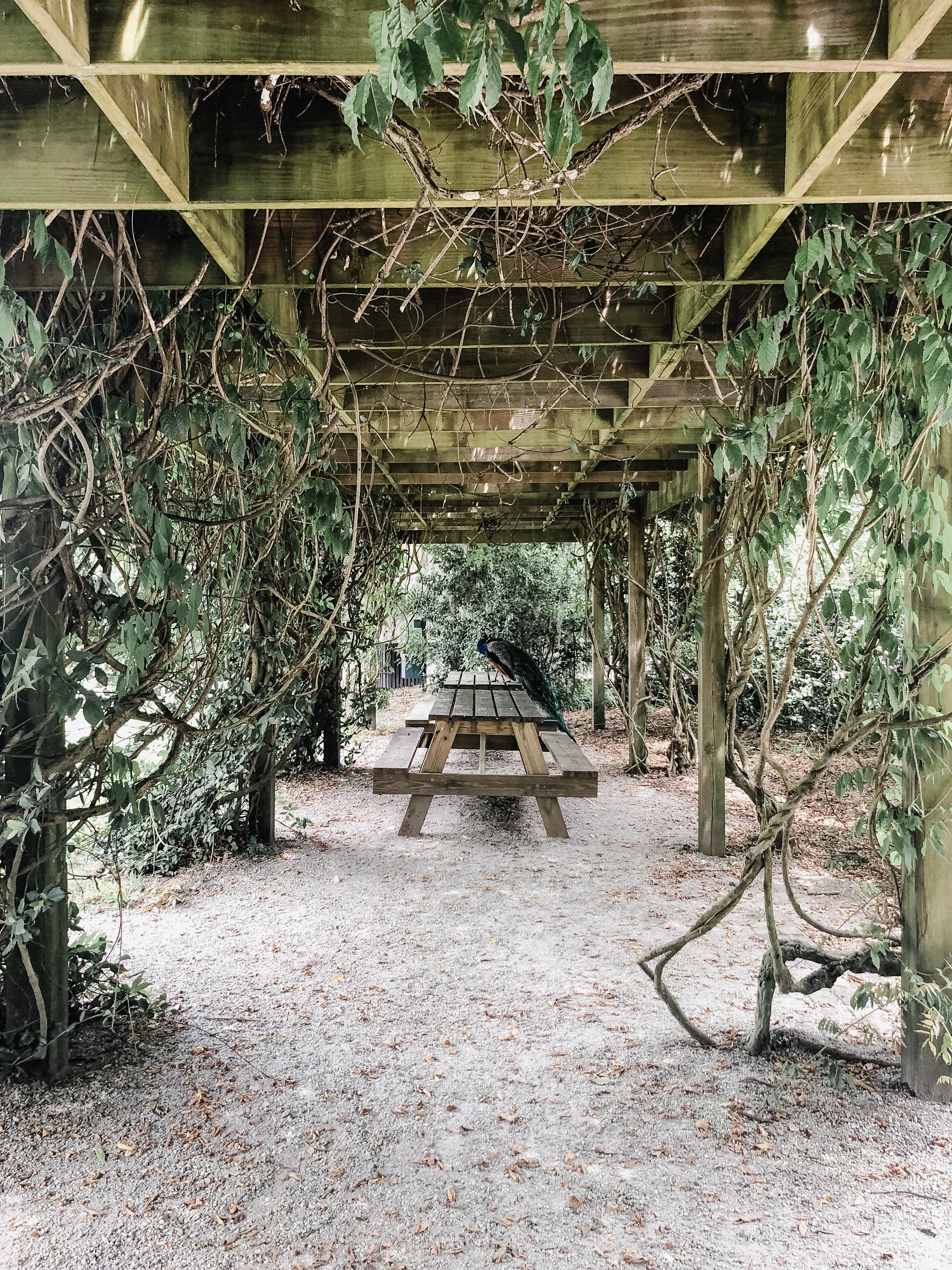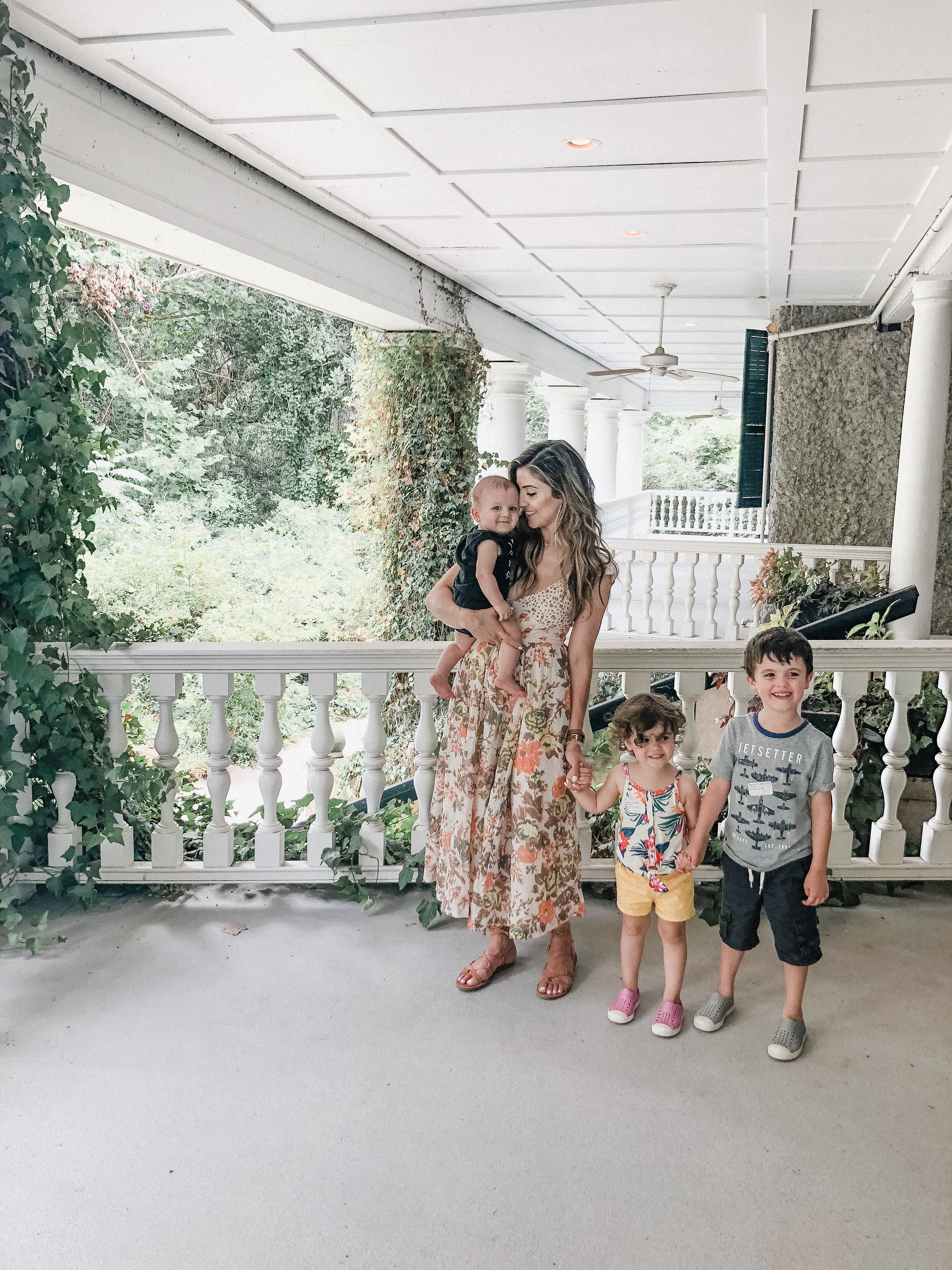 King Street
We visited King Street briefly and stopped for ice cream at Jeni's as a treat for the kids. I would love to spend more time here popping in and out of shops, but we had limited time that day! There were a variety of restaurants, ice cream shops, and stores, and could've easily spent hours here. It was beautiful and CLEAN!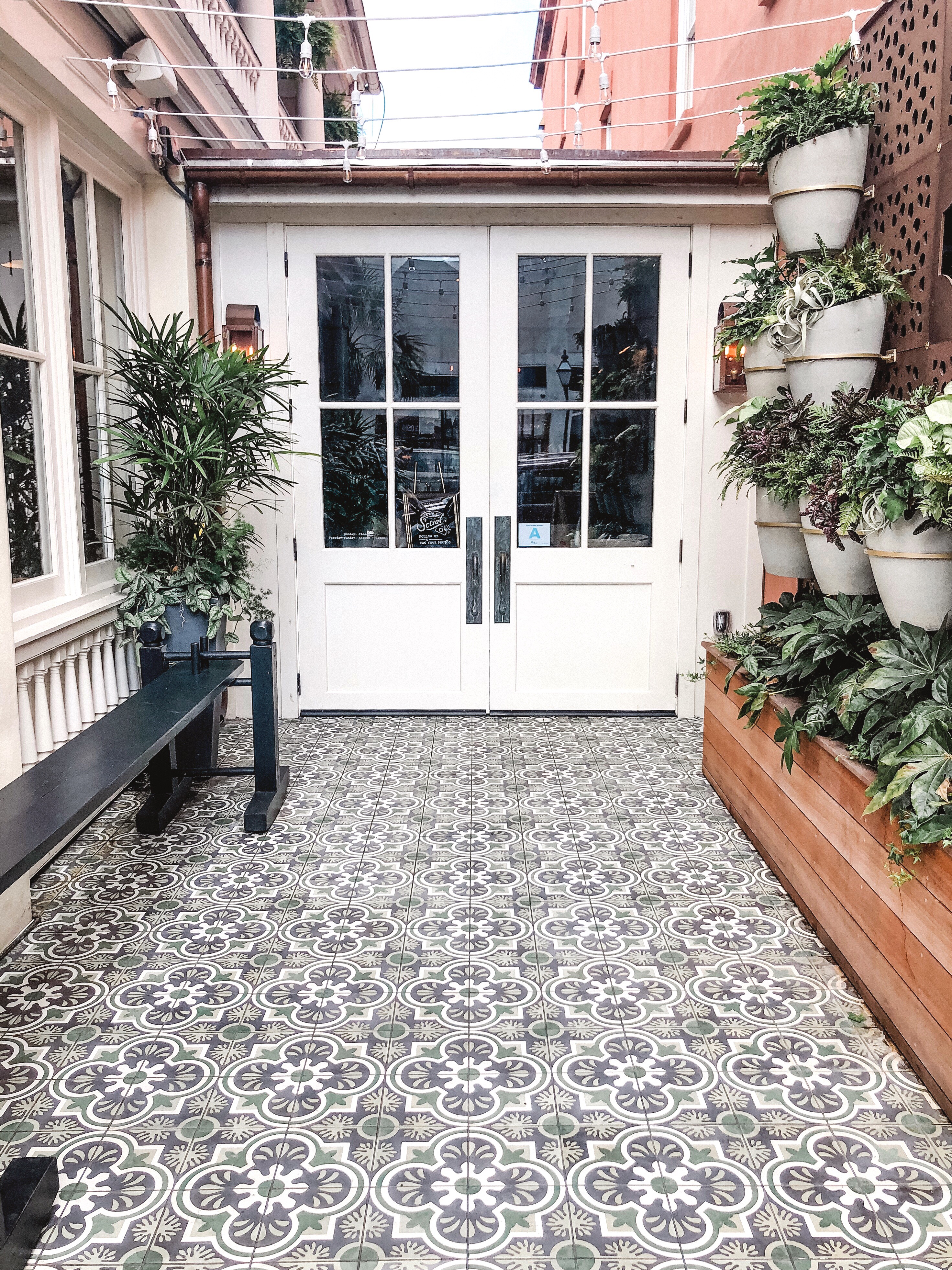 Rainbow Row
This might've been one of my favorite stops! Our kiddos fell asleep in the car, so I asked my husband to just pull over on the side of the road so I could get out and snap some photos. It was quiet, peaceful, and filled with color. It was so beautiful! I'm glad I was able to see the area, and I loved the cobblestone streets nearby. It was so charming.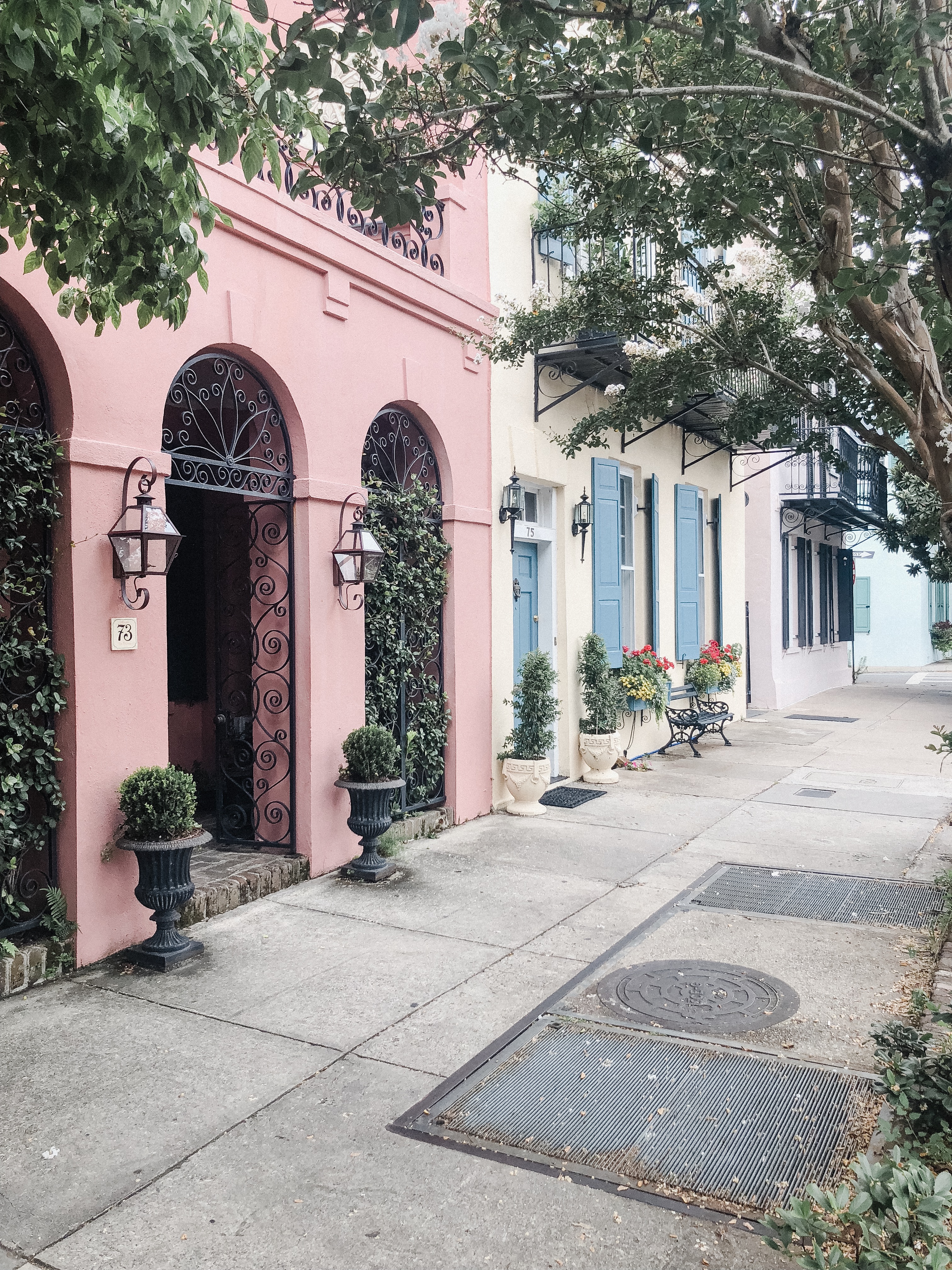 Sullivan's Island
If we ever come back to Charleston, I've decided we will be spending most of our time down here. We only came down for one night and ate at Mex 1 Coastal Cantina per recommendation of a local and I'm so happy we went! I loved the overall vibe of the area – it was super laid back, chill, family friendly, and the most adorable little beach town. I could totally see myself living there!
Overall, we really enjoyed our trip and are hoping to go back soon! And maybe not in the middle of summer when it's so hot, haha! It was a great trip for our family of 5 to start with, and we are looking forward to traveling more later this year!