Thank you to The Home Depot for sponsoring today's post!
I've been slowly making progress on the boys' shared room, and even more so now that Austin is actually sleeping in it! We transitioned him to his crib about a week ago, and while we're still in an adjustment period, things have been going fairly well! I wanted this room to feel special for Landon, who was excited to share with his baby brother, so we've been making some fun updates! Today I'm sharing a few of them with you, all with items from The Home Depot! The Home Depot is becoming my destination for furniture and home decor because of the wide variety they have to offer.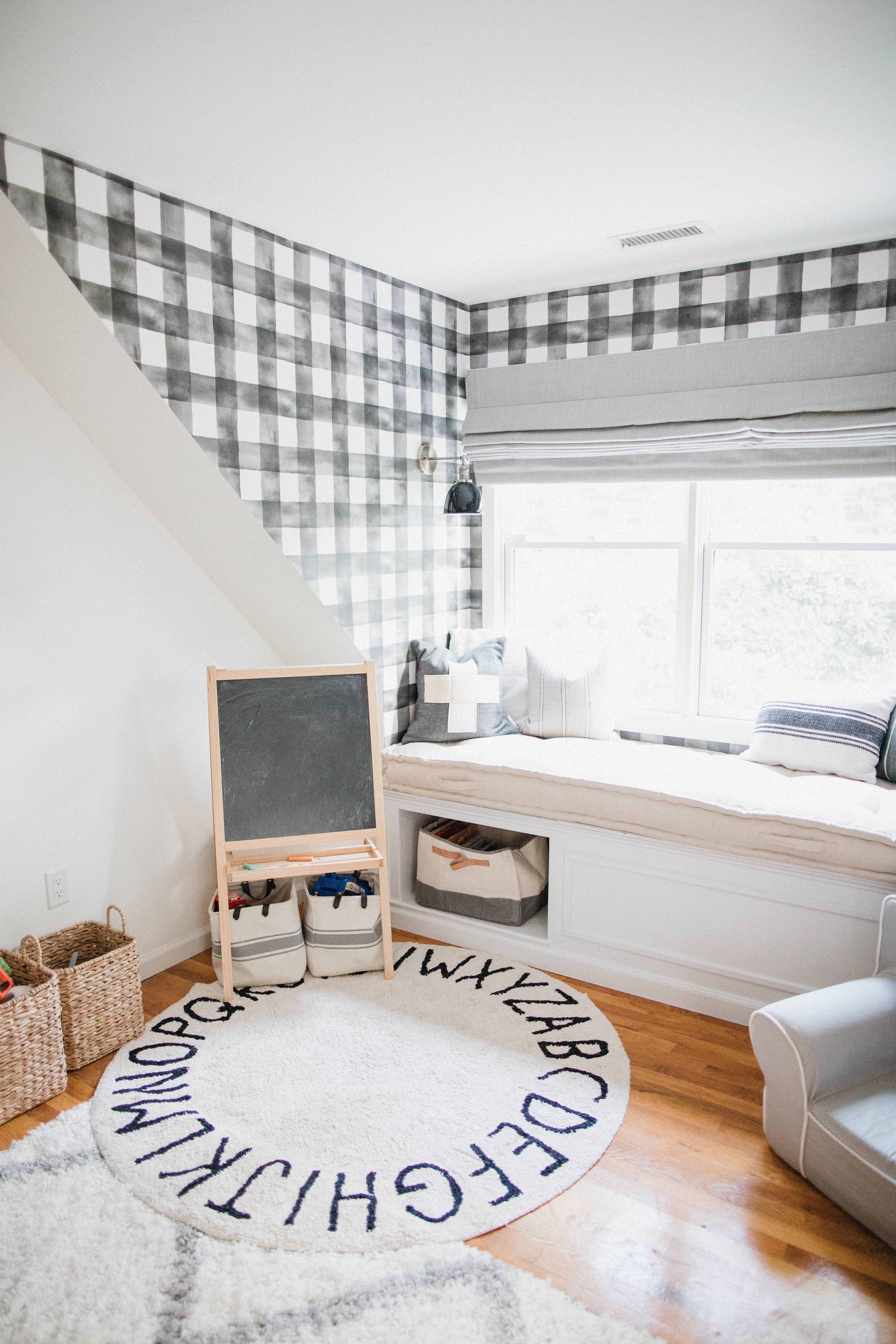 One of the biggest updates we made was adding this adorable Magnolia Home wallpaper from Home Depot to their window seat. My goal was to turn this window seat into a little reading or quite time nook for Landon, and I love how it stands out more with the wallpaper. We added some sconce lighting, a seat cushion, and some cozy pillows as well. I think the space really makes a statement!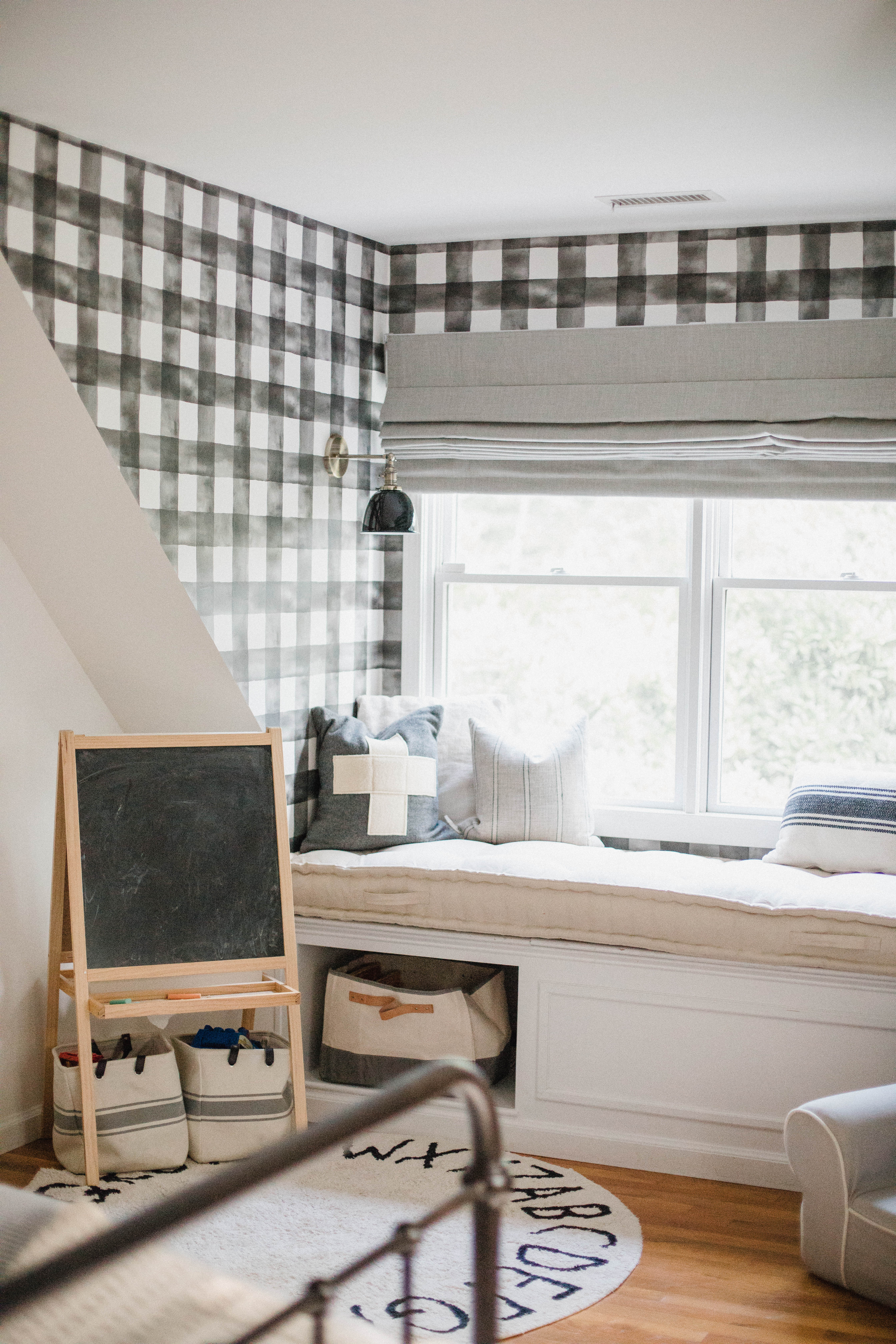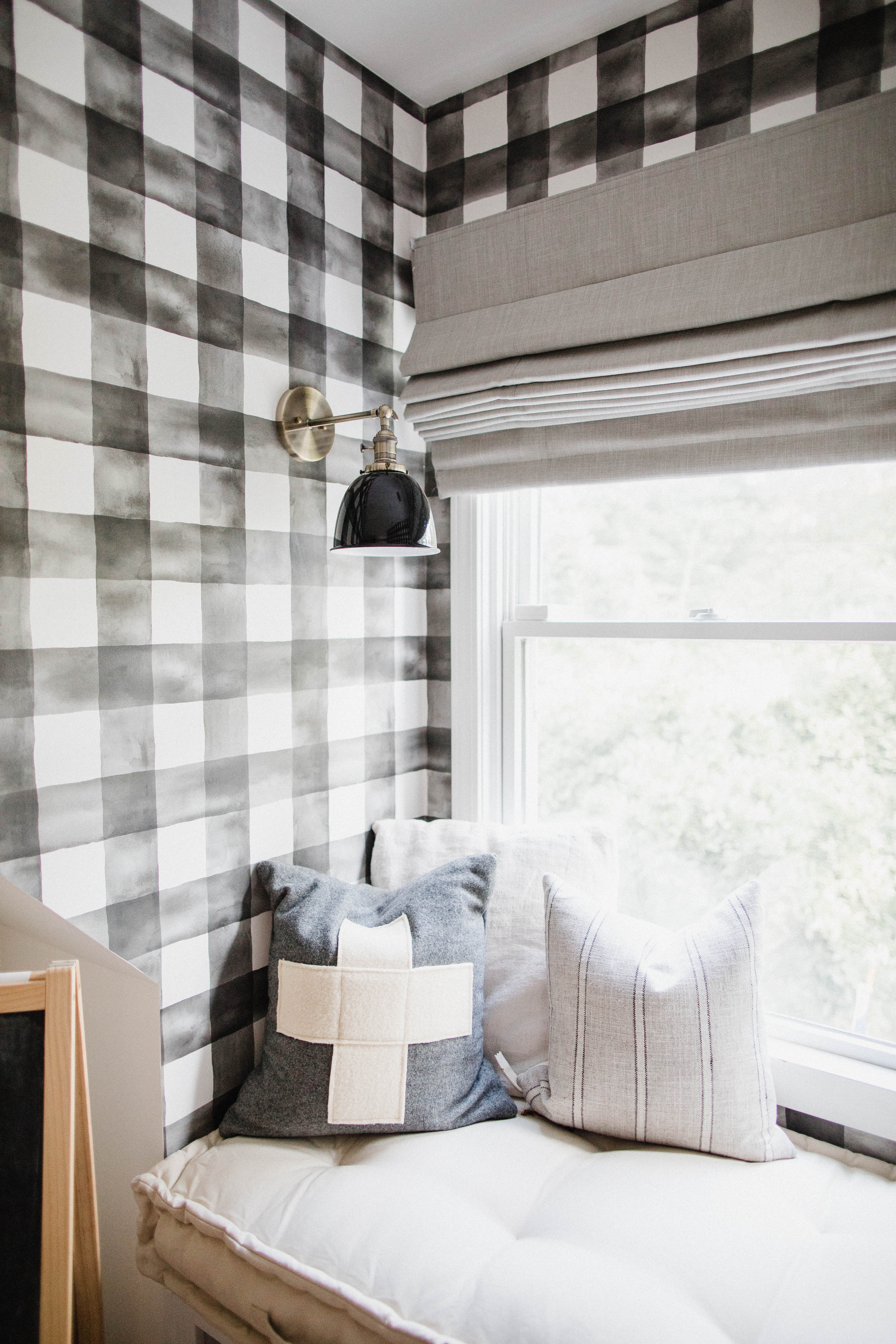 The wallpaper was MUCH easier to apply than I expected. I've used removable wallpaper in the past, which can be a bit of a pain to install. This check print Magnolia wallpaper is "temporary," but more forgiving upon application because it's easier to move around on the wall. To apply, you simply wet the paper with a spray bottle, wait 2-3 minutes, and then apply it to the wall. Because it creates a paste on the back of the paper (as opposed to being a sticker), you're able to move it around and line it up better than you would with removable wallpaper. Removal instructions look pretty easy as well – simply wet and remove! I plan on using more of this paper in the future (I'm like, "where else can I wallpaper now!?!?"), and I'm still debating wallpapering the slanted walls! I noticed they have this shiplap wallpaper, too, which might be a fun contrast!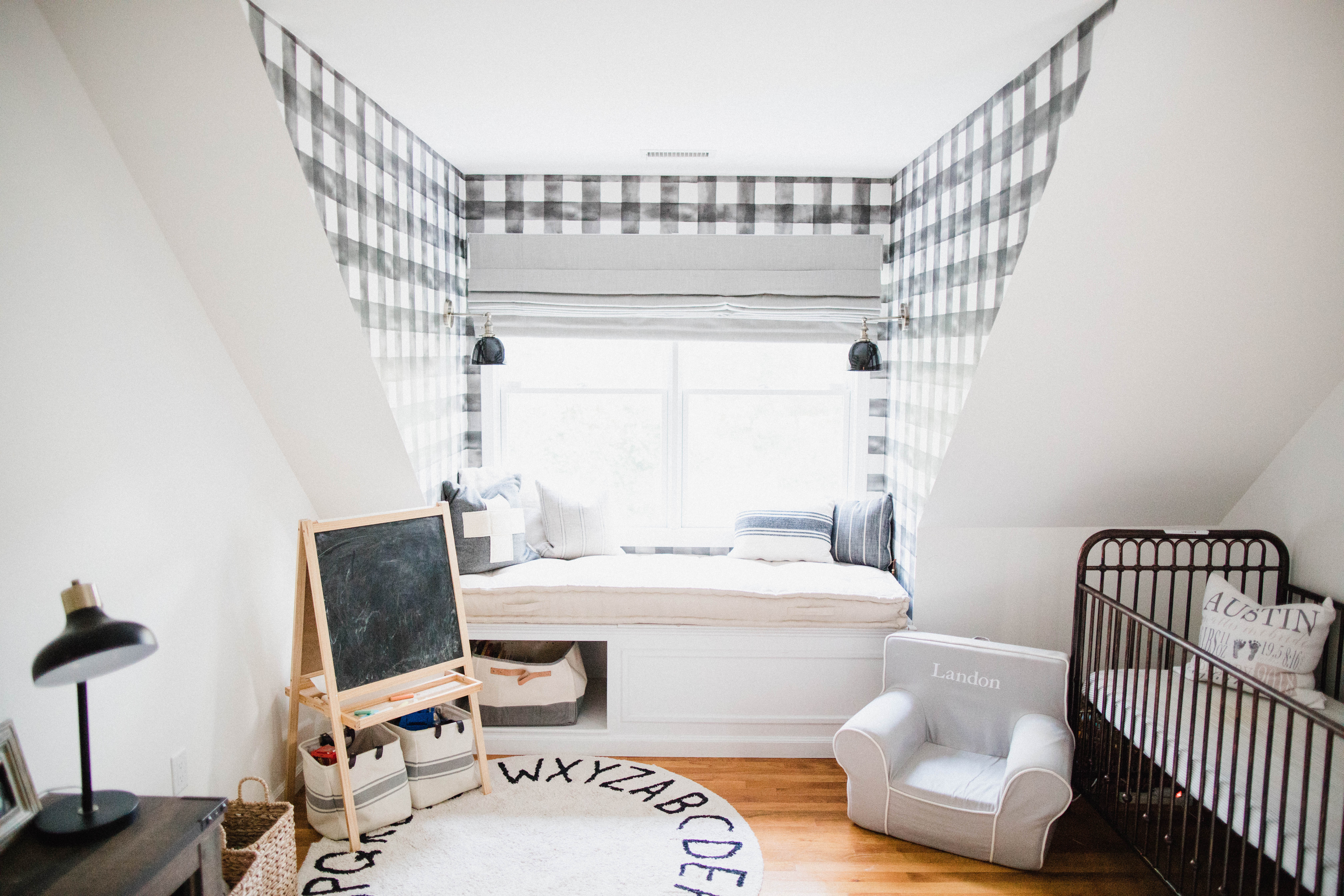 I added a few other updates too, like this adorable owl hamper for Austin and some new bins in the closet for storage, all from The Home Depot! I'm still working through the whole room sharing and having enough room for their clothes, so I do think I'll add another tall dresser in here soon. But in the meantime, utilizing closet space has been a big help! I like these soft bins from The Home Depot because they fit the space perfectly and they're easy to remove off the shelves. I've been keeping bed sheets and linens in here to maximize drawer space!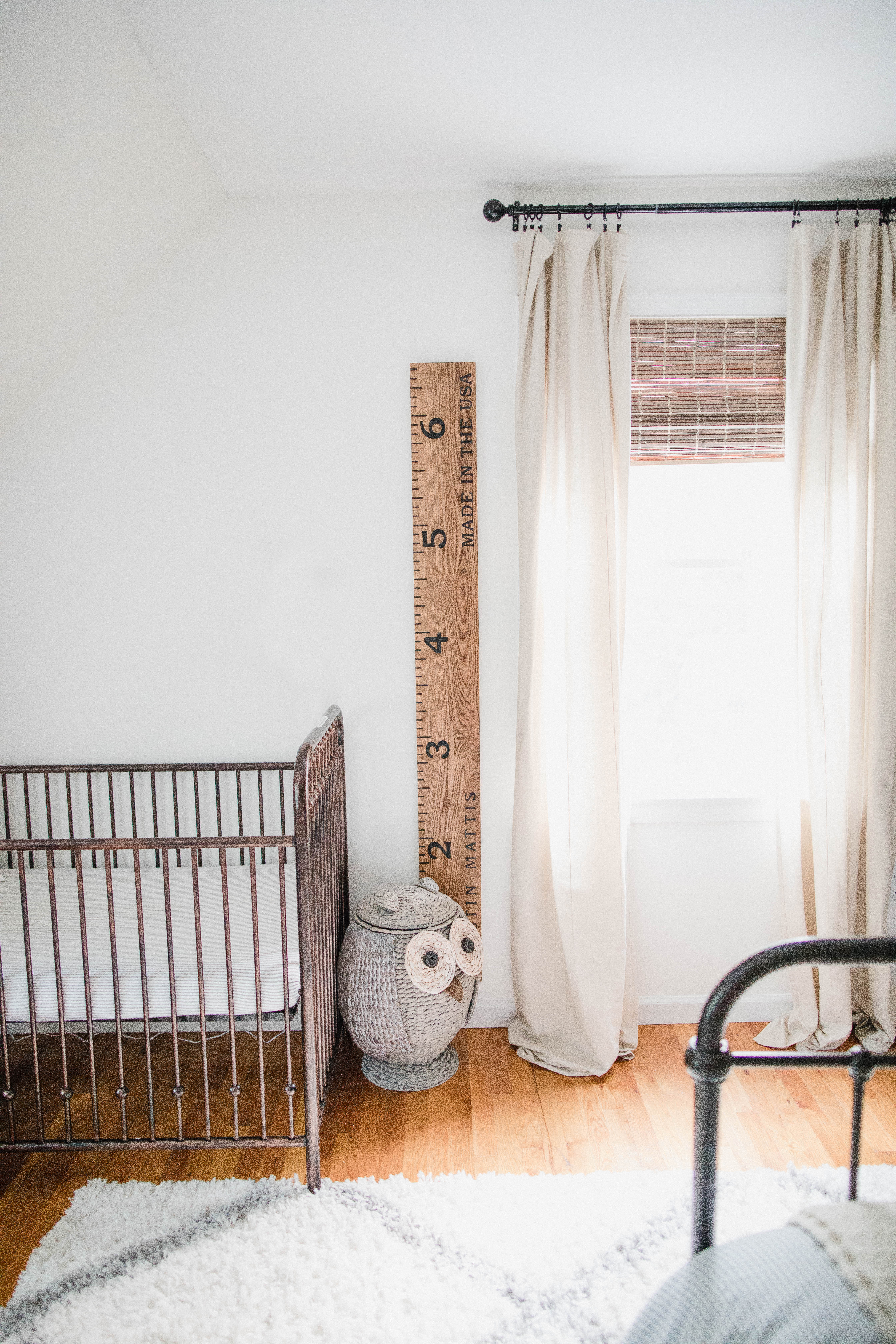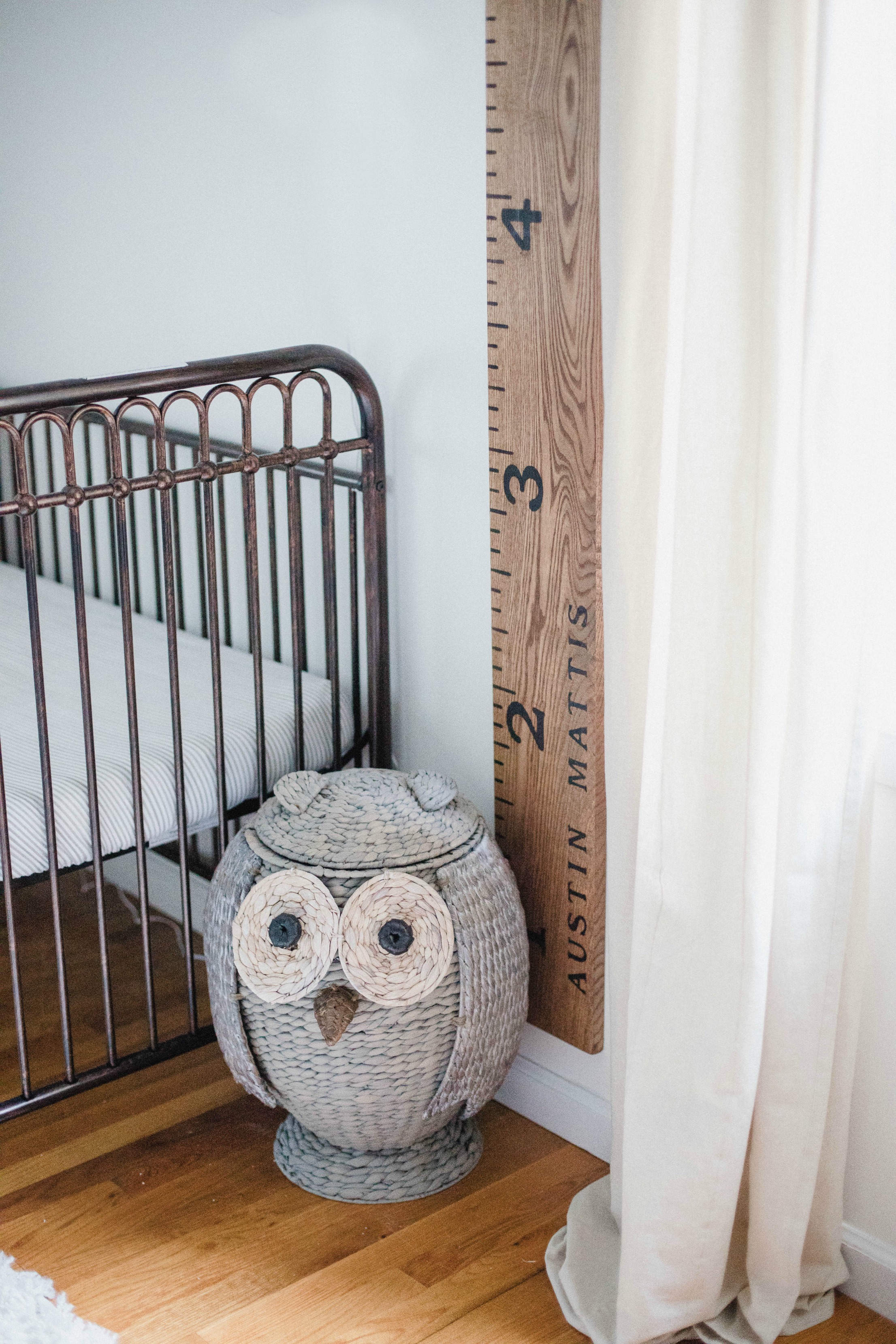 I still have some work to do in here, including adding some artwork and other fun things for the boys, but I'm loving how it's looking so far! The Home Depot has really impressed me with their wide variety of furniture and home decor, and I found several items from the boys room for you linked below like Landon's bed and their rug! Stay tuned for the full reveal!
I'd love to hear what you think about adding additional wallpaper to the slanted walls…keep it without, continue with the current paper, or switch it up with some shiplap wallpaper?! Leave me a comment below!
SHOP THE POST