I was browsing Amazon recently (a daily occurrence) and came across this adorable vintage, farmhouse inspired collection called Stone & Beam. I was so impressed by the line, and quickly purchased an adorable lamp for our home! I thought I would share some of my favorite Stone and Beam Amazon Finds with you today!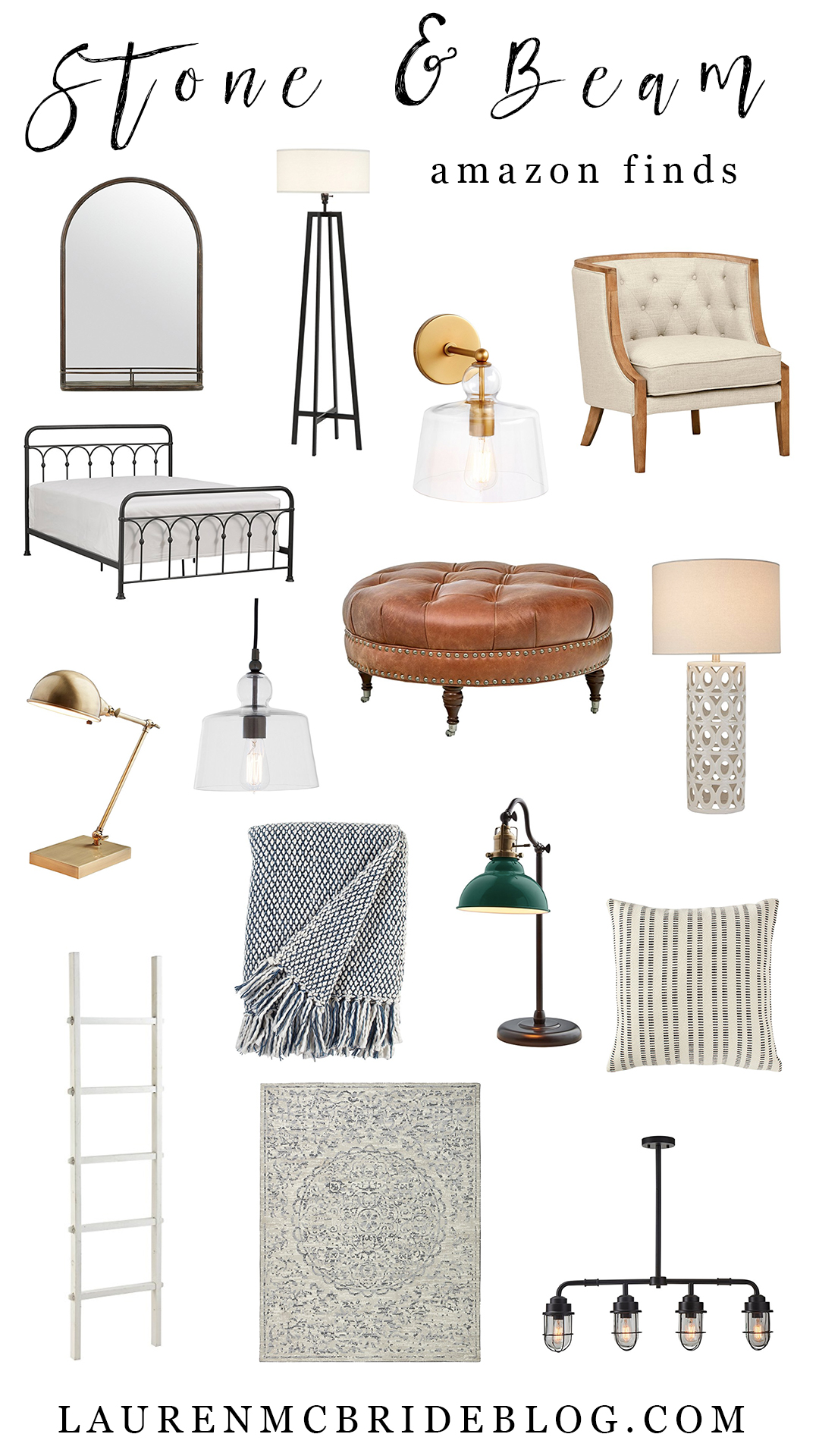 Modern Arc Iron Mirror With Shelf // This mirror would be absolutely adorable in a bathroom, and functional with the little shelf! I'm thinking of scooping it up for our downstairs bathroom.
Deco Black Metal Floor Lamp // I love the modern style of this floor lamp! Stone & Beam actually has a variety of floor lamp options in their entire line, but I love how this one give a slight nautical vibe.
Modern Metal Sconce // This sconce light is perfect for above a sink or bedside! It comes in other finishes as well.
Laurel Rounded Chair // How cute is this chair?! If I had the need, I would grab two of these for our living room. They would be adorable near a window or fireplace!
Vintage Ari Arced Steel Queen Bed // This bed is similar to the one we just purchased for Noelle's room! I love the contrast of a black bed frame against white walls.
Vintage Task Lamp with Bulb // The perfect little gold lamp for a bedside table or desk!
Modern Black Pendant Light // This pendant light would be beautiful over a sink or kitchen island!
Janelle Button Tufted Leather Ottoman // Sadly this ottoman is no longer available in this beautiful color, but there are a TON of other options included a beautiful sand colored linen.
Ceramic Geometric Table Lamp // This modern farmhouse lamp is perfect for a bedside table or buffet.
Modern Woven Farmhouse Throw // I always love a good throw blanket, and love the texture of this one!
Walters Vintage Task Lamp with Bulb // I actually purchased this adorable task lamp for our living room! I have a small seating area near the window where I often sit and get some work done, and it's perfect for a little mood lighting at night.
French Laundry Pillow // I love the print of this pillow, but just FYI – it is a little small! They offer a lumbar option which I think is better.
Distressed Decorative Wooden Blanket Ladder // If you loved the blanket ladder I had in our home, this is a great inexpensive option!
Contemporary Floral Medallion Rug // I absolutely LOVE this beautiful medallion rug. Perfect for a living room, family room, or even bedroom!
Jordan Industrial 4-Pendant with Bulbs // I can picture this over a beautiful modern farmhouse kitchen island! It's a got a bit of a nautical vibe, too!