Thank you to Willow Pump for providing me with a pump to review!
This post has been long awaited and I'm so happy to finally share my Willow Pump Review with you! If you aren't familiar with the Willow Wearable Breast Pump, it's the first and only breast pump that's mobile and fits in a bra, without any external tubes, cords, or dangling bottles! I've been using it for a little while now and wanted to share my thoughts with you in case you've been considering investing in it!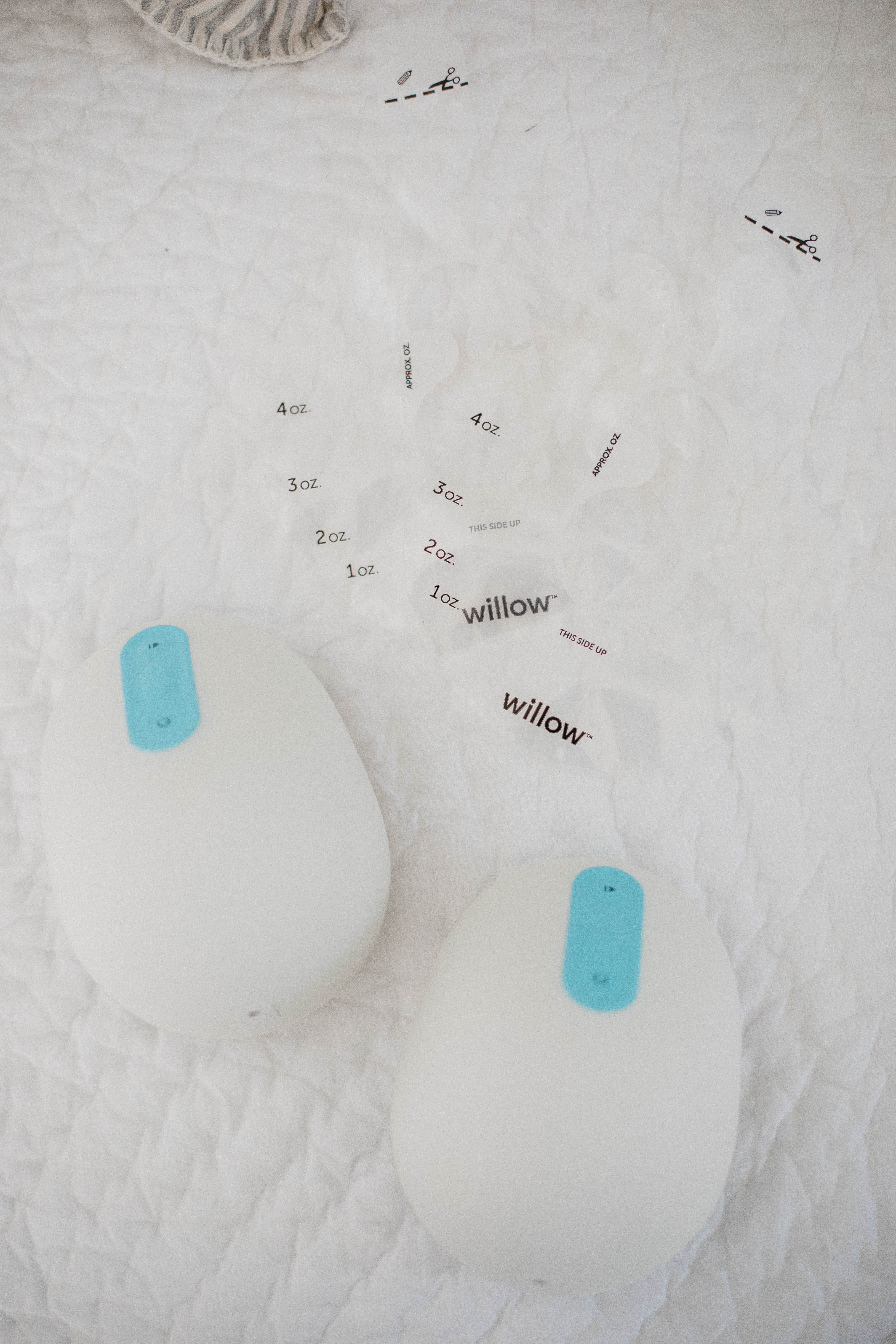 HIGHLIGHTS
Here are some general highlights about the Willow Pump that are absolutely worth mentioning, as I feel it sets it apart from the rest!
The pump is all-in-one. The flange, tube, and milk bag are all located on or inside the pump, AND it fits right in your bra which means no pumping bra is needed. No external tubes. No bottles. You can literally slip it right in your nursing bra, no cover needed!
It's completely mobile. No cords needed to pump! You charge each pump, which gives you about 5 pump sessions before needing a recharge (this might vary based on length of session). This is great for me because I typically only pump once a day since I work from home.
It's a "smart" pump. Willow connects to an app on your phone in real time to track how much and how long you've pumped. This is really great for people like me who like to know exactly how much milk I'm pumping!
It's intuitive. Willow sense let-down and automatically transitions to expression phase based on your body's own unique milk production and timing. It does not make you wait a pre-set time. On that note, there's no way to manually switch from stimulation to expression, but the pump will automatically do it after 5 minutes or 3-5oz – whichever comes first. At first I thought I might be bothered by this, but I realized it's a non-issue since I'm able to be mobile while pumping!
It's easy to clean and QUIET. There are only TWO parts to Willow to clean – the flange and the flextube. The milk flows right into a bag, so no bottles needed. Also, you can barely hear it!
SOME THINGS TO NOTE
Flange sizes. Willow's flanges only come in 2 sizes, 24 and 27mm. They actually have a great sizing guide that you can use right at home to determine the best size for you. You can find it right here!
Parts and bags need to be ordered on their website. The bags are specific to the Willow pump and cannot be bought in store (they're shaped and function vastly different than other breast milk bags), but they do offer bulk shipping.
The bags hold only 4oz each. Listen up overproducers! 4 ounces might come quickly for you, but the pump will alert you when it's full and it's super simple to reset the bag and start up again. The pump does start back in stimulation mode, but switches to Expression once it hits around 3-5oz, which will happen pretty quickly for you. Conversely, if you won't pump more than 4oz a boob in a session, you can pump one boob at a time and just switch the flange/bag set up to the other pump so you're not wasting bags (this is what I do!). So basically, I pump 2 oz on my right side, then switch the flange to the left pump and pump into the same bag.
They recommend wearing a bra with NO underwire! I had a chat with a Willow rep to find out exactly which bras were best for the pump so I can share them with you! Willow recommends wearing a nursing bra with no underwire or padding. Other Willow-loving moms highly recommend the Bravado! Designs Body Silk Nursing Bra, the ILoveSIA Seamless Nursing Bras, and the Kindred Bravely Simply Sublime Nursing Bra, especially for those with large breasts. You can see that these are all a similar style! I purchased the ILoveSIA bras (they come in a multi pack!), and they really do work well (and are very comfortable).
You CANNOT control when it switches from Stimulation mode to Expression mode. As I said before, I thought I wouldn't like this but I actually don't mind it because I'm not tied down. Also, hand expression (if you like to hands-on pump) is a little tricky due to the shape of the pump! But again, this is just personal preference and I'm comparing to what I'm used to.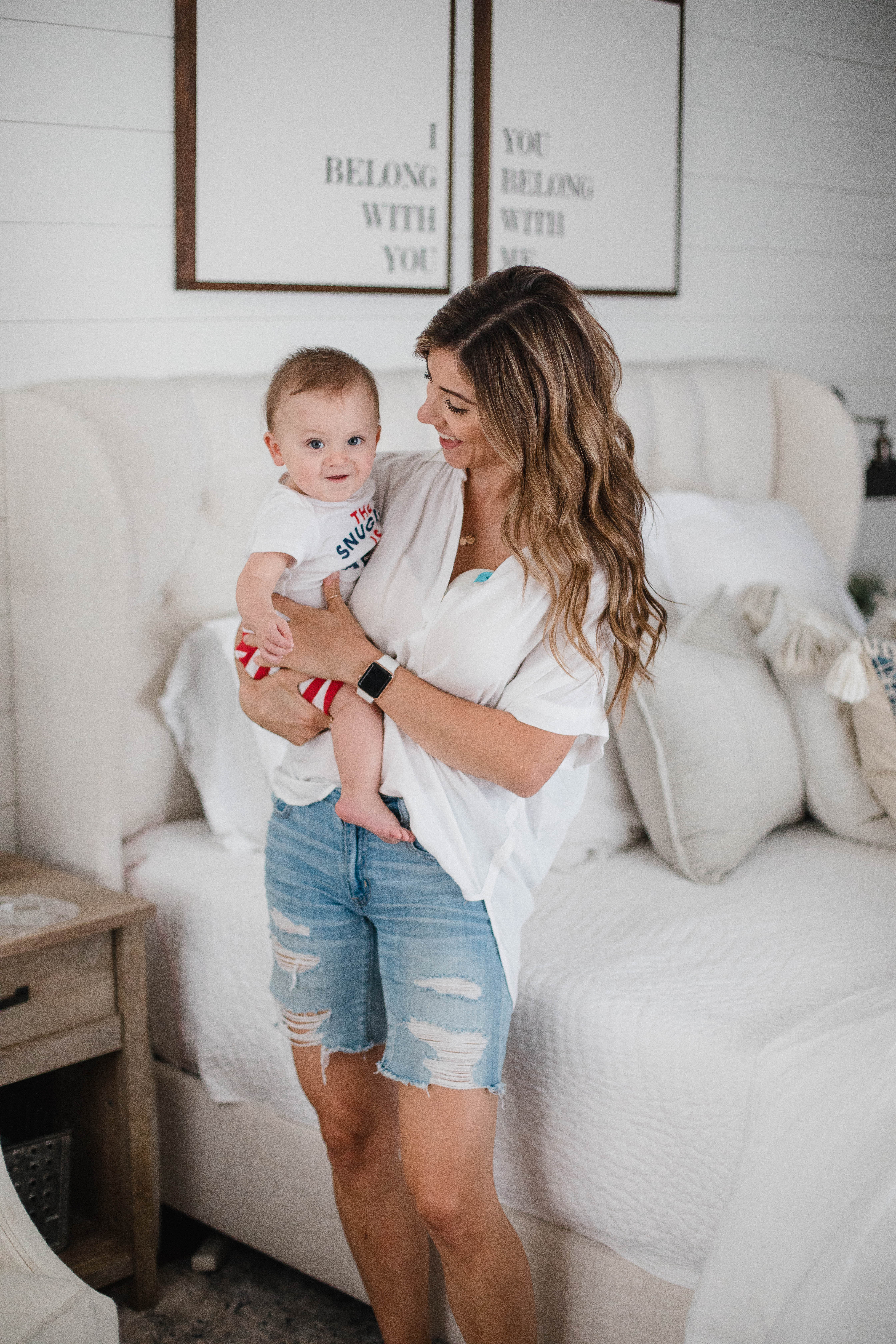 MY THOUGHTS
You guys know I deem myself a pumping professional, so I was really excited to try this for you! Initial reaction: there's definitely a learning curve. The "flip to finish" can be a bit confusing the first time you do it, but it gets easier and then is no big deal after the 3rd pump or so. I HIGHLY RECOMMEND hopping on a phone call with a Willow rep for a consultation. It helped me so much! After the 3rd pump, I felt much better and like I knew what I was doing. It's just that it's different from every pump I've used, so naturally it took a little to adjust to.
Now I think it's awesome! I swear I have an aversion to pumping since my EPing days for my oldest, so I literally dread the thought of hooking up to the pump. This has made it easier, and I've actually been pumping more the past 2 weeks than I have since Austin was born.
The main thing I love? NO CORDS. I was told Willow can be worn while doing housework, so I wanted to put it to the test for you. It was really awkward not feeling like I had to sit completely still for fear of dumping milk over, but I managed to fold and put away an entire load of laundry while pumping! This included bending down to put clothes away in drawers, leaning over, and reaching up in the closet all without issues! It felt very freeing to not be "tied down" to a cord. Also, ready for this? YOU CAN LAY BACK WHILE PUMPING. I was able to actually RELAX in my bed and lean back instead of sitting up straight hunched over for fear of spilling milk. This alone is a game changer!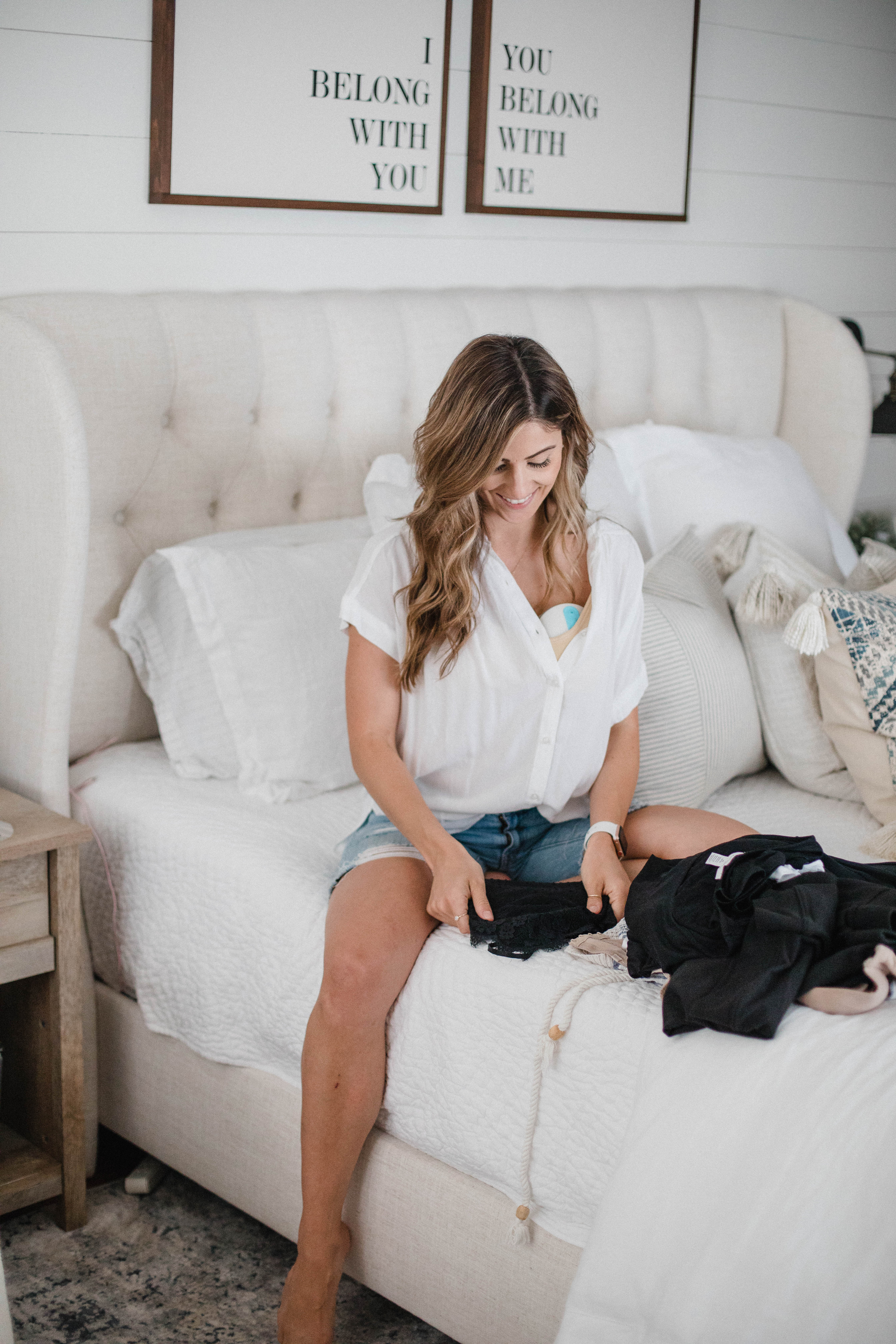 Ultimately I think the Willow Wearable Breast Pump is a great investment for a busy mom, and especially a working mom! It's discreet and quiet enough that you can easily pump at work without anyone really noticing. It's also just SO nice to not have to lug around pump with a million cords. I actually plan on packing one of the pumps to bring on our next vacation! That way I can pump and leave a bottle with my husband if he stays in the room with my little one while I'm at the beach with the kids! It's SUPER easy to travel with.
Willow recently partnered with Affirm to offer payment plans if you're looking to purchase! You can get Willow for as low as $43 a month and offer 3, 6, and 12 month payment plans.
Have you tried Willow? What did you think? I'd love to hear in a comment below! I hope this was helpful for you in making your decision!!