I'm frequently asked why I eat paleo, so today I'm sharing our Paleo Pantry Staples with you! In case you're new to the term, a "paleo" diet is a hunter-gather type of diet that consists of fresh fruits, vegetables, lean meats, nuts, and seeds – basically anything that our ancestors could hunt or gather. There is nothing processed. There is no dairy, soy, or gluten with this type of lifestyle, and it limits foods that become common when farming emerged like legumes and grain.
I started this lifestyle about 5 years ago and noticed a significant difference in how my body felt. I've always been lactose intolerant, but I've also always had stomach issues. I noticed I had less of these issues when I started eating this way, and therefore I've eaten this way ever since. I *will* occasionally have gluten free foods (especially if I'm nursing and therefore needing more food), but this instance is pretty rare.
Many of you asked that I share what our paleo pantry looks like, so I'm sharing the items we use and what they replace below!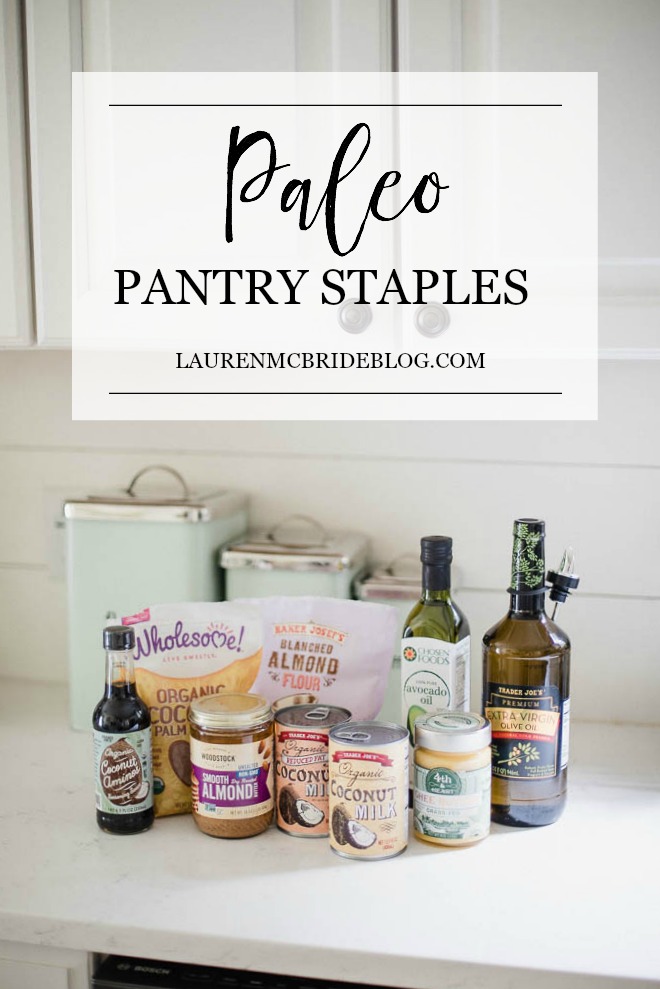 FLOURS
Almond Flour: This is the main flour I use for baking. I use it for EVERYTHING. It's the main ingredient in my paleo chocolate chip cookies, and I've used it for breaded chicken, pancakes, etc. We always have several bags on hand because we use it so frequently! Trader Joe's has it at a great price.
Coconut Flour: Many times recipes will call for coconut flour, so I always have some on hand. It is very dense, however, so I don't suggest using it in large quantities like you would almond flour.
Arrowroot Flour: This powder is SUPER fine, so I use it to thicken sauces and also to coat the beef in my instant pot beef stew recipe. It's a great substitute!
Tapioca Flour: Similar to arrowroot flour, we use this in baking, to thicken sauces, and in stews. It's a great gluten free flour to have on hand.
WET/DRY GOODS
Coconut Aminos: I use this in replacement of soy sauce, and while it doesn't totally taste the same, it's a GREAT substitute! I use this whenever I make stir-fry, or when a recipe calls for soy sauce. It's delicious! I've found Trader Joe's has the best prices.
Raw Nuts: We always have a variety of raw nuts in our pantry as many paleo recipes call for them (especially if a crust of some kind is being made). We always have raw almonds, cashews, and walnuts on hand.
Coconut Milk: We always, always have canned coconut milk (and canned coconut cream!) on hand. I use this anytime a recipe calls for milk or cream, and while the consistency isn't totally the same for some recipes, it works!
Ghee: Also known as clarified butter, we use this in replacement of regular butter because it's paleo/whole 30 approved. I really love the 4th and Heart brand, but it can be a bit pricey. Trader Joe's sells an inexpensive version, but the taste is not the same! We'll still use it, though!
Coconut Oil: I use this in my baking recipes often, so we always have a TON of it on hand. I'll also add it to smoothies for some extra healthy fats.
Avocado Oil: I started cooking with this during Whole 30, and at times I prefer it to olive oil because I find it heats a big better. Trader Joe's also has this at a great price!
Olive Oil: I feel like this is a standard pantry item, but we still use this often even paleo!
Nut Butters: Almond butter is our go to, but I've recently developed a love for cashew butter, too! Almond butter has replaced our peanut butter, and we use it often in baking and smoothies as well.
Frank's Red Hot: We LOVE hot sauce in our house, and Frank's is paleo-friendly! We put this on everythinggggggg. I've also used it to replace sriracha in many recipes and it's just as good (with no crappy ingredients).
Tessamae's Dressings: Throwing this in for good measure, in case you love salad dressing! We started using Tesserae's during our first Whole 30 and we've been hooked ever since. We LOVE the ranch and use it on everything. Baked potatoes, roasted potatoes, dip for veggies, and we've even put it on steak. It is SO SO good, and it's a staple item in our house.
Nutpods: We love a little creamer in our coffee, and learned about Nutpods during our Whole 30. We use these in replacement of regular creamer! Sadly they aren't cheap, but we order them on Amazon (it's the best price we've found!)
SWEETENERS
Coconut Sugar: I rarely cook recipes involving sugar that isn't honey or maple syrup, but when I do I use coconut sugar.
Pure Maple Syrup: This is a key ingredient in many of my paleo baking recipes, so I always have a large bottle on hand. Trader Joe's has it at a great price!
Raw Honey: I don't use honey nearly as often as I do maple syrup, but there are still many times I need it for cooking and baking! We always have this on hand as well.
Raw Stevia: Since doing Whole 30, my palate has become used to having no sweetener in my coffee and tea, but occasionally I'll add in some Stevia. I've also used this as a sugar replacement in recipes as well, so it's something we always have in our pantry.
DRINKS
These aren't really a staple item, but if you're hooked on soda or flavored waters, these are great replacements. So I figured I would add them for good measure!
La Croix: We love the slight hint of flavor in these yummy seltzers, and there's no bad ingredients! I've never been a big soda drinker, but my husband was in the past and these helped kick his cravings.
Zevia: Okay. We've developed a bad addiction to these. If you LOVE soda, you will LOVE Zevia. It's seltzer water flavored with natural flavors and Stevia to taste like soda. We freakin' love the Cream Soda, Root Beer, and Dr. Zevia. Again, I never really drank soda, but who doesn't love the taste of cream soda?!
That's about it for the pantry items we always have on hand! If you follow a paleo lifestyle, I would love to hear what pantry items are staples in your house, too!