Thank you to Walmart for sponsoring today's post!
We have two living rooms in our home, one also serving as a playroom. This is the main room with the television, so I wanted the room to serve a dual purpose – a playroom AND a family/TV room. While it mainly lives as a playroom, we've designed it in a way where it can easily flip to a family/TV room when we have company over for holidays or televised events (like that one football game in particular that happens every February 😉 Today I'm sharing my Tips for a Dual Purpose Playroom!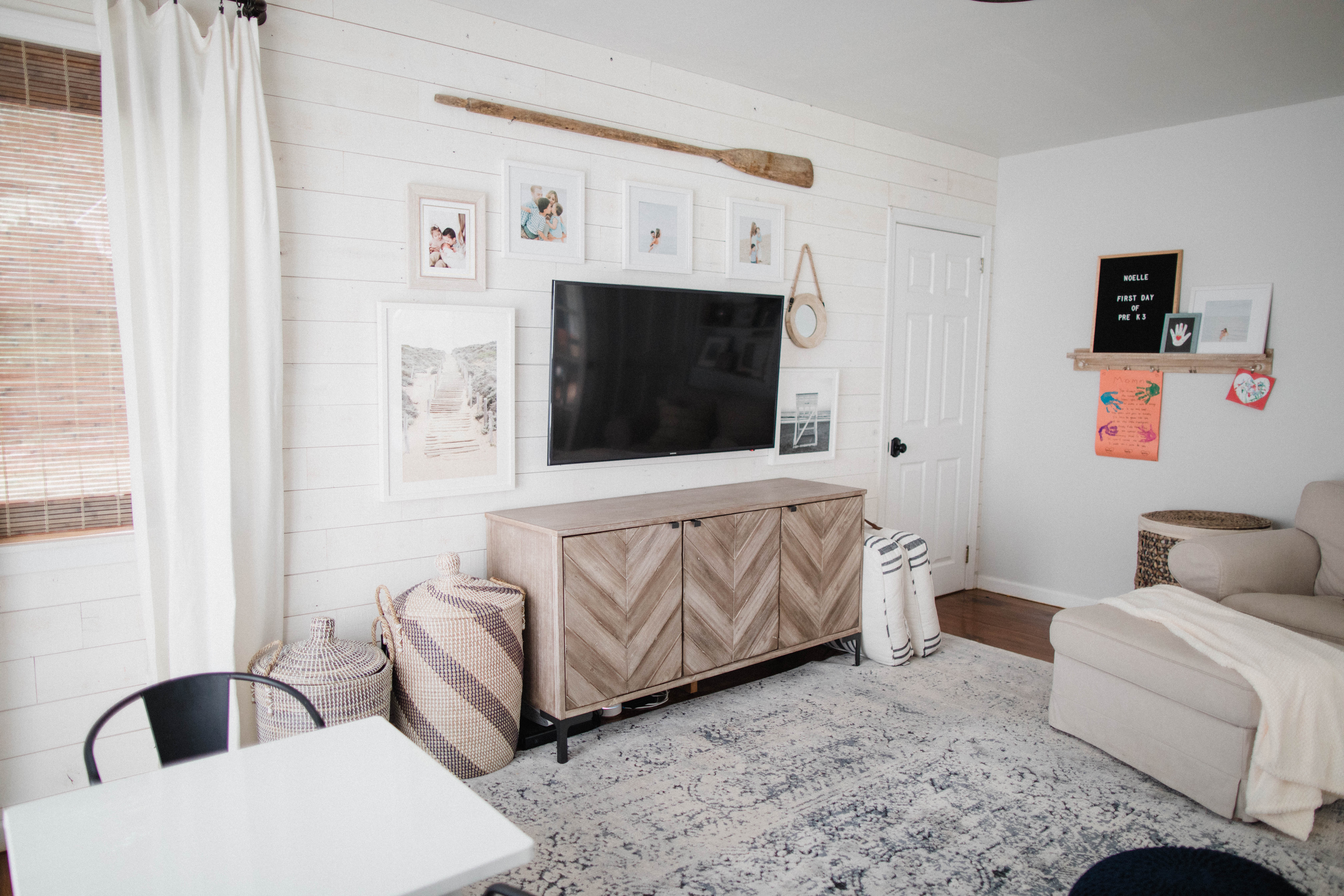 Use neutral toned kids furniture. If your family room is also functioning as your play room, choosing neutral kids furniture that blends with the existing furniture you have helps with the overall aesthetic! We love this Mainstays Graham Kids Metal Industrial Table from Walmart as their craft and play table, and paired it with some black metal chairs for contrast (which we already had!). They have white and other colored chairs, too! This table is VERY sturdy (I was impressed!), and super easy to clean. I love its farmhouse look, which blends seamlessly with the rest of our home.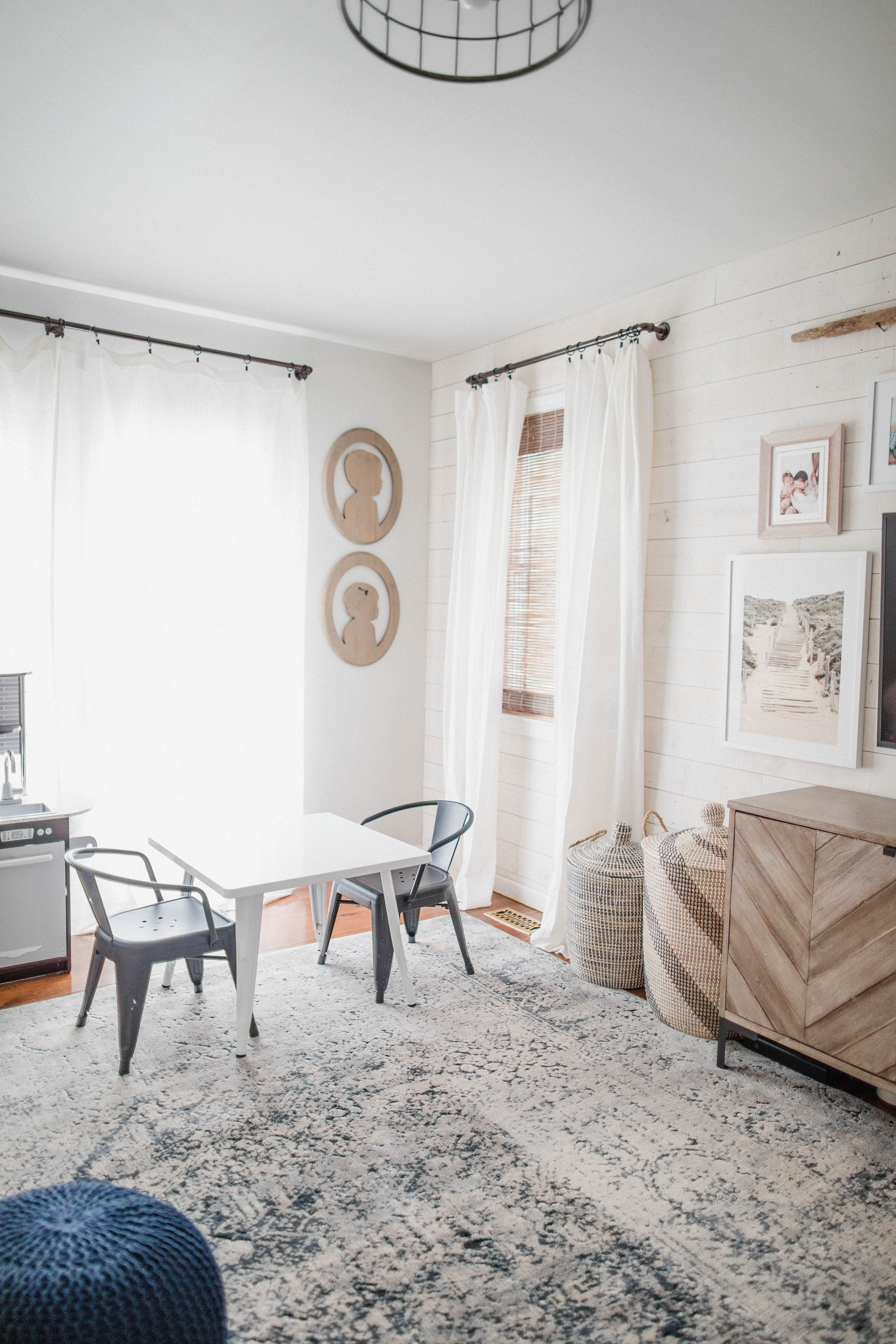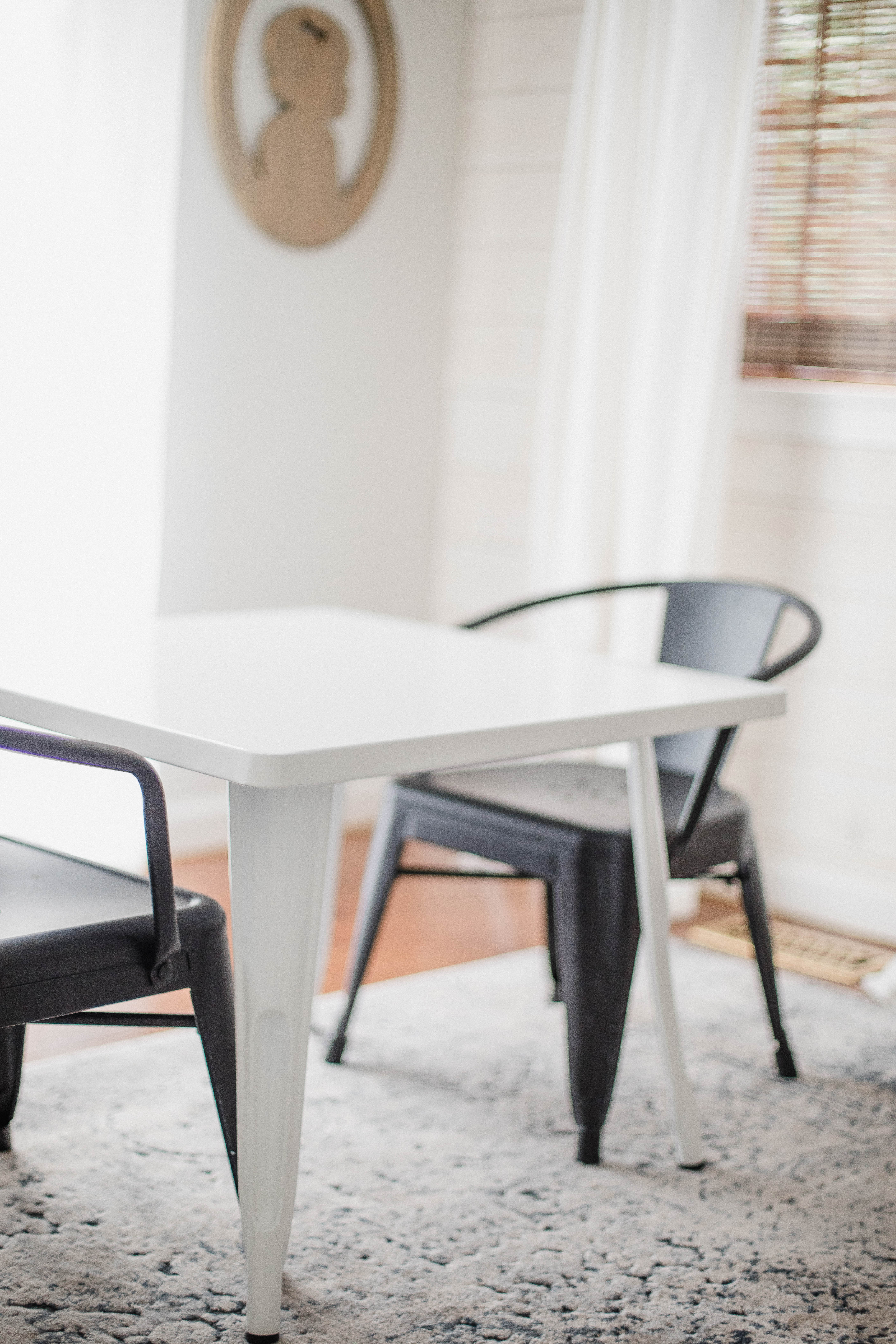 Use functional storage pieces. Every piece of furniture in this room is designed to hide the mess 😉 We have bins with toys in the TV console, and even raised our couch up a bit to slide toy bins under! I bought these cute Spectrum Wire Baskets from Walmart to store the toy food for the play kitchen, and it also prevents them from falling out and smashing my feet every time I open the door (that wood food does NOT feel good!). Using baskets with lids is also helpful and avoids toy overflow. Cleaning is super easy, and everything hides fairly well when we need it to (super rare because again, it's a playroom!)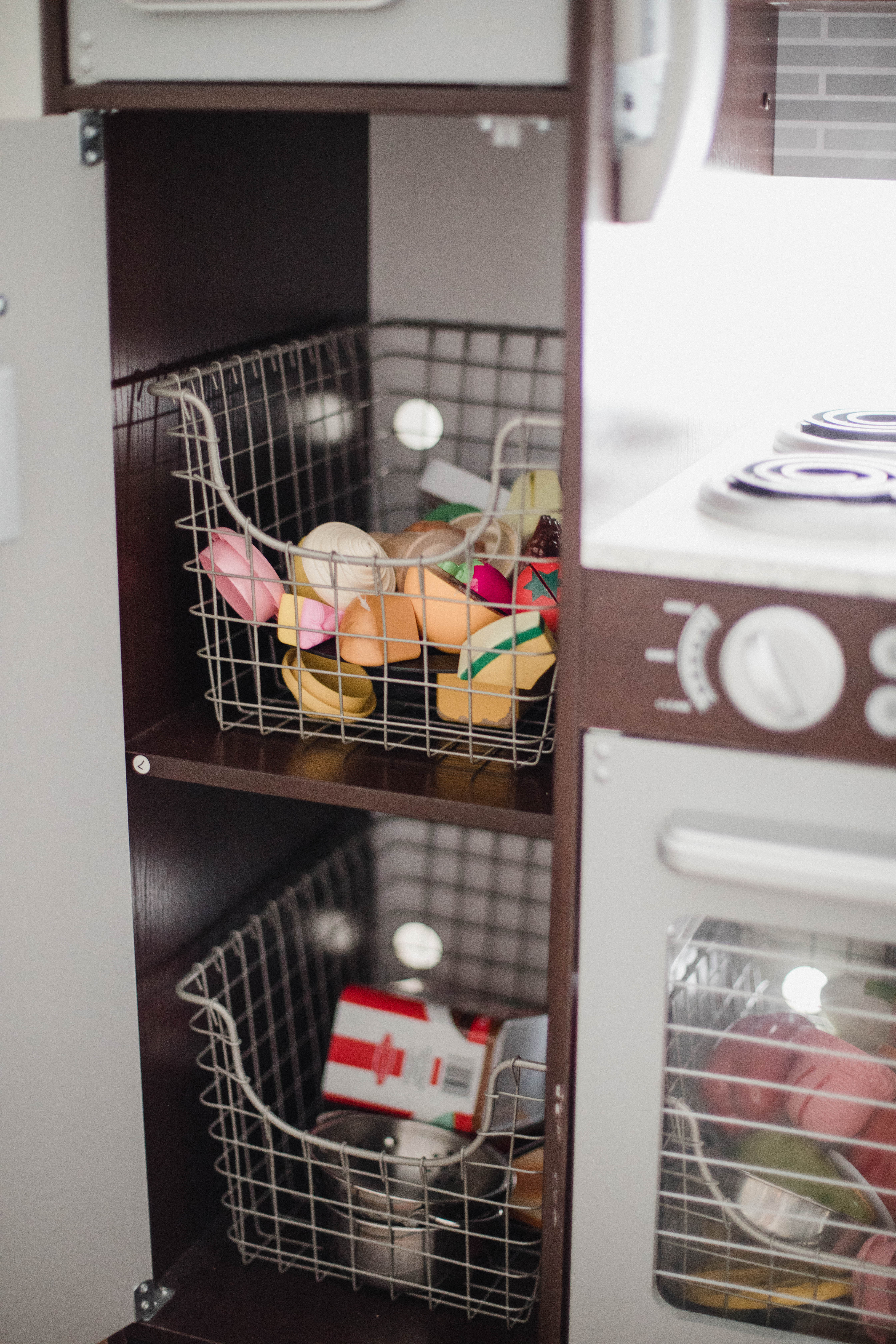 Use a soft ottoman instead of a coffee table. We opted for no coffee table in this room because I was too fearful of someone smashing their head on it (reliving childhood memories, here), PLUS it took up play space! Instead, we have this soft ottoman that serves dual purpose. It's a foot rest (and storage!) for the side chair, and we can also center it in the room and throw a tray on it as a "coffee table" if guests are over. If you don't want to nix the coffee table, I suggest using something like this Seward Storage Trunk for some extra storage! I threw this SUPER soft Chic Home blanket from Walmart on our ottoman to cozy up the room a bit. I also added this Round Knit Pouf, also from Walmart, as a little seat for the kids or a foot rest!
Invest in washable/easily cleanable textiles! I'm often asked how we have a light colored sofa with 3 kids, and my answer is they're slipcovered! Slipcovers are a mom's BFF! All of our pillow covers are removable too. We also have a rug that's easily cleanable and water-resistant as well. Indoor/outdoor rugs are GREAT options for rooms that serve a dual purpose!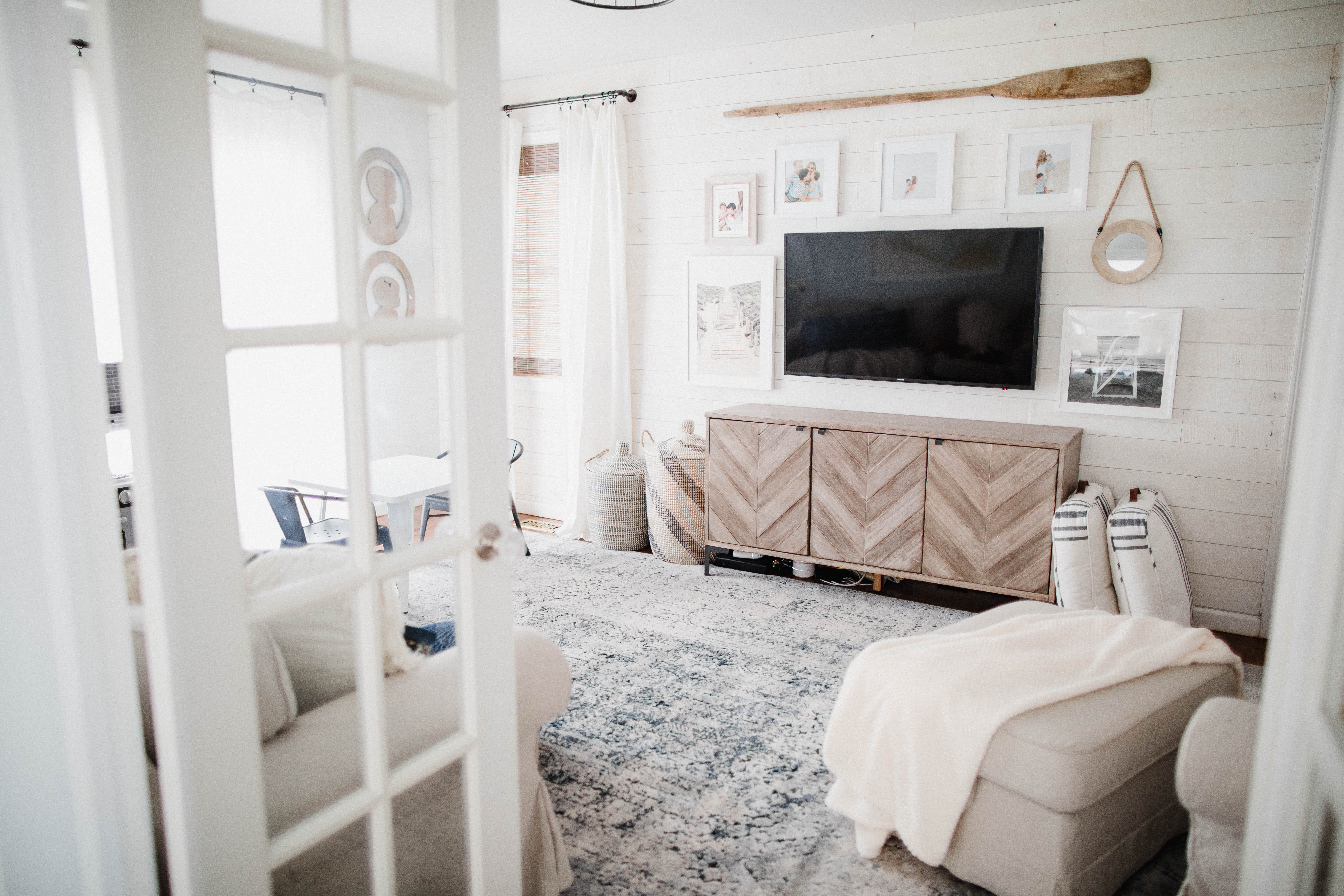 I hope that helps give you a creative boost if you've got a dual purpose playroom! Ours rarely looks this clean (which I'm totally fine with…kids have to be kids!), but it cleans up nicely for adult time! 😉
You can shop more great kid's furniture from Walmart by clicking right here! There's a wide variety of kid's decor and furniture suitable for all design types! They also offer fast shipping on many items, as well as shipping to your local store! And I can't forget to mention their affordable prices, which can't be beat! Shop the items I featured below!
SHOP THE POST