I have been compensated by QVC for this post, but all thoughts and opinions are my own.
Fall is (finally) in full swing here in New England, and although we are still getting the occasional warm day, my closet has officially moved over to fall! Today I'm sharing FIVE fall wardrobe essentials with you that are versatile and will carry you through the season.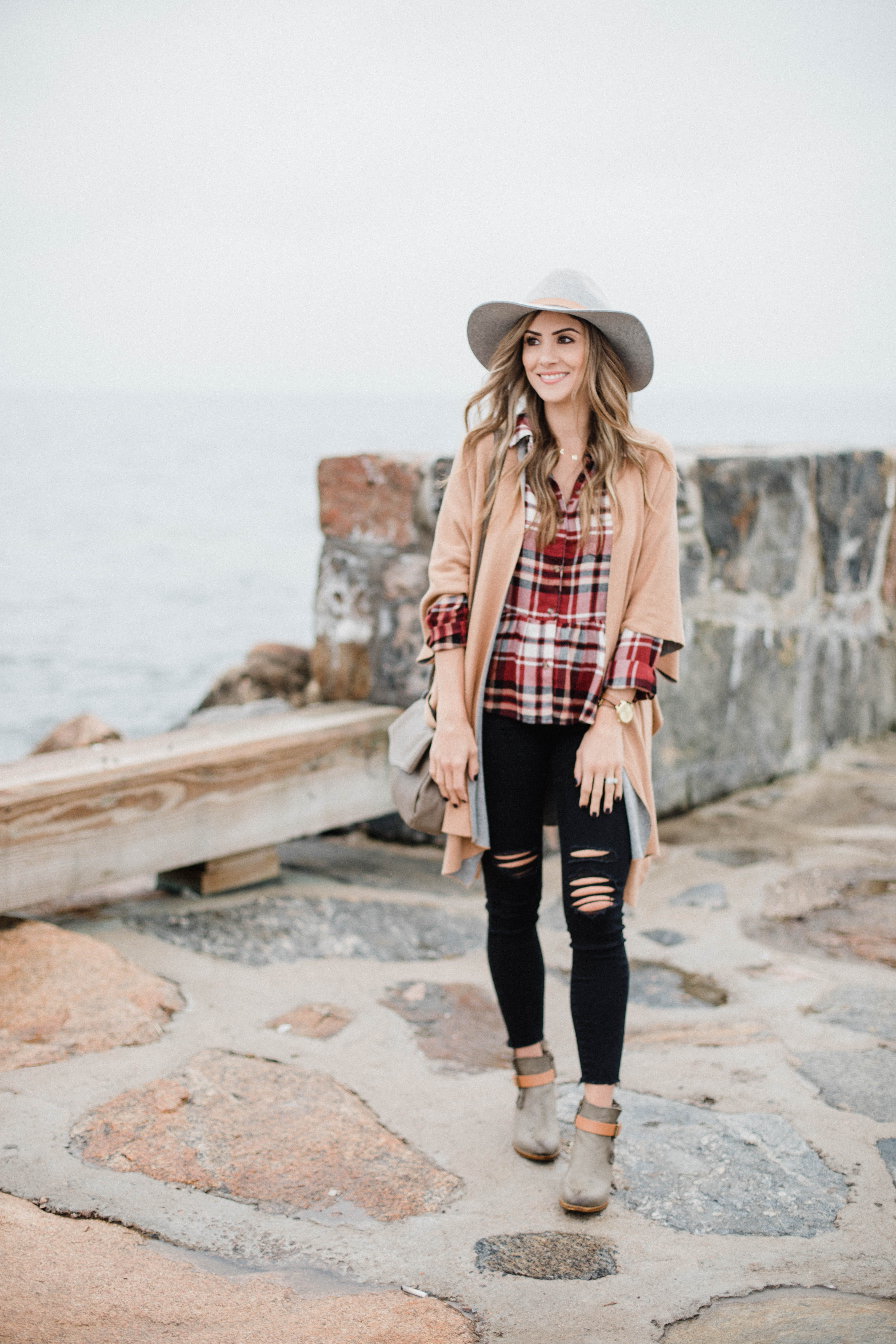 1 // A Neutral Handbag
Did you know today is National Handbag Day? I didn't even know it was a thing! A neutral handbag is a key part of any fall wardrobe. Fun fact: I actually don't switch my handbag out that often. But I do like to switch it up for the season. I love bags that are the perfect size and a great neutral color that will go with just about anything (because, again, I don't change them out that often!). This Vince Camuto Clem bag in the color Foxy is a great example. It's a great, medium size bag in a neutral taupe shade. There are more colors available as well, and it's on sale on QVC for $169.96 in honor of National Handbag Day!
2 // Dark Denim
A good pair of dark denim is key to every wardrobe. I prefer dark washes over regular washes because I feel like they offer more versatility. They can be dressed casually, but also worn with some heels and a blouse for date night or a night out with friends. And, of course, they quite literally go with everything! This pair of Laurie Felt Denim Curve Straight Leg Jeans are buttery soft AND have a stretchable waistband which is basically every woman's dream! They're on sale for $66.39 on QVC!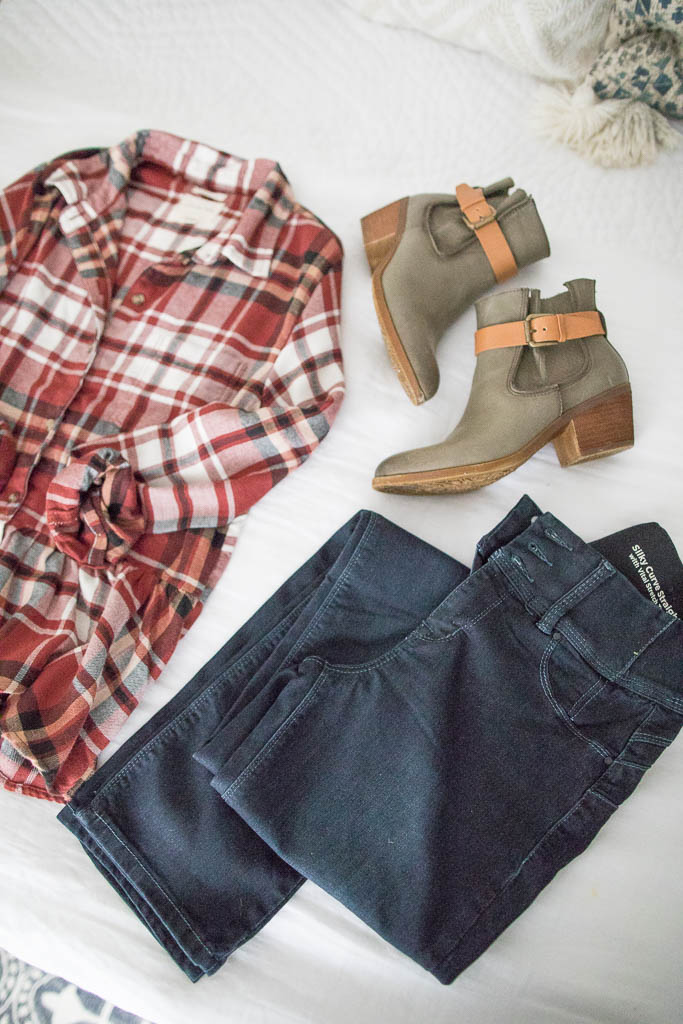 3 // Versatile Booties
A great pair of neutral, versatile booties will do your fall wardrobe no wrong. Booties can be worn with ANYTHING: jeans, dresses, skirts, the works. I love to have a variety of styles for different looks, but all you need is one good pair! I love the height of this pair by Comfortiva and the contrast buckle details. I went with the Olive/Whiskey color, and love that it's a neutral grayish-green. They have a slight rugged look, but are still feminine. They come in multiple colors, too! They're $140 with free shipping and 4 Easy Pays on QVC!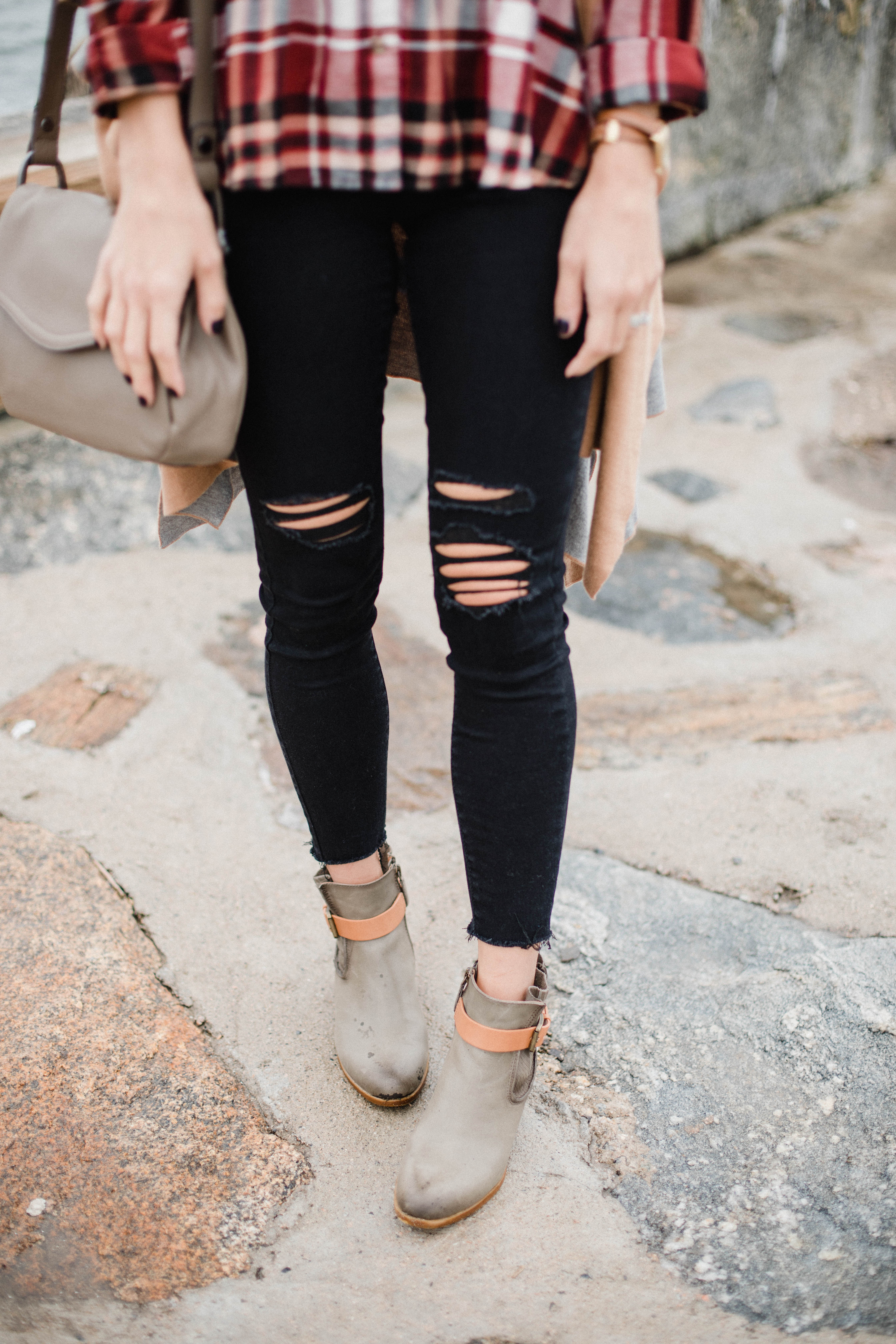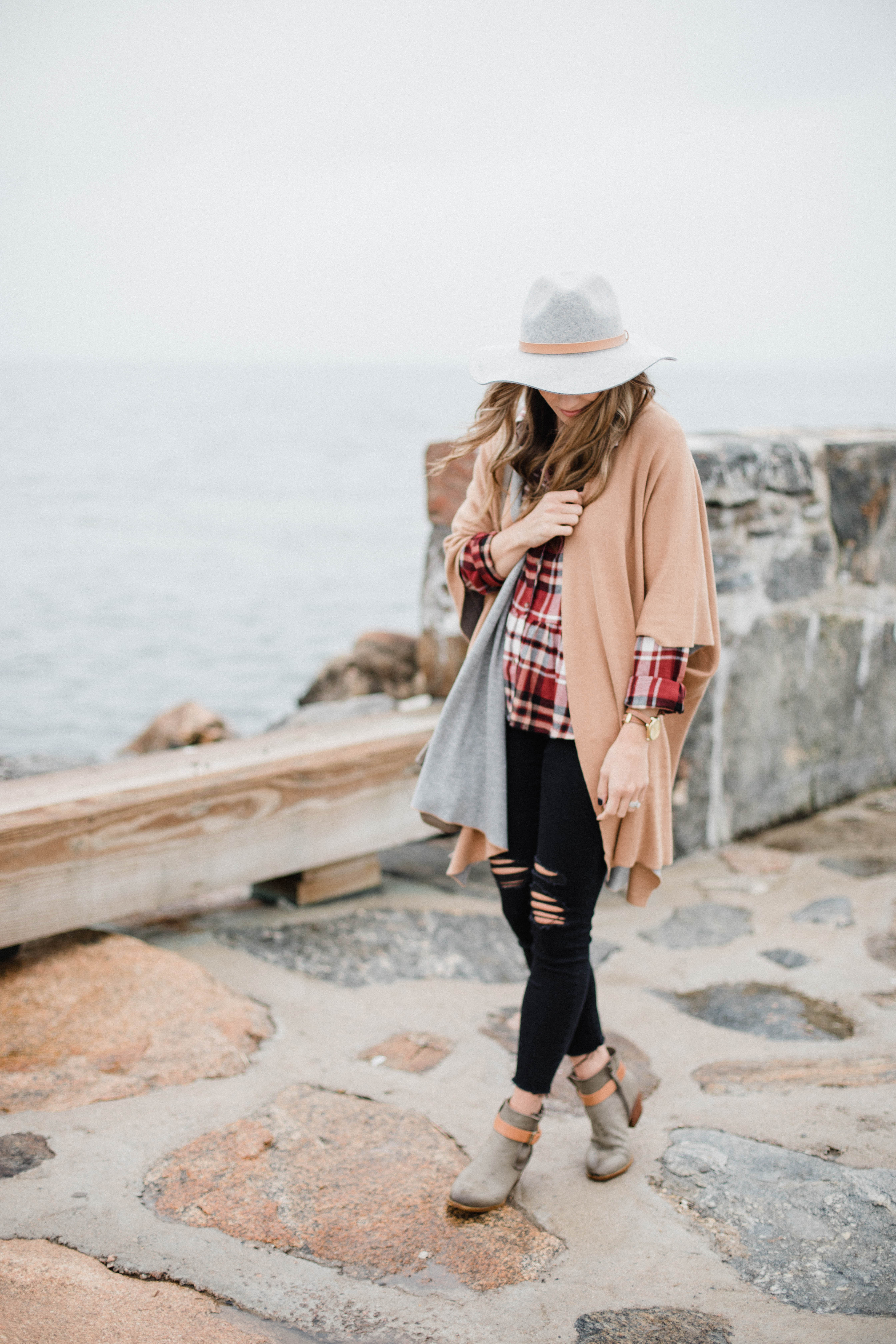 4 // Cozy Cardigans
I, for one, am a huge proponent of cardigans. The more the merrier. Bring them on! Especially in the fall here in New England. Layering is key because it's cold in the morning and hot in the afternoon. My favorite brand of cardigans is hands down Barefoot Dreams. They are the softest material, and I love the versatility they offer as well. I can lounge around the house in them, or throw them over an outfit for an additional layer. This Barefoot Dreams Cozychic Nor-Cal Coat is perfect to wear everyday layered over your outfit, or even around the house lounging! It's a coat cardigan, so it's even more versatile and extra warm for those chilly days. It's $158 on QVC! I'm wearing this cute little Barefoot Dreams beanie here, too, which is $37.
5 // Leggings
A woman's best friend, am I right? I LIVE in leggings in the fall! I'm especially fond of my Spanx pair because they're insanely comfortable and fit well. I wear them with sweatshirts, tunics, dresses, cardigans, and can guarantee if you pop over my house at any given moment – I'm wearing them. 😉 I'm on the leggings for life train, are you with me?!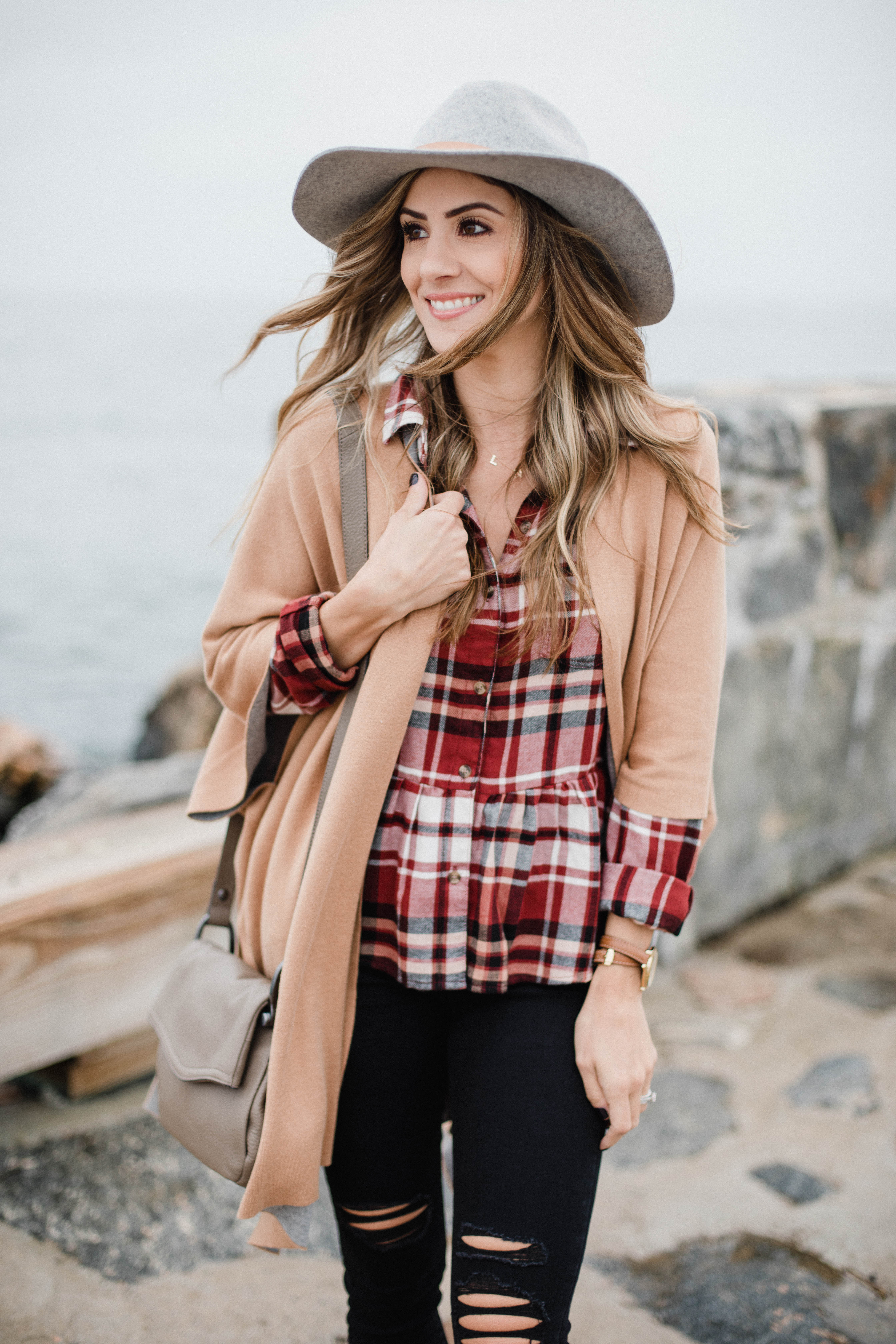 What are your fall wardrobe essentials?! You can scoop any of these items up on QVC.com! Don't forget to use the code FIVE4U for $5 your first order for new customers!
*Some prices may change starting on 10/11 midnight PT.
SHOP THE POST