Today's holiday gift guide is for kids ages 3 and up! I included a variety of items here for little kids and bigger kids that are all active or educational and not just "toys!" I hope you find something your kiddos will love!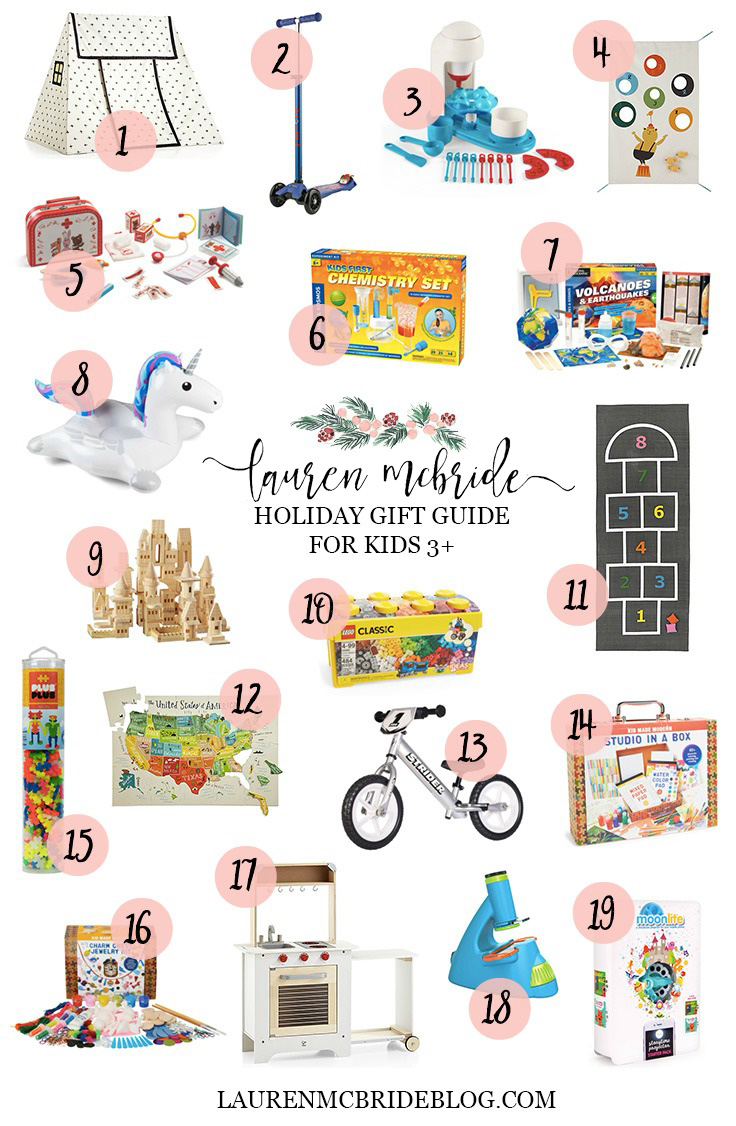 This little playhouse is so cute! Especially great for the cold weather season when going outdoors is minimal! It's on sale for under $90, too!
My kids have this scooter, and they love it! I love that the handle adjusts up and down so it grows with their age. It comes in a variety of colors, and I recommend for ages 2 and up!
For the little baker! This is a great activity for the kids, and comes with the bonus of being edible too 😉
I actually plan to get this for my kiddos because its a great indoor activity during the winter season! Think corn hole but for kids 😉 It hands in the doorway, too, which means it's easy to roll up and put away when not in use!
I love this for the kids to play with their stuffed animals! My kids love playing doctor, and this comes with everything they need to take care of their animals!
This is for ages 8 and up, but it's SO freakin cool! It's a beginner chemistry set that teaches them all about chemical reactions and more. I love hands on, educational toys like this!
Similar to the chemistry set, this one is for volcanos and earthquakes! They learn all about how they work, and even build a classic volcano. Also for ages 8 and up!
For some fun in the snow! This adorable inflatable snow tube will have your kiddos having a blast outside this winter. Might grab this for my kiddos!
Another one I might grab for my kids, these adorable wood castle building blocks are so sweet! My little ones are into princesses and princes right now (thanks to Disney!), so I think they would really enjoy building castles!
If you are at a loss on what to get a kid ages 4 and up, you can't go wrong with Legos! They are the gift that keeps on giving 😉 This classic set is is perfect as it comes with all of the basic pieces, and the building options are endless.
Another great indoor game! This cute hopscotch rug is a great way to play the game inside this winter!
This floor puzzle is not only fun (and will keep the kids occupied for a bit!), but educational too. It's a great, hands-on way to learn the states!
We have one of these for my oldest, and I'm so impressed with how much is helps them learn to balance! Which ultimately leads to learning how to ride a bike quicker. Highly recommend!
This little box filled with art supplies is a fantastic gift idea for any kid! It includes everything your child needs to paint, sketch, and draw a little masterpiece.
My oldest has these blocks, and they keep him occupied for quite some time. They're simple, easy to use, and the building options are endless. Great quiet time activity!
For the little fashionista in your life! This cute little kit has everything your child needs to make a variety of accessories!
I loved this little play kitchen because it's compact! It expands out when your kids are playing, and then can roll back in when they're all done. Great for small spaces!
Great for the little scientist! This microscope comes with over 72 images to investigate on specimen slides, and educates them on the ins and outs of how microscopes work. So cute!
My kids have this and love it! This little projector projects some of your favorite storybooks on the wall or ceiling with your smartphone! The app is interactive and plays music and fun sounds as you're reading the book to your kids It's a sure fire hit!
SHOP THE GIFT GUIDE BELOW