It's time for Sephora's Holiday Bonus Beauty Insider Event! Beauty Insiders can 15% off now through November 19th (some restrictions apply!). If you aren't a Beauty Insider, it's FREE to sign up and take advantage of the deal! VIB Member Access gets 20% off with the code VIBBONUS from 11/9-11/12, and ALL Beauty Insiders get 15% off with code BIBONUS from 11/16-11/19! Click here to sign up now! You get program perks such as discounts, promos, and free makeovers, and again – it's free to sign up! Today I'm partnering with Sephora and sharing my top picks from the event!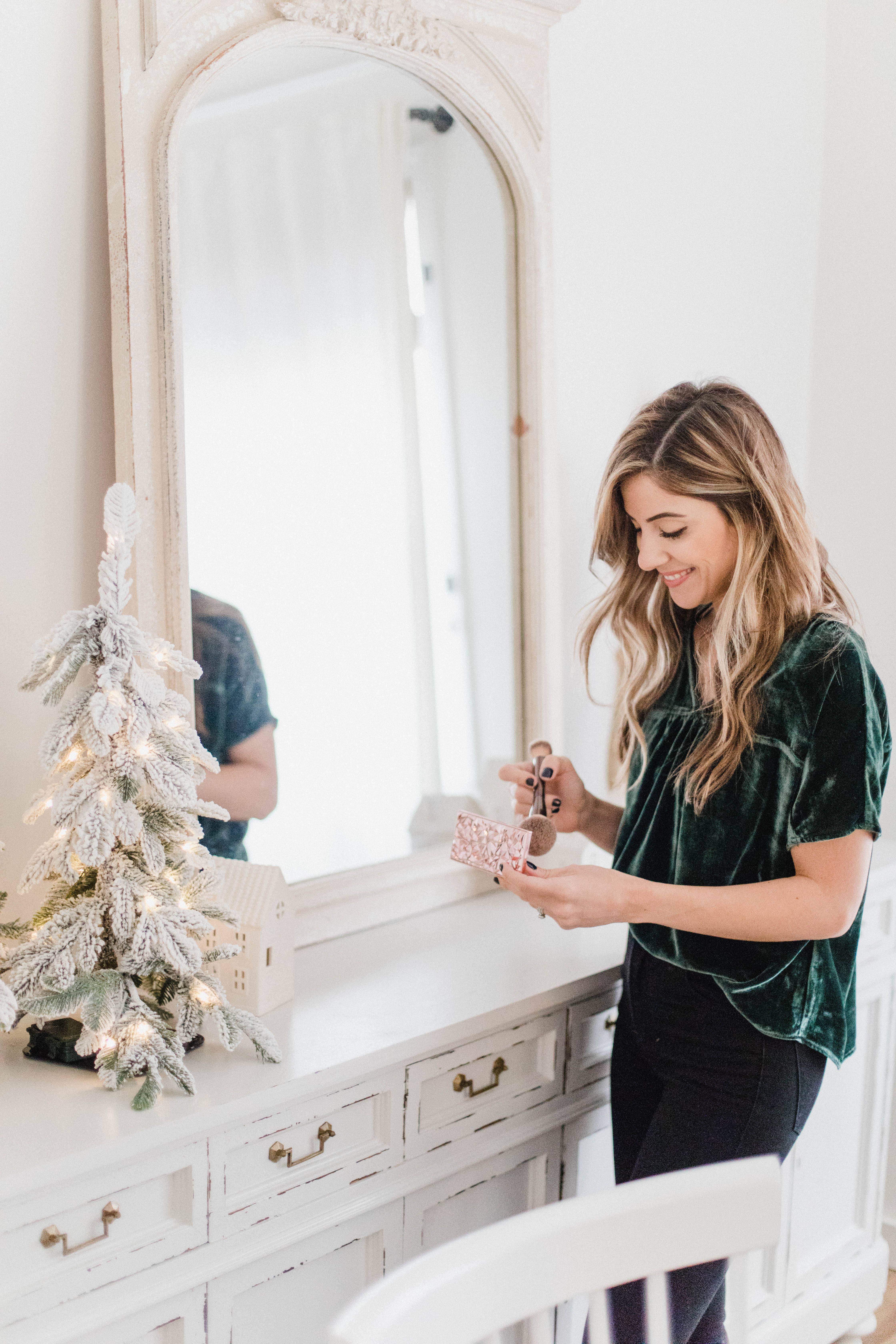 MAKEUP
There are so many items I could list here (and I'll include them below!), but I wanted to call a few items out that are currently in rotation in my makeup bag! I switch things out frequently mainly because I love trying new things! Here's what I'm currently using:
Estee Lauder Double Wear Foundation: I recently switched back to this foundation (I go back and forth with what I'm using depending on the weather or my need for long-wear!). The shade range is excellent, and I had no problem getting an exact match to my skin tone! It really lasts all day, too!
Hourglass Veil Mineral Primer: I tried this primer out a few months back and I've stuck with it! I like the silky texture and my makeup stays in place all day!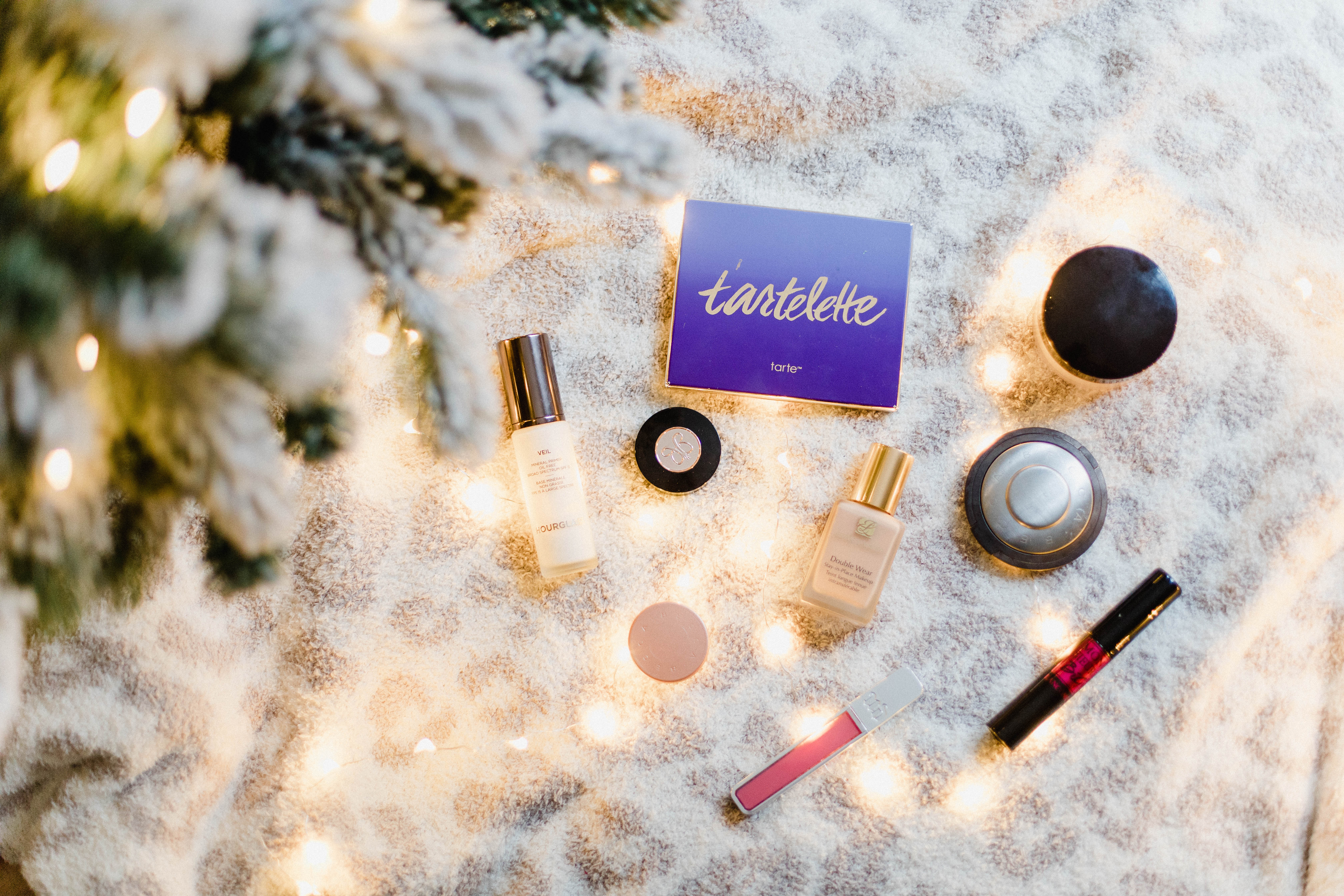 Becca Under Eye Corrector: I recently switched to this under eye corrector after the recommendation of a reader, and I love it! I just finished a pot and repurchased because I loved it that much. You get a good amount in the small pot, too. A little goes a long way!
Hourglass Veil Translucent Setting Powder: I have a few setting powders I love, including Laura Mercier's Translucent Powder, but I've been reaching for this one quite a bit lately! I love the fine consistency of the powder, and it really helps sets my under eyes when I apply it with a Beauty Blender.
NARS Orgasm Infatuation Palette: This palette is a GREAT deal because it's 3 in one! You get NARS Laguna Bronzer, Orgasm Blush, and Orgasm Highlighting Blush in one adorable palette. NARS Orgasm blush is one of my favorites because it truly looks beautiful on all skin tones. I wear this often in the summer! The Laguna bronzer is buildable and a beautiful ashy shade. And the highlighter is great for a little glow. It's a great palette!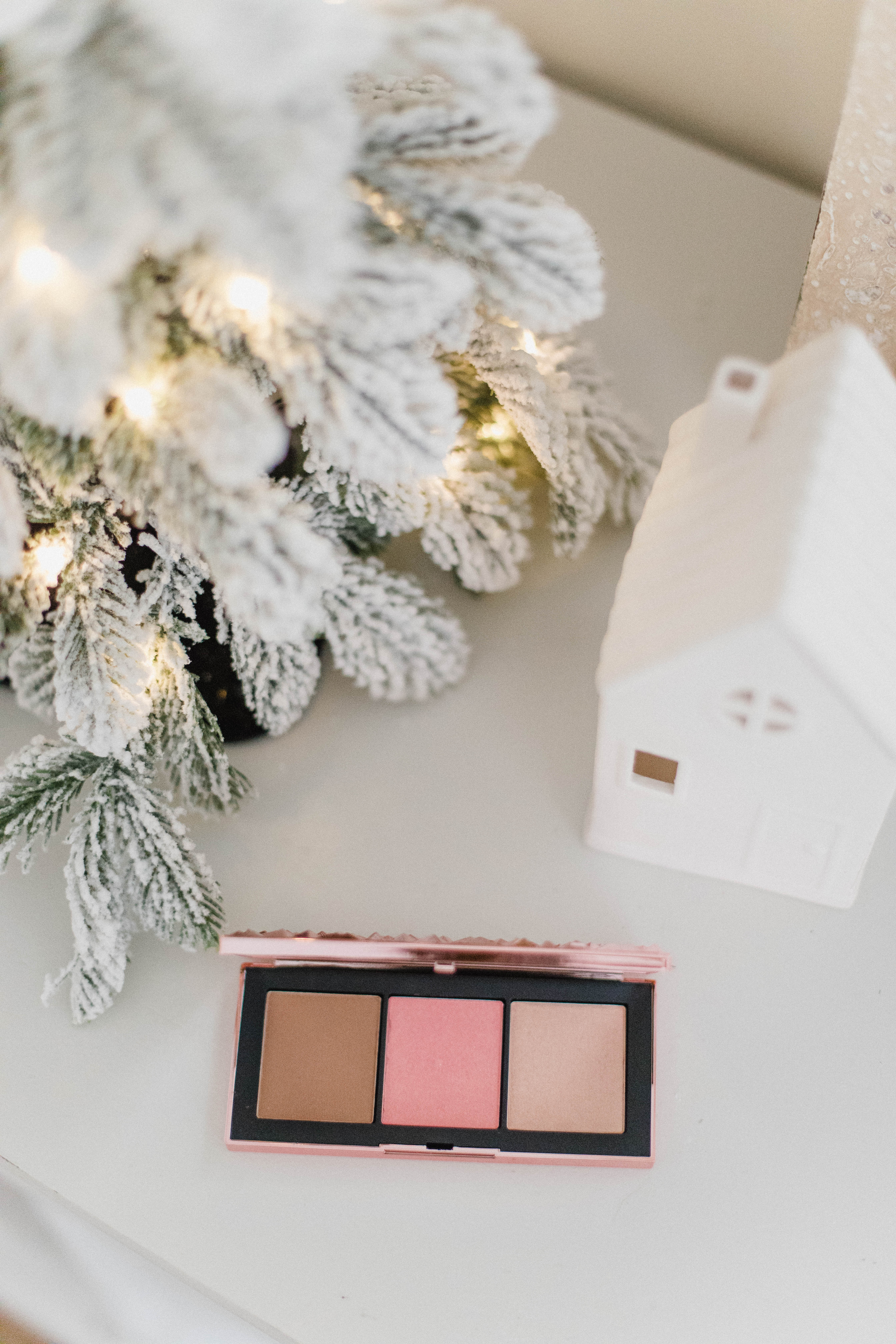 Make Up For Ever Aqua XL Liner: This liner really stays in place ALL day! And it's waterproof! I've been using it for a few years now.
Urban Decay Eyeshadow: My everyday eyeshadow consists simply of a neutral, flesh-toned shadow like Urban Decay's Foxy. I like that it evens out the skin tone on my eye lids!
Tartelette Palette: If you love matte, neutral shadows, this palette is perfection. I don't wear a lot of eyeshadow that often (just when I'm going somewhere or feel like playing around a bit!), but this is one I always reach for because the shadows are so beautiful. I use the darker browns to line my eyes, too.
Anastasia Beverly Hills Brow Wiz: My go t0 brow pencil! My brows are micro bladed, but I still need to fill them in a bit. I lightly line my brows with this and then use the next product to fill them in.
Anastasia Beverly Hills Brow Powder Duo: I've been lightly filling in my brows with this powder and a small brush, and prefer how it looks over all brow pencil. A little goes a long way!
Lancome Monsieur Big Mascara: My current holy grail mascara! You all know my love for this product, and the waterproof version is equally as great!
Urban Decay Hi-Fi Shine Lip Gloss: I loooove these lip glosses, alone and on top of my lipstick! They're my favorite, hands down, because they're perfectly sheer but still add a little color!
You can shop all of my beauty favorites below!

SKINCARE
Drunk Elephant Inspector Drunk: This is for all you babes who have been wanting to try my favorite Drunk Elephant products! I use and love ALL of these products, so I can speak to how well they work. You get 5 nighttime skincare products in this kit, so it's great if you're wanting to sample the brand! Drunk Elephant has all clean ingredients, too. I highly recommend!
Sunday Riley Ceramic Slip Cleanser: I recently received a sample of this cleanser, and really liked it! I purchased the full size and have been using it for over a month now. I really feel like it's made my pores appear smaller. It's AWESOME mixed with Sunday Riley's Good Genes as a face mask!
Tata Harper Resurfacing Serum: I have a few serums like this that I love, but this one came highly recommended so I decided to scoop it up during Sephora's last event! It's on the pricier side, but I've noticed a significant difference and feel like my skin has a glow.
Drunk Elephant B-Hydra Intensive Hydration Serum: I love, love, love this serum! It leave my face hydrated without being greasy. It's recommended for use after Vitamin C serum, so this has been an part of my morning routine.
Drunk Elephant C Tango Multivitamin Eye Cream: I love the consistency of this eye cream and how hydrated my eyes look and feel after application. It's one I've been gravitating towards for awhile now, although there are several other brands I love too!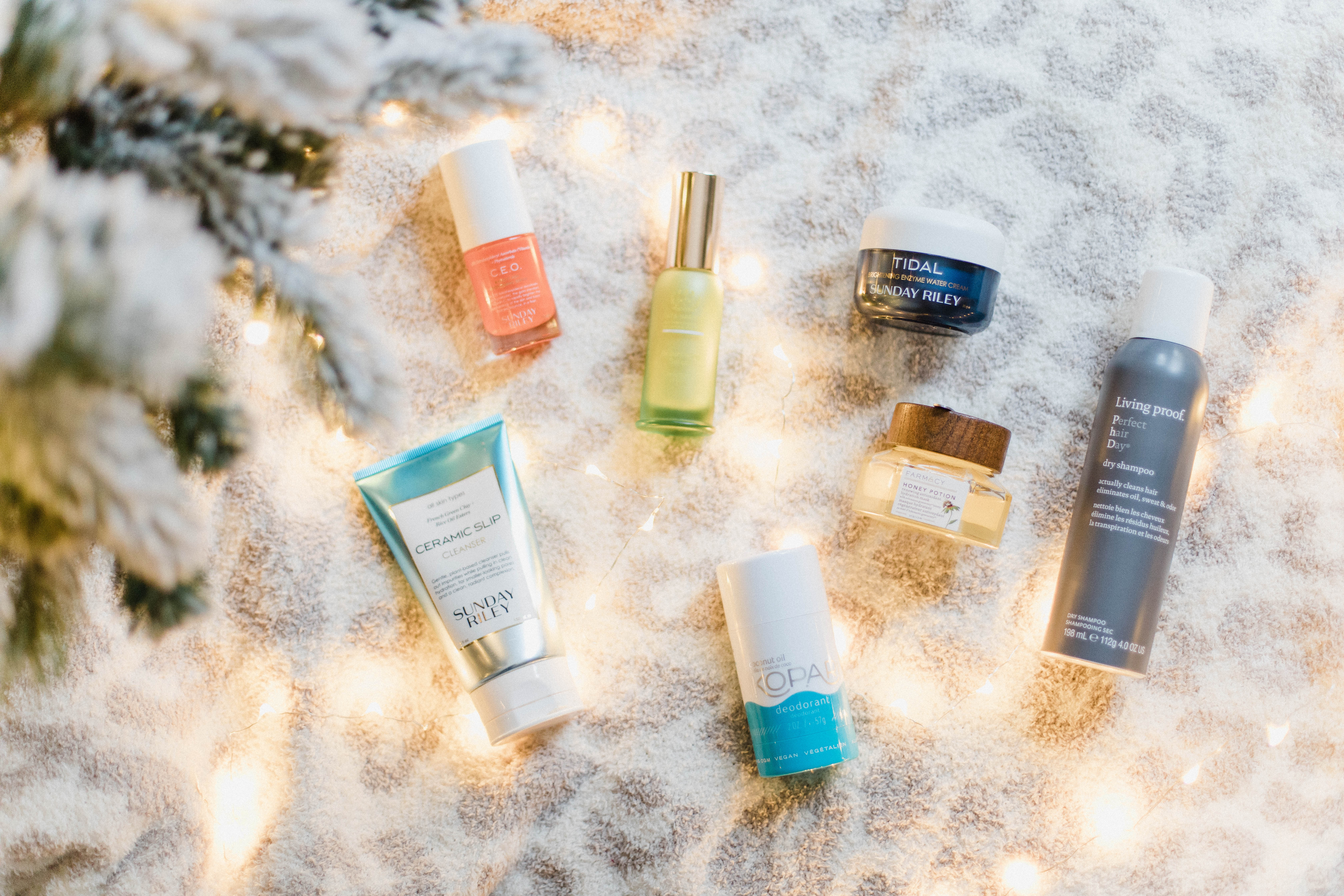 Sunday Riley CEO: I ran out of my previous Vitamin C serum, and received a sample of this one during the last sale! I really love the consistency of it, and truly feel my skin appears brighter!
Sunday Riley Tidal: I fell in love with this a couple months back when I received a sample in a package. It leaves my skin feeling SO hydrated and I swear it looks plumper after use. I loved it so much I purchased the full size! A little goes a long way, too.
Drunk Elephant Marula Oil: My holy grail skincare product! You guys know my love for DE Marula Oil, and I swear it's changed my skin for the better. It's so much more balanced and I never breakout (which I fully believe is because of how balanced it is). I can't see myself ever going without this product. It's been the last step of my skincare routine for almost 2 years now!
You can shop some of my favorite skincare picks below!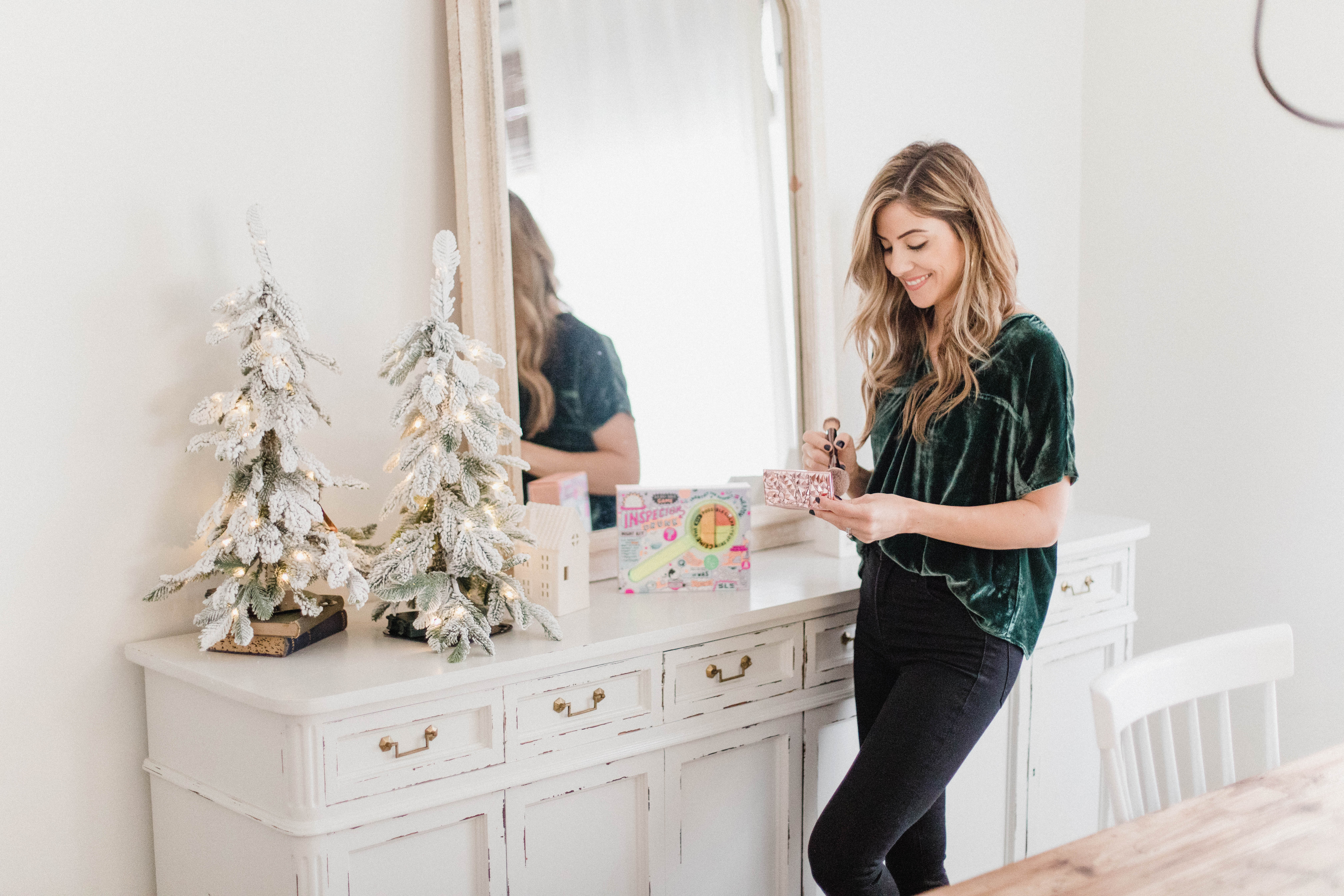 This is one of the best events of the year, so now's the time to stock up for yourself or a fellow beauty lover for the holidays! If you've already shopped the event, I'd love to know what you scooped up! I restocked some skincare favorites and grabbed a few new beauty finds, too! It ends 11/19, so hurry before it's over!
Thank you to Sephora for sponsoring today's post! As always, all thoughts and opinions on products are my own.