Thank you to TULA for partnering with me no today's post! All thoughts and opinions are my own.
Several months back, I had a request from several readers to try out TULA skincare products. I'm always interested in trying new skincare products, especially ones that are highly rated, so I decided to give them a try! I've been slowly testing out a variety of their products over the past few months, and today I'm sharing a few of my favorites with you. I'm still trying several others, and will report back on those when I'm ready (testing out skincare products takes several week to months!)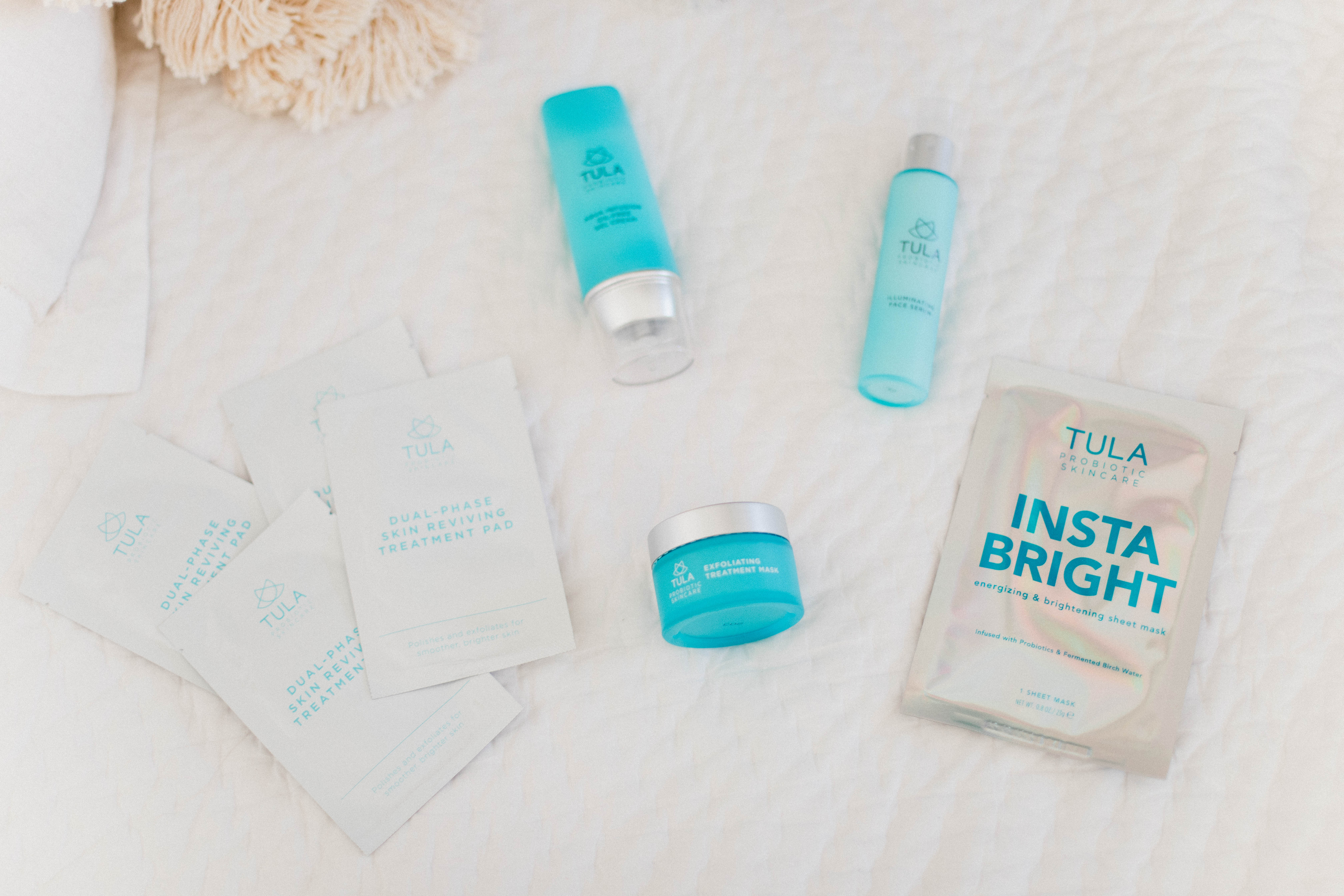 If you aren't familiar with TULA, it's a skincare line formulated with probiotics – the same probiotics that are known to help balance your gut. They are 100% free from phthalates, parabens, propylene glycol, petrolatum, gluten, and mineral oil. They're also cruelty free! I love that they're transparent about their ingredients and give detailed information about each product right on their website. That's really important to me as a consumer, especially when I don't need to search for it!
Below are the TULA products I've tried so far, and I'll also share the other products I have lined up to test out! You can also use the code LAURENMCBRIDE to get 20% off your purchase!
These treatment pads are hands-down my favorite TULA product I've tried so far. I use them 1-2 a week and I LOVE how my skin feels after their use. In just 2 minutes, my skin feels softer, smoother, and looks brighter…it's almost like getting a quick facial! The pads have 2 sides – one to apply the product, and one to help exfoliate and massage it into the skin. I've noticed such a difference in my skin since using them, and hate when I run out! They have a little pack for only $22 if you want to give them a try! You can get 20% off with my code LAURENMCBRIDE, making them only $17.60!
If you're in need of a great face mask, I highly recommend this one! It contains bentonite clay (which you all know I love!) as well as probiotics that help lock in moisture. It gently exfoliates skin and removes debris, and my skin looks more even and feels more toned after use. The best part is it only stays on 5-10 minutes, so it's quick!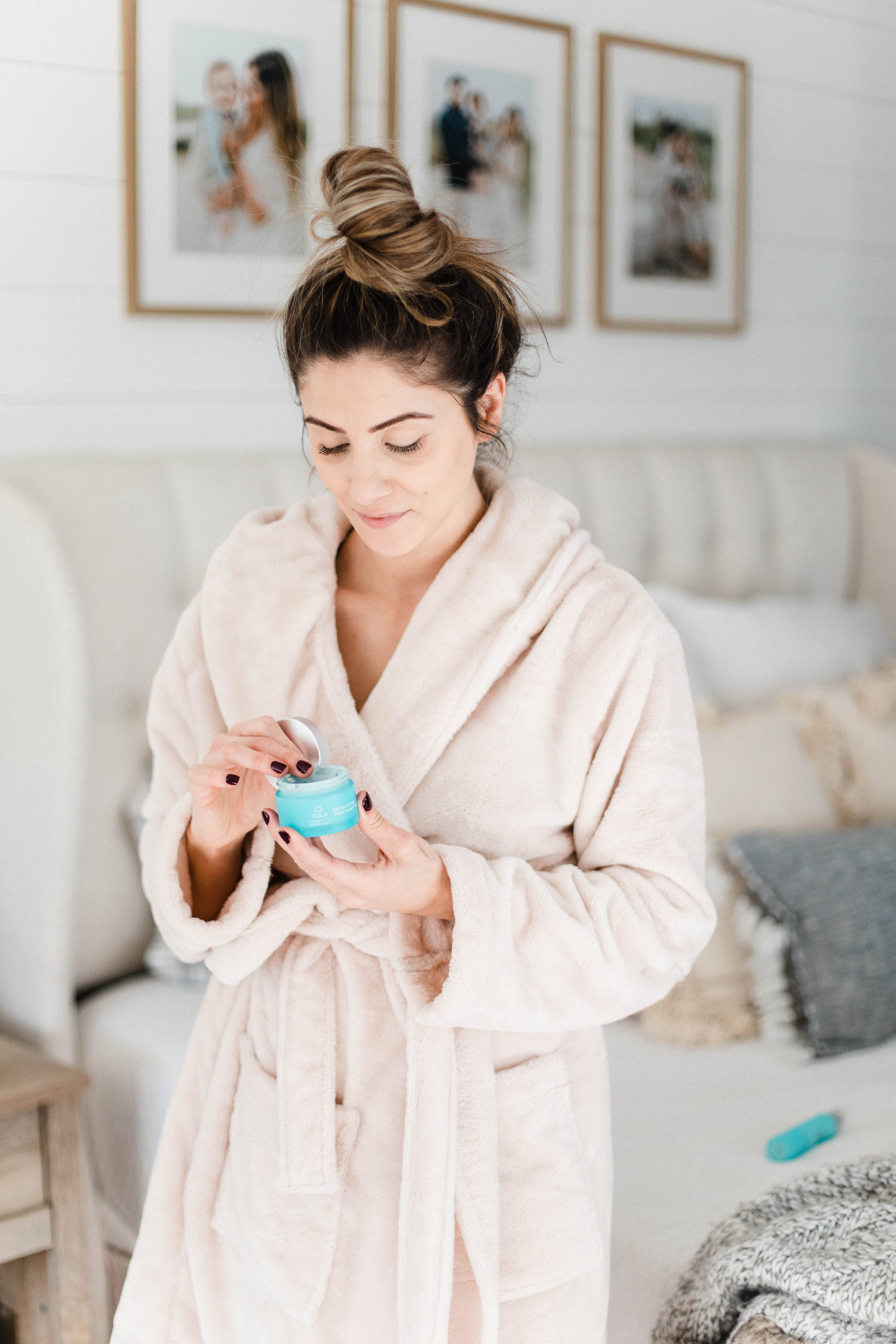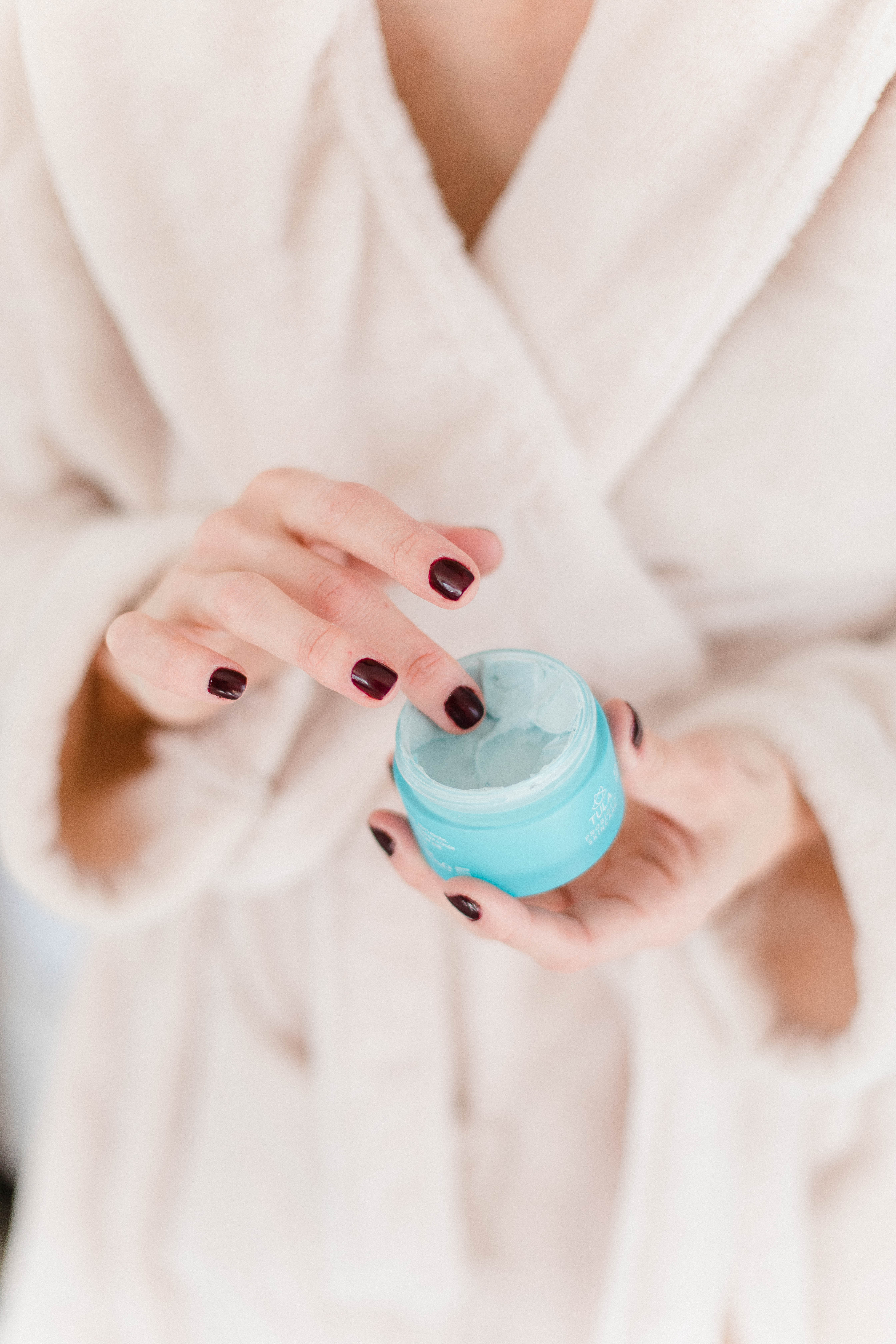 I heard great things about this gel cream, so I was excited to give it a try! It's use is like the equivalent to 8 glasses of water for your face! I like how lightweight it feels, and it keeps my skin hydrated without feeling greasy. It also helps reduce irritation and redness!
The name of this serum grabbed my attention because I'm all about improving skin appearance! This serum helps brighten skin by helping with dark spots, hyperpigmentation, and dull skin. A little goes a VERY long way with this product, which I like because it lasts longer. I swear I feel my skin looks like it's glowing when I use it!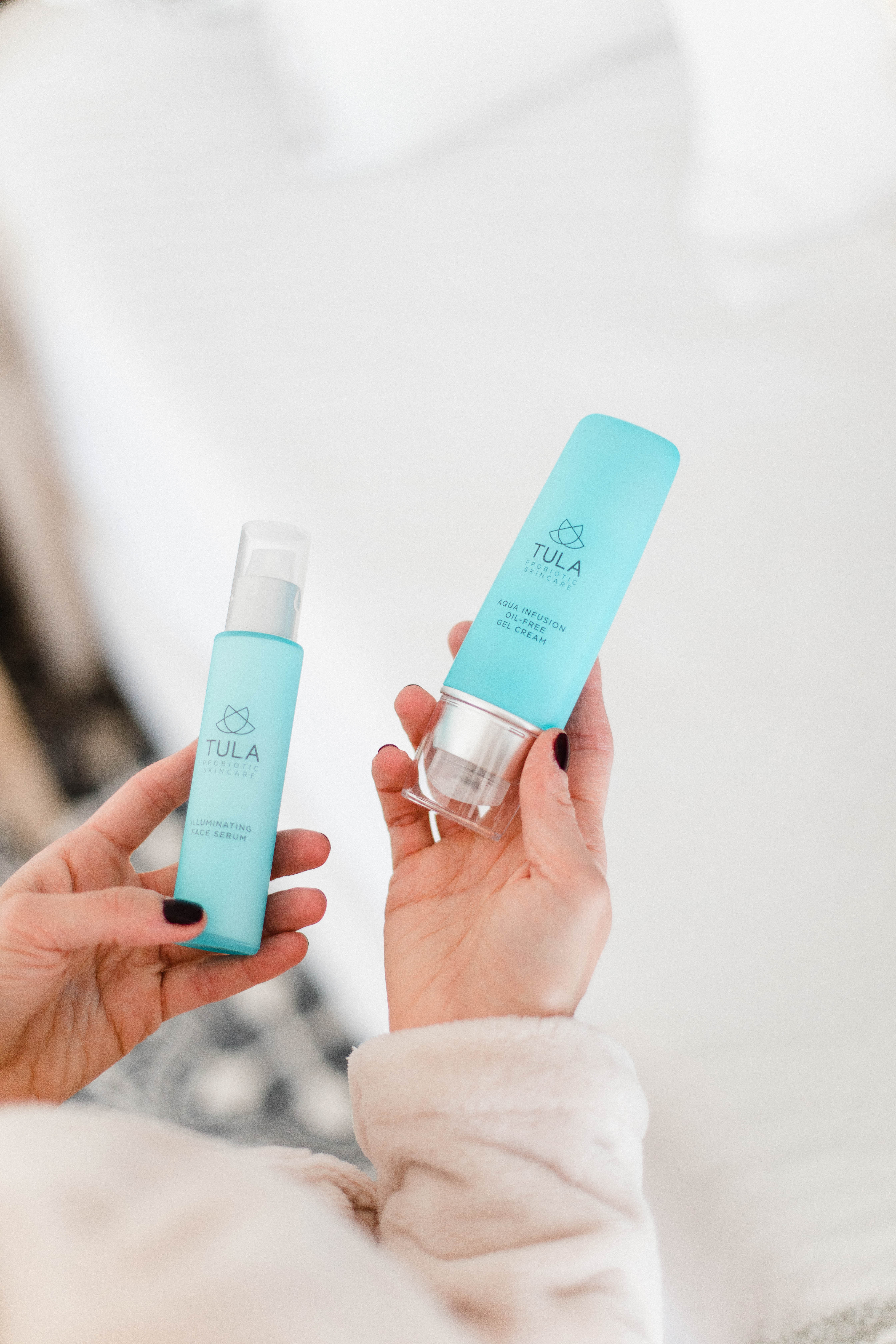 This sheet mask is 1. so pretty (is that possible?! It's like a disco ball!) and 2. works! If you need some instant brightening, this sheet mask delivers in just 10 minutes. It hydrates and plumps your skin while also making it appear more vibrant. Great to use when you need a little skin boost!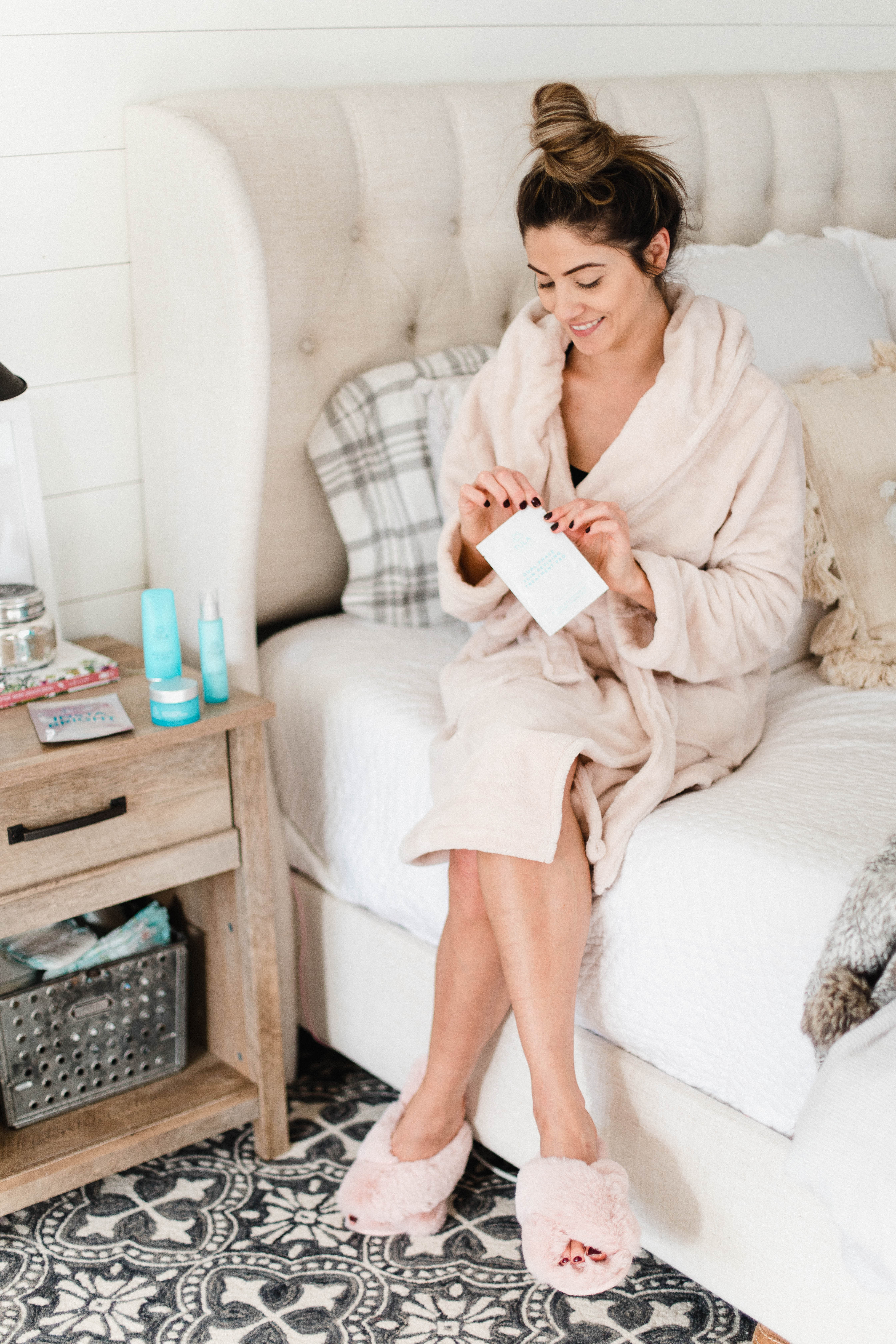 So far I've been impressed with TULA's products, and they're living up to the hype! I'll also be trying Hydrating Day & Night Cream and the Pro-Glycolic 10% pH Resurfacing Gel in the next few weeks!
If you want to try TULA out for yourself, you can get 20% off with the code LAURENMCBRIDE. It's valid on all full-price items, starter kits, the Acne-Clearing kit, and holiday sets!
If you've tried TULA, I'd love to know which products you recommend in the comments below!
SHOP THE POST