Thank you to Everlane for sponsoring today's post!
I love a good deal, but I also truly believe in investing in timeless wardrobe items that will carry you through year after year. Today I'm sharing 3 Classic Wardrobe Essentials with you that I believe every woman should have in her closet, featuring some favorite new pieces from Everlane!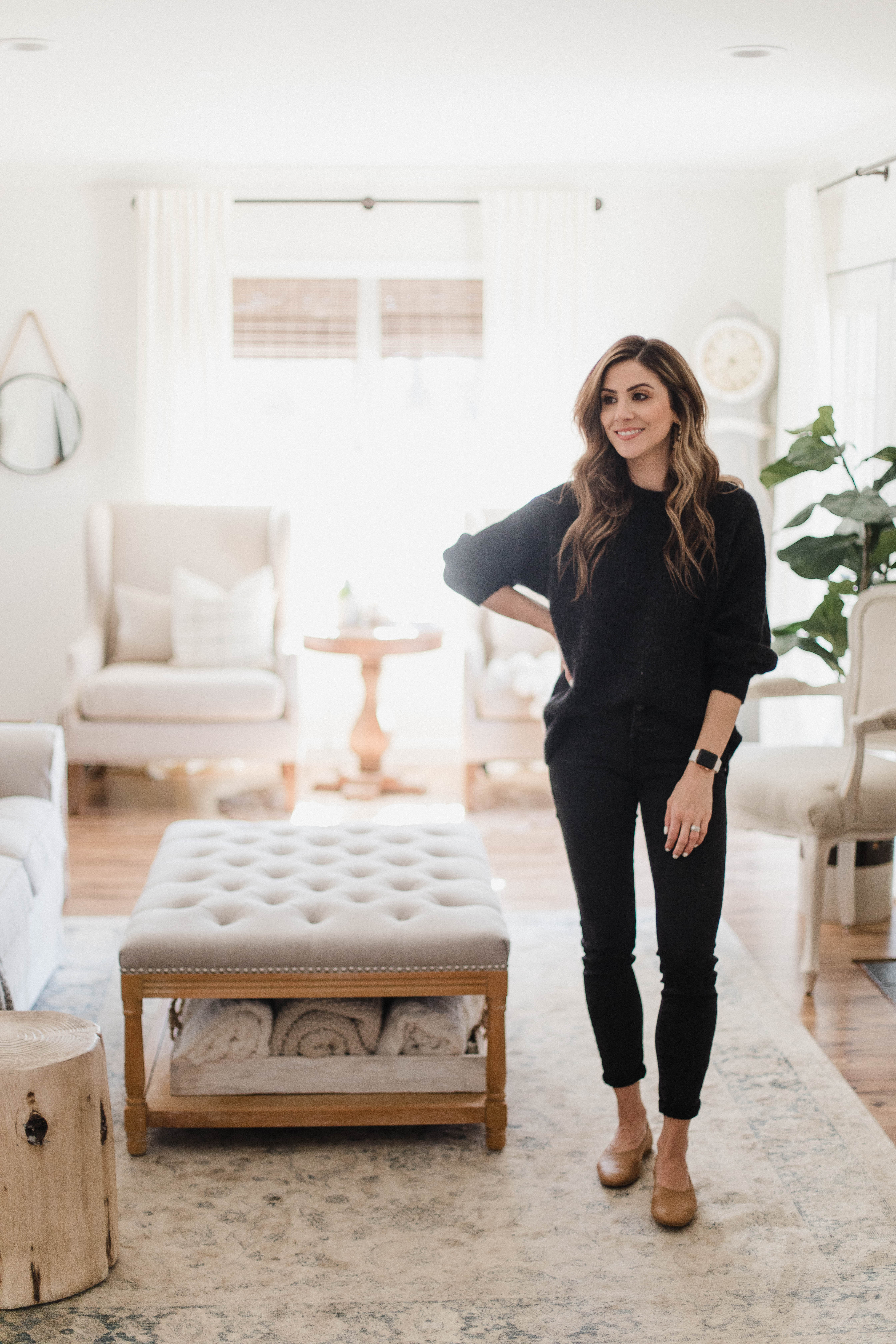 1 // A quality pair of jeans.
Owning at least one pair of classic jeans is essential to your wardrobe. I highly recommend 2-3 different washes because they'll expand your wardrobe significantly! I like having a pair of black, dark wash, and a lighter wash as well. If you're looking to invest in a quality pair, I also recommend going for non-distressed since they are more classic. I really love Everlane's Authentic Stretch High-Rise Skinny Jean in Washed Black. The fit is SO comfortable, and I love that they aren't TOO tight to where your legs feel like circulation is cut off (I can't stand when jeans feel that way!). They have a high-rise fit, which I find to be my go-to nowadays post-baby. It's much more comfortable and looks better under tops, too. I can't recommend these enough! Plus they're a great price point at only $68. Go with your normal size – they have petite and tall sizes, too!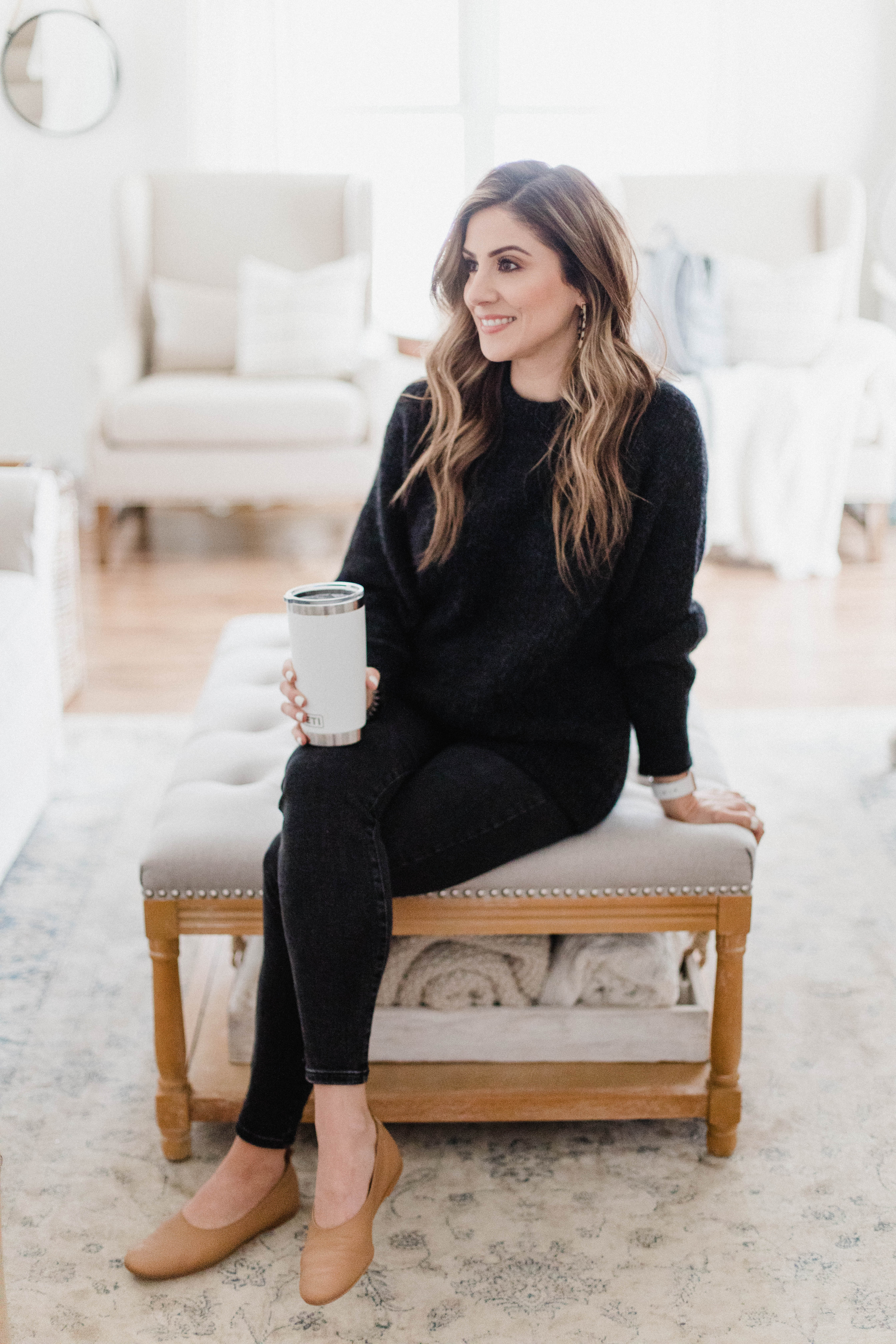 2 // A classic crew neck sweater.
I am usually drawn to scoop neck or v-neck sweaters, but a crew neck is definitely more classic and timeless. I love that they can be worn alone, or layered over a button down shirt for a different look. Everlane's Oversized Alpaca Crew Sweater is beautiful worn casually, but can also be dressed up a bit for the office. Whichever way you wear it, you'll definitely be able to make the most of this sweater in your wardrobe! Everlane has a variety of beautiful cashmere options, too. I love this simple Cashmere Crew that comes in a variety of colors. While it's not a crewneck style, I really love this Cashmere Rib Mockneck as well.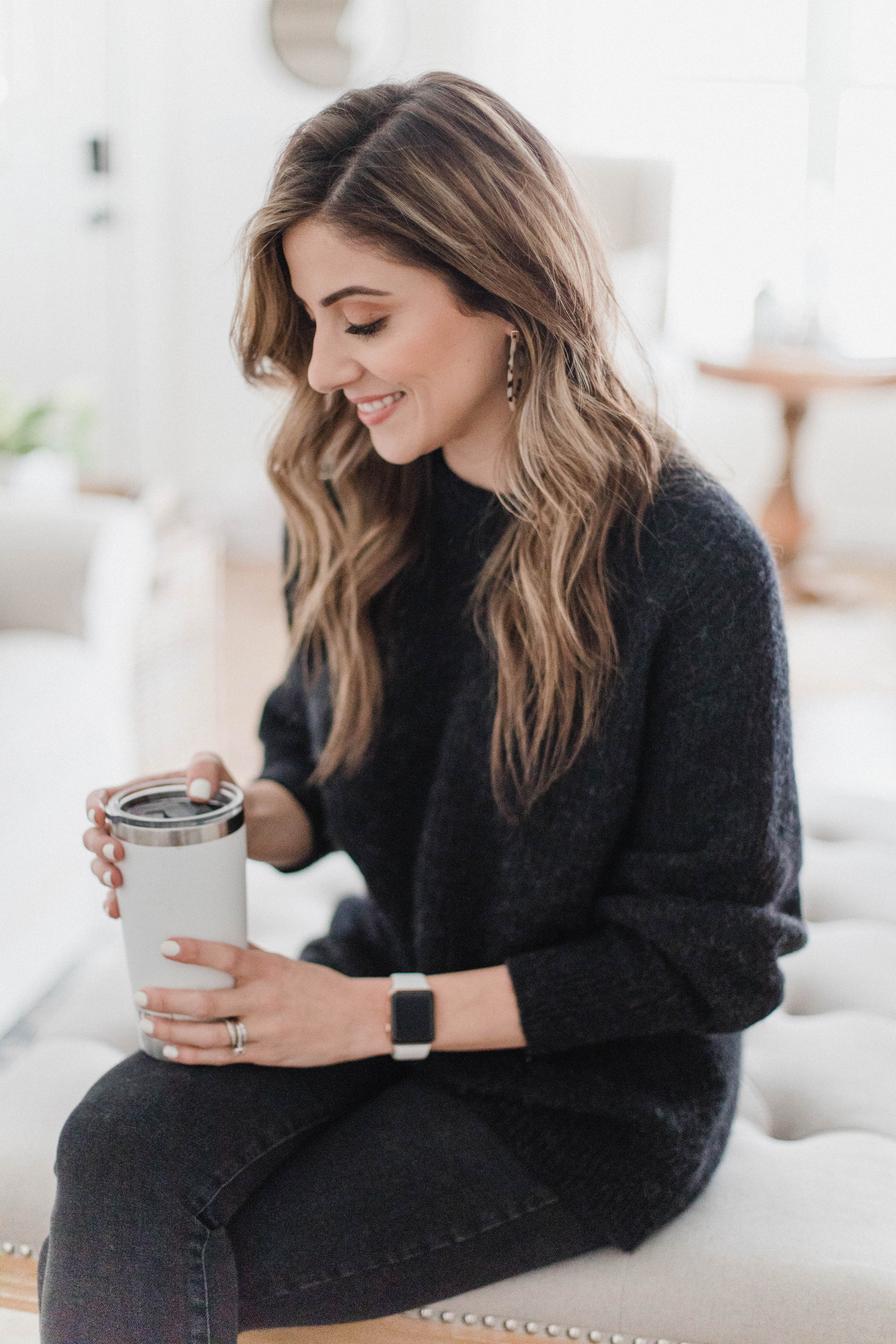 3 // A classic pair of flats.
If I'm being specific, round toe flats. I love a good pointed toe, but I feel a rounded toe flat is much more classic and timeless. I LOVE a quality pair of flats – one that will last forever and get better with wear. This is another item I won't hesitate to splurge a little on because I know my cost per wear will be low. Everlane's Day Glove Flat is perfection because it can be worn with just about every outfit, regardless of style. They are SO comfortable, and fit like a glove. I highly recommend a neutral color like black or the caramel I'm wearing because they'll go with just about any color you're wearing that day!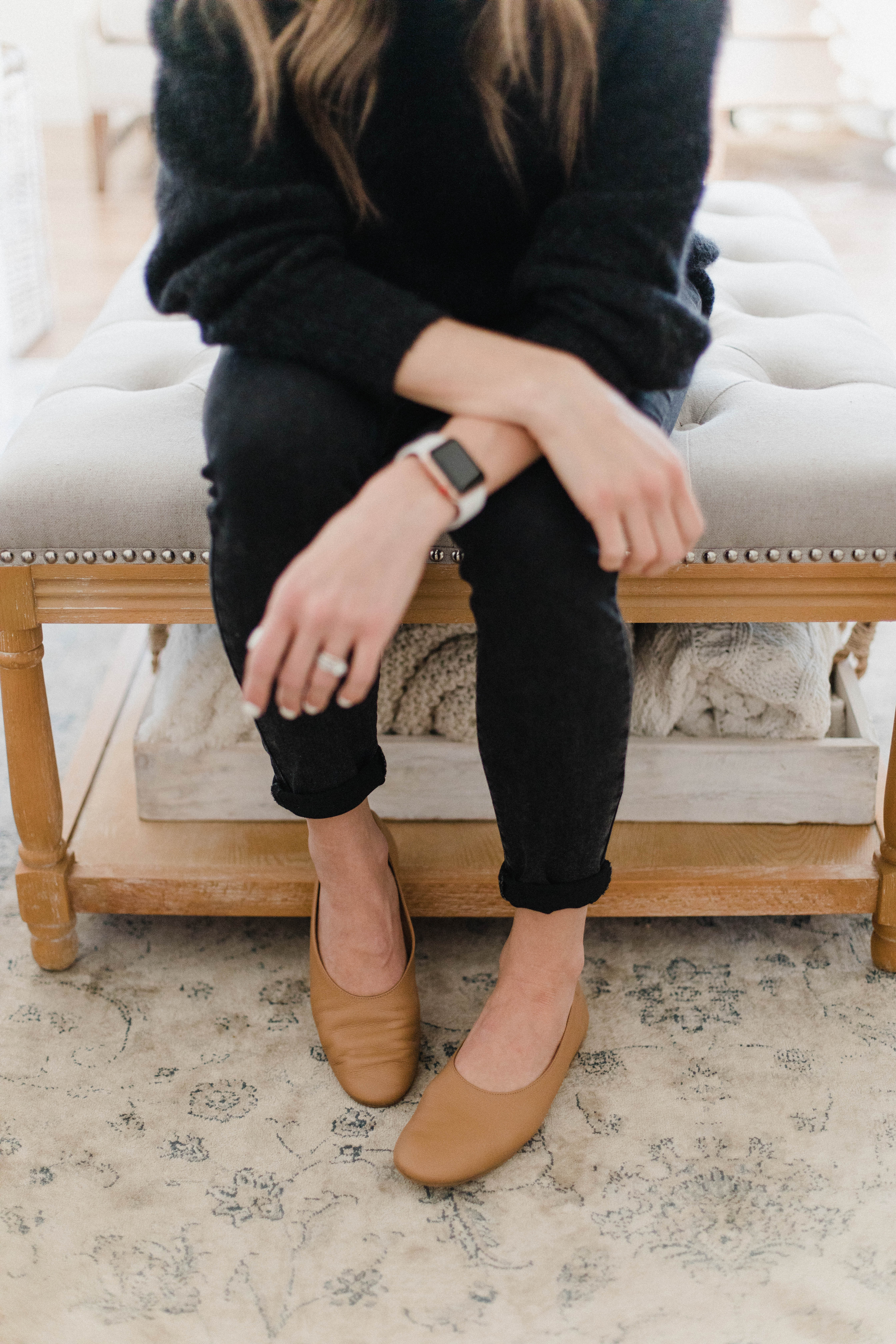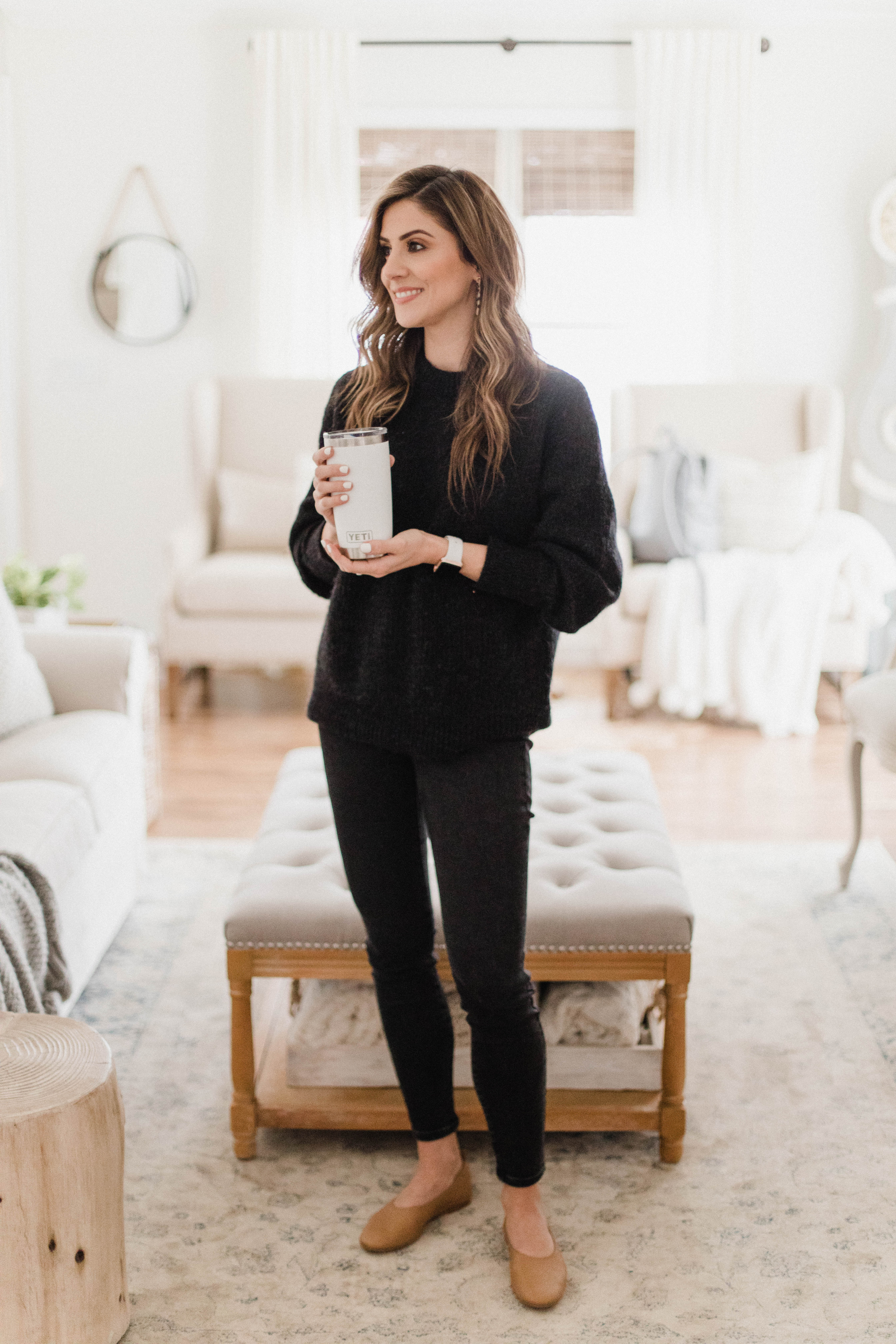 I also really love Everlane's ReNew Lightweight Puffer jacket that's made from 100% recycled fabric. It's a packable weight (super light!), yet so warm! What drew me to Everlane's brand was the overall simplicity of their items. Each item is classic, timeless, and the high quality construction is evident. The price point is a tad higher for me, but I'll always invest in a classic wardrobe item that I know won't go out of style! You can shop more of my picks below.
SHOP THE POST