I have been blessed with hereditary dark circles, so covering them up so I don't look like a walking zombie is always necessary! 😉 I've tried a variety of concealer combinations and finally feel I found one that actually works. Sadly, no amount of under eye cream that claims to help dark circles will actually do just that. So while I absolutely use an eye cream, the concealer is still 100000% necessary. When I've shared this on stories in the past, I've received countless DMs saying many of you have the same issue. Today I'm sharing what's currently working for me and my dark under eye circles!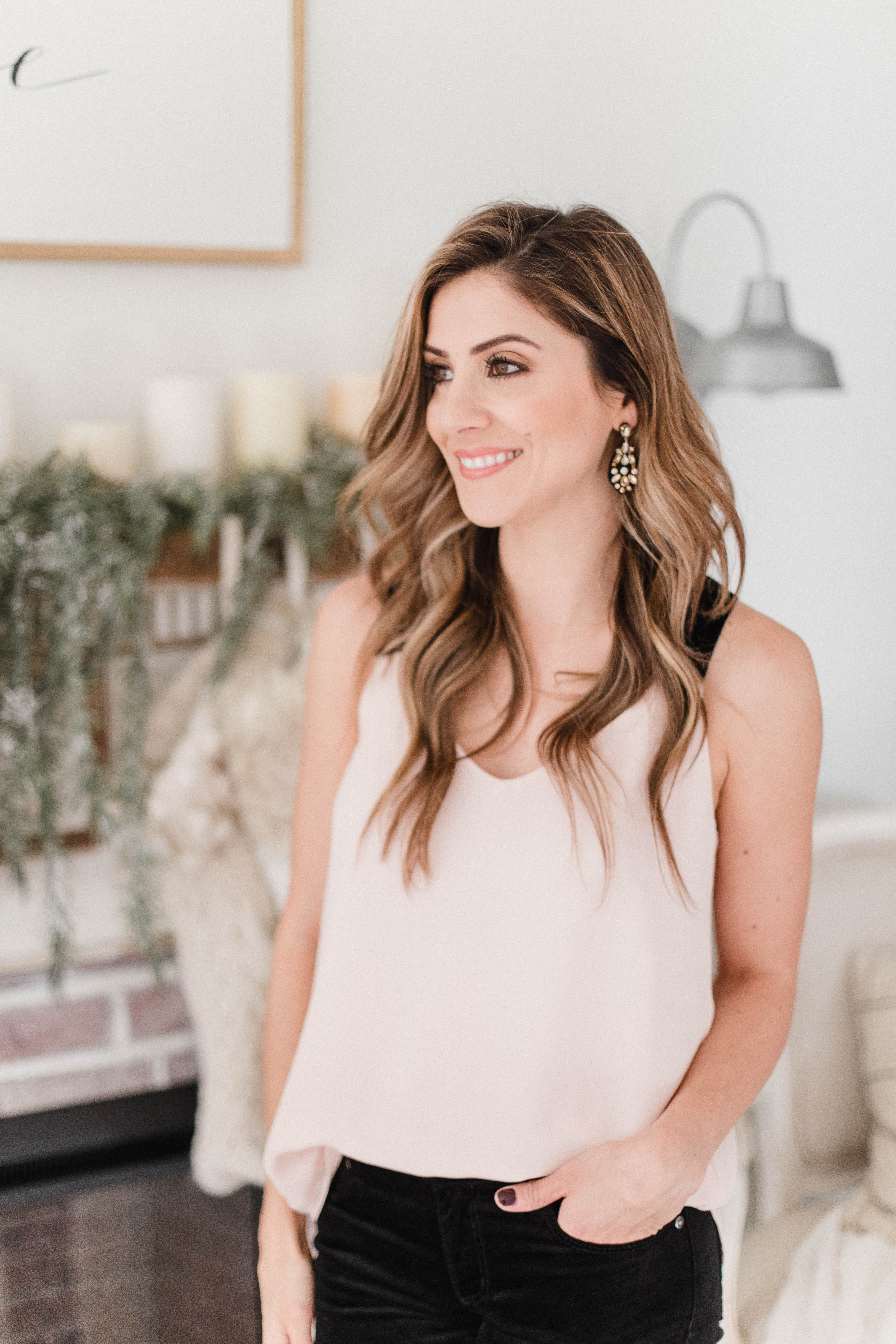 Prep Your Skin
Before I do anything, I ALWAYS prep my eyes. Using a good eye cream is key, especially a hydrating one so concealer doesn't settle in fine lines. I'm currently using Drunk Elephant's C-Tango Multivitamin Eye Cream. I also always apply my foundation first. I'm currently using bareminerals BarePRO which has a medium to full coverage. I would prefer a lighter coverage foundation, but honestly I've found that the medium to full is better for my dark circles. This is just personal preference!
Step 1 // Corrector
Using a corrector has been life changing for combating my dark circles. The peach color counteracts the darkness under my eyes and gives a good base for the concealer! It's a night and day difference for me. I'm currently using Becca Under Eye Brightening Corrector because it gives significant coverage. A little goes a long way and one pot lasts several months for me! I apply this after my foundation (I always apply foundation first!), and blend with a Beauty Blender.
Step 2 // Concealer
I've tried COUNTLESS concealers, but my current holy grail is Tarte Shape Tape. I swear nothing covers like this does…NOTHING. I've tried several others that some beauty blogger friends claim to be dupes, but they still don't cut it for me! I apply this in a triangle shape under my eye and then blend with my Beauty Blender for a flawless finish. I use the shade Light Sand, but they have a variety of shades for all skin tones!
Step 3 // Set It!
Setting my concealer is 10000000% necessary. It helps it stay in place ALL day, and I literally never need to touch it up. I'm currently using Hourglass Veil Translucent Setting Powder and apply it with this brush. A little goes a long way, and I gently tap the powder onto my blended concealer to set it into place. Trust me, it works! 🙂
I have not had this done, but I've also been told fillers in the tear troughs significantly helps dark circles if your under eye area is deeply set like mine. I've yet to have botox, fillers, or anything of the sort done, so I cannot speak to this (I've been pregnant or breastfeeding the past 6 years, and it's not recommended while doing that!). In the event that I do, I will totally report back! I might consider it when I'm done breastfeeding just to see if there really is a difference. But I just wanted to add that little tidbit because MANY of you have said you've had it done and swear by it. Until then, I'll be using the products above! 🙂
SHOP THE POST