I've been compensated by QVC to today's post; all thoughts and opinions are my own.
I've been making some lifestyle changes the past few months because I felt like I was getting into a bit of a slump. With Austin getting older and on a better schedule, I wanted to feel a little bit more like myself again and more productive with my day! Balancing work, the house, and three kiddos can definitely be a busy task, and I feel much less overwhelmed with I'm more organized and set myself up for a great day. Here are Tips for Being More Productive that have significantly helped me!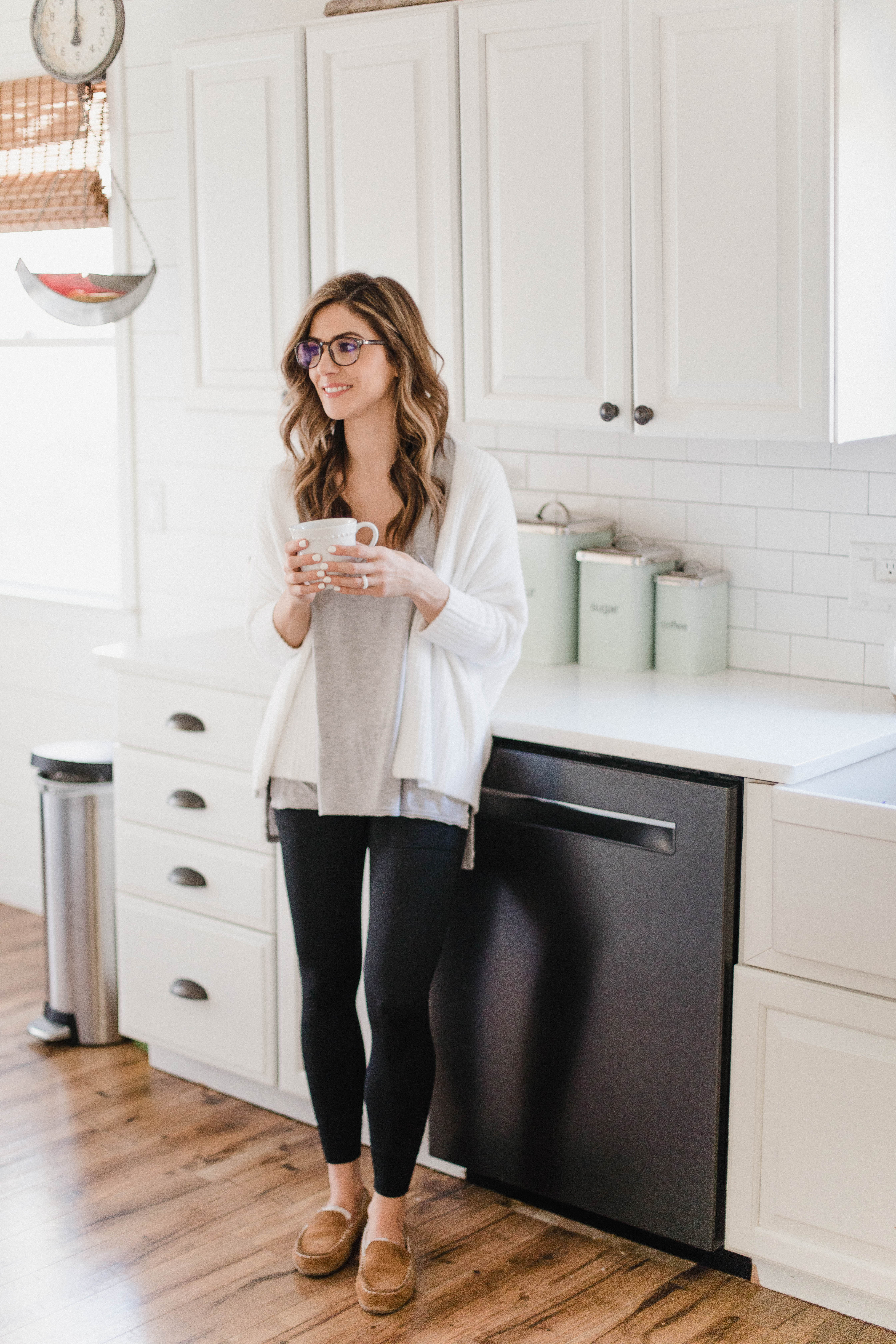 1 // Making the bed every day.
This is something I HAVE to complete every morning. As in, the first thing I do every day. It's at least ONE thing I know I've accomplished, and I also really love getting into a made bed every evening! I keep the pillows and stuff minimal, so it takes no time at all to throw everything back into place.
2 // Getting dressed every morning.
This is something else that's SO key to my productivity level. I CANNOT, I repeat, CANNOT stay in my pajamas all day. That being said, I don't necessarily need to get dressed up, but I need to not be in the clothes I slept in (if that makes sense). I love being comfortable while working from home, so leggings, tees, and cardigans are my staple outfit. This adorable Barefoot Dreams Cozychic Lite Ribbed Shrug Cardigan from QVC is SUPER cute to throw over a tee or tank and still keeps me warm in my office (my office is so cold!). It's currently the TSV on QVC and is on sale for $69.96. It comes in a variety of colors, but I'm wearing the Sea Salt! It fits TTS, too. Don't forget to use the code FIVE4U for $5 off your first order if you're a first time customer!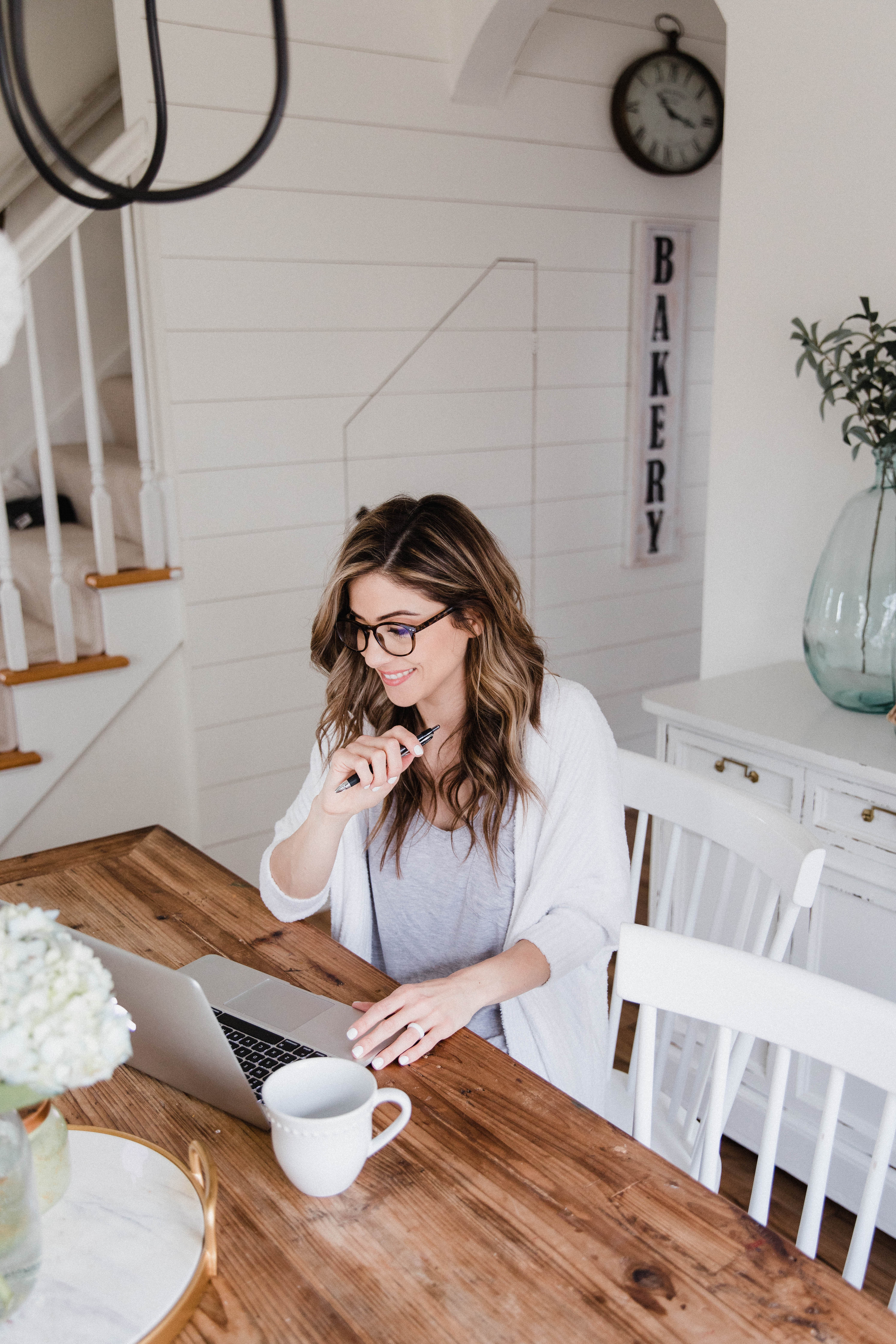 3 // Wake up before the kids.
This has been LIFE CHANGING for me. And listen, I know this isn't always realistic! Before Austin was on a regular schedule, there was no way I could wake up before the kids every day. I was just too tired. But now that he is, I know how early I can wake up to get a head start on my day. Lately I've been up between 4-5am (I know…it's nuts! I never thought I could do that!) because I'll try to fit an OrangeTheory workout in. It's been really beneficial because I'm able to get some time in for myself, plus the endorphin release helps jumpstart my day! If exercise isn't your thing, getting up before the kids is still a great way to sit in peace with a hot cup of coffee for a few minutes, or catch up on tasks that weren't accomplished the day before. I promise it helps with productivity!
4 // Make lists!
I need to make lists in my planner or in a notebook thats right in front of my face or else I won't accomplish anything. My brain is at max capacity daily, so if it's not written down it's most likely not happening! I carry my planner and a notebook with me everywhere. And yes, I'm sure I can use my phone, but there's something super gratifying about checking off a list!
5 // Get ready the night before.
If I have my clothes and everything laid out the night before, I'm much more productive because I've cut down time in the morning! This is more for when I have an appointment or have to be somewhere first thing in the morning. It's really helpful to have it all ready!
6 // Tune out distractions.
Social media is part of my job, but MAN can it be distracting. I've found that tuning it out, playing some good music, and zoning in to whatever task I have to do is the best for me! I'll turn my phone on silent so I'm not so inclined to answer the "dings." Another great tip is to turn off post notifications!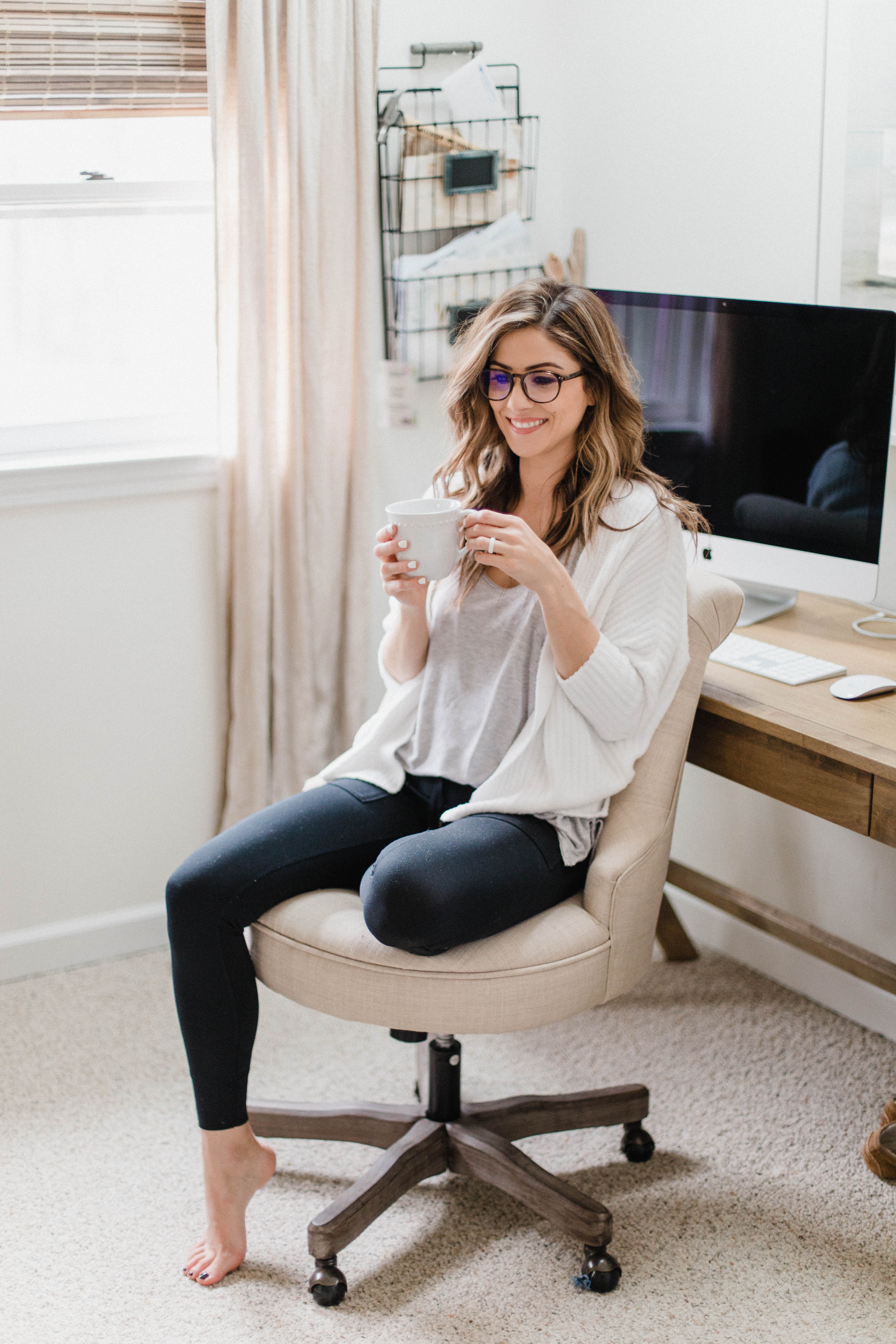 I know some of these seem so simple, but they're really helping me stay productive! Especially waking up early. I never thought I'd be a 5am gym class gal, but apparently I am! You can grab the Barefoot Dreams Cozychic Lite Ribbed Shrug Cardigan from QVC now through 2/13 for $69.96! 🙂
SHOP THE POST