I've been asked about my current skincare routine lately, so I decided to put this post together for you guys to refer to! I included what I'm currently using, and then other items I occasionally rotate through as well! 🙂 My skincare routine changes based on my skin needs, so please know this might not be accurate depending on when you're reading it!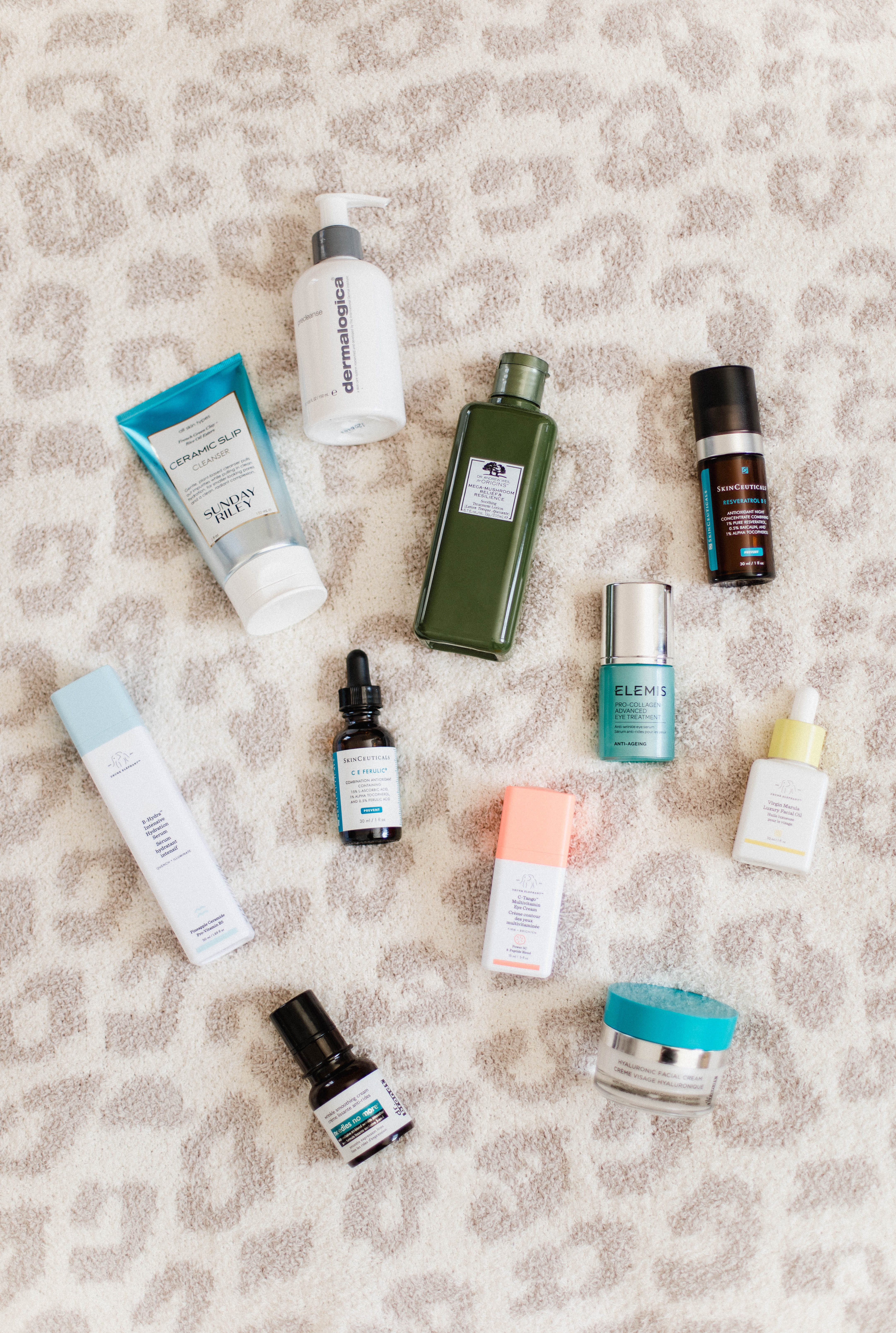 CLEANSER
I rotate between a few cleansers depending on what I feel my skin needs!
CURRENTLY USING:
Dermalogica Precleanse: I use this right before I wash my face in the evening to really remove all of my makeup! I first tried it during a facial I received at a local spa years ago and I've been hooked ever since. It's amazing! I
Sunday Riley Ceramic Slip Cleanser: (AM & PM) I truly feel my skin looked its best when I was using this cleanser, so I just switched back! I love that it removes everything from my skin while still feeling hydrated. A little goes a long way, too. I also love using it in equal parts with Sunday Riley Good Genes for their iconic Flash Fix Facial. I'll leave this on for about 10 minutes and I swear my skin looks brighter and smoother! I also love Tata Harper Regenerating Cleanser when I need a little exfoliation. Other favorites include Colleen Rothschild Radiant Cleansing Balm, Farmacy Green Clean, Kopari Coconut Cleansing Oil, and SkinFix Foaming Oil Cleanser for a budget friendly option!

TONER:
CURRENTLY USING:
Origins Dr. Andrew Weil Mega-Mushroom Relief and Resilience Soothing Treatment Lotion: (AM & PM) I've been using this product for several months and absolutely LOVE it. I even tried switching back to an old toner and couldn't deal even for a day! I highly recommend. Another great one is Thayer's Witch Hazel Alcohol Free Toner.

SERUMS
CURRENTLY USING
Skinceuticals C E Ferulic: (AM) I've tried a few Vitamin C serums which I love, but this one takes the cake. I truly notice a difference in my skin tone and dark spots. It also provides protection against environmental damage and free radicals. It's also effective for 72 hours! It's definitely pricey, but a little goes a long way. I only use 4 drops in the morning. Occasionally I'll switch to Drunk Elephant C-Firma Day Serum which is great, too!
Drunk Elephant B-Hydra Intensive Serum: (AM) I use this in the morning right after my Vitamin C serum because Vitamin B is know to compliment Vitamin C (per the Drunk Elephant website!). I feel it really keeps my skin hydrated without being OVER hydrated. It also helps with skin tone! One pump is all you need. This lasts me quite some time since I only use it in the morning! I also LOVE Colleen Rothschild's Age Renewal Super Serum as well.
Skinceuticals Resveratrol B E: (PM) This is an amaaaaazing night serum that diminishes signs of aging and prevents free-radical damage. Skinceuticals products are definitely an investment, but they're one I'm willing to make because they work so well!
Farmacy Honeymoon Glow: (PM) This resurfacing night serum is amazing! It helps with uneven skin tone, dullness and uneven texture, and fine lines and wrinkles. I swear I wake up with a glow whenever I use it! It's currently in my rotation, but I also love and frequently switch out for Sunday Riley Good Genes, Colleen Rothschild Mandelic Acid Radiance Serum, and Dr. Dennis Gross Alpha Beta Extra Strength Peel Pads (these work the same, just in a pad form!).

MOISTURIZERS
CURRENTLY USING:
Dr. Brandt Hyaluronic Facial Cream: (AM & PM) This is newer to my routine, but I love how hydrated it leaves my face feeling! I also REALLY love Sunday Riley's Tidal Brightening Enzyme Water Cream. In the winter, I'll add in Drunk Elephant Lala Retro Whipped Moisturizer for super hydration!

OILS
CURRENTLY USING:
Drunk Elephant Marula Oil: (AM & PM) My holy grail skincare product! I've shared this multiple times for 2 years now and I cannot imagine ever removing this from my skincare routine.

TREATMENTS/MASKS
I have a variety of masks I like to use, but here are a few that I frequently rotate! There are so many more that I love.
Tata Harper Resurfacing Mask: This mask literally leaves your skin feeling as good as new! I notice an immediate difference. It's like a mini peel! I try to do this one regularly!
Drunk Elephant TLC Sukari Babyfacial: Similar to the Tata mask, this mask leaves your skin feeling baby soft! Really great for dullness.
Colleen Rothschild Clarifying Detox Mask: This mask is one of my favorite detox masks because it's not super harsh and doesn't strip your skin of it's moisture. I use this frequently when I have random breakouts!
Indian Healing Clay Mask: This is probably one of the best detox masks I've ever used and it's only $10. It's a LITERAL face lift in a jar. Bonus: you can use it for detoxing your armpits, too! And so many other uses. A little goes a very long way.
TULA Dual-Phase Skin Reviving Treatment Pads: I've been using these for several months now and loooooove them. I try to use them at least once a week and I feel they really give a good exfoliation! They have a small pack here if you're looking to try a sample. My coupon code is LAURENMCBRIDE for 20% off.
Farmacy Honey Potion: I looooove this mask for hydration! I used it a lot over the winter if the dry heat was making my skin feel tight!

EYE CREAMS
Elemis Pro-Collagen Advanced Eye Treatment: (AM & PM) I recently started to notice a few fine lines under my eyes and I swear this helped significantly! I'm on my second bottle! The only issue is I don't find it hydrating enough, so see below for the other product I use.
Drunk Elephant C-Tango Vitamin C Eye Cream: (AM & PM) I've used this for awhile now and I feel it hydrates the area around my eyes without making it greasy! I actually layer this over the Elemis…I'm not sure if that's right or wrong but it works for me!

SKINCARE TOOLS
Clarisonic: I actually stopped using my Clarisonic (I forgot to charge it), and really need to get back into it. I notice a significant difference in my skin texture when I use it! It really deep cleans your skin.
GloPro Microneedling Facial Regeneration Tool: I use this twice a week! It's an at home microneedling system that naturally trigger's your skin's regeneration response. It's great for uneven skin tone, fine lines, and wrinkles.
Tinkle Razors: These are amazing for a mini at-home dermaplaning! I use them a couple times a week to remove all the peach fuzz from my face. My skincare products apply significantly better, as does my makeup!

I hope that helps! Again, this is current. I switch products out frequently, so if you're reading this at a later date, it might have changed a bit! Never hesitate to ask! 🙂