This month's Amazon finds is filled with fun spring and summer finds! Everything is under $50, and most items are under $30!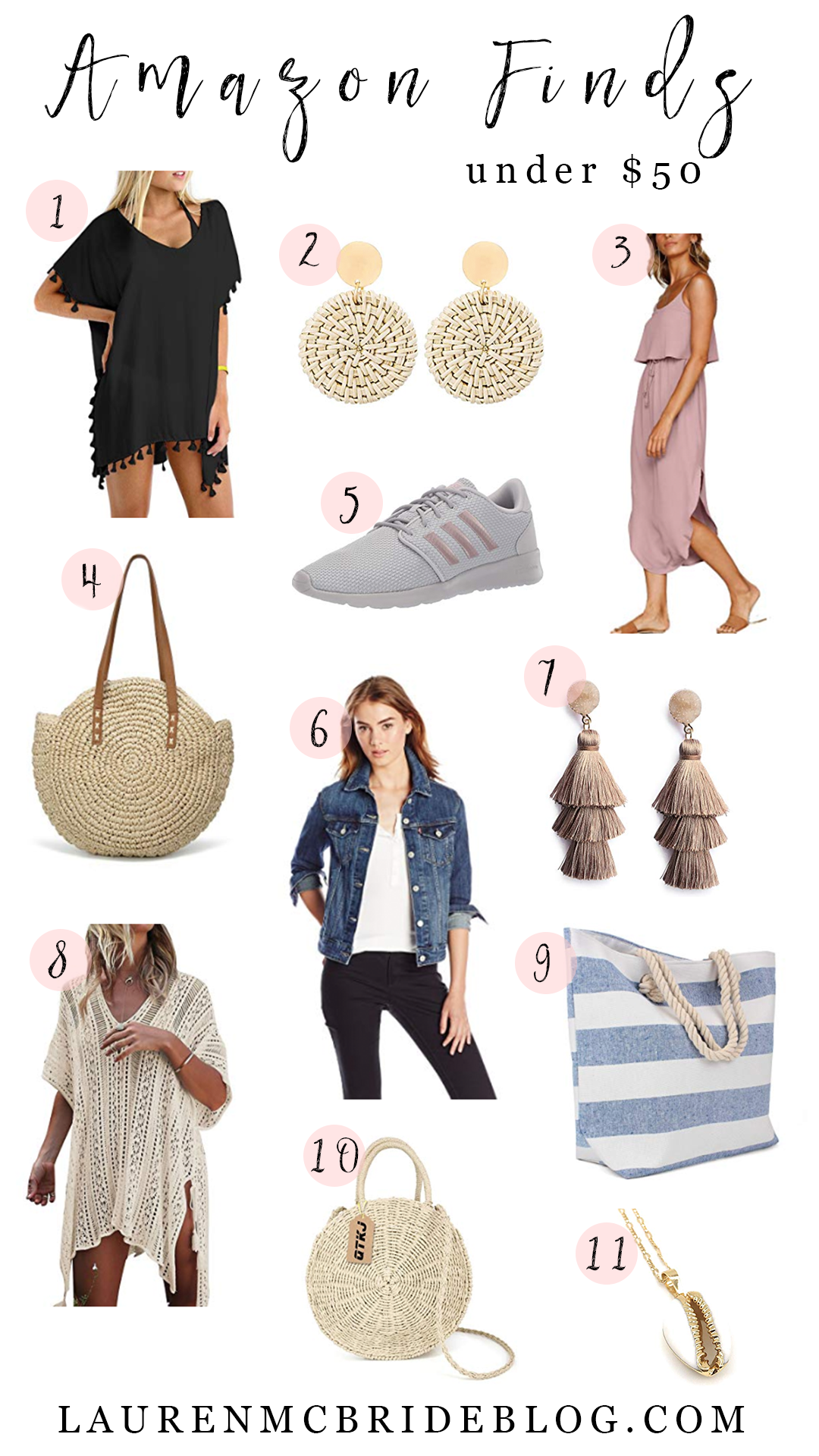 1 // Tassel Cover Up: This cute little beach cover up comes in a variety of colors!
2 // Round Rattan Earrings: I've shared these in other styles before, but I LOVE this style too! I've been wearing them regularly! They're under $11!
3 // Casual Midi Dress: This midi dress comes in a variety of colors and has a flattering fit! Great worn casually, or dressed up for summer!
4 // Large Round Straw Tote: I love the style of this tote for an everyday summer bag, or even for the beach! It comes in a variety of styles, too.
5 // adidas Cloudform Sneakers: I have these sneakers in black and they're SO comfortable! A great athletic shoe to wear casually or for working out. I love the white and pink!
6 // Denim Jacket: This jacket is in a great color wash, and under $40!
7 // Druzy Tassel Earrings: These earrings are so pretty and surprisingly not all that heavy! They come in a variety of colors, are under $15, and have hundreds of 4.5 star reviews!
8 // Crochet Bathing Suit Coverup: This coverup is so cute! It's available in several colors.
9 // Beach Tote: I love a good beach bag, and this is the perfect size! It's under $15!
10 // Handwoven Round Rattan Bag: I purchased this bag and LOVE IT! It's a medium size and fits all the basics. I like that it's lined inside, and goes with just about everything. A great summer bag!
11 // Cowrie Shell Necklace: This necklace is a great dupe for the one I wear regularly! I ordered it just to see, and I see no difference so far! The gold might not be as high quality, but I think it's a great option for half the price!