I've had a few emails requesting that I share my current favorite devotionals again, so I thought I'd put them in a post for easy searching! Ideally I'd be doing a devotional every morning, but sometimes it just doesn't happen for me. I always feel better when I read them though, so I hope I can get into a better habit. Here are a few I love!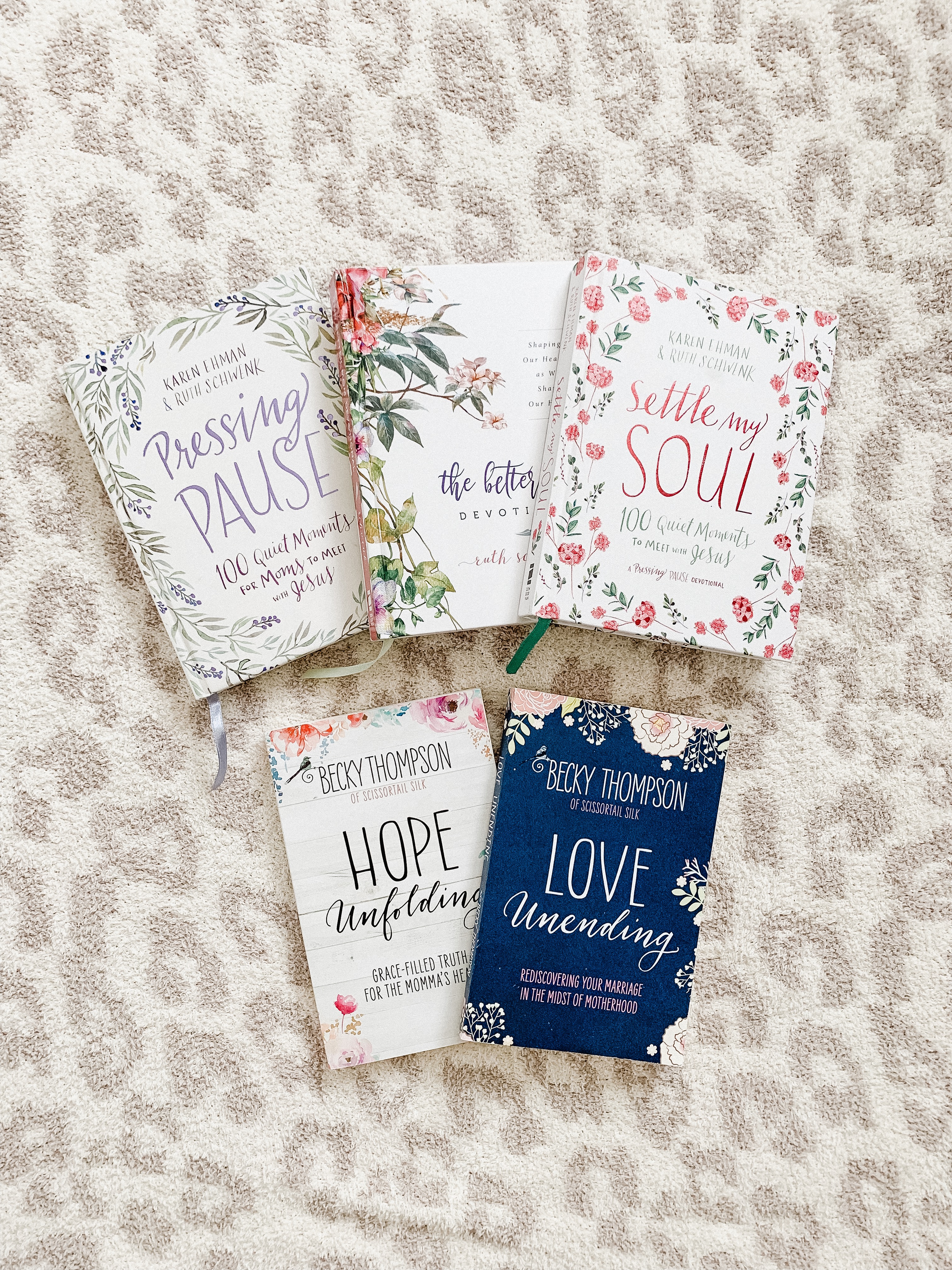 You'll notice many of the devotionals on here are by the same two authors and it's because I love them so much, haha! I feel like they just get me! This devotional is great for moms who just need a minute to pause during the everyday and come back feeling rejuvenated.
This devotional is great for any mom who just needs to learn to give themselves grace (that's all of us, right?). I find Ruth's words to be SO relatable and find myself nodding yes as I'm reading through the day's devotion. I also like that they're quick reads!
This devotional is similar to Pressing Pause (by the same authors), but I love that it's more geared towards moms who might be feeling overwhelmed and anxious. This is totally me at the moment! I feel so busy sometimes juggling schedules and to-do lists, and I love these quick devotions to help re-center me for the day.
This devotional is fantastic for ALL women, not just moms. I will help with finding peace whether you're juggling kids, a career, overwhelming situations, etc. The devotions are quick, too, but leave you feeling refreshed.
I love Becky's devotionals because she is just SO relatable. She touches on thoughts we have as moms every day (and might not want to admit!), and for that I am thankful – I felt more normal reading it! This devotional is great for moms who need a little reminder to give themselves grace.
This devotional is great when you're feeling like your marriage is taking a backseat to everything else. It is so common to feel this way with small children…I literally do not know one couple who hasn't felt this way! This devotional is a great 21 day challenge on how to reconnect with your best friend 😉
If there's another great one you love that I didn't mention, leave me a comment below! 🙂