I rounded up some Easter Basket Ideas for Kids below, suitable for kids of most ages! 🙂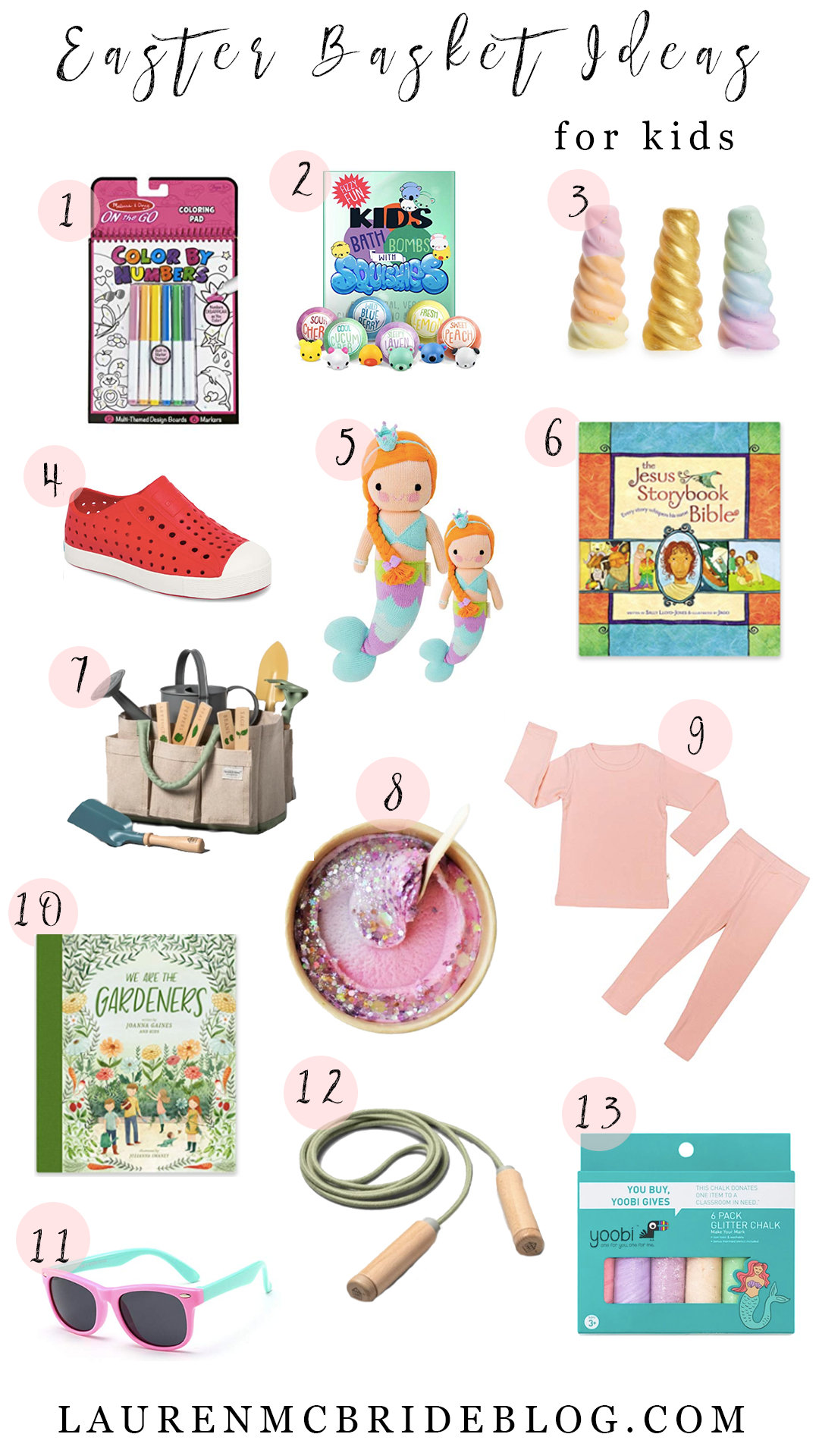 1 // Melissa & Doug Coloring Book: This is great for mess-free coloring!
2 // Bath Bombs: Bath time is always fun with bath bombs, and these are natural with cute little toys inside!
3 // Unicorn Horn Sidewalk Chalk: This sidewalk chalk is not cheap, but it's absolutely adorable! I linked a more budget-friendly option below too.
4 // Native Shoes: Our favorite shoes for the summer! I love that they're great for all terrain, and are easily washable too! We get a new pair every year! They're by far the best I've tried.
5 // Cuddle + Kind Doll: These dolls are absolutely adorable AND give back, too! 1 doll provides 10 meals to children in North American and around the world. The dolls are handcrafted by women artisans in Peru which provides them with sustainable, fair trade income. This company is amazing! They have a variety of dolls, too, for all kids!
6 // Jesus Storybook Bible: Our favorite children's bible. It's beautiful illustrated, and I love how it tells the story.
7 // Gardening Set: This cute little garden set is perfect for your little gardener!
8 // Natural Playdough: This play dough is all natural and SO CUTE! I bought each of my kids a container as a special Easter treat!
9 // Pajamas: I don't know about you, but we can always use more pajamas. This brand is super soft and comes in a variety of colors. Well priced, too!
10 // We Are the Gardners Book: To go with the gardening set, this book by Joanna Gaines is perfect for your little gardener!
11 // Toddler Flexible Sunglasses: I'm not sure how I'm just finding out about flexible sunglasses for kids, but I scooped up a pair at an adorable boutique near me and just had to share! This is not the same as the ones I have, but they have great reviews and come in adorable colors.
12 // Jump Rope: Great for spring time outdoor activities!
13 // Mermaid Glitter Chalk: A more budget friendly option, this glitter chalk is super cute!