I'm totally guilty of spending way too much time in tanning beds as a teenager (or being in the sun without any SPF!)! If I could go back in time and make myself care a little more about the harmful effects of sun rays, I would. Now that I'm a bit older (and a bit wiser), I'm much more careful about sun protection – especially as I creep up in age. I know my skin will be the first to show signs of aging if I don't take care of it. Today I'm partnering with Supergoop! and sharing some of my best Sun Protection Tips for Your Face!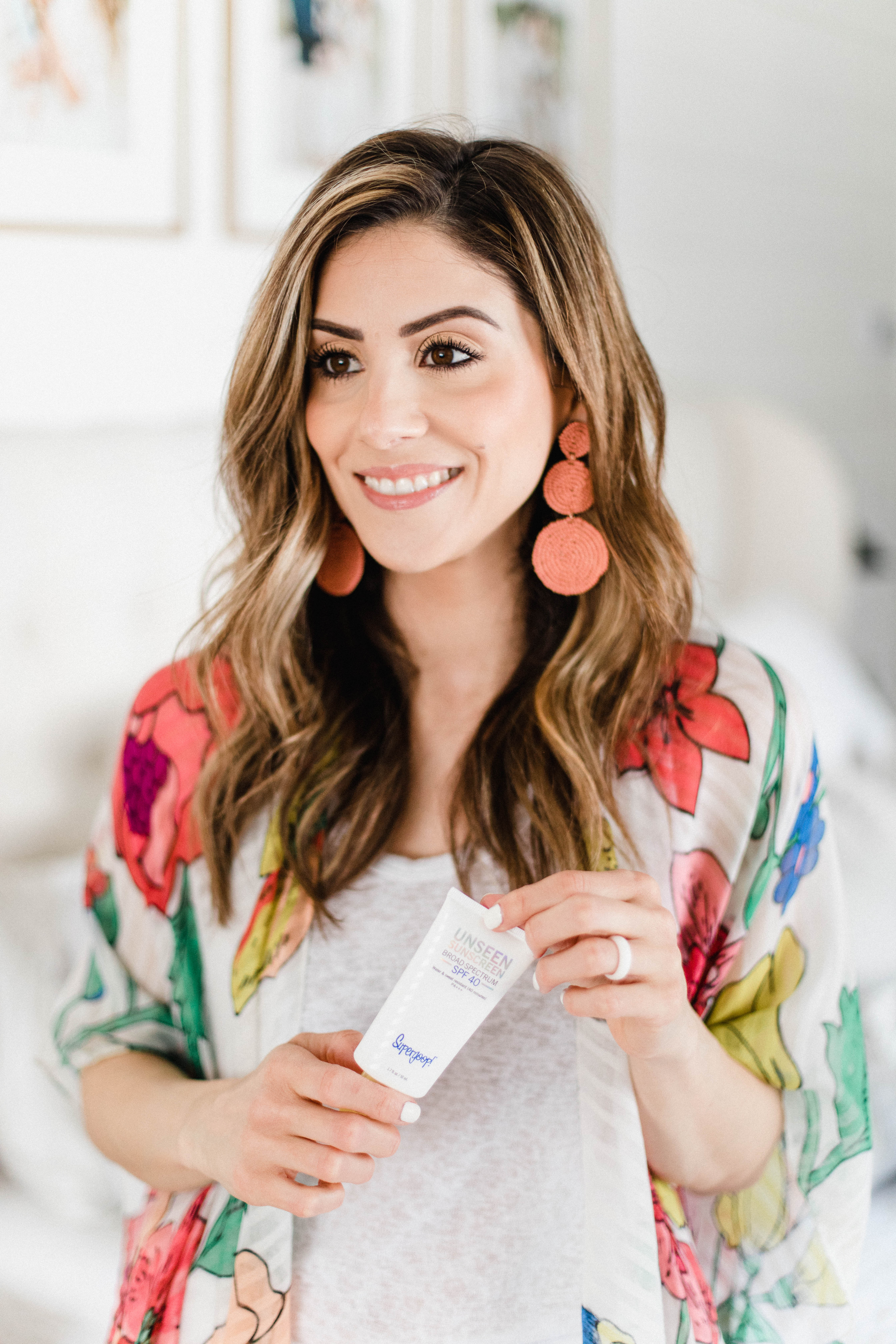 1 // Apply a daily facial sunscreen.
It's taken me quite some time to find a GOOD sunscreen for my face because I've felt many I've tried in the past left my skin feeling sticky and my makeup apply weird. I've also struggled with finding one that isn't white and leaving white residue on my skin! I was recently introduced to Supergoop! Unseen Sunscreen, which provides broad spectrum SPF 40, and I love it! It's 100% invisible, so there's no white residue, and it glides on like a gel! It acts as a makeup primer, too, for an added bonus! I love how lightweight it feels on my skin, and my makeup applies beautifully on top of it. This has become apart of my daily skincare routine as the very last step before I apply my makeup!
2 // Use SPF makeup.
I like to use a foundation that has an SPF in it, but I also recently tried Supergoop!'s Shimmershade Eyeshadow that has SPF 30! They come in 4 beautiful, shimmery shades that are great worn alone, layered, or even used as a base. They're long-wearing cream shadows that apply seamlessly without caking or creasing. I absolutely love the shade Golden Hour, with Sunset lightly tapped into the outer corner of my eye. Supergoop! also has their awesome 100% Mineral Invincible Setting Powder that comes in a handy brush dispenser that's SPF40, and I also like their Defense Refresh Setting Spray that has SPF50! This is a really great for a refresher later in the day, and I actually keep it in my beach bag as a way to reapply my face sunscreen!
3 // Wear sunglasses while outside.
I wear sunglasses so often that my eyes literally cannot handle being in the sun without them! But I like having that extra protection on my eyes, and it also prevents me from squinting from the sun (and thus causing wrinkles).
4 // Add a hat!
If I know I'm going to be in the sun for a while (like a beach day), I'll sometimes wear a hat! It also protects my scalp, too. I love a good straw panama hat because they go with just about everything. They even make some with SPF!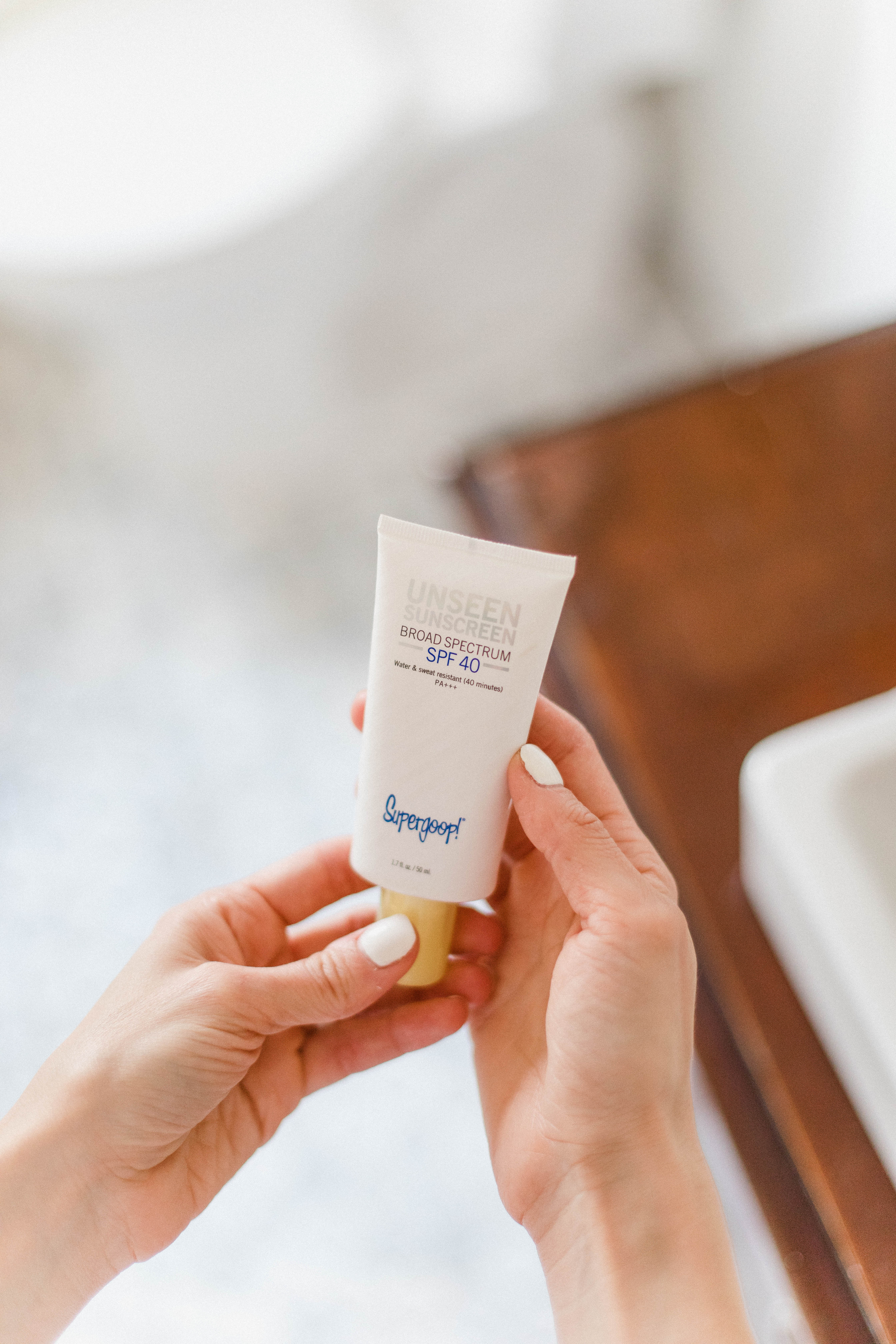 5 // Don't forget your lips!
I can so easily forget my lips this time of year, but having a lip balm or gloss with SPF in it is an easy way to protect your lips from the sun. Supergoop! has their Shine On Lip Screen that's a simple, clear gloss with SPF50. They also have their Mint Fusion Lip Balm with SPF30!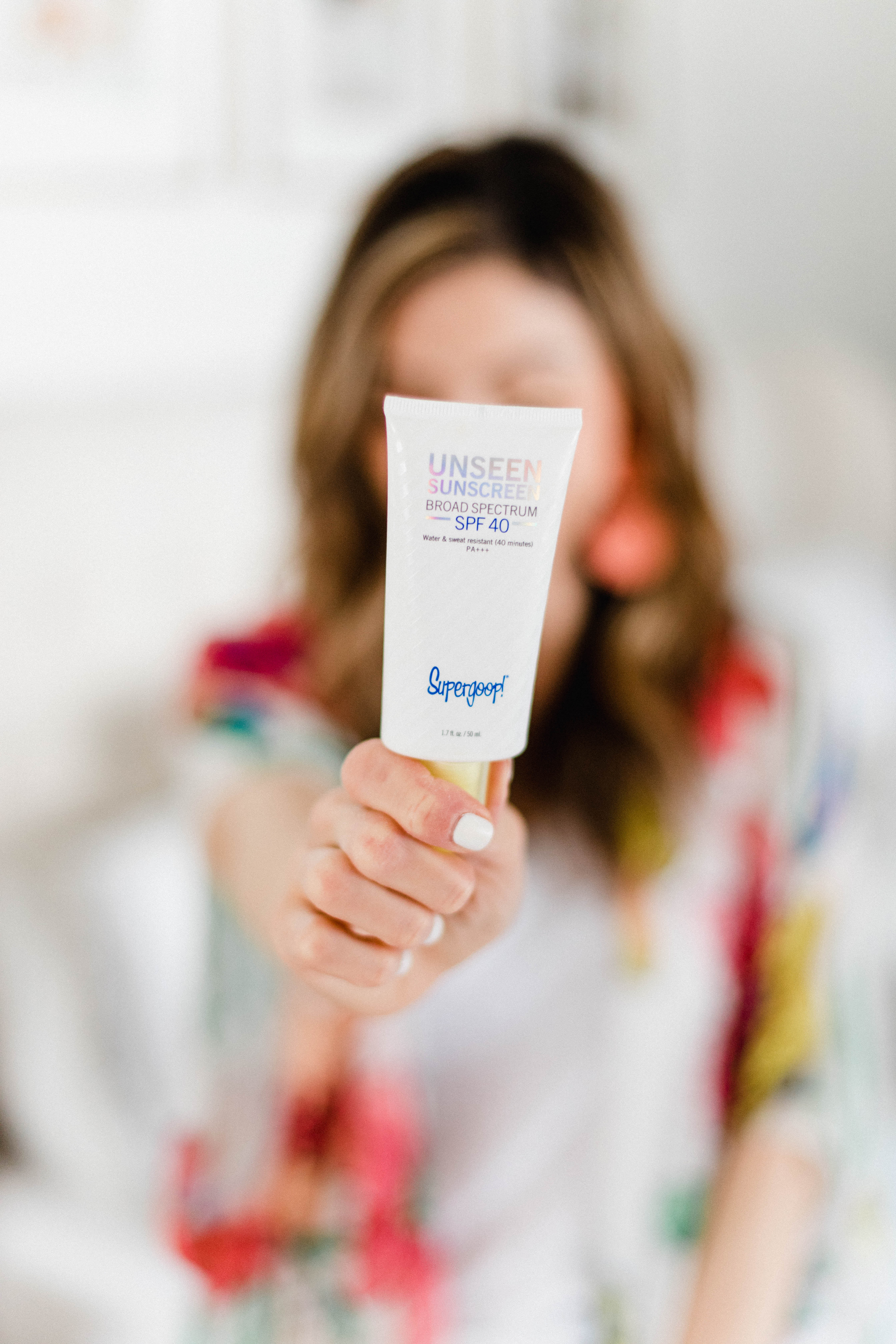 You can shop all of my Supergoop! faves below! I love that they make sun protection easy with their wide range of makeup and skincare products! 🙂
SHOP THE POST

Thank you to Supergoop! for sponsoring today's post!